Cape Town is known for its wide variety of international cuisines but one that has stolen the hearts and taste buds of Capetonians is Mexican food. Mexican dishes bring together a great mix of flavours, spices, and textures that can transport you right to the bustling streets of Mexico. In this top 10 list, we will take you on a journey through the best Mexican restaurants in Cape Town. From the heart of the city to the coastal spots, you'll find plenty of options to satisfy your Mexican food cravings.
Didis Mexican CBD 🌴


Right smack in the middle of Cape Town's Central Business District, Didis Mexican is a fun Mexican joint celebrated for its delectable Mexican-inspired cuisine. Founded by the visionary duo, Danielle (Didi) Bensimon and Jacques Strauss, the establishment's primary mission is to infuse traditional Mexican flavours with a uniquely South African twist, offering patrons an experience that is both authentic and innovative. Didis Mexican takes a multi-faceted approach to serving its clientele, with a versatile food truck that's perfect for reserving private events. They have established two convenient takeaway locations in Newlands and Gardens, ensuring accessibility for all. The diverse menu has many mouthwatering offerings, with crowd-favourite "Bitchin Burritos" and a variety of flavourful tacos that keep customers coming back for more.
Didis Mexican Food Truck & Catering also extends its services to your home with food delivery through platforms like Mr Delivery and Uber Eats, allowing customers to enjoy their food from the comfort of their own homes. Didis Mexican also specializes in providing comprehensive catering solutions for a wide range of events and private functions, adding an extra layer of versatility to their business model. With both a retail component and a renowned food truck, Didis Mexican Food Truck & Catering stands out for its diversity and dedication to delivering an unforgettable Mexican-inspired dining experience to the people of Cape Town.
Didis Mexican Opening Hours: Monday to Sunday 11 am to 8 pm
Address: 1 Dorman St, Gardens, Cape Town, 8001
Website: https://www.didismexican.co.za/
Contact Number: 021 213 0018
Mexicola Locale 🍸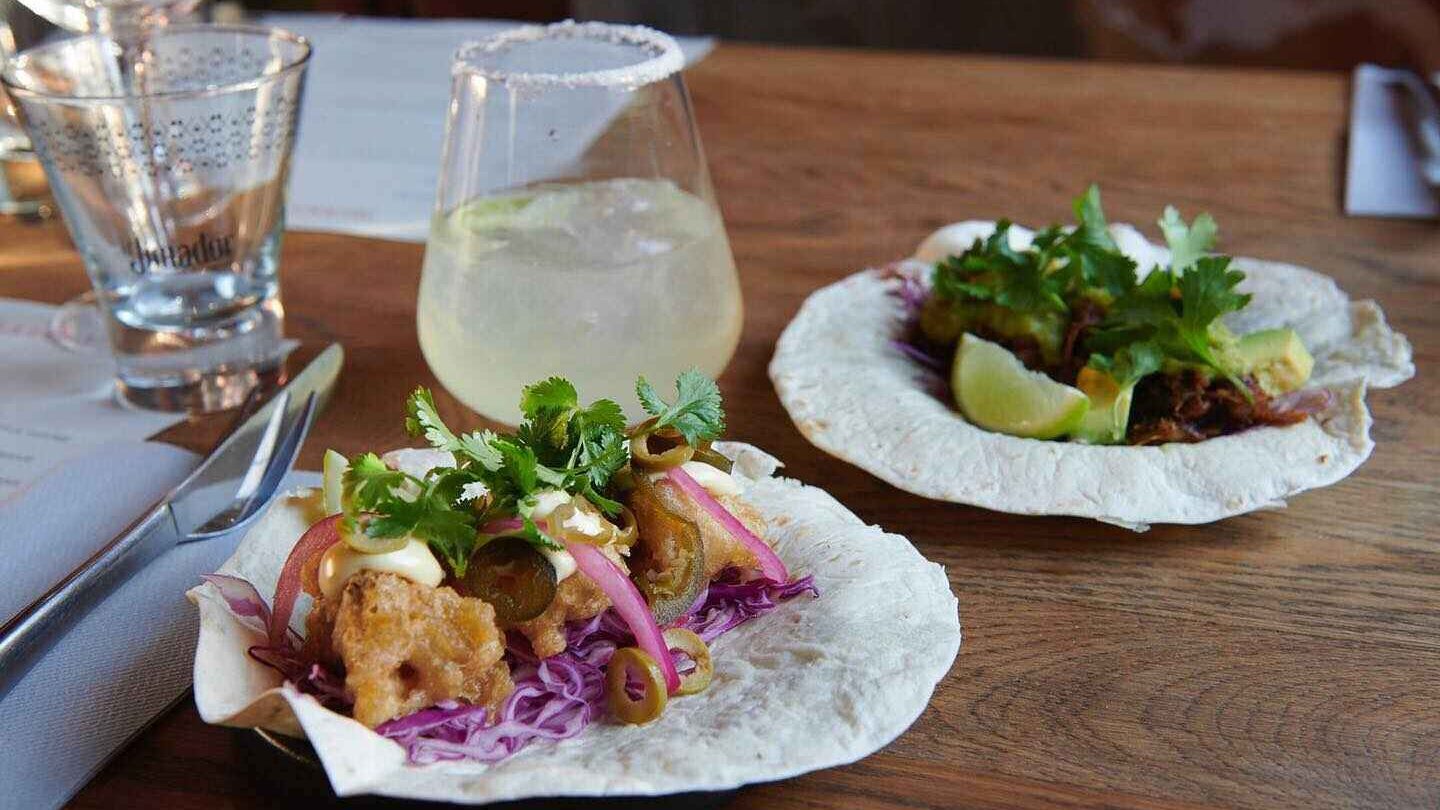 For a taste of Mexican paradise right in Cape Town, head over to Mexicola Locale. This place is all about vibrant colours, lively decor, and a menu bursting with flavour. Located in Hout Bay, Mexicola Locale is a lively Mexican restaurant that's all about good times and great food. Step inside, and you'll find a friendly and inviting atmosphere where traditional Mexican dishes come to life on a wood-fired grill, cooked up by a talented team of experts. The menu at Mexicola Locale is a feast for the senses, offering everything from tasty tacos and crispy nachos to tempting bochas and irresistible desserts. And let's not forget the drinks they've got an array of handcrafted cocktails and a fantastic selection of tequila and mezcal, perfect for food and beverage enthusiasts alike.
The vibrant decor sets the stage for a dining experience that's all about fun. The welcoming staff are there to make sure you have a great time while you dig into your meal, making you feel like you're right in the heart of Mexico. Mexicola Locale prides itself on having a menu that caters to all tastes, whether you're a carnivore or a vegetarian, you're in for a taste of Mexico like no other. From classic margaritas to raspberry margaritas, along with a large selection of white and red wines, and an assortment of tequilas and mezcals, Mexicola Locale is where great food and a fantastic time come together in a perfect mix of flavours and fun.
Mexicola Locale Opening Hours: Tuesday to Wednesday 5 pm to 10 pm, Thursday 5 pm to 11 pm, Friday to Saturday 12 pm to 11 pm and Sunday 12 pm to 10 pm
Address: St, ERF1136 The Promenade, Scott Estate, Cape Town, 7806
Website: https://www.mexicolalocale.co.za/
Contact Number: 066 152 9757
Hacienda Coastal Mexican 🍋
Hacienda is the kind of place where the flavours of Baja California meet your taste buds in a relaxed and inviting setting. This restaurant takes traditional Coastal Mexican cuisine and gives it a modern twist, resulting in a dining experience that's both delicious and laid-back. Tequila and Mezcal lovers are in for a treat, as Hacienda offers a handpicked selection from Baja California that perfectly complements the menu. You can even witness the magic in action as they whip up fresh guacamole at your table and create daily tortillas for that authentic touch. And don't forget their mole sauce, which they've been nurturing for over 670 days – talk about dedication!
Baja California's Mediterranean climate, stunning coastlines, and rich variety of seafood, meats, produce, wine, and olive oil all play a part in making their cuisine so bright and delectable. Hacienda's got it all covered. But Hacienda isn't just about Baja; it pays homage to different Mexican regions. So, whether you're craving Tequila and Mezcal from the Bajío region, indulging in Tortillas and Tacos reminiscent of the Central Region, or experiencing the rich complexity of Mole sauce from Oaxaca, you'll find an authentic taste of Mexico in every bite. Hacienda offers a lot more than just great food. They have Happy Hour deals and set menus for private events, making it an ideal place for any occasion. If you want to share the love, you can even buy gift vouchers for your loved ones. They're pet-friendly, cater to vegans and vegetarians, and have space for groups and parties, so everyone feels welcome.
Hacienda Coastal Mexican Opening Hours: Monday to Sunday 12 pm to 10:30 pm
Address: 92 Bree St, Cape Town City Centre, Cape Town, 8000
Website: https://hacienda.co.za/
Contact Number: 021 422 0128
El Burro Greenpoint 🫏



El Burro is your Mexican food spot in Cape Town, where they've mastered the art of Mexican tapas-style dining. Their passion for authenticity and quality shines through in every dish, thanks to daily, hand-crafted preparations. When you dine at El Burro, you're in for a real Mexican fiesta. The heart of their menu is all about fresh and authentic Mexican cuisine. Drawing inspiration from their extensive travels across Mexico, they bring vibrant and diverse flavours to your plate every day. From hand-pressed corn tortillas to zesty salsas, and margaritas made with freshly squeezed lime juice, it's all about the details that make Mexican cuisine so great.
But El Burro isn't just about dining out. They've got you covered for bringing a taste of Mexico home with their retail section called El Burro Mercado. Here, you can discover and purchase a variety of Mexican products you won't want to miss. When you step inside El Burro, the warm and inviting vibe welcomes you with rustic wooden furniture. El Burro Greenpoint brings the heart of Mexican cuisine to Cape Town, offering a comforting and flavourful experience that's perfect for both Mexican food enthusiasts and newcomers. It's where authenticity meets deliciousness, and you're invited to enjoy every bite.
El Burro Greenpoint Opening Hours: Monday to Saturday 12 pm to 12 am
Address: 79 Main Rd, Green Point, Cape Town, 8005
Website: https://elburro.co.za/
Contact Number: 021 433 2364
The Fat Cactus Gardens 🌵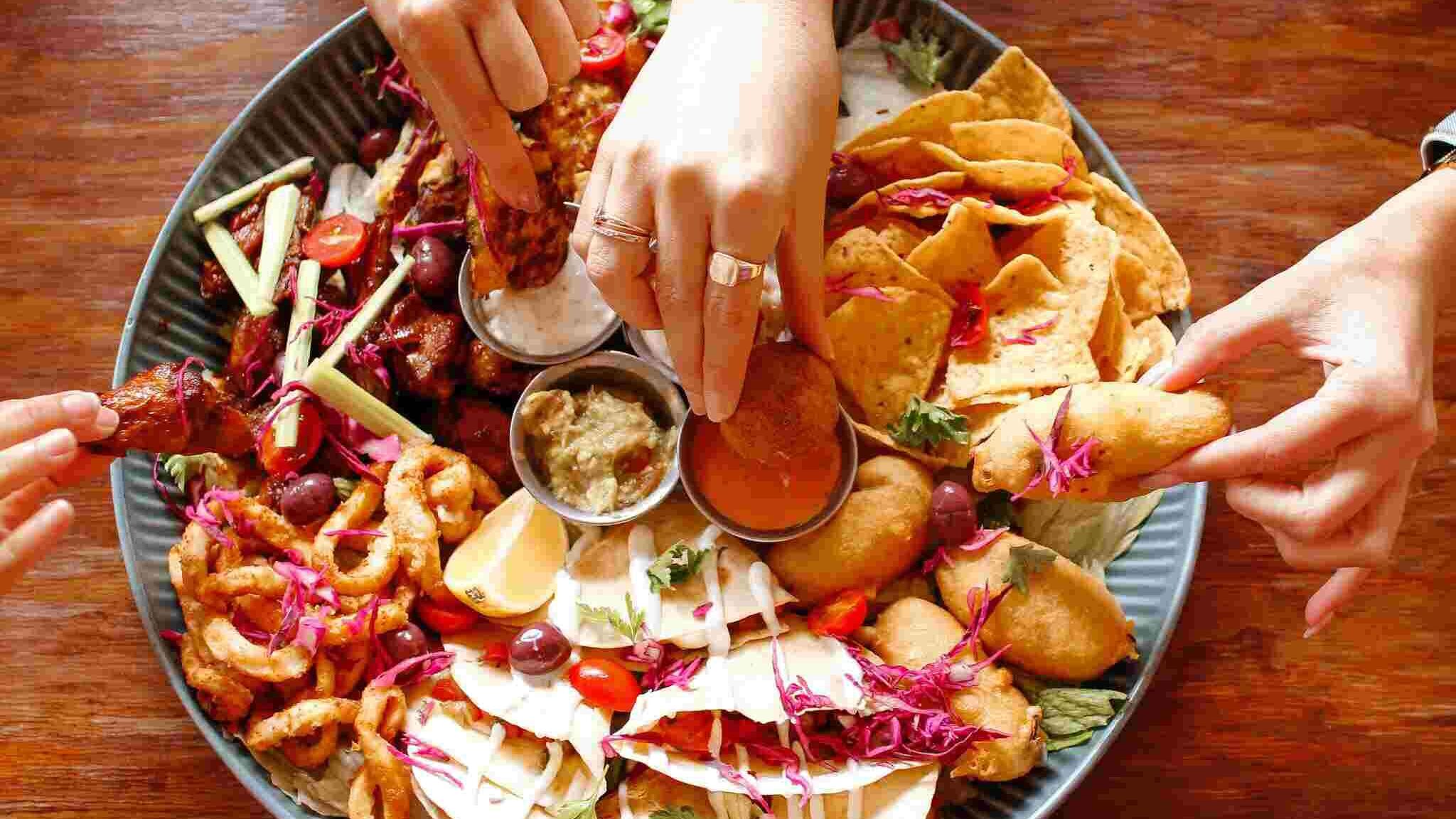 The Fat Cactus is a vibrant Mexican joint in Cape Town, beloved by locals who appreciate a bit of spice in their food and a good brew to go with it. It's not just a restaurant; it's a lively bar-restaurant combo that exudes an authentic Mexican vibe. The atmosphere is always buzzing, making it a top choice for both a quick drink after work or a chilled catch-up with friends. Their menu is a mouthwatering feast of flavours, offering everything from loaded nachos to sizzling quesadillas, Texan-style burgers, and irresistible chilli poppers. And let's not forget the frozen margaritas by the jug – they're a real crowd-pleaser, but be sure to have a designated driver!
If you're a fan of Mexican food, burgers, tacos, and some might say, the best frozen margarita jugs in Cape Town, you're in for a treat. The Fat Cactus serves up a delicious range of options that cater to every craving. For those who like a bit of a Happy Hour, they've got you covered from 12 pm until 6 pm with an extensive list of tequilas and other cold beverages to keep the good times rolling. The Fat Cactus is where flavour, fun, and friends come together for an unforgettable dining experience in Cape Town.
The Fat Cactus Gardens Opening Hours: Monday to Sunday 12 pm to 12 am
Address: 5 Park Rd, Gardens, Cape Town, 8001
Website: https://fatcactus.co.za/
Contact Number: 021 422 5022
Pancho's ☠️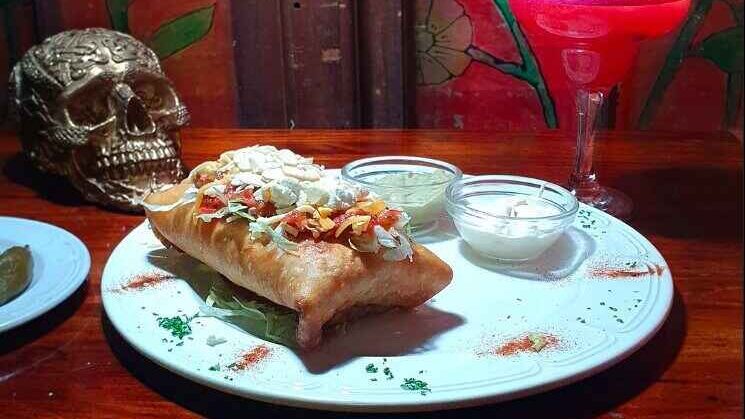 For a touch of Mexican charm in the heart of Observatory, Pancho's is the place to be. This restaurant brings the essence of Mexico to Cape Town with some of the best Mexican food in the country. It's a place where deliciousness and a relaxed, animated space come together, making it a favourite among those who crave bold flavours. The menu at Panchos promises a great experience, with must-tries like the chilli poppers that come with fresh guacamole and sour cream. They're not for the faint-hearted and might have you reaching for one of their delicious frozen margaritas, available by the glass or in a jug, with enticing flavours like strawberry, lemon, mango, and more. Generous servings and wallet-friendly prices make dining at Panchos a real treat. They cater to all taste preferences, allowing you to choose between hot or mild options, so there's something for everyone, even if you're not a fan of spicy food.
If you're looking to celebrate a special occasion, Panchos goes the extra mile. Birthday guests receive a complimentary shot of tequila and a large sombrero to wear while they dine at the restaurant. The restaurant's decor and Mexican theme set the stage for a fun and relaxing experience. There's even a small courtyard and a large smoking section to choose from, they are quite busy most days so booking ahead can provide you with the exact spot you want. Pancho's Mexican restaurant in Observatory is a place where good times, great food, and an authentic Mexican vibe come together to create a dining experience you won't forget.
Pancho's Opening Hours: Tuesday to Thursday 5 pm to 10 pm and Friday to Saturday 5 pm to 11 pm
Address: 127 Lower Main Rd, Observatory, Cape Town, 7925
Website: https://www.panchos.capetown/
Contact Number: 021 447 4854
Una Más – Mezcaleria 🍷


If you're on the hunt for a Mexican dining experience that's infused with the spirit of mezcal, Una Más – Mezcaleria in Sea Point is a place you must visit. This spot is all about celebrating the unique flavours and culture of Mexico, with a focus on the combination of spices, mezcal and fresh ingredients. The menu at Una Más – Mezcaleria showcases a variety of traditional Mexican dishes, with an emphasis on flavours that complement the profiles of mezcal. The mezcal selection is extensive, featuring a range of options for both fans and newcomers. The knowledgeable staff can guide you through the world of mezcal, helping you discover the perfect pairing for your meal.
The restaurant's intimate and rustic decor adds charm, creating a warm and welcoming atmosphere. Whether you're dining with a group or sharing a mezcal-tasting experience with friends, Una Más – Mezcaleria offers a relaxed setting for enjoying Mexican cuisine. Una Más – Mezcaleria also has desserts that will blow you away their signature churros are a must-try for anyone with a sweet tooth. This makes it an excellent destination for those looking for a delicious meal and an even better dessert and obviously, grab a drink the Una Más Drinks menu has a large selection of mezcal-infused drinks and much more. Una Más – Mezcaleria provides a unique and enlightening dining experience in Cape Town, where the world of mezcal and Mexican cuisine come together perfectly.
Una Más – Mezcaleria Opening Hours: Monday 5 pm to 12 am and Tuesday to Sunday 12 pm to 12 am
Address: Shop 2, 77 Regent Rd, Sea Point, Cape Town, 8060
Website: https://unamas.co.za/
Contact Number: 087 470 0296
Mexicanos Chicken & Grills 🌶️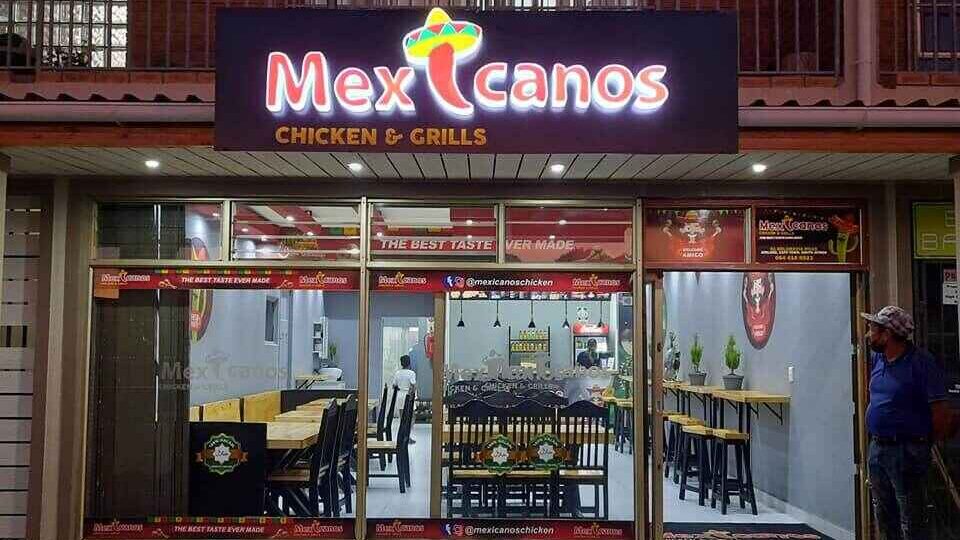 Mexicanos Chicken & Grills is a Mexican restaurant with a twist. While they offer a variety of classic Mexican dishes, their speciality lies in the fusion of Mexican flavours with South African influences, particularly in their grilled dishes. The menu at Mexicanos Chicken & Grills showcases a selection of Mexican favourites, such as nachos, quesadillas, and burgers. However, the real stars of the show are the grilled items like their flame-grilled chicken. The fusion of Mexican spices and South African grilling techniques results in a unique and satisfying dining experience.
The restaurant's interior is cosy and inviting, and the friendly staff ensures a pleasant visit. They also offer combo deals for the whole family at an affordable price so If you're in the mood for a more casual Mexican meal with a South African twist, this restaurant is the ideal choice. Mexicanos Chicken & Grills brings together the best of two worlds, offering a menu that celebrates both Mexican and South African food.
Mexicanos Chicken & Grills Opening Hours: Sunday to Thursday 11 am to 10:30 pm, Friday Lunch 10 am to 12:30 pm, Dinner 2 pm to 12 pm and Saturday 12 am to 11 pm
Address: 51 Belgravia Rd, Athlone, Cape Town, 7764
Website: https://mexicanos.co.za/
Contact Number: 061 813 0905
Tacos Locos 🌮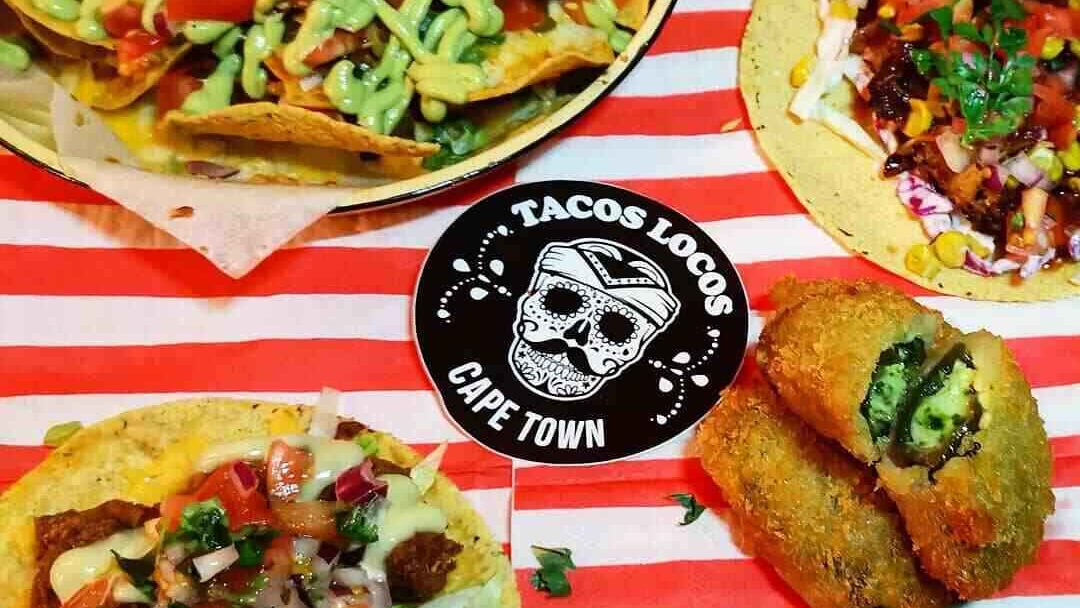 Tacos Locos, a beloved Mexican-style street food venture, has been a staple for Mexican food lovers in Cape Town since 2015. Tacos Loco's journey began as a humble food stall at local markets and has since evolved into a versatile mobile kitchen that caters to a wide array of events, from corporate gatherings to private functions and lively festivals. What sets Tacos Locos apart is their unique approach to Mexican street food. They not only embrace the traditional flavours but also cleverly adapt their recipes to cater to local tastes and current market trends. The result is a mouthwatering fusion of authentic Mexican cuisine and the vibrant food scene of Cape Town.
For those craving a taste of Mexico on the go, Tacos Locos has ventured into the world of 'dark kitchens' offering a convenient takeaway store in the Salt River area. You can easily place orders for self-collection through their official website or enjoy the comfort of food delivery through popular platforms like Mr Delivery, Uber Eats, and Bolt Food. Tacos Locos takes pride in being Halaal-friendly, ensuring they cater to a diverse range of customers with varying dietary preferences. And if you're planning a special event, they're ready to spice things up with their catering services or by bringing their mobile kitchen to add a dash of Mexican flavour to your occasion.
Tacos Locos Opening Hours: Monday to Thursday 12 pm to 8:15 pm, Friday 12 pm to 9 pm, Saturday 2 pm to 9 pm and Sunday 11 am to 8:15 pm
Address: 364 Victoria Rd, Salt River, Cape Town, 7935
Website: https://tacoslocos.co.za/
Contact Number: 081 851 6843
Tortuga Loca 🌯


Tortuga Loca is a Mexican restaurant located in Muizenberg, and they're serving up some seriously spicy Mexican food that has Cape Town buzzing with excitement. Situated on Muizenberg Main Road, this place is a feast for both your eyes and your taste buds. The menu at Tortuga Loca is thoughtfully put together, with a focus on free-range ingredients. While they might not have red meat options, they've got plenty of delicious substitutes that will keep you coming back for more. Everything on the menu, from the spicy chicken wings to the locally caught fish, is prepared with care and flavour in mind.
Corn ribs and tacos with pulled jackfruit are a couple of must-try items that bring a unique twist to Mexican flavours. And to wash it all down, they've got frozen margaritas on tap – a delightful way to cool off and add a little extra fun to your meal. The vibe at Tortuga Loca is a vibrant mix of cosy and welcoming, making it no surprise that they're always packed. If you're looking for good food, incredible vibes, and a taste of Mexico on your Cape Town holiday, Tortuga Loca is the place to be.
Tortuga Loca Opening Hours: Tuesday to Sunday 12 pm to 11 pm
Address: 141 Main Rd, Muizenberg, Cape Town, 7945
Contact Number: 087 095 5733
With venues like Hacienda, Tortuga Loca, and Una Más – Mezcaleria, there's something for everyone. From sizzling fajitas to mouthwatering tacos, these restaurants offer a rich and dynamic Mexican dining experience that keeps both locals and visitors coming back for more. So, when you find yourself in Cape Town, don't miss the chance to try one of these Mexican restaurants you'll discover that the flavours of Mexico are alive and well in the Mother City.