Cocktail bars in Cape Town offer a wide range of unique and refreshing drink options to cater to both locals and tourists. Join us as we dive into the city's lively cocktail culture, where bartenders are like artists, and each drink tells a story. It's time to grab a drink, this guide will take you on a tour of the best cocktail bars the Mother City has to offer. Prepare to be blown away as we explore the art of mixology in Cape Town., one cocktail at a time. Cheers to an adventure filled with great vibes!
The Drinkery 🍸


Located up above the courtyard of Heritage Square, you'll stumble upon The Drinkery, a real hidden gem in Cape Town. This place has that classic speakeasy vibe think old brick walls, mood-setting lighting, comfy lounge seating, and quirky art pieces. The brains behind this transformation are Aidan Mautschke and Günter Boisits, nightlife veterans who've given The Drinkery a fresh twist. What really sets this joint apart is its fantastic cocktail game.
The Drinkery menu loaded with about 20 signature cocktails, mixing Japanese whisky, absinthe, mezcal, fruit liqueurs, and flowery gins into tantalizing drinks. And for the wine lovers, there's a neat little wine list for you to explore. When hunger strikes, their snacking menu has you covered. Plus, they've got a Martini Terrace, perfect for soaking in the vibe. And let's not forget the jazzy tunes in the background that keep the atmosphere just right.
The Drinkery Opening Hours: Monday to Friday, starting at 4 p.m. and going late into the night. On Saturdays, they kick things off at 2 p.m.
Website: https://thedrinkery.co.za/
Address: 100 Shortmarket Street Mezzanine Level, Cape Town City Centre, Cape Town, 8000
Contact Number: 082 464 4866
The Gin Bar 🥒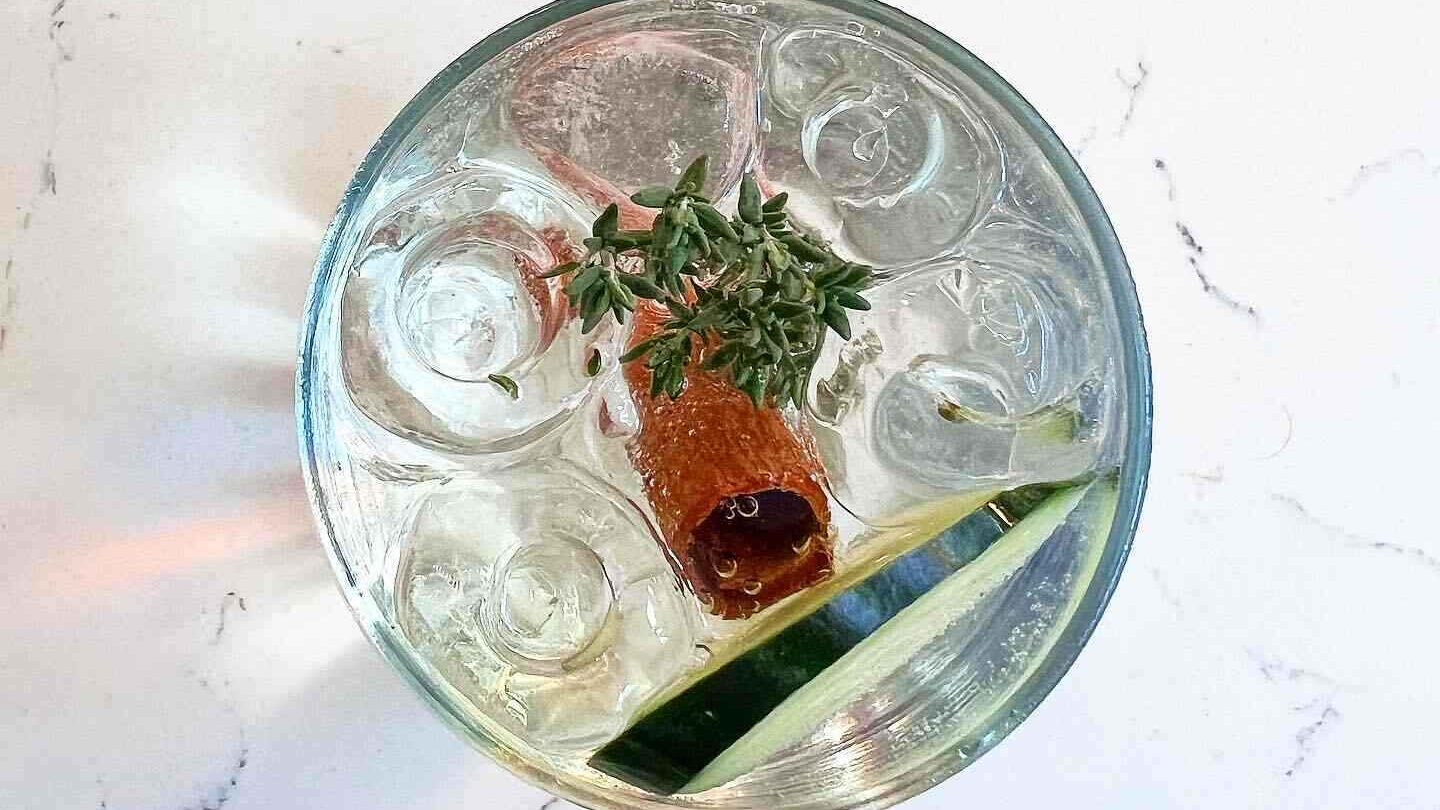 There are numerous cool bars in Cape Town that offer a vibrant nightlife experience and if you're a gin lover, then The Gin Bar is your haven in Cape Town. Located behind a charming chocolate shop, The Gin Bar is a real city secret. It's got a cool backstory too, the place used to be a mortuary! But don't let that spook you; it's all part of the charm. The history of the building has influenced both The Gin Bar drinks menu and the quirky interiors. You've got options here. Take a seat in the Chapel Room for some serene vibes or soak up the atmosphere in the courtyard. The Gin Bar menu is full of inventive cocktails, with names like "medicinal remedies." But if you're a gin fan, you're in for a treat, they've got more than 100 types to choose from, and 80 of those are local.
If gin's not your thing, they've got you covered with wine and beer options. And make sure to check out the Bubbly Bar, Here you'll find some of the best local cap classiques, including stuff from lesser-known producers. So, if you're up for a unique drink experience with a side of history, The Gin Bar is where you need to be.
The Gin Bar Opening Hours: Monday to Wednesday starting at 5 p.m. until late, and Thursday to Saturday from 3 p.m. until late.
Website: https://www.theginbar.co.za/
Address: 64A Wale St, Cape Town City Centre, Cape Town, 8000
Contact Number: 071 241 2277
Harringtons Cocktail Lounge 🍾

Harrington Cocktail Lounge is the ultimate destination for those seeking sophistication and luxury in a cocktail lounge. Often heralded as "A Venue Like No Other," Harringtons redefines the nightlife experience. Upon entering, you'll be captivated by the venue's unmatched sophistication, featuring panoramic windows with stunning city views, a lavish wrap-around bar, plush velvet banquette seating, and a prominent DJ booth for unforgettable entertainment. Harrington stands out for its impeccable attention to detail, offering amenities like a convenient coat check, a dedicated smoking lounge, top-notch WiFi and A/V equipment, and the assurance of both Entertainment and 4 am Liquor Licenses.
This isn't just a lounge; it's an experience. Ideal for celebrating birthdays, anniversaries, or special events, it boasts an extensive cocktail and canapé Harringtons menu, and a dedicated staff to make your celebration exceptional. The gallery offers a visual feast, showcasing the venue's aesthetics, and a lineup of exciting events keeps the nightlife scene vibrant.
Harrington's Opening Hours: Wednesday and Thursday from 4 pm to late, and Friday and Saturday from 3 pm to 4 am
Website: https://www.harringtonstreet.co.za/harringtons
Address: 61B Harrington St, District Six, Cape Town, 7925
Contact Number: 078 916 7903
RED Roof Bar 🍹
The RED Roof Bar, on the seventh floor of the Radisson RED hotel in Cape Town's Silo District, is not your typical hotel bar, it's something special. This rooftop spot is a vibrant, lively hangout with killer views of the city, ocean, mountains, and the incredible glasswork of Zeitz MOCAA. It's the ultimate place for a chill evening with friends while watching the sunset.
So let's talk about that bright red bar truck, it's a real head-turner. They've got all sorts of drinks on offer, from craft beers on tap to creative cocktails and even refreshing smoothies. And when it comes to food, they've got you covered with tasty bites like cheese and jalapeno balls, wraps, pizza, and mouthwatering spare ribs. , so you can enjoy those awesome views and delicious drinks whenever you're in the mood, You'll find it at The Red Roof Bar Cape Town.
The RED Roof Bar Opening Hours: Open every day from 9 a.m. until midnight
Website: https://www.radissonhotels.com/radisson-red-restaurant-bar
Address: Silo 6, Silo Square, Victoria & Alfred Waterfront, Cape Town, 8001
Contact Number: 087 086 1578
The Dark Horse 🐴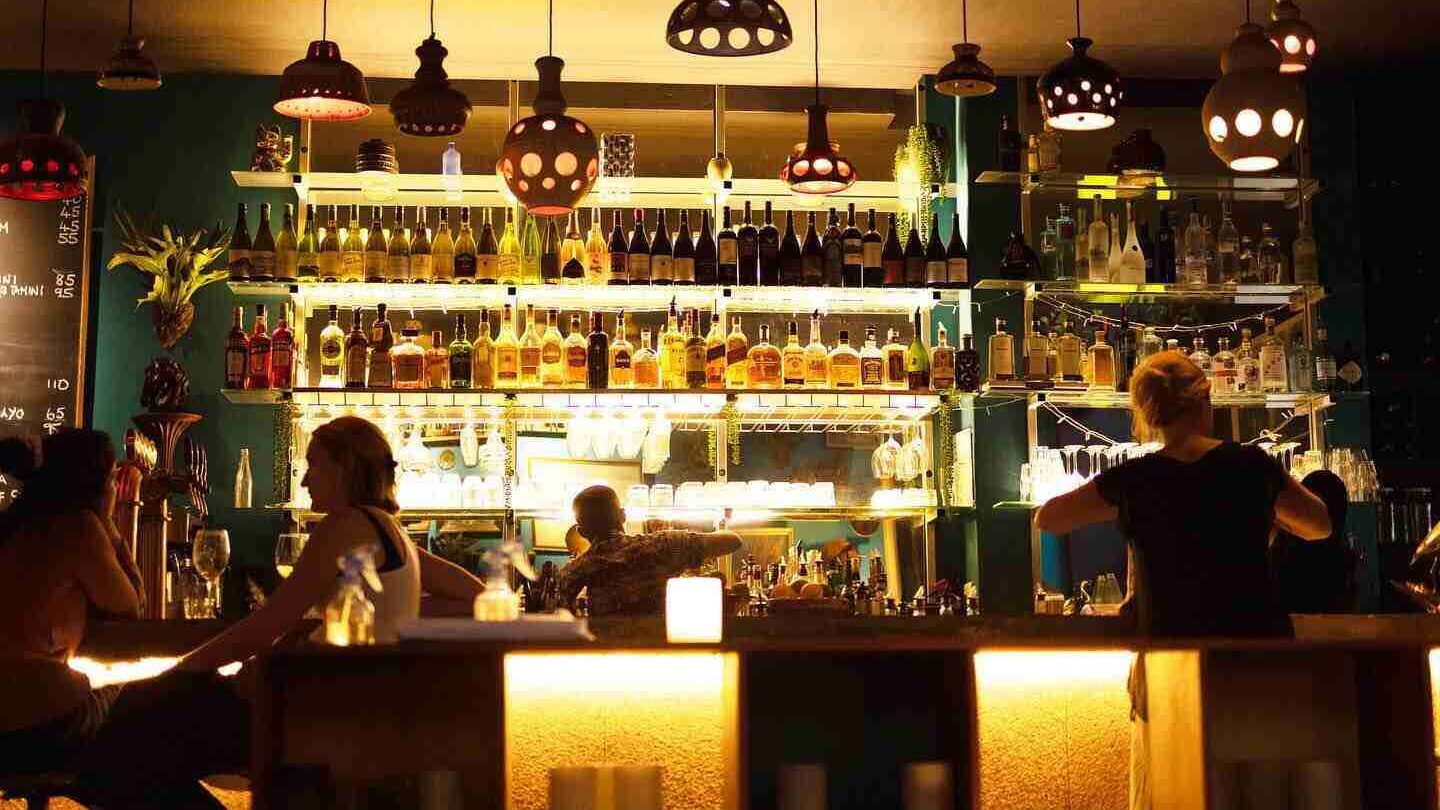 The Dark Horse is the kind of place where you take that first sip of their cocktails, glance around, and suddenly find yourself in a unique world. With walls painted an electric blue and decked out with vintage art, it's impossible not to feel the vibrant energy. A big, comfy velvet couch practically begs you to lounge on it, and the backlit bar adds to the cosy vibe. But it doesn't stop there; the ceiling is mirrored, giving the place a touch of mystery. You'll spot small tables scattered around, perfect for intimate chats.
If you're looking to relax grab a spot on the streetside patio, where you can soak in the city's hustle and bustle. Or, if you're after some killer views, head up to the rooftop deck and take in the stunning sight of Table Mountain. And don't worry about dinner plans elsewhere because The Dark Horse's Food menu has got you covered. It's the sibling of the nearby Black Sheep restaurant, so you can expect some seriously scrumptious eats. So, if you're up for a unique and memorable experience, The Dark Horse is your go-to spot.
The Dark Horse Opening Hours: Between 4 pm and 10 pm on Tuesday through Thursday, or from 1 pm to 10 pm on Friday and Saturday.
Website: https://darkhorsebar.co.za/
Address: 145 Kloof St, Gardens, Cape Town, 8001
Contact Number: 021 422 0825
The House of Machines 🏍️


The House of Machines, affectionately known as THoM, is a unique establishment that defies convention. By day, it seamlessly blends the worlds of craftsmanship, fashion, and caffeine, housing a thriving motorbike workshop, a stylish men's apparel store, and a trendy coffee shop. However, as the sun sets, THoM transforms into a chic cocktail bar that serves only the finest barrel-aged spirits and a selection of carefully curated craft beers. The interior of THoM is a striking fusion of old-world charm and contemporary style, with its weathered beams, exposed brick walls, and subway tiles creating an atmosphere that pays homage to a bygone era while embracing the spirit of the present.
What sets THoM apart, beyond its design, is its commitment to providing impeccable service. The staff's vivacity and professionalism ensure that every visit is a memorable experience. they also have nightly live music, showcasing a diverse range of talented performers, making THoM one of Cape Town's premier music venues. The House of Machines is a place where coffee and cocktails coexist, where motorcycles and fashion converge, and where memories are forged in the embrace of live music.
The House of Machines Opening Hours: Monday to Friday 7 am to late and Saturday: 9 am to late.
Website: https://thehouseofmachines.com/
Address: 84 Shortmarket St, Cape Town City Centre, Cape Town, 8000
Contact Number: 021 426 1400
Cause Effect Cocktail Kitchen 🍋
Located at the Victoria & Alfred Waterfront and Camps Bay, Cause Effect Cocktail Kitchen is where the city's spirit finds expression in a glass. This is no ordinary cocktail bar; it's a journey through the very soul of Cape Town. Inspired by the local flora, the sea's salty breeze, and the vineyards that define the region, Cause Effect crafts cocktails that awaken your senses. They're not just about taste; they're an invitation to experience Cape Town.
It's a place where mixology is an art, and each cocktail tells a tale of Cape Town's diverse landscapes and flavours. Whether you're a cocktail aficionado or just out to explore, Cause Effect is where Cape Town's magic is shaken and stirred into Cocktails, and every sip is an adventure through the heart of Cape Town itself.
Cause Effect Opening Hours: From 12 p.m. to the early hours on weekdays and starting the party at 8 p.m. on Saturdays.
Website: https://causeandeffect.co.za/
Address: The Rocket Shed, 280 Dock Rd, Victoria & Alfred Waterfront, Cape Town, 8001
Contact Number: 021 422 0266
SKYE Rooftop Bar and Restaurant 🍓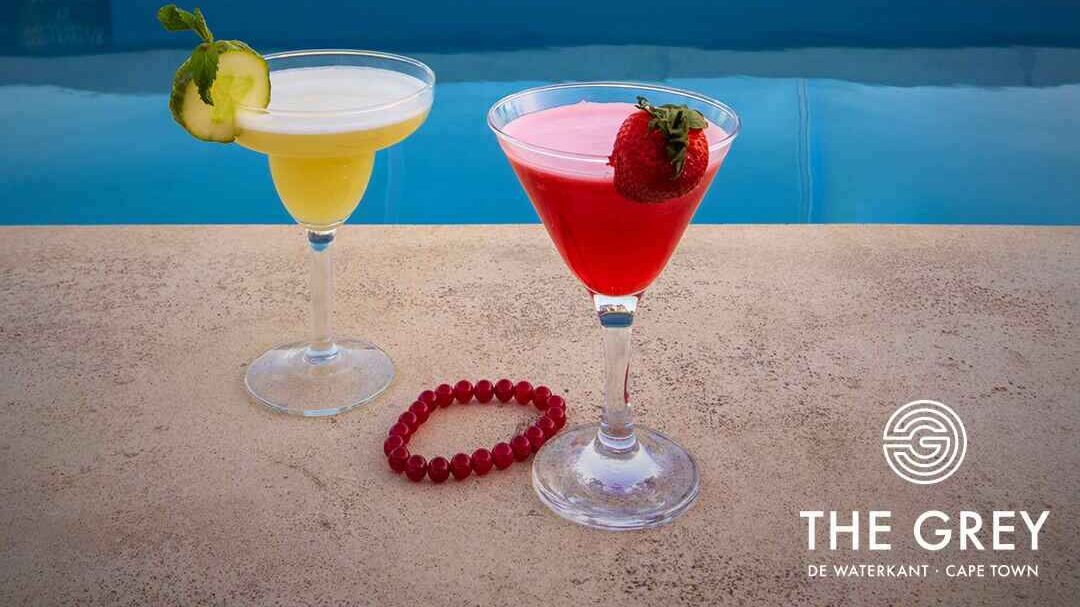 Seven stories high above the lively streets of Sea Point, SKYE Rooftop Bar and Restaurant is the ultimate spot for laid-back sundowners and more. Picture this: a chic setting with a sparkling pool deck, offering jaw-dropping 360-degree views of the Atlantic Ocean. What sets SKYE apart is its retractable roof, which can shield you from the blazing sun or unexpected rain showers, all while you sip your drinks and enjoy the view. Now, let's talk drinks. SKYE's got it all, wines, beers, spirits, and an impressive cocktail menu. You'll find classics like the Hyde gimlet, blueberry gin sour, and red pepper caipirinha to tickle your taste buds. But it's not just about the drinks; SKYE also pays homage to its owner's Mozambican roots with mouthwatering dishes like prawn-and-chorizo pasta and gourmet prego rolls.
SKYE keeps the good vibes going with daily specials and a happy hour from 5 p.m. to 7 p.m. In a nutshell, SKYE Rooftop Bar and Restaurant is where you can kick back, enjoy the view, and savour delicious drinks and bites. It's the perfect spot to unwind and soak up the Cape Town vibes.
SKYE Opening Hours: Monday to Friday and on Sundays from 12 p.m. to 10 p.m., and they crank it up a notch on Fridays and Saturdays, staying open until 2 a.m.
Website: https://thegreyhotel.co.za/skybar/
Address: 13 London Rd, Sea Point, Cape Town, 8005
Contact Number: 021 434 0205
Chinchilla by Kove Collection 🌴


If you're looking for a cocktail bar with a beachfront setting and a touch of Mediterranean charm, Chinchilla by Kove Collection is the place to be. It's the kind of place where you can kick back and enjoy beautiful views of the beach and ocean while drinking cocktails and grooving to some great tunes. The vibe here is all about being laid-back and trendy. The décor is a mix of natural elements like wood, rattan, cane, and colourful accents, giving it a boho tropical beach shack feel, but with a touch of sophistication. It's like your favourite beachside hangout, but a bit more upscale.
When it comes to food, Chinchilla has something for everyone. They've got fresh sushi, tasty bar snacks, hearty platters, and all your café classics like seafood, steaks, and burgers. So, you can fuel up and keep the good times rolling. On weekends, they've got resident DJs spinning cool tunes from 5 p.m. to 9 p.m., making it the perfect spot to start your night. Just remember, after 4 p.m., it's strictly for the over-18 crowd. Whether you're looking for a sunset chill or a weekend beach party, Chinchilla's got you covered.
Chinchilla Opening Hours: 4 pm to 10 pm on weekdays and from 12 pm to 10 pm on Saturdays and Sundays.
Website: https://www.kovecollection.co.za/chinchilla/
Address: Shop 120, Second Floor, The Promenade, Victoria Rd, Camps Bay, Cape Town, 8005
Contact Number: 021 286 5075
The Willaston Bar 🪴


The Willaston Bar, Located on the sixth floor of The Silo Hotel inside the Zeitz MOCAA building in Cape Town, is the kind of place where you can enjoy a night out with incredible views while enjoying good vibes. Its name, a nod to the SS Willaston, the first ship to load grain from these historic silos in 1924, adds a touch of history to the experience. Designed by the renowned UK architect, Thomas Heatherwick, this bar is not just about drinks; it's a visual treat in itself. It's where you can kick off or wind down a great night out in style and comfort. The chic decor and cosy furnishings set the perfect mood.
Whether you're sipping on South Africa's finest wines from their impressive selection or enjoying one of their expertly mixed cocktails, you'll be treated to fantastic views through the cool geometric windows. It's got Astro-turf and comfy loungers, making it an ideal spot to watch the sky put on a show during sunset, drink in hand. So, if you're after a spot that combines top-notch drinks, stunning views, and a touch of history, make your way to The Willaston Bar in Silo Square.
The Willaston Bar Opening Hours: Every day from 11 am to 11 pm.
Website: https://www.theroyalportfolio.com/the-silo-hotel/dining/the-willaston-bar/
Address: The Silo Hotel, Victoria & Alfred Waterfront, Cape Town, 8001
Contact Number: 021 670 0511
Cape Town's cocktail scene is as diverse and vibrant as the city itself. Whether you're seeking a rooftop bar with breathtaking views, a cosy lounge with vintage charm, or an eclectic space with live music, Cape Town has it all. Each of the featured cocktail bars in this guide offers a unique experience. As you embark on your Cape Town cocktail adventure, remember that the perfect cocktail experience is not just about the drink; it's about the atmosphere, the service, and the memories created. So, raise your glass to Cape Town's cocktail culture and savour the flavours of this dynamic and captivating city. Cheers to unforgettable evenings in Cape Town!