Paternoster, a quaint fishing village on the West Coast of South Africa, is a treasure that boasts pristine beaches, charming architecture, and a unique blend of tranquillity and adventure. The village is well-known for its unspoiled beauty and a variety of upscale accommodations that cater to travellers seeking a memorable escape. Let's explore the top 10 hotels in Paternoster, each offering a distinctive experience that ranges from luxurious beachfront villas to cosy guesthouses.
Sugar Shack 🍬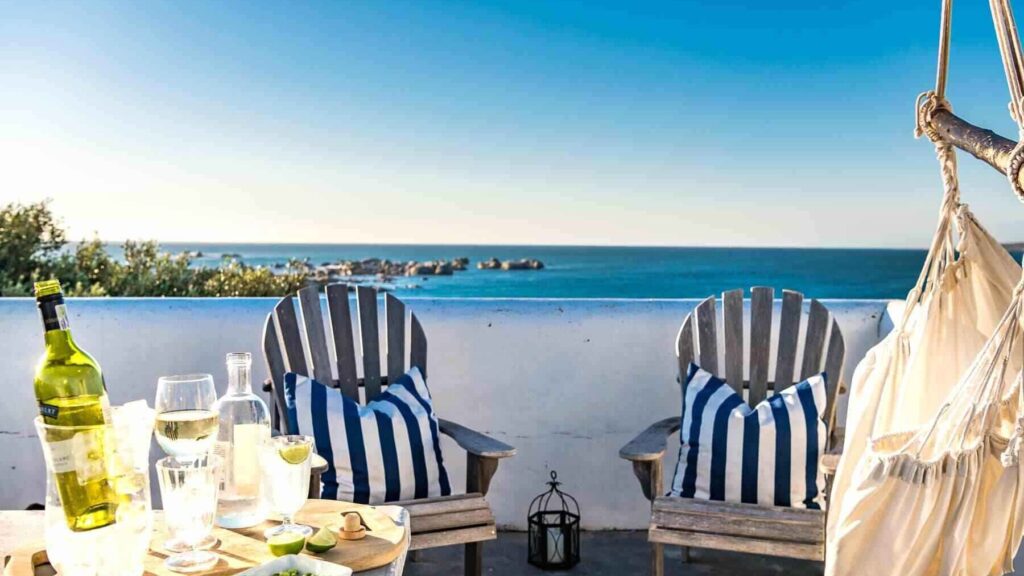 Sugar Shack is a charming 4-star graded cottage that beautifully combines rustic charm with modern comfort. Its fisherman-styled architecture exudes a sense of coastal authenticity, and it's conveniently located just a brief two-minute stroll from the beach. In the warm summer, you can unwind on the spacious verandah, sipping sundowners as you watch the fishing boats return with their catches. And when the West Coast winter sets in, a roaring fireplace in the living area invites you to cosy up for romantic evenings.
Sugar Shack is a versatile destination, perfect for extended family summer getaways, intimate weekends for two, cosy winter retreats, and friend reunions. The hosts, Lise and Ian Manley bring a wealth of hospitality expertise to ensure your stay is seamless, from your first inquiry to your arrival. A local housekeeper is on hand to assist you during your visit. The Cottage's relaxed holiday-style decor features local original artworks, creating an ambience that fosters the kind of unforgettable memories that truly exceptional holidays are made of. For an authentic and comfortable Paternoster experience, the Sugar Shack is your ideal destination.
Address: St Augustine Road, Paternoster, South Africa
Website: https://sugarshackcollection.com/index.html
Contact Number: 082 828 5168
Gonana Guesthouse 🐩


Gonana Guesthouse stands as Paternoster's best guesthouse, offering guests an unspoiled paradise of endless sunsets and flourishing natural beauty. Just a two-hour drive from Cape Town, this retreat invites you to a world of warm-hearted people, pristine white sandy shores, and inviting restaurants. Swedish owner and entrepreneur Jonas Sandström was inspired by the landscape, the local culture, and the abundant natural light, which led him to create a sustainable Afro-Scandi paradise where guests can reconnect with themselves, one another, and our planet.
Gonana Guesthouse offers a tranquil, unhurried experience in the heart of Paternoster, directly on the beach. Here, mornings start with fresh breakfasts featuring locally sourced organic produce. You can choose from various accommodation options, self-catering accommodation including two beach-style houses situated just 150 meters from Paternoster's Bekbaai, as well as well-appointed self-catering studios, perfect for exploring the village on foot. There's also the recently renovated, lovingly restored Coral Villa, the oldest fisherman's Cottage on the quieter Bekbaai side, with three en-suite bedrooms.
Gonana Guesthouse takes eco-consciousness seriously, implementing various sustainable practices. Solar power heats the water, greywater is responsibly managed, rainwater is collected, and water-saving showers are installed, all contributing to a robust recycling ethos. This eco-friendly approach aligns Gonana Guesthouse with modern sustainability practices, ensuring a kinder and gentler footprint on the environment. Gonana Guesthouse offers a unique blend of eco-consciousness, local support, and breathtaking beachfront accommodations, inviting you to experience Paternoster in harmony with nature and local culture.
Address: 42 Sonkwas Road, Bekbaai, Paternoster
Website: https://gonanaguesthouse.com/
Contact Number:066 194 1105
Book Your Stay At Gonana Guesthouse Here! 🐩
Abalone Hotel & Spa 🌲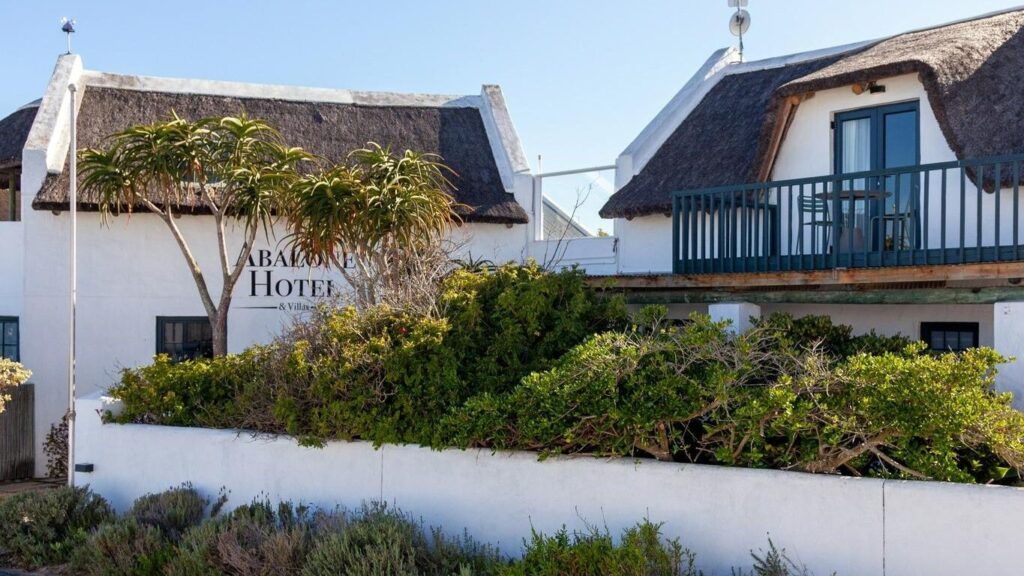 Abalone Hotel & Villas stands as a luxurious oasis with direct beach access. This extraordinary destination offers the perfect blend of sophistication and comfort, all within a short drive from Cape Town. The Abalone Hotel & Villas features five-star accommodations with an undeniable seaside allure, making guest comfort and luxury the top priorities. Bright and airy guest rooms encircle a beautiful central courtyard, each boasting a separate seating area and en suite bathroom with a shower. The decor, thoughtfully designed with the ocean in mind, offers an eclectic fusion of modern aesthetics and luxury.
Abalone Hotel & Villas epitomizes coastal luxury, seamlessly blending comfort, elegance, and the natural beauty of Paternoster. Whether it's a brief weekend escape or an extended holiday, guests will find the ambience, cuisine, and facilities second to none. This is not merely a place to stay; it's an immersive West Coast experience waiting to be explored. Indulge your senses at The Blues Restaurant, Abalone Hotel's in-house dining establishment and bar, which offers a selection of the finest wines from the Cape, thoughtfully curated to complement the cuisine and ambience. The restaurant is open for breakfast, lunch, and dinner every day of the week.
Guests are invited to explore the range of offerings and let the enchantment of Paternoster come to life in the lap of luxury at Abalone. For those seeking total tranquillity, the Wellness Suite offers a blissful experience. Spoil yourself and your partner with an array of body and skin treatments in the serene Spa Room. Skilled therapists help you leave stress and tension behind, allowing your mind to relax and regain balance. Choose from various spa treatments and enjoy the benefits of heated pools and a sauna, elevating your stay to a realm of pure relaxation and rejuvenation.
Address: 3 Kriedoring St, Bek Bay, Paternoster
Website: https://www.abalonehotel.co.za/
Contact Number: 022 752 2044
Stay At Abalone Hotel & Villa 🌊
Paternoster Hotel 💕
Paternoster Hotel, situated in the heart of the historic fishing village of Paternoster on South Africa's West Coast, offers a unique South African experience where the warmth and hospitality of the local community harmoniously blend with the daily life of the region. They offer a Family Room with a Partial Sea View: These spacious rooms feature a queen-sized bed and a comfortable twin bed, ideal for accommodating 2-3 people. The decor, with neutral colours and earthy tones, creates a serene atmosphere, and the balcony offers a partial sea view of Paternoster's stunning bay.
They offer a collection of Double Rooms. These rooms come with a comfortable double bed and exude a warm and cosy ambience with pops of colour against muted tones. It's the perfect space to unwind after a day of exploration, complete with a complimentary tea and coffee station. Then finally they offer Twin Rooms. These are Ideal for friends or couples travelling together, this room boasts two comfortable twin beds. The room's decor, with splashes of blue and white reminiscent of the nearby ocean, ensures a peaceful night's sleep. Beyond the comfortable accommodations, Paternoster Hotel also offers a shell shop, an on-site restaurant, and a variety of activities, including kayaking. Whether you're seeking relaxation or adventure, the Paternoster Hotel provides a cosy base for exploring the natural beauty and cultural charm of Paternoster and the West Coast.
Address: St. Augustines Road, Paternoster
Website: https://paternosterhotel.co.za/
Contact Number:022 752 2703
Book Your Stay At Paternoster Hotel 🌅
Zula Beach House and Cottage 🌱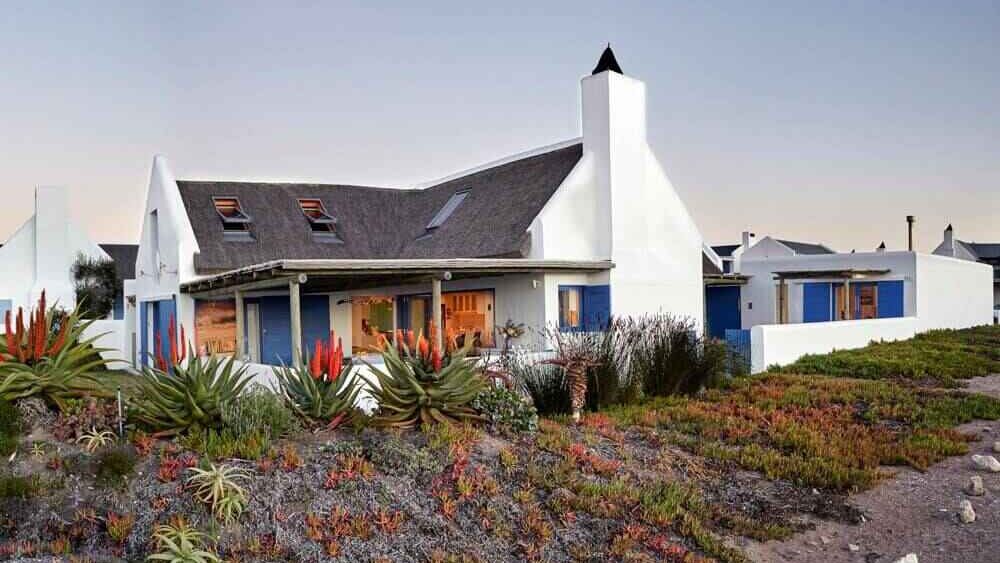 Located on the pristine beauty of Langstrand at Mosselbank, overlooking the expansive Paternoster Bay, Zula Beach House and Cottage offers a serene coastal escape where modern comforts and sustainability merge seamlessly. There is an option to rent the beach house This large and comfortable thatched home can accommodate up to 6 adults and four children, making it an ideal location for family reunions. Plus, it has a separate self-contained Cottage for 2 (not included). Dogs are also welcome, with a maximum of 2 furry friends allowed. With 15.4 kilowatts of solar power, there's no need to worry about blackouts. Guests can enjoy invigorating beach walks and runs to balance out the Paternoster dining experience. The house also offers a superb surf and kite surfing spot right in front, providing hours of excitement.
There is also an option to stay at the Beach Cottage. This self-contained, studio-style beach cottage is perfect for couples, accommodating two people. It's situated right on the beach and is especially inviting to dog lovers, with a private enclosed garden. The Cottage is set at the back of Zula Beach House, which can sleep up to 10 guests. It comes equipped with a gas BBQ and a fireplace, ensuring comfort even during the cold winters. Zula Beach Cottage is a popular choice among surfers, kites, and windsurfers who flock to Langstrand Beach for its ideal conditions. The Cottage shares 7.4 kilowatts of solar power with the main house, ensuring that you won't be affected by load shedding.
Address: 9 Langstrand Road, Mosselbank, Paternoster
Website: https://www.zulabeachhouse.co.za/
Contact Number: 083 449 8144
Strandloper Ocean Boutique Hotel ⛵


Strandloper Ocean Boutique Hotel, a sanctuary of serenity and natural harmony, is a retreat that transcends the ordinary. It's more than a hotel; it's a way of life that embraces the delicate beauty of its surroundings on the shores of the Atlantic. At Strandloper, you can truly leave the world behind and immerse yourself in a philosophy of being in tune with nature.
Barefoot luxury at its finest, where shoes are optional and relaxation is inevitable, heaven meets earth in this captivating setting. The 16 exquisite rooms and suites are a fusion of beach-style aesthetics and contemporary luxury. Organic lines, soothing hues, and tactile textures create a sense of simplicity, while each room or suite boasts its courtyard or terrace with wide doors that reveal breathtaking vistas of the sky, sand, sea, and boundless space. Leeto Restaurant, located within the hotel, offers a culinary journey of refined and contemporary West Coast cuisine. Chef Garth Almazan infuses each dish with local and organic touches; all enjoyed against the backdrop of the mesmerizing ocean views.
Strandloper Ocean Boutique Hotel is not just a place; it's an entire world waiting to be discovered. Its magnificent natural surroundings encompass long sandy beaches, vibrant marine life, captivating rock formations, and unforgettable vistas. Guests can indulge in various activities, from horseback riding on the beach to cycling, guided coastal bush hikes, and numerous other exciting adventures, all adding to the enchantment of this exceptional coastal retreat.
Address: Patterson Slot, Paternoster, South Africa
Website: https://www.strandloperocean.com/
Contact Number: 021 794 5858/9
Paternoster Dunes Boutique Guest House 🛎
The Paternoster Dunes Boutique Guest House is a testament to the magic of this unique coastal destination. Paternoster, different from other towns along the Cape West Coast, stands out as one of the few remaining traditional South African fishing villages. Its allure lies in the irresistible combination of pristine beaches, whitewashed charm, and the warm hospitality of both locals and visitors.
This accommodation effortlessly marries its core identity as a beautifully preserved fishing village with a well-rounded traveller infrastructure, ensuring visitors can enjoy vacation essentials and savour gastronomic experiences in quirky eateries. It's a place where the old world and modern comforts coexist harmoniously, creating an atmosphere that's both authentic and accessible. This Guest House's unique character and preserved beauty make it a magnet for those yearning for a carefree escape from the city's hustle and bustle. Whether you're drawn by the pristine beaches, whitewashed architecture, or the famously friendly locals, Paternoster Dunes Boutique Guest House provides the ideal setting to immerse yourself in the magic of this captivating coastal destination.
Address: 18 Sonkwas Road ,Bek Bay / Bekbaai ,Paternoster
Website: https://www.paternosterdunes.co.za/
Contact Number: 022 752 2217
Don't Miss Out! Stay At The Paternoster Dunes Boutique Guest House Today! 🪴
The Oystercatcher's Haven 🦪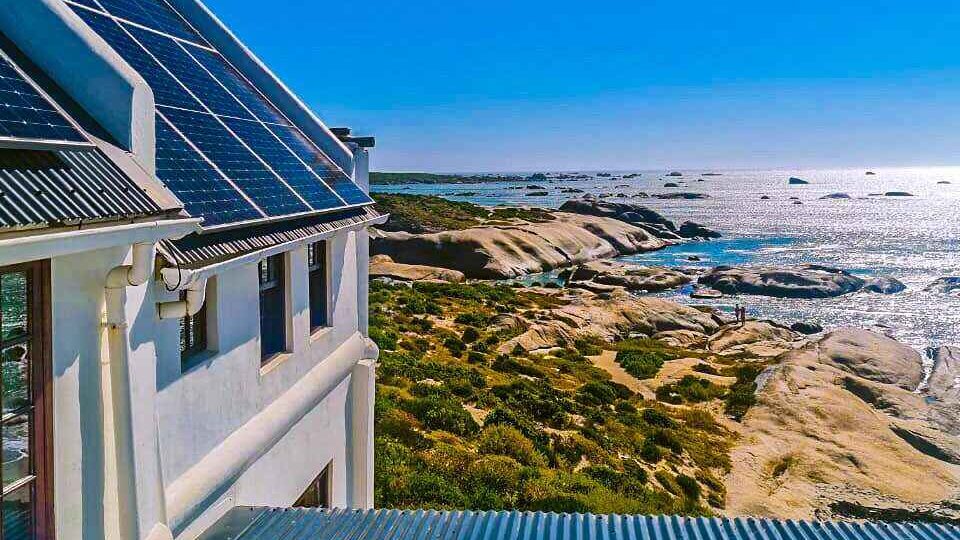 Discover the genuine warmth of West Coast hospitality and personalized service at The Oystercatchers' Haven, a charming 4-star guesthouse located along the peaceful shores of Paternoster. The Oystercatchers' Haven boasts a unique and distinctive interior and architectural design that evokes an old-world charm. Antique wooden sash windows, stable doors, untreated timbers, and reed-and-pole ceilings are complemented by carefully selected antique pieces, including a four-foot-high Angolan drum, Malinese Sinaba paintings, and Persian carpets.
The guesthouse features two luxurious Queen rooms, one Twin room, and a splendid Luxury Suite/Honeymoon suite with a private lounge area. Each room is private and has its patio, offering magnificent sea views from all corners and providing a serene environment for relaxation. The rooms are stylishly appointed and equipped with modern amenities like free WIFI, satellite televisions, a minibar, an electronic safe, and walk-in showers with stunning West Coast views. Beach towels are available upon request.
Paternoster, with its white-washed houses and colourful fishing boats, is a favoured destination for those looking to explore the beauty of the West Coast of South Africa. The best times to visit are in August and September to witness the wildflower bloom, and during May and June for spectacular sunsets as the winter rains arrive. Please note that The Oystercatchers' Haven is closed for annual maintenance during July. The guesthouse has received a four-star rating from the Tourism Grading Council of South Africa. The Oystercatchers' Haven cannot accommodate children under the age of 12, and pets are not allowed.
Address: 48 Sonkwas Road, Bekbaai, Paternoster
Website: https://oystercatchershaven.com/
Contact Number: 022 752 2193
La Baleine Beach House Collection 🥂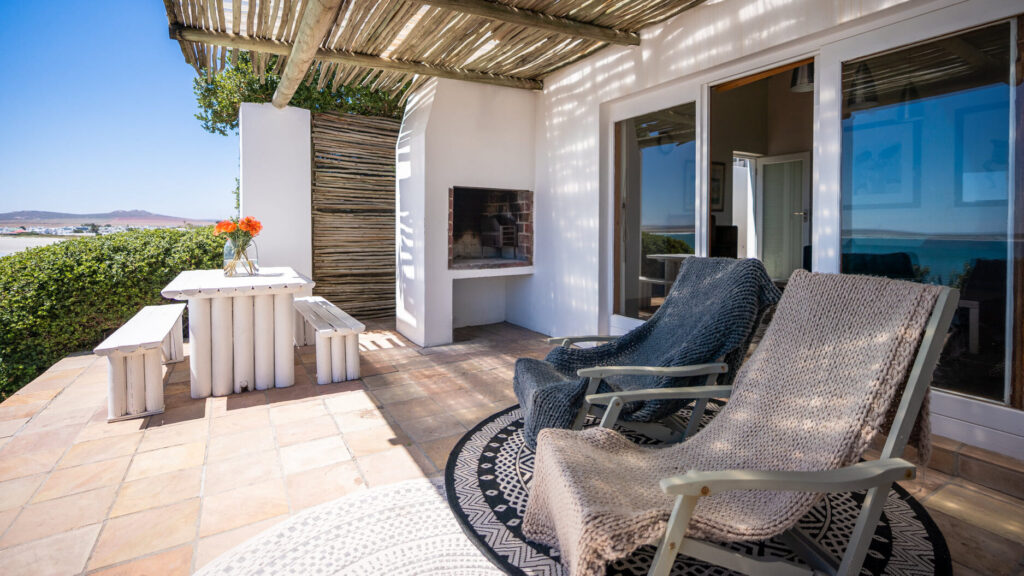 This collection comprises ten beach houses and studios, each proudly holding a 4-star accreditation from the Tourism Grading Council of South Africa. The beach houses and studios offer a bright and airy ambience, luxurious appointments, and breathtaking sea views. They feature beautiful bedrooms and bathrooms, fully equipped kitchens, and top-quality linens and towels. Each stylish beach house has a patio and barbeque facility, private access, Wi-Fi, DSTV, and undercover parking. Plus, guests can enjoy direct access to private walkways leading to the beach.
La Baleíne Beach House Collection encapsulates everything you need for a hassle-free holiday or weekend getaway while immersing yourself in the authentic West Coast lifestyle. Here, it's customary to kick off your shoes upon arrival and leave them off until you return home. The spacious two-bedroom beach houses provide ample room and breathing space for a comfortable and relaxed stay. La Baleíne Beach House Collection truly embodies the notion of a "home away from home." Moreover, for pet lovers, there's the added benefit of enquiring about their pet-friendly beach house, ensuring that everyone in the family can enjoy the West Coast experience.
Address: La Baleine – Korte Slot, Kliprug, Paternoster, West Coast, Western Cape
Website: https://www.labaleine.co.za/
Contact Number: 066 264 8461 
Baywatch Villa Collection 👙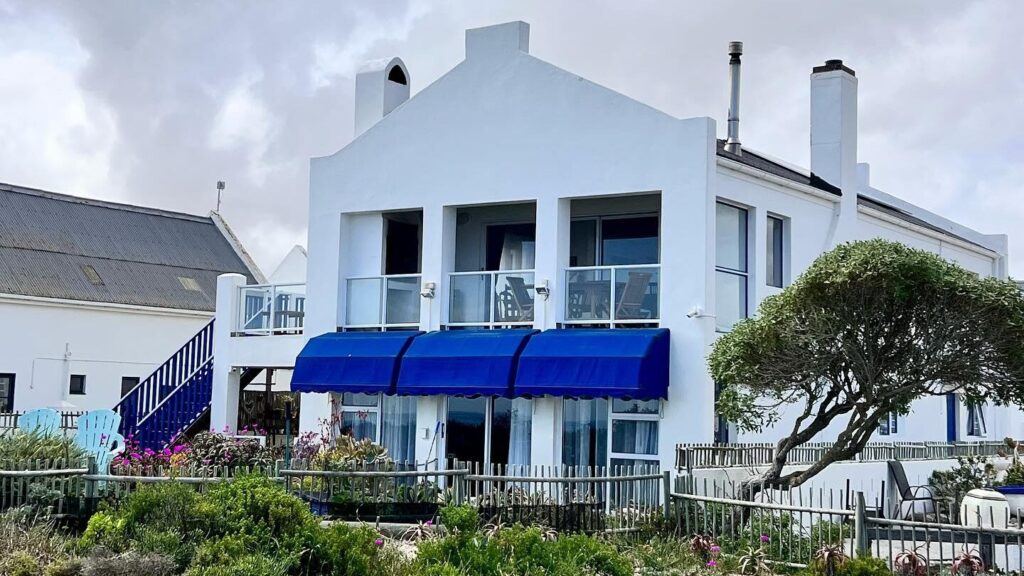 Baywatch Villa Collection is your gateway to luxury guest houses and self-catering accommodations in the beautiful Paternoster, Western Cape. They invite you to experience the quintessential charm of Paternoster through one or more of their five rooms in the Guest House. Choose to include a delectable breakfast or opt for a room-only rate to suit your preferences.
For those who relish self-catering experiences, they offer the choice of The Cottage and The Villa. If you seek the epitome of luxury with breathtaking views, they present The Penthouse for your indulgence. Here, you can explore the local area, enjoy the stunning seascape, indulge in delectable cuisine at beautiful restaurants, and bask in the warm welcome of the Baywatch Team. Paternoster, with its charm and natural beauty, promises a memorable escape on the Western Cape's captivating coastline.
Address:6 Ambyl Street ,Mosselbank ,Paternoster
Website: https://baywatchvilla.co.za/
Contact Number: 083 675 9332
Have The Full Paternoster Experience By Booking Your Stay At Baywatch Villa ⛱️
Paternoster stands as a coastal jewel on South Africa's West Coast, and the top 10 hotels in this picturesque fishing village offer a wide range of experiences to savour its unique charm. Whether you're seeking barefoot luxury at La Baleíne Beach House Collection, the serenity of The Oystercatchers' Haven, or the eco-conscious elegance of Gonana Guesthouse, each of these establishments presents an opportunity to immerse yourself in the magic of accommodation at Paternoster.