Cape Town's food scene is not confined to restaurants and cafes. It's also thriving on four wheels! Food trucks have taken the city by storm, bringing delectable dishes to its streets. These mobile kitchens serve up a diverse menu of flavours, offering something for everyone. Whether you're exploring the city's landmarks or simply looking for a quick bite, Cape Town's food trucks are here to satisfy your cravings. Join us as we embark on a flavourful journey, discovering the unique tastes that make these food trucks an essential part of Cape Town's food landscape.
About Food Trucks in Cape Town 🚚


Food trucks have a long history in Cape Town, dating back to when mobile food vendors served up hot pies and coffee to the city's workers and commuters. However, it's in recent years that the food truck scene has truly exploded, with creative chefs and entrepreneurs taking to the streets to offer an array of delectable dishes. These mobile kitchens are known for their innovation, allowing chefs to experiment with flavours and cuisines without the constraints of a traditional restaurant.
The charm of Cape Town's food trucks goes beyond their great food offerings. They often set up shop in some of the city's most scenic locations, from beaches to bustling markets and lively festivals, creating a unique dining experience. It's not just about grabbing a quick meal; it's about immersing yourself in the local culture and enjoying the lively atmosphere that surrounds these Food Trucks in Cape Town.
🚘 Need A Car To Get To All Your Food Truck Destinations? 🚗
Earthfire Pizza 🍕


When it comes to wood-fired pizza that's both delicious and sustainable, Earthfire Pizza stands out in Cape Town's food truck scene. Located at multiple places in and around Cape Town these food trucks combine the tradition of Italian pizza-making with a commitment to using locally sourced, organic ingredients. Their pizza ovens not only produce mouthwatering pizza but also emit the irresistible aroma of freshly baked crusts that waft through the air, drawing hungry patrons from all around.
Earthfire Pizza prides itself on its diverse menu, offering a range of pizzas to suit every taste, from classic Margheritas to inventive combinations like the bree and fig pizza. Vegetarians and vegans will also find plenty to indulge in, with options like the Vegetarian Pizza and 3 types of vegan pizzas. Their commitment to sustainability doesn't stop at ingredients; they use eco-friendly packaging and strive for zero waste.
Website: https://earthfirepizza.co.za/
Contact Number: 021 785 3560
Chip n Dip 🍟
When it's time for a snack that's both nostalgic and delicious, Chip n Dip is a food truck that hits the spot. Sometimes located near Cape Town's bustling Sea Point promenade this truck specializes in serving up everyone's favourite comfort food—potato chips. The menu at Chip n Dip offers a variety of chip options, from classic salted chips to loaded saucy creations. Pair your chips with a range of dipping sauces, from tangy tomato ketchup to creamy garlic mayo. Chip n Dip is where simplicity meets satisfaction.
Website: http://www.chipndip.co.za/
Contact Number: 011 454 4018
Blended Food Truck 🥤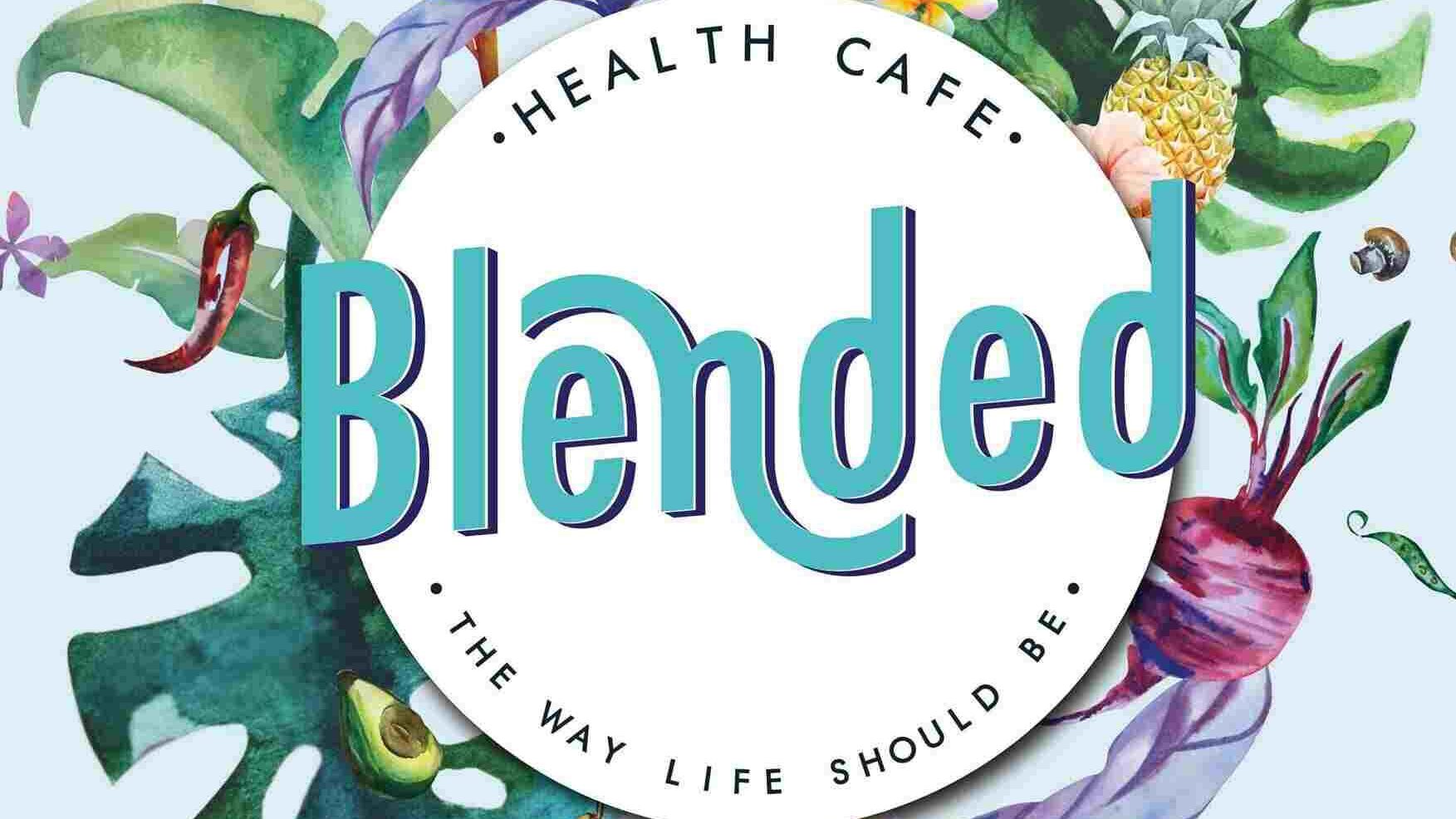 Blended Food Truck is a unique addition to Cape Town's food truck scene, offering a healthy twist on street food. This truck specializes in smoothie bowls and nutritious treats that cater to health-conscious travellers. Their smoothie bowls are not only visually appealing but also packed with vitamins and antioxidants. If you need a refreshing pick-me-up, their cold-pressed juices are a hit. Blended Food Truck is proof that eating healthily on the go can be both delicious and convenient.
Website: https://blendedbar.co.za/food-truck/
Contact Number: 083 554 1323
Yummies Fast Food 🍔
When you require a quick and satisfying bite to eat in Cape Town, Yummies Fast Food is a food truck that lives up to its name. this truck is all about convenience without sacrificing flavour. The menu at Yummies features a variety of fast-food classics, from mouthwatering burgers to crispy fish and chips. Their signature Yummies Burger is a juicy delight, topped with all the fixings. For the true Yummies experience, try their burger and chips, cooked to perfection. Yummies Fast Food is the perfect spot for a quick and delicious meal while exploring the city's attractions.
Contact Number: 082 560 8921
Jack Rabbit 🐇



Jack Rabbit Food Truck, helmed by the dynamic duo Vasti and Marc Anthony Vonk, both seasoned professionals in hospitality, has become a beloved fixture at Cape festivals and music events. Their presence at festivals is a treat for attendees seeking a fusion of flavours Their food prowess and boundless creativity shine through in their diverse menu offerings, with delectable gourmet burgers. Beyond festivals, Jack Rabbit caters to private events like weddings and corporate gatherings, elevating every occasion With a passion for delivering exceptional food experiences and a knack for adding a dash of creative energy to every dish, Jack Rabbit Food Truck is a gem worth checking out.
Contact Number: 083 414 1181
Truck Norris 👊🏼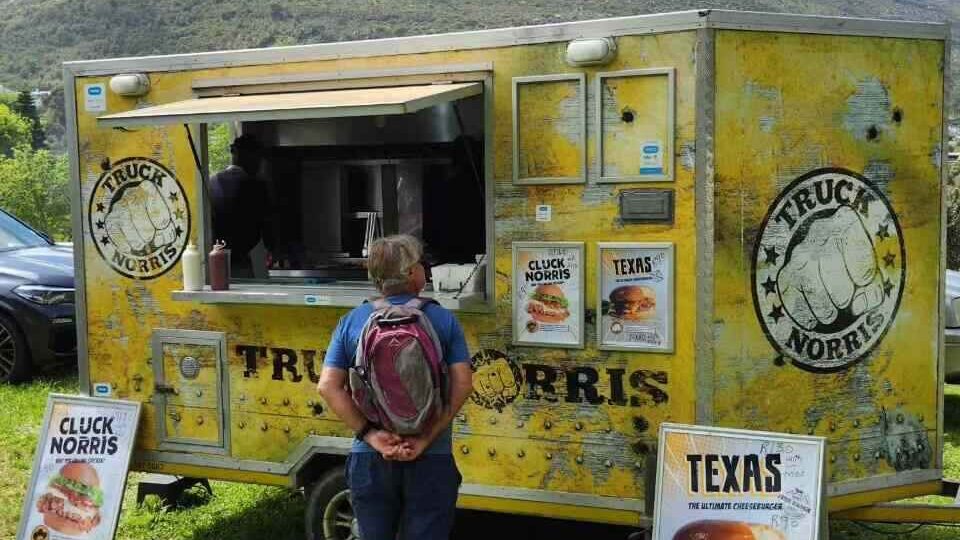 Meet Truck Norris, the flavour sensation cruising through Cape Town's food truck fiesta! With over two decades of culinary swagger, Their not just a truck They are a taste adventure waiting to spice up your visit. Get ready to chow down on great food like, the Texas Cheese Burger – think free-range beef, melty cheddar, German pickles, fresh tomatoes, crunchy lettuce, and our homemade Sidekick sauce on a toasted brioche bun. Chicken fan? The Cluck Norris Chicken Burger's got crispy fried goodness, fresh tomato, crunchy lettuce, sliced red onion, and a dollop of Hellman's mayo.
But wait, there's more! Dive into the triple-fried French Fries or try the sweet crunch of our Sweet Potato Fries – the perfect sidekick to your foodie adventure. Planning a bash? Let Truck Norris be the life of the party with their catering magic. Film sets, private shindigs, birthdays, weddings, They've got your back. So, why settle for the usual when you can savour the extraordinary? Join Truck Norriss on a foodie escapade, and let Truck Norris show you the tastier side of Cape Town. Ready, set, eat!
Address: 23 Milner Rd, Cape Town, 7441
Website: https://www.trucknorris.co.za/
Contact Number: 072 529 7999
Didi's Bitchin Burritos 🌈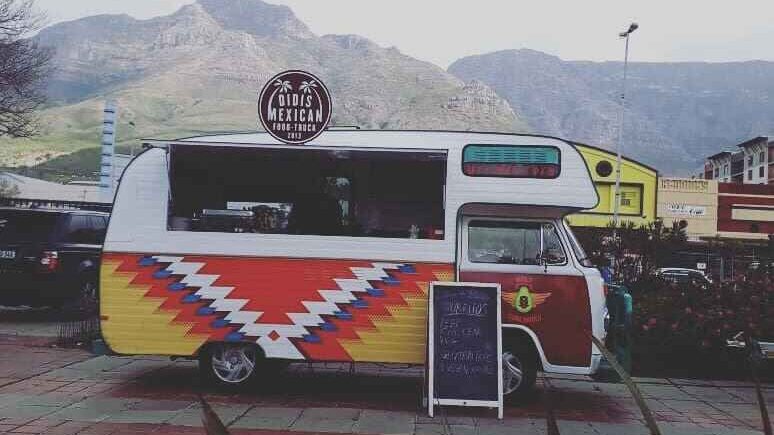 Didi's Bitchin Burritos is where you go to spice up your life with some epic Mexican grub in the Cape. This food truck is the life of the party at events, festivals, and functions across the region. They've got a knack for whipping up spicy, flavorful dishes that'll blow your taste buds away. From zesty burritos to other mouthwatering Mexican goodies, Didi's menu is a flavour explosion. So, next time you're at a Cape event or festival, keep an eye out for Didi's Bitchin Burritos. Your taste buds will thank you for the bold and tasty adventure they're about to embark on!
Website: https://www.didismexican.co.za/mexican-food-truck/
Contact Number: 071 217 2025
Black Beer'd Food Truck 💀
Welcome to Black Beer'd, where food innovation meets local craft beer flair on the streets of Cape Town. The inspiration for Black Beer'd was born at the lively launch of the renowned Jack Black Brewery in Diep River. Eager to support a local craft beer house, they embarked on a food trailer journey that joins their high-end brews with delicious creations. Picture this: succulent, fresh Hake sourced from our local fisheries, expertly coated in a beer batter recipe Black Beer'd perfected just for you.
Each crispy bite is a celebration of the vibrant Cape Town food scene and a nod to the craftsmanship of Jack Black Brewery. Black Beer'd brings together the best of Cape Town's local flavours and craft brews into the food truck scene and they promise to leave you craving more. You can find them at many events around Cape Town and of course in Simons Town. Cheers to good eats and great brews!
Address: GF02 Harbour Bay Mall, Main Rd, Simon's Town, Cape Town, 7975
Contact Number: 069 319 1603
Pizza Piaggio ⛰️


Pizza Piaggio Food Truck is the OG pizza tuk-tuk in South Africa, dishing out mouthwatering Neapolitan pizzas in the Western Cape. Their wood-fired oven works its magic, filling the air with irresistible pizza aromas. You can catch them at the Old Biscuit Mill's Neighbourgoods Market every Saturday, and they also pop up at festivals and local markets. Pizza Piaggio is where you want to be for that authentic Neapolitan pizza experience. It's like taking a delicious journey to Italy's streets right here in SA. So, grab a slice and savour the flavours that have made them a local favourite.
Contact Number: 081 351 8969
BSquared Food 🥪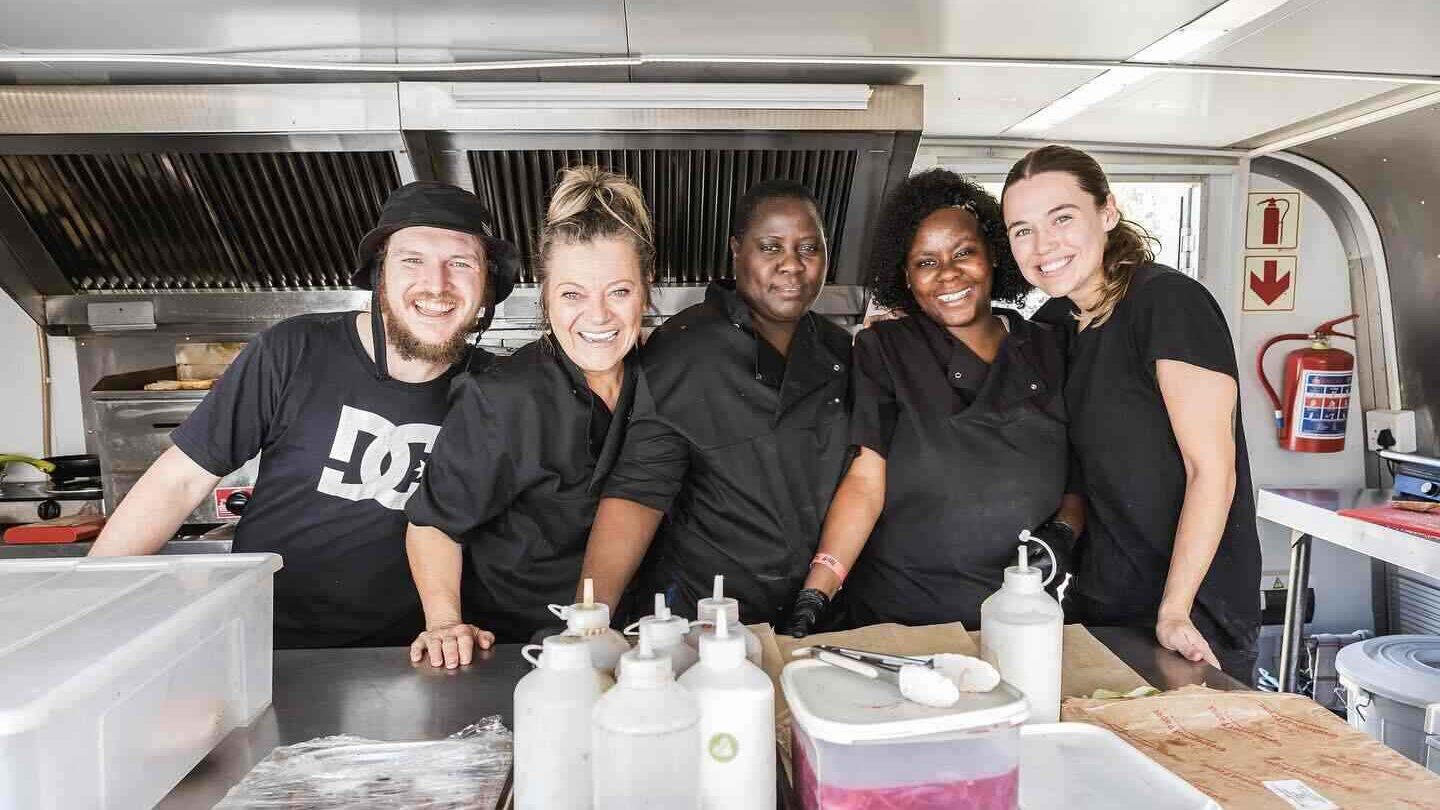 Say hello to BSquared Food, the awesome mother-daughter duo spicing up Cape Town events with their food truck magic. Cooked up during the Lockdown, this funky food truck, known as "Bsquared Food – Just Be," is all about giving your taste buds a wild ride. Whether it's a bash or a chill gathering, their quirky food truck is up for grabs to add that personal touch to your shindig. With gourmet street food, custom canapés, free-range beef, chicken burgers, benedict breakfast waffles, and mouthwatering sweet treats.
Oh, and did we mention they've got iced coffee and cappuccinos to wash it all down? And here's the cool part – BSquared Food runs on solar power and gas, and they're rocking eco-friendly packaging. These gals are all about good vibes, good food, and doing their bit for the planet. Join the party, where every bite is a flavour explosion, and the vibe is always on point!
Address: Victoria Rd, Hout Bay, Cape Town, 7806
Contact Number: 076 680 9931
Bali Food Truck 🥘
Ready your taste buds for an Indonesian flavour explosion right here in Cape Town with the Bali Food Truck! Known for dangerously delicious dishes, this truck is like a culinary passport to Indonesia's street food scene. Hop on the Bali Food Truck for a menu featuring signature delights like Nasi Goreng and Beef Rendang, where homemade spice blends bring the party to your palate.
Freshness is the name of the game with locally sourced ingredients handpicked each morning for that authentic kick. They're not just about street eats; catch them popping up at markets and festivals around town and guess what? they also cater to your parties, weddings, and corporate gigs too! Vegans, non-vegans, Halaal seekers, everyone's invited to this flavour fest. Slide into their DMs for custom quotes and spice up your next event!
Website: https://www.balifoodtruck.co.za/
Contact Number: 082 674 0182
No Ordinary Burger (NOB) 🍴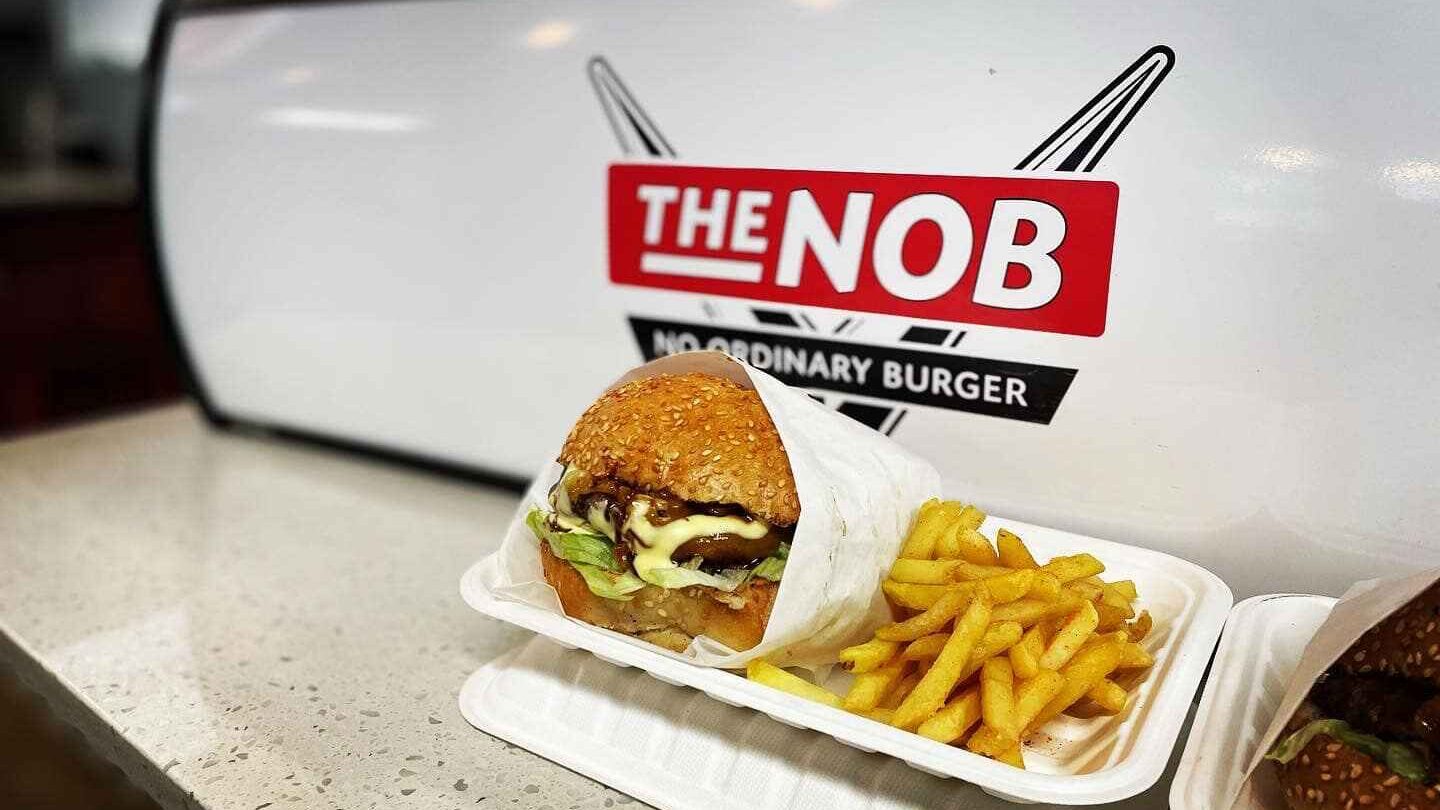 No Ordinary Burger (NOB) Food Truck is where burger dreams come true! They're all about serving up gourmet burgers with a twist. Picture this: juicy, custom-made burgers in big, sesame-seed buns that are simply drool-worthy. NOB isn't your run-of-the-mill burger joint. They've got secret sauces and a mind-boggling range of toppings that'll have your taste buds dancing. You'll spot them at cool festivals like the Cape Town Street Food Festival and sometimes at Jack Black Brewery. And here's the best part: NOB can roll up to your private event anywhere in the Western Cape. Get ready for burger heaven with NOB Food Truck!
Contact Number: 084 477 2434
Posticino 🍝


Get ready for a taste of Italy right here in Cape Town with Posticino, the food truck that's all about bringing you top-notch, affordable, and seriously delicious Italian eats. Meet the culinary maestros, Enrico and Gioacchino, who kicked off the Posticino journey back in '98 with their Sea Point restaurant. Located on the buzzing Main Road, the Posticino restaurant is the cosy spot where you can savour their authentic Italian vibes inside or kick back on the terrace.
Now, these Italian flavour wizards are hitting the streets! Whether you're in the mood for comforting pasta or a hearty pizza, the Posticino food truck is rolling through Cape Town, bringing the same goodness that's been winning hearts in Sea Point for years. Join the street food fiesta and let Posticino be your ticket to an Italian escape right here in the Mother City.
Address: 323 Main Rd, Sea Point, Cape Town, 806
Website: https://posticino.co.za/kneading-dough-on-the-go-food-truck/
Contact Number: 021 439 4014
Food Glorious Food 🍗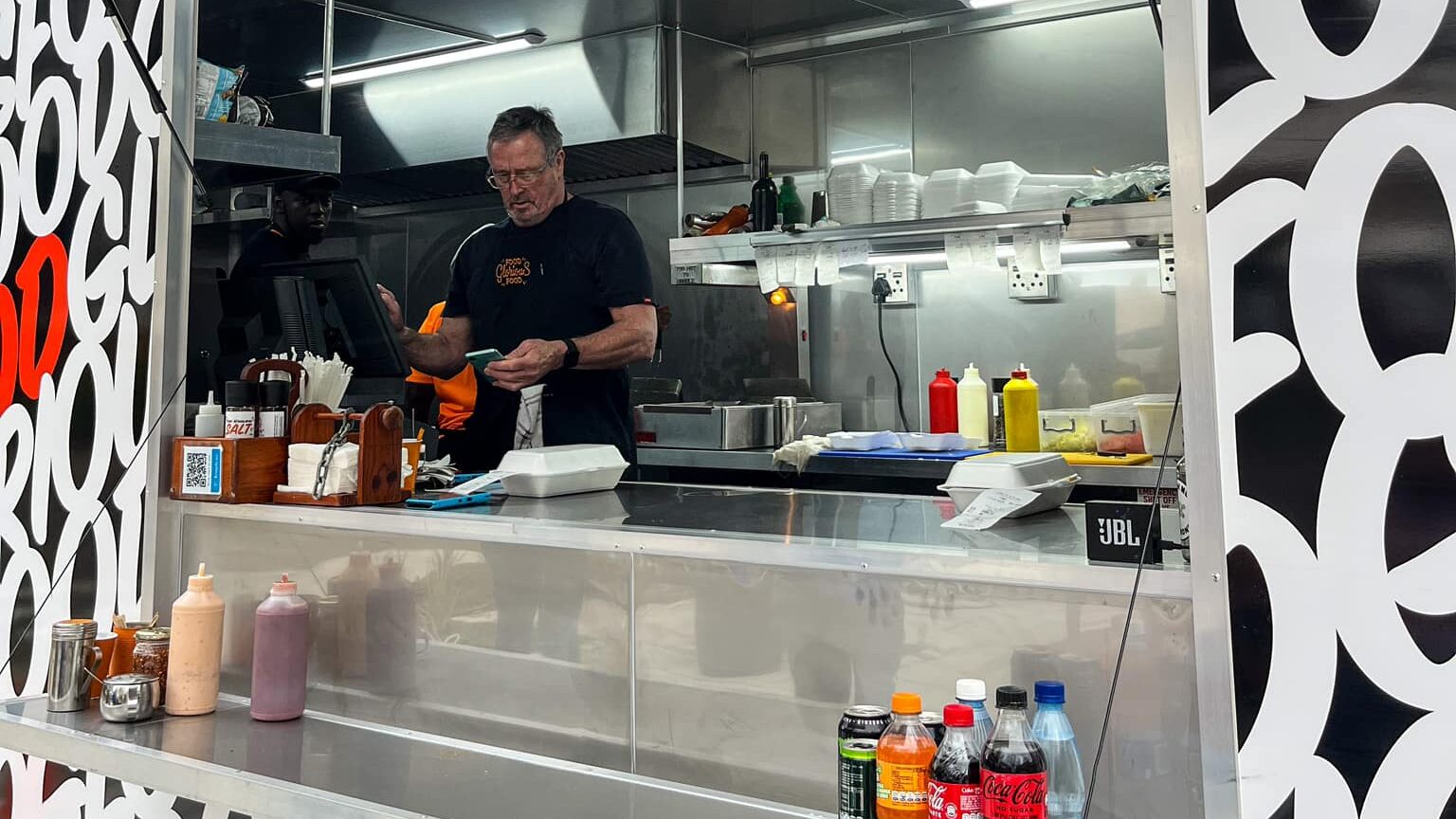 Get ready to dive into the delicious world of Food Glorious Food, where they're not just about the grub; they're fussy about it, and they have a cool four-meter mobile kitchen to prove it. They are tossing big juicy burger patties onto brioche buns, whipping up homemade tomato sauce, and loading up steaming chilli con carne. And when the morning hits, you can bet they're brewing up the best cuppa Joe in town.
So where can you find them? Well, pretty much anywhere in the greater Western Cape, sporting events, markets, private functions, you name it. They're serving up some classics and throwing in some new and exciting options because, hey, life's too short not to try something tasty. From avo smash to breakfast rolls, burgers to nachos, and more the menu is a must-try. Food Glorious Food isn't just a food truck; it's a rolling party of yumminess, ready to bring the foodie joy to Cape Town.
Address: Golf Office Park, Raapenberg Rd, Mowbray, Cape Town, 7700
Website: https://foodgloriousfood.co.za/
Contact Number: 083 703 1881
Hippo's Diner Food Truck 🥖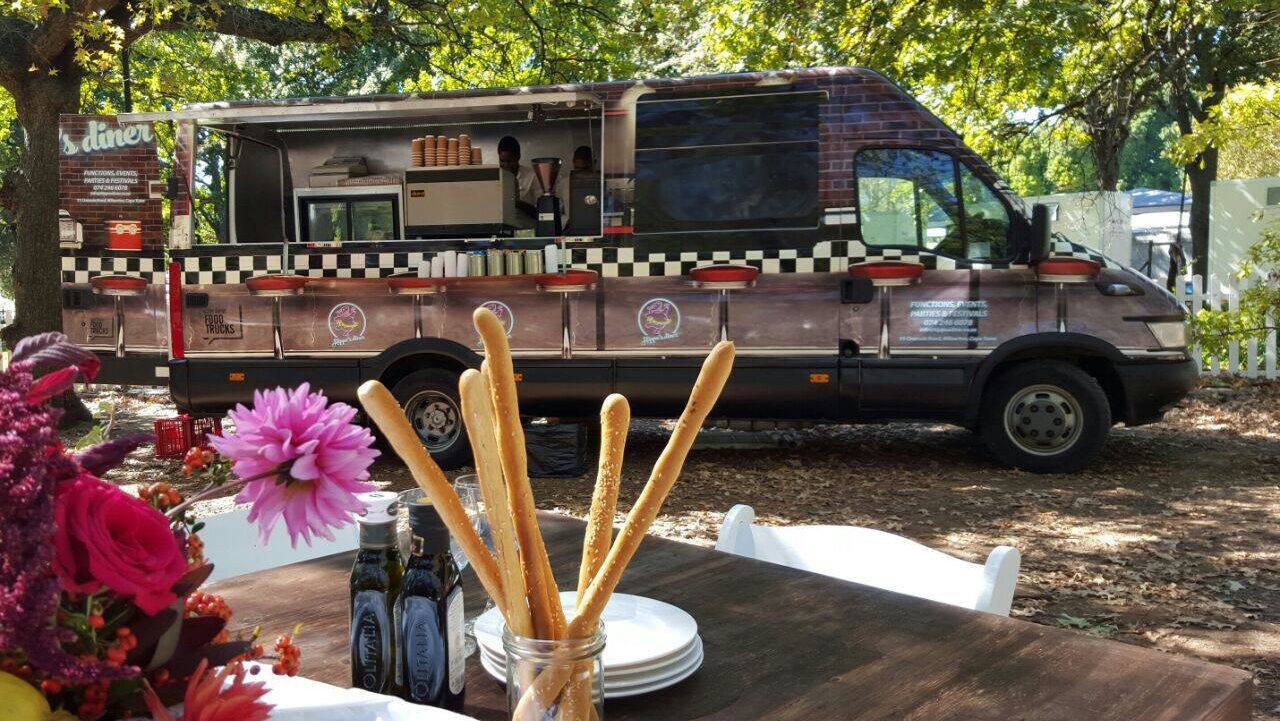 Check the deliciousness of Hippo's Diner Food Truck – the ultimate foodie haven in Cape Town! Known for rocking the culinary scene, this food truck brings a burst of flavour to every event it graces. Whether it's a corporate event, private party, or a wild festival, Hippo's Diner knows how to amp up the fun with their diverse and tasty food offerings. They roll in with a crew that's all about giving you high-quality food, and they've got the gear to make every event a hit. A Few of the items They offer are a Breakfast Bun, Biltong Cheddar Melt Cheese Burger, or a Smoked Pork Belly Bun so Hippo's Diner has your cravings covered. And let's not forget their foot-long hotdogs and boerewors rolls that are next level.
But it's not just about the eats; Hippo's Diner is the coffee maestro, brewing up speciality coffees that'll wake you up. They're the one-stop truck for making weddings extra special and turning kids' parties into unforgettable celebrations. So, if you're up for an adventure that's anything but ordinary, hop on board with Hippo's Diner Food Truck. It's not just about the food; it's about the great flavours they bring to the streets of Cape Town!
Website: https://www.hipposdiner.co.za/
Contact Number: 074 246 6078
Shawarma Express 🌯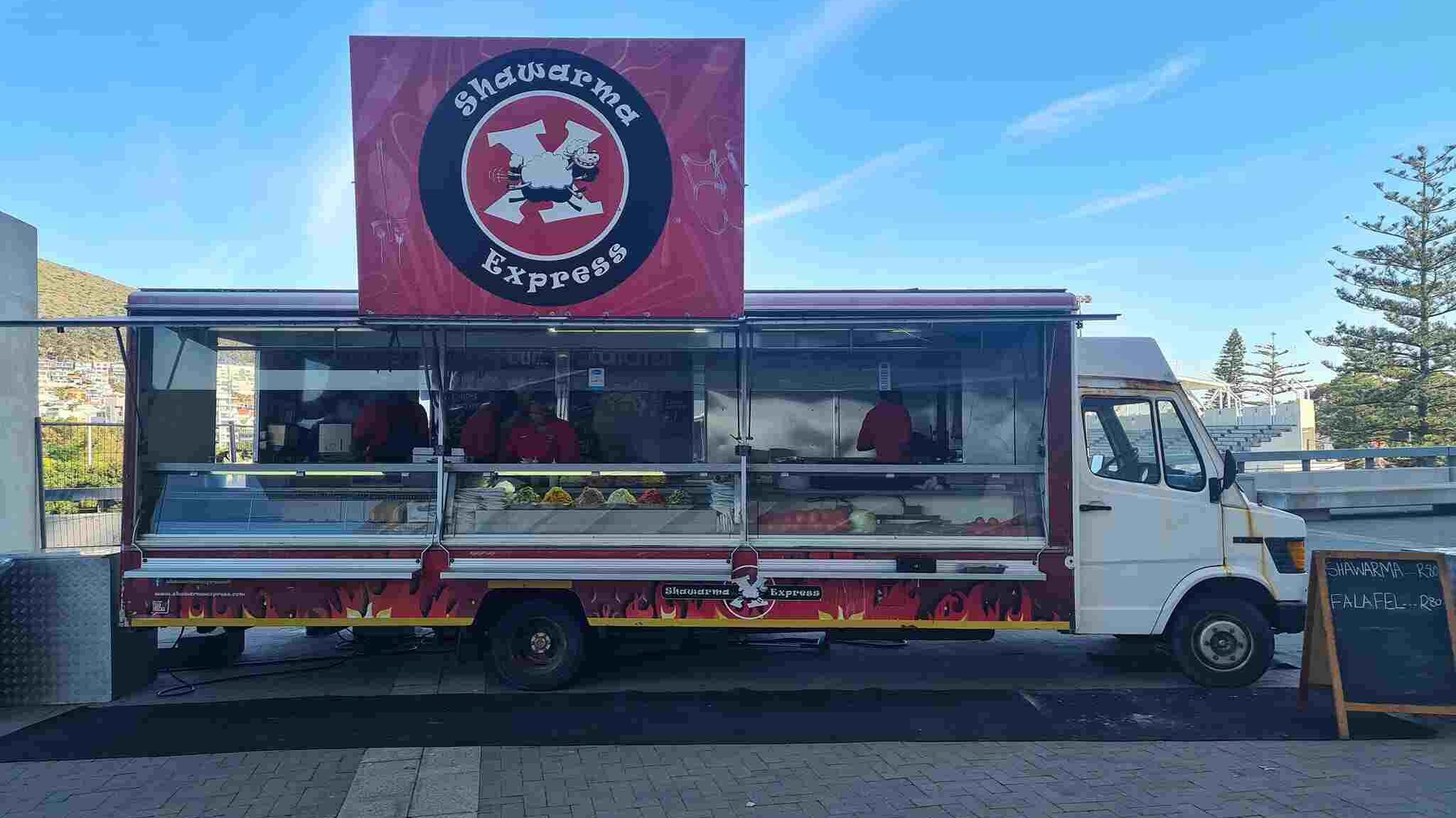 Craving a quick, hearty meal? Shawarma Express Food Truck has you covered! This food truck hotspot serves up Middle Eastern classics like shawarmas and falafels, all paired with a selection of local craft beers that add a unique twist to your meal. They're known for dishing out the town's best shawarma and whipping up some seriously tasty falafels, all without emptying your wallet. Whether you're swinging by for a laid-back lunch or a satisfying dinner, you'll find a welcoming crew ready to serve you with a smile. Shawarma Express is all about good eats, friendly vibes, and unbeatable value for your money. Stop by and savour the flavours!
Website: http://www.shawarmaexpress.com/
Contact Number: 021 433 0275
Bigga D's Food Truck 🌮


Bigga D's Food Truck in the heart of Cape Town is tucked away in Metal Lane, this food truck is your ticket to a global taste tour, serving unique and authentic cuisines that'll make you come back time and time again. What's the star of the show? Those mouth-watering Birria tacos, dripping with authentic consomé – trust us, you'll be craving seconds. Bigga D's recently shook things up with updated opening hours, so now you can get your hands on their tasty tacos every Wednesday and Saturday.
Founded by Dale Kushner from Come Dine With Me fame, this food truck is turning heads with its authentic Mexican street food, especially those famous birria tacos that have everyone queuing up. Whether you're a weekday warrior or weekend wanderer, check out their Facebook or Instagram for the latest deets, and head to Metal Lane, 4 Kloof Street, for a little food truck bursting with big flavours!
Address: Metal Lane, 4 Kloof St, Gardens, Cape Town, 8001
Contact Number: 083 635 9699
Holy Macaroni 🧀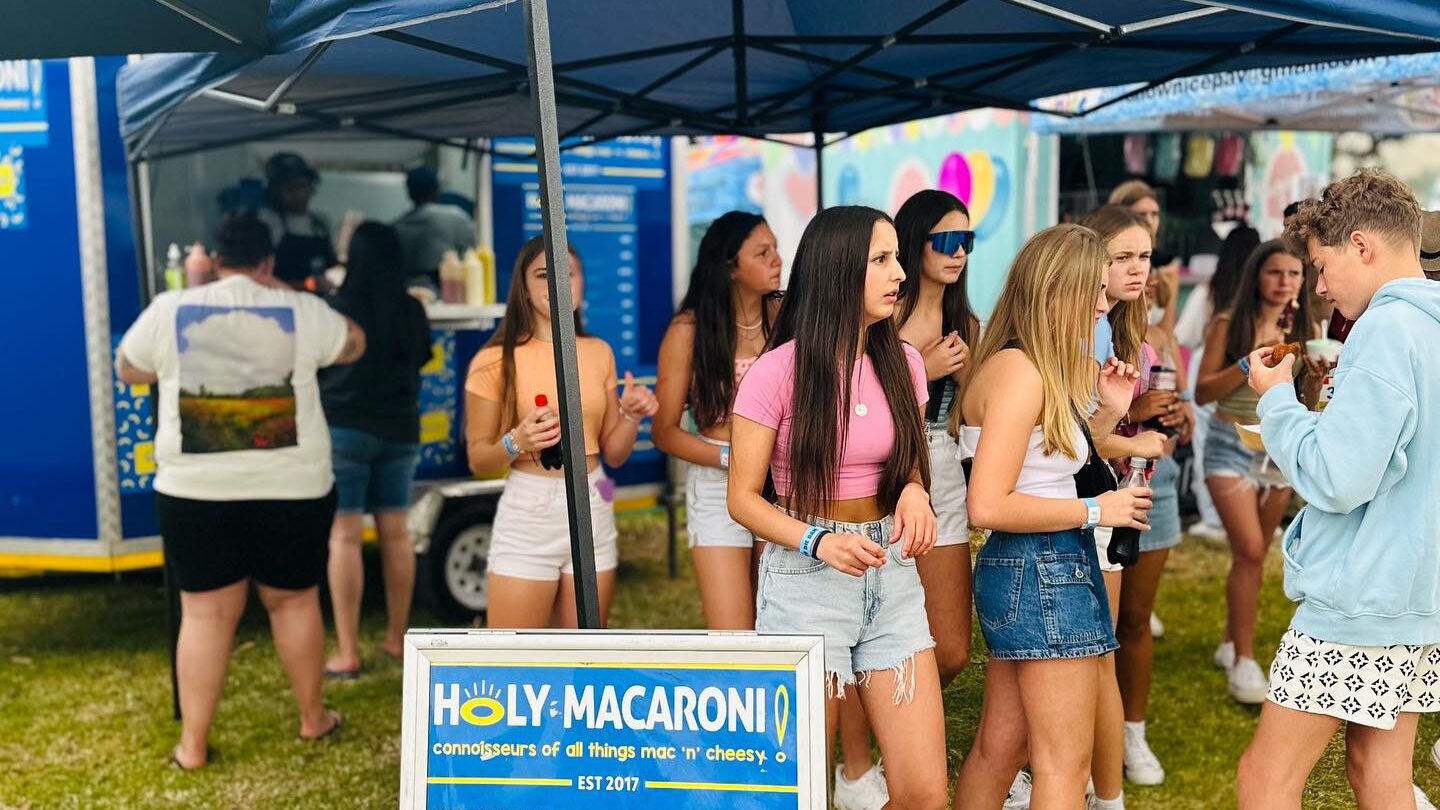 Welcome to the cheesy paradise of Holy Macaroni, where Mac 'n' Cheese takes centre stage with a jazzed-up twist in Cape Town. Holy Macaroni has mastered the art of this classic comfort dish, focusing on delivering consistent quality and old-fashioned service excellence for a dining experience you won't forget. The goal is clear: to be the go-to spot for the best Mac 'n' Cheese in town, drawing in South Africans and enthusiastic travellers alike. Whether you prefer to sit down, grab a takeaway in Newlands or Gardens, or have it delivered through UberEats, Mr D, or Bolt, Holy Macaroni has you covered.
But that's not all, they've got a Heat & Eat range for those lazy days, delivered fresh and ready for freezing in different regions. Planning an event or celebration? Holy Macaroni brings the party with its unique "BUILD A MAC PARTY" experience, making every gathering a cheesy delight. It's not just about convenience; it's about bringing home-cooked comfort without the hassle. Get ready to indulge in the ultimate Mac 'n' Cheese experience with Holy Macaroni!
Address: Shop 7, Ashley Cooper House, Cnr of Dean Street &, Main Rd, Newlands, Cape Town, 7708
Website: https://www.holymacaroni.co.za/
Contact Number: 083 228 2929
Curry Pot Food Truck 🍛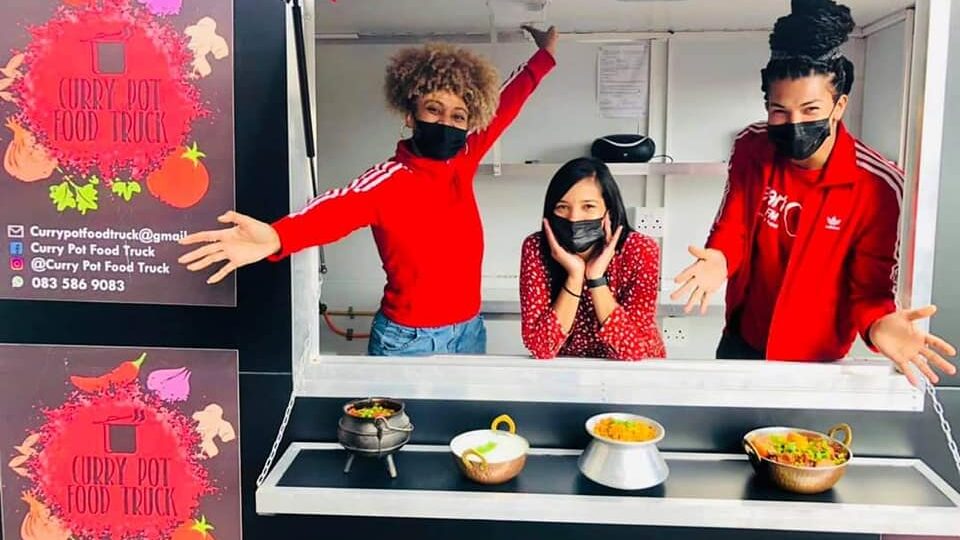 Embark on a journey through Cape Town with Curry Pot Food Truck, your go-to for the best Authentic Indian Cuisine. With an Indian cook boasting over 15 years of experience, they're masters at preparing tantalizing Indian dishes that promise just good food from the freshest ingredients. They have Bunny Chows, Butter Chicken, Breyani, Curry, Soji, and homemade samoosas are just a taste of what they have to offer.
The Curry Pot Food Truck isn't just about serving up delicious meals; they also offer the hire of their food truck and catering services. Whatever you craving, they've got it sorted. The friendly staff is ready to welcome you year-round, ensuring a delightful experience. It's not just about the food; it's about enjoying the authentic flavours of India right here in Cape Town.
Address: 73 Milton Rd, Goodwood, Cape Town, 7460
Contact Number: 083 586 9083
Vegan Streetfood 🥑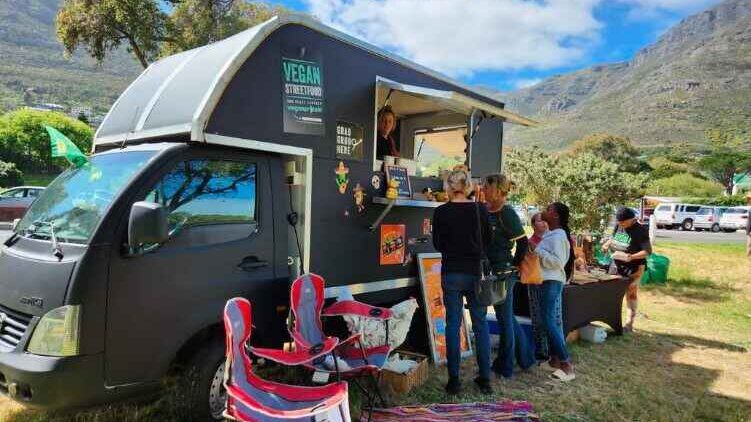 Welcome to the Vegan Street Food Truck, your go-to for amazing vegan eats on the streets of Cape Town! This food truck is all about bringing tasty plant-powered goodness to various spots and events across the city, from weddings to parties and buzzing festivals. They've got an interactive map on their website that shows their menu and where they're parked, so you won't miss out on their mouthwatering vegan offerings. Plus, they're all over social media, Instagram, TikTok, and Facebook, keeping everyone in the loop about their latest dishes, events, and sweet deals.
They only use the freshest local ingredients, all packed up in biodegradable packaging, so you can chow down guilt-free. With a whopping 80% of their food made in-house, including their special falafel and 'OMC chick'un,' they're all about serving up original, flavorful vegan food. You'll catch these plant-based pros at local markets, events, and festivals. Keep tabs on their event calendar and join the foodie fun for a taste of fantastic vegan street eats!
Website: https://veganstreetfood.co.za/
Contact Number: 060 633 9837
Once You Have Grabbed Your Grub Take A Scenic Stroll And Check Out Cape Towns Street Art 🖌️
Cape Town's food trucks offer a diverse and delectable culinary journey that should not be missed by any visitor to this beautiful city. Whether you're a fan of international cuisine, street food classics, or gourmet delights, the food truck scene in Cape Town has something to satisfy every palate. So, as you explore the stunning landscapes, rich history, and vibrant culture of The Mother City, be sure to embark on a food truck adventure that will leave your taste buds dancing and your heart full. Cape Town's food trucks are a testament to the city's creativity, diversity, and unwavering passion for good food.