Knysna is a small town located in the heart of the Garden Route, a beautiful stretch of the Western Cape coastline that runs from Mossel Bay to Storms River. The town is situated on the shores of a large, tranquil lagoon that is fed by five rivers, and surrounded by lush forests and stunning beaches. Known for its natural beauty, cultural experiences, and warm hospitality, Knysna is a popular destination for visitors from all over the world.
The Natural Wonders of Knysna
One of Knysna's most famous attractions is the Knysna Heads, two massive cliffs that tower over the entrance to the lagoon. The Heads are a natural wonder, and visitors can take a scenic drive or hike up to the viewpoint to enjoy breathtaking views of the ocean and the lagoon. The lagoon itself is a beautiful body of water that offers visitors a chance to go fishing, boating, or kayaking. The surrounding forests are home to an abundance of flora and fauna, including the rare Knysna elephants, which are a must-see for nature lovers.
For those who enjoy hiking, the Knysna Forest is a must-visit. This ancient forest is home to an incredible range of wildlife, including birds, monkeys, and bushbuck. Visitors can choose from a range of trails, including the famous Outeniqua Hiking Trail, a multi-day hike that takes you through the forest and over the Outeniqua Mountains.
The Garden Route is home to several other nature reserves, including the Tsitsikamma National Park, which is located just a short drive from Knysna. The park is famous for its stunning coastline, forest hikes, and beautiful waterfalls. Visitors can take a guided tour through the forest, go snorkelling or scuba diving in the ocean, or take a thrilling canopy tour.
Cultural Experiences
Knysna is a melting pot of cultures, and visitors will find a range of experiences that celebrate the town's diverse heritage. The Knysna Oyster Festival, held annually in June, is one of the town's most popular events. Foodies from around the world gather to sample the town's famous oysters, fresh seafood, wine, and craft beer. The festival also features live music, sports events, and family-friendly activities.
The Knysna Museum is another must-visit attraction for history buffs. The museum offers a glimpse into the town's rich cultural heritage and showcases exhibits on the timber industry, maritime history, and the lives of the Khoisan people. Visitors can learn about the town's past through interactive displays, photographs, and artefacts.
Accommodation Available


Knysna has a range of accommodation options to suit every budget and taste. From luxurious hotels to cosy guesthouses and bed and breakfasts, visitors are spoiled for choice. The town is also home to numerous Airbnb rentals, which offer a more personal and authentic experience. Many of the hotels and guesthouses offer stunning views of the lagoon and the surrounding forests.
Outdoor Activities
Knysna is also a haven for outdoor enthusiasts. Visitors can go mountain biking, horse riding, or take a zip line tour through the forest. For the adrenaline junkies, there's bungee jumping, abseiling, and paragliding. The town is also home to a range of golf courses, which offer stunning views of the surrounding landscape.
For those looking for a more laid-back experience, there are numerous spas and wellness centres in and around Knysna. Visitors can indulge in a range of treatments, including massages, facials, and body scrubs, all while enjoying the natural beauty of the surrounding landscape.
Shopping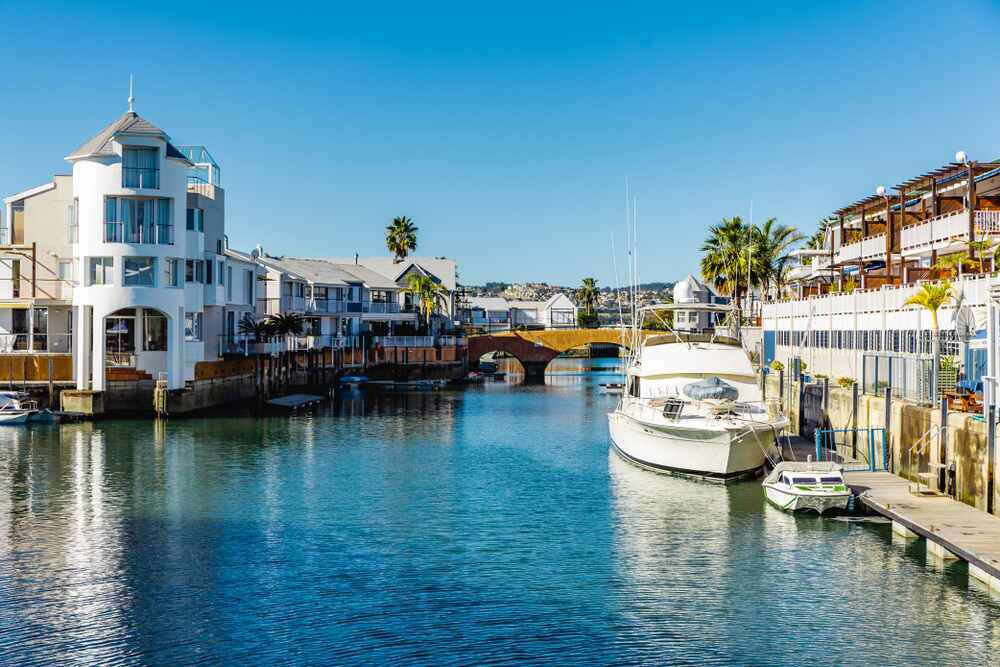 Knysna is home to a range of boutique shops, art galleries, and craft markets, making it a great place to pick up unique souvenirs and gifts. The town's main shopping street, Gray Street, is lined with a range of stores selling everything from fashion to homeware. The Knysna Art Gallery, located in the Old Gaol complex, showcases works by local artists and is a great place to pick up a piece of original artwork.
Food and Drink
Knysna is a food lover's paradise, and visitors will find a range of restaurants, cafes, and bars serving up delicious cuisine from around the world. The town is particularly famous for its seafood, with fresh oysters and other shellfish readily available. Visitors can also sample local specialities like biltong, droëwors, and boerewors, which are all traditional South African snacks.
One of the best ways to experience the local food and drink culture is to visit one of the town's many farmers' markets. The Wild Oats Farmers' Market, held every Saturday, is a popular spot for locals and visitors alike. Here, you can find fresh produce, homemade preserves, artisanal bread, and much more.
---
Knysna is a beautiful town that offers visitors a range of experiences, from natural wonders to cultural experiences, outdoor activities to food and drink. Whether you're looking for adventure, relaxation, or a little bit of both, Knysna is the perfect destination. So why not book your next vacation to this stunning town and explore all that the Garden Route has to offer?