If you need a great party venue Cape Town has them by the boatload, with its stunning landscapes and vibrant culture, this is a city that knows how to celebrate. Whether you're planning a birthday bash, corporate event, or just a night out at a cape town rooftop bar with friends, the city offers a diverse range of party venues to suit every taste.
In this comprehensive guide, we'll delve into some of the most sought-after party venues in Cape Town, including the luxurious 180 Lounger, the trendy Woodstock Brewery, the iconic Rick's Café Américain, and many more. All of these places are fun and safe for all visitors to the mother city.
180 Lounger 🌄


Located in the heart of Cape Town, the 180 Lounger stands as a testament to luxury and sophistication. This venue offers a spacious and elegant setting, making it perfect for upscale events. With its panoramic views of the city and the ocean, the 180 Lounger creates a mesmerizing ambience that leaves a lasting impression on your guests. The 180 Lounge, a pinnacle of sophistication and versatility, beckons with its multi-functional indoor space and an open-air rooftop terrace that offers an awe-inspiring 360-degree panorama of Cape Town. The rooftop experience at 180 is nothing short of exceptional, offering three distinctive options to cater to various needs.
The "180 Rooftop Experience" is an exquisite choice for corporate events, business forums, product launches, or private functions. With the capacity to host up to 120 guests both indoors and outdoors, it provides an unparalleled backdrop for memorable occasions. The rooftop setting presents a captivating vantage point, allowing guests to soak in the beauty of Cape Town while indulging in the event's ambience. For a more intimate gathering, the "180 Connect" option, conveniently located close to the Cape Town CBD, accommodates a minimum of 10 delegates. This setting fosters focused discussions and interactions, creating an environment conducive to productivity and is an ideal small venue for hire in cape town
The rooftop lounge itself offers "180 rooftop travel" that transcends traditional boundaries by providing not only a space for leisure and work but also offering well-appointed shower facilities and an array of delectable delicacies and refreshments. This thoughtful provision eliminates the inconveniences of early check-outs, late flight departures, and sudden travel plan changes. The 180 Lounge goes beyond the ordinary, offering a refined experience that melds sweeping vistas, functional spaces, and impeccable hospitality. Whether for business or pleasure, the 180 Lounge elevates events to an unmatched level of elegance and comfort.
Address: The Terraces, 16th Floor, 34 Bree Street, Cape Town
Website:https://180lounger.com/
Contact Number:+27 (0) 21 180 0180
Woodstock Brewery 🍻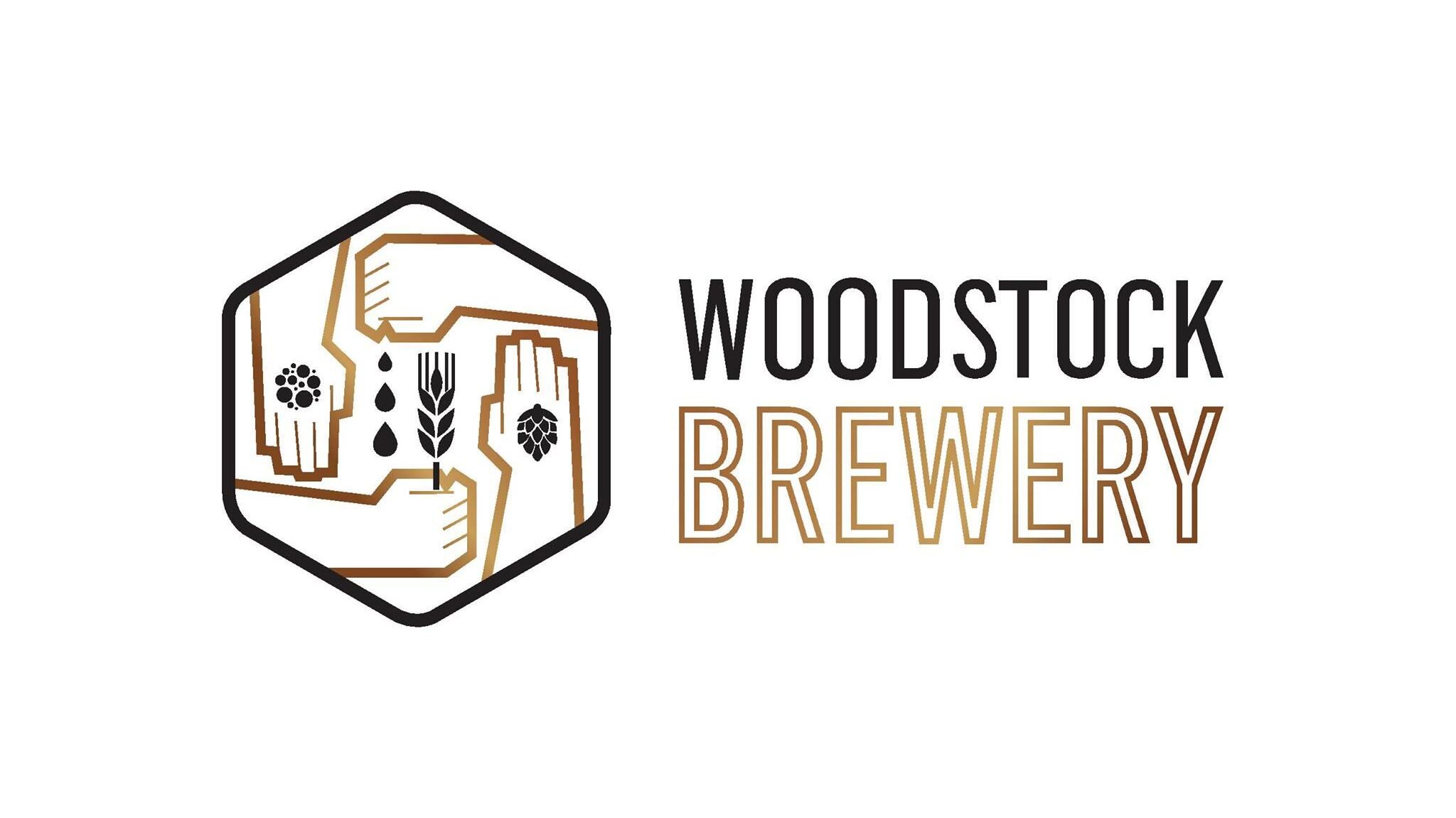 For those who appreciate craft beer and an eclectic atmosphere, Woodstock Brewery is a must-visit party destination. Known for its artisanal beers and industrial-chic design, this venue offers a unique setting that's perfect for casual gatherings and celebrations. The combination of delectable food, handcrafted drinks, and a lively ambience makes Woodstock Brewery a hotspot for those seeking a trendy experience.
Address: 252 Albert Rd, Woodstock, Cape Town, 7925
Website:https://woodstockbrewery.co.za/
Contact Number: 021 203 3045
Rick's Café Américain 🎞️


Transport yourself to the cinematic world of "Casablanca" at Rick's Café Américain. This iconic venue captures the romance and allure of the film, offering an unforgettable backdrop for any event. From intimate soirées to grand celebrations, Rick's Café Américain exudes old-world charm combined with modern elegance.
Rick's Café Américain, is a captivating fusion of cinematic charm and culinary delight, that offers more than just a dining experience – it's an ode to the classic American film "Casablanca." This restaurant and bar transports patrons into the romantic world of Humphrey Bogart and Ingrid Bergman, where every corner exudes the timeless allure of the movie. With a rooftop terrace that mirrors the film's ambience, Rick's Café Américain presents an exquisite setting that encapsulates the essence of an era bygone.
Beyond its cinematic charm, Rick's Café Américain stands as the perfect canvas for your special occasions. Whether it's an intimate celebration or a small-scale gathering, this venue accommodates up to 30 guests, ensuring an atmosphere of exclusivity and personalized attention. The venue's unique fusion of inspired decor, delectable cuisine, and a rooftop terrace with panoramic views creates an unparalleled ambience that turns ordinary events into extraordinary memories.
Address:103 kloof street Crn, Weltevreden St, Gardens, Cape Town
Website:https://rickscafe.co.za/
Contact Number:021 822 1100

Legacy Events and Venue Hire 🌼


Legacy Events and Venue Hire offers a personalized touch that transforms occasions into extraordinary moments. With a keen focus on creating unforgettable experiences, Legacy Events boasts an impressive array of amenities. From secure parking that guarantees peace of mind to backup power that eliminates the threat of load shedding, every detail is meticulously arranged for a seamless event. The in-house services are designed to elevate occasions to new heights, including table decor, stage backdrops, cherry blossom trees, fairy lights, hanging naked bulbs, and more.
A cutting-edge 360-degree camera and photo booth, marquee light letters and numbers, LED neon lighting, full DJ sound, and even crockery and cutlery contribute to an ambience that's second to none. The versatile venue can accommodate up to 250-280 guests, offering flexible options for indoor and outdoor events. With an in-house florist, caterers, and a myriad of other amenities, Legacy Events and Venue Hire ensures that every facet of your event is thoughtfully curated for an unforgettable experience. Whether it's a grand celebration or a corporate gathering, Legacy Events is a canvas upon which dreams are painted and memories are etched forever.
Address: Legacy Events and Venue Hire, Schaapkraal Road, Ottery, Cape Town
Website:https://legacyevents.co.za/
Contact Number:071 603 5032

Cafe Extrablatt ☕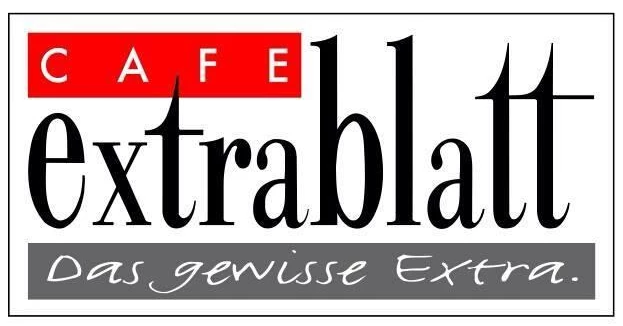 Cafe Extrablatt is a favourite among locals and tourists alike. With its energetic atmosphere, live music, and delectable cuisine, this venue is perfect for those who want to dance the night away or enjoy a fun-filled evening with friends. The diverse menu and vibrant setting make Cafe Extrablatt a versatile choice for any celebration in Cape Town.
Nestled in the heart of Cape Town, near the iconic Greenpoint Stadium, Cafe Extrablatt stands as a vibrant culinary haven that promises an eclectic experience. Boasting a spacious double-storey venue, this restaurant offers a plethora of choices to satisfy every palate. With a picturesque balcony on both floors, patrons can indulge in their meals while relishing the captivating urban surroundings.
One of the unique features that set Cafe Extrablatt apart is the provision of free parking, adding to the convenience and accessibility of the venue. A delightful treat awaits those who visit on weekends, with an all-you-can-eat weekend breakfast buffet that showcases the diversity of their offerings. For those seeking weekday pleasures, the restaurant presents delectable weekday food specials that tantalize taste buds without compromising on quality.
The essence of enjoyment continues with Cafe Extrablatt's happy hour menus, inviting guests to unwind with a range of culinary delights. To satiate both gastronomic and sweet cravings, the venue boasts gourmet milkshakes that offer a harmonious blend of flavours and textures. Cafe Extrablatt is more than just a restaurant – it's a hub of culinary creativity and vibrant ambience. Situated conveniently nearby to Greenpoint Stadium, it stands as a testament to the spirit of Cape Town's diverse dining scene, where every visit is an invitation to explore flavours, indulge in happy moments, and make memories that linger long after the last bite.
Address:79 Main Rd, Green Point, Cape Town
Website:https://www.cafe-extrablatt.co.za/index.html
Contact Number:021 434 3759

Ayepyep Lifestyle Cape Town 🪴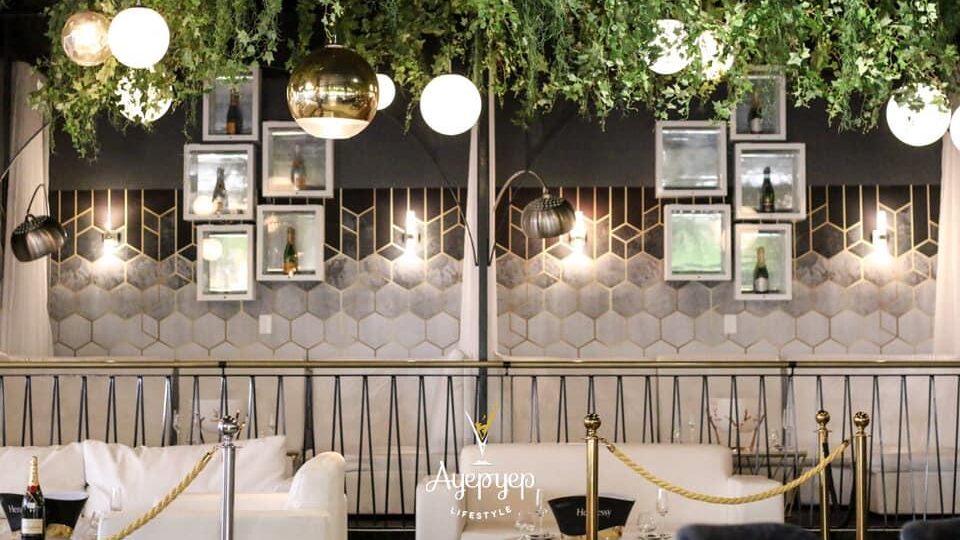 If music is the heartbeat of your event, Ayepyep Lifestyle Cape Town is the ultimate destination. This venue specializes in music-centric gatherings, offering a dynamic space where DJs and live bands create an electrifying ambience. From dance parties to themed events, Ayepyep Lifestyle Cape Town is all about setting the perfect mood through music. If you're looking for a great night out in the mother city, Ayepyep will be a great experience you won't regret.
Address:14 Kloof St, Gardens, Cape Town, 8001
Contact Number:021 569 8265

Pier Place ❤


Nestled in the heart of Cape Town, Pier Place stands as a versatile event venue that combines convenience with elegance. Its prime location makes it a sought-after choice for a range of occasions, from corporate functions to media events and private celebrations. The venue's strategic positioning ensures accessibility for guests to various parts of the city, from malls in Cape Town to popular tourist attractions.
Pier Place is not just a venue; it's a one-stop destination that blends convenience, sophistication and memorable experiences. Whether it's a professional gathering that demands precision or a private celebration that warrants a touch of opulence, Pier Place stands ready to transform visions into reality. Don't miss out and take your party to a whole new level with this immaculate party venue in Cape Town
Address: Pier Place, Heerengracht St, Foreshore, Cape Town, South Africa
Website:https://www.pierplace.co.za/
Contact Number:066 123 0966

Strolla 🍸


Strolla offers a blend of quaint charm and modern aesthetics. With its lush garden setting and contemporary design, this venue is perfect for outdoor celebrations and laid-back gatherings. The versatility of Strolla's spaces allows you to customize your event according to your preferences. Tucked away off Sea Point's bustling promenade, Strolla emerges as a captivating oasis that seamlessly blends the charm of a cocktail bar and the comfort of a restaurant. With its prime location, this establishment invites friends to gather, unwind, and create lasting memories. Strolla's ambience is a testament to its name – an inviting space where moments are meant to be savoured at a leisurely pace.
As a versatile destination, Strolla caters to a variety of desires. For those seeking casual camaraderie, it's the perfect spot to hang out and enjoy a cup of coffee while watching the world go by. The bar comes to life as the sun sets, offering a curated selection of drinks that cater to every taste, from signature cocktails to fine wines. Strolla's culinary prowess shines through its warm meals that embrace both comfort and sophistication. The restaurant's menu is a journey through culinary delights, with a focus on fresh ingredients and innovative flavours that cater to diverse palates.
More than just a place to eat and drink, Strolla is an embodiment of leisure and connection. It's a destination where friends come together to indulge in conversation, laughter, and relaxation. With its alluring blend of coastal vibes and urban energy, Strolla crafts an experience that resonates with locals and visitors alike, inviting them to embrace the joy of a leisurely stroll along life's vibrant pathways.
Address:313 Beach Road Sea Point, Cape Town, South Africa
Website:https://strolla.co.za/
Contact Number:021 430 7778

Pear Tree Restaurant in Hermanus 🍐


Venturing slightly outside Cape Town, Pear Tree Restaurant in Hermanus is a hidden gem. Surrounded by natural beauty, this venue exudes rustic elegance, making it ideal for intimate gatherings, weddings, and special occasions. The serene atmosphere and exquisite cuisine create a memorable experience for all.
Address: Marine Drive, Hermanus Waterfront, Hermanus, South Africa
Website:https://peartree-hermanus.co.za/
Contact Number:+27 (0)28 313 1224

Cape Milner 🍷
Cape Milner seamlessly blends chic urban style with celebratory vibes. With its rooftop bar and lounge, this venue offers panoramic views of the city along with a sophisticated atmosphere. Ideal for trendy parties and upscale events, Cape Milner adds a touch of elegance to your celebrations.
Offering panoramic views and chic urban elegance, it provides an ideal setting for various occasions. With its versatile spaces, including a rooftop bar and lounge, this venue captures the essence of sophistication. Whether it's a corporate function or a social celebration, Cape Milner's event venue ensures an unforgettable experience. If your love cape town rooftop bars, be sure to have your party at Cape Milner.
Address:2a Milner Road, Tamboerskloof, Cape Town, South Africa
Website:https://capemilner.com/
Contact Number:+ 27 21 426 1101

Little Stream Conference Centre and Tea Garden 💐


For a serene and picturesque event, Little Stream Conference Centre and Tea Garden offer a tranquil retreat. Nestled amidst lush gardens, this venue provides a peaceful escape while still catering to all your party needs. The combination of nature's beauty and well-equipped facilities makes Little Stream a sought-after choice.
Address: Klein Constantia Road, Constantia, Cape Town, South Africa
Website:https://www.littlestream.co.za/
Contact Number:021 794 9147

Welgemeend Venue 👰🏻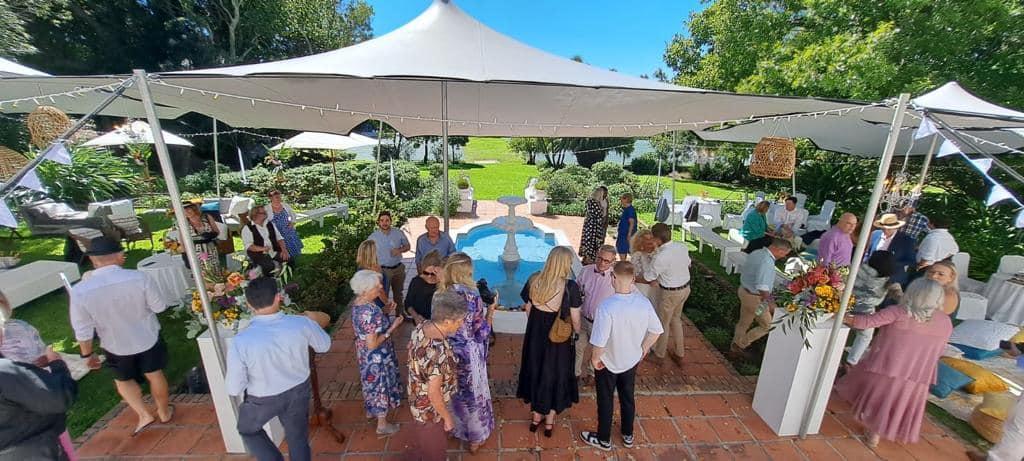 Step into the past at Welgemeend Venue, an estate with rich historical significance. This venue boasts impressive architecture, lush gardens, and a timeless aura that adds a touch of grandeur to any event. From weddings to corporate functions, Welgemeend Venue offers an enchanting setting that transports guests to another era.
Address: 2 Welgemeend St, Gardens, Cape Town
Website:https://www.welgemeend.com/
Contact Number:082 774 5915

Ambiance Lifestyle Venue 🥂


Ambiance Lifestyle Venue lives up to its name by providing a contemporary and captivating space for events. With its modern design, versatile rooms, and top-notch facilities, this venue is perfect for a wide range of celebrations. Whether you're hosting a cocktail party or a formal dinner, Ambiance Lifestyle Venue sets the stage for a memorable experience.
Ambiance Lifestyle Venue offers a versatile haven with a dual personality, encompassing two distinct sets of venues that cater to a diverse array of occasions. The first, the Garden Hall Venue, exudes a timeless charm and sophistication that lends itself to a spectrum of events. Be it a dreamy wedding, intimate bridal shower, vibrant private function, bustling market or expo, or a productive conference and seminar, the Garden Hall Venue provides an enchanting backdrop that adapts seamlessly to the event's essence.
On the other hand, Ambiance Lifestyle Venue's second set of venues is tailored for the young at heart. Perfectly suited for children's parties, school and creche events, and exuberant family fun days, these spaces are designed to spark joy and create lasting memories. With an emphasis on imagination and playfulness, these venues offer a vibrant canvas for the little ones to explore, learn, and celebrate in a safe and captivating environment.
Ambiance Lifestyle Venue's unique duality allows it to transition effortlessly between elegant sophistication and youthful exuberance, offering a comprehensive solution for an array of events. Whether it's the embrace of love and commitment or the triumphant laughter of children, Ambiance Lifestyle Venue sets the stage for moments that resonate with cherished memories and stands as a great venue for birthdays, corporate events, weddings and so much more.
Address: 501 High Road Turfhall Estate, Wetton, Cape Town
Website:https://www.ambiancevenue.co.za/
Contact Number: 082 053 2827

Roof Top on Bree 🌿
Elevate your celebrations at Roof Top on Bree, a rooftop venue that offers breathtaking views of Cape Town's skyline. This trendy space is perfect for those who want to dance under the stars or enjoy a sophisticated evening with friends. The combination of modern design and stunning vistas makes Roof Top on Bree an unforgettable party destination.
Elevate your event to unparalleled heights at Rooftop on Bree, Cape Town's ultimate space for exclusive gatherings. Nestled in the city's heart, this venue boasts an immaculate view that captures Cape Town's sprawling city skyline and majestic mountains. The panoramic vista provides a breathtaking backdrop that adds an aura of grandeur to any occasion.
Centrally located and easily accessible, Rooftop on Bree offers convenience to guests across Cape Town. The expansive outdoor deck allows attendees to soak in the beauty of the surroundings, making it one of the best outdoor party venues cape town has to off. There is also a spacious indoor area that provides ample room for mingling and entertainment. The venue's thoughtful design includes a superbly crafted built-in bar, ensuring refreshments flow seamlessly throughout the event.
Rooftop on Bree stands as an epitome of exclusivity, catering only to appointed events. From intimate private gatherings to corporate soirées, launches, and celebrations, the venue caters to various occasions. Its rarity in opening to the public heightens its allure, ensuring that each event held here is truly exceptional. Rooftop on Bree is not just a venue; it's a captivating canvas upon which unforgettable memories are painted, offering a unique and privileged experience that's second to none.
Address:170 Bree St, Cape Town City Centre, Cape Town, 8000
Website:https://www.rooftoponbree.com/space
Contact Number:078 879 0562

Decodance Night Club 💃🏻


No guide to Cape Town's party scene would be complete without mentioning Decodance Night Club. As one of the city's iconic dance clubs, Decodance promises a night of pulsating music, energetic dancing, and unforgettable memories. If you're looking for a place to let loose and dance till dawn, Decodance is the place to be.
Step into a world of nostalgia and groove at Deco Dance, Cape Town's premier retro nightclub. Renowned for its vibrant ambience and throwback tunes, Deco Dance stands as the epitome of retro-chic entertainment. The club pulsates with energy, offering a trip down memory lane for music enthusiasts and partygoers alike. Deco Dance takes the party experience a notch higher with its enticing happy hour specials, available between 8 pm and 10 pm. This window of time provides the perfect opportunity to indulge in your favourite drinks while dancing to iconic hits from yesteryears. The club's commitment to delivering a complete experience sets it apart as the ultimate destination for those seeking an unforgettable night out.
More than just a dance floor, Deco Dance doubles as an event haven, hosting a range of events that capture the spirit of different eras. Whether it's a themed night or an exceptional performance, every visit promises a fresh and exciting experience. Deco Dance extends its charm to private functions, offering an ideal venue for celebrations ranging from dynamic birthday parties to unforgettable bachelor gatherings. With its distinctive retro allure, Deco Dance creates an atmosphere that seamlessly blends past and present, ensuring that every moment spent within its vibrant walls is a memory to cherish.
Address: 66 Albert Road Woodstock, Cape Town, South Africa
Website:https://www.decodance.co.za/
Contact Number: 084 731 2420

---
Cape Town's party venues offer a diverse range of options, each catering to different tastes and preferences. From luxurious lounges, tranquil garden settings, urban rooftops, and even cheap party venues. Cape Town has got you for every occasion. No matter which venue you choose, one thing is certain: Cape Town knows how to throw a party that will leave a lasting impression on you and your guests. So, go ahead and explore the city's dynamic party scene for an unforgettable celebration.