Nestled in the picturesque valley of the Riviersonderend Mountains in the Western Cape of South Africa, Greyton is a quaint village that captures the hearts of visitors with its old-world charm, pristine natural beauty, and a strong focus on sustainability. While Greyton may be small in size, it is big on character and offers a unique blend of outdoor adventures, wellness offerings, eco-friendly living, and local artisanal experiences that make it a perfect getaway for those seeking a peaceful retreat amidst nature.
Sustainability at the Heart of Greyton❤️
Greyton takes pride in its commitment to sustainability and eco-friendly living, making it a destination that is loved by nature enthusiasts and environmentally conscious travellers alike. The village has been recognized as South Africa's first Transition Town, which is a global movement that promotes local resilience, sustainability, and community empowerment.
One of the ways Greyton promotes sustainability is through its focus on conservation and biodiversity. The Greyton Nature Reserve, located just outside the village, is a protected area that is home to a diverse range of flora and fauna, including rare and endemic species. The reserve offers well-marked hiking trails that take you through indigenous fynbos, pristine forests, and sparkling streams, providing a unique opportunity to immerse yourself in the natural beauty of the area.
Greyton is also known for its efforts in sustainable living practices. Many of the accommodations in the village have eco-friendly features such as solar-powered water systems, composting toilets, and rainwater harvesting, allowing visitors to reduce their environmental impact while enjoying their stay. The village also encourages waste reduction, recycling, and community gardens, promoting a culture of sustainability among its residents and visitors.
Outdoor Adventures in and Around Greyton 🚲
While Greyton itself offers a wealth of activities and experiences, its surrounding area is a gateway to adventure for outdoor enthusiasts. The Riviersonderend Mountains that surround the village provide a stunning backdrop for various outdoor activities.
Hiking is a popular activity in Greyton, with well-marked trails that cater to all levels of experience. The Greyton Nature Reserve offers a network of trails that take you through diverse landscapes, from indigenous fynbos to pristine forests, offering breathtaking views and opportunities to spot wildlife. For those who enjoy a challenge, there are also more strenuous hikes in the surrounding mountains that reward you with panoramic vistas.
Mountain biking is another popular outdoor activity in Greyton, with excellent trails that cater to all levels of experience. From gentle gravel roads to adrenaline-pumping single tracks, Greyton has options for all types of mountain bikers. Cycling through the beautiful countryside, with the mountains as your backdrop, is a thrilling way to explore the area.
Greyton also offers opportunities for horseback riding, zip-lining, and paragliding, providing an adrenaline rush for adventure seekers. The nearby Overberg region, known for its wine estates and whale-watching opportunities, is also easily accessible from Greyton, offering a range of activities for outdoor enthusiasts.
Relaxation and Rejuvenation Offerings in Greyton 🧘
Greyton is not only about outdoor adventures but also about taking care of your well-being. The village has a growing wellness scene that offers various ways to relax and rejuvenate.
Greyton is home to a number of wellness centres and spas that offer a range of treatments, from massages and facials to holistic therapies and energy healing. These centres provide a serene haven where you can unwind, destress, and pamper yourself amidst the peaceful natural surroundings of the village.
In addition to traditional wellness offerings, Greyton also hosts regular yoga and meditation classes, as well as wellness retreats and workshops. These offerings provide opportunities for deep relaxation, mindfulness, and self-care, helping you to reconnect with your inner self and find balance in the midst of a busy world.
Artisanal Experiences with its Local Flavors and Crafts 🎨
Greyton is a village that celebrates local artisans and offers unique experiences that showcase the talents of its creative community. The village is dotted with charming shops and galleries that display a wide range of locally made crafts, artworks, and products, making it a perfect place to indulge in some retail therapy or find a special souvenir to take home.
Greyton is known for its local food scene, with a variety of eateries that offer farm-to-table cuisine, using fresh local produce and ingredients. From cosy cafes to rustic restaurants, Greyton has options for all tastes and dietary preferences. You can indulge in delicious homemade treats, sample local wines, and savour the flavours of the region while enjoying the laid-back ambience of the village.
The Saturday Morning Market is a must-visit for foodies and craft enthusiasts. This weekly market offers an array of local produce, artisanal products, crafts, and live music, creating a vibrant atmosphere where locals and visitors come together to celebrate community and creativity. The market is a great place to pick up fresh produce, homemade preserves, unique crafts, and local treats while supporting local businesses and artisans.
Community Spirit and Events 📆
One of the unique aspects of Greyton is its strong sense of community spirit. The village is known for its friendly and welcoming residents who take pride in their village and actively participate in its events and initiatives. Greyton hosts a variety of events throughout the year that bring the community together and offer visitors a taste of the local culture and lifestyle.
One of the highlights of Greyton's events calendar is the Greyton Genadendal Classics for All Festival, held annually in May. This four-day festival celebrates classical music, showcasing local and international talent in various venues around the village. The festival also includes workshops, exhibitions, and other cultural activities that promote the arts and inspire creativity.
Greyton is also known for its community initiatives focused on sustainability, such as tree planting, waste reduction, and conservation efforts. The village hosts regular community clean-up campaigns, tree planting initiatives, and educational workshops on sustainable living, promoting a collective effort towards a greener and more sustainable future.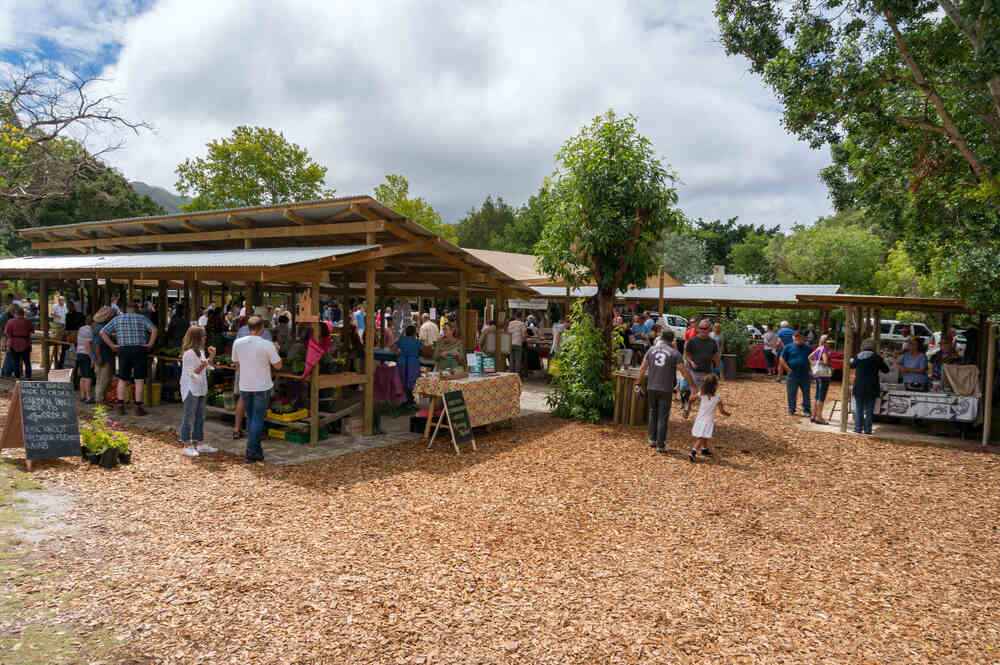 Stargazing and Quiet Nights ✨
Greyton is located in a relatively remote area with minimal light pollution, making it an ideal destination for stargazing enthusiasts. On a clear night, the sky above Greyton comes alive with millions of stars, creating a mesmerizing spectacle that will leave you in awe of the vastness of the universe.
The peaceful and tranquil nights in Greyton are also perfect for relaxation and rejuvenation. The absence of city noises allows you to unwind, disconnect from the digital world, and simply listen to the sounds of nature. You can enjoy a bonfire under the stars, listen to the nocturnal calls of birds and animals, and experience the serenity of the village at night.
Getting to Greyton 🚗
Greyton is easily accessible from Cape Town, which is the closest major city and the gateway to the Western Cape region of South Africa. The village is approximately 120 kilometres from Cape Town, making it a convenient weekend getaway or a day trip for those looking to escape the city.
The drive from Cape Town to Greyton is a scenic journey that takes you through picturesque landscapes, including vineyards, mountains, and rolling hills. You can choose to drive along the N2 highway and then take the R406 towards Greyton, or opt for the more scenic Route 44 that winds through the Hottentots Holland Mountains, offering breathtaking views along the way.
Alternatively, if you prefer to skip the drive, you can also take a bus or a shuttle from Cape Town to Greyton. Several tour operators offer day trips or overnight packages to Greyton, providing a hassle-free way to explore the village and its surrounding areas.
---
Greyton is a hidden gem in the Western Cape that offers a unique blend of natural beauty, artistic flair, community spirit, and sustainable living. Whether you're seeking a peaceful retreat, an outdoor adventure, artistic inspiration, or simply a break from the fast-paced world, Greyton has something to offer.
From its breathtaking landscapes and diverse flora and fauna to its vibrant arts and crafts scene and welcoming community, Greyton has a charm that captivates visitors and leaves a lasting impression. It's a place where you can slow down, connect with nature, explore your creative side, and immerse yourself in a unique cultural experience.
So why not venture off the beaten path and discover the magic of Greyton for yourself? Whether you're a nature lover, an art enthusiast, a sustainability advocate, or simply someone looking for a tranquil getaway, Greyton is a destination that promises to rejuvenate your mind, body, and soul. Come and explore the beauty, creativity, and community spirit of Greyton, and let yourself be captivated by its unique allure.
Website: http://www.greytontourism.com/