Located on the southern coast of South Africa, Gansbaai is a picturesque town that has been gaining popularity among tourists for its stunning natural beauty and diverse wildlife. Known as the "Great White Shark Capital of the World," Gansbaai attracts visitors from all over the world who come to witness the majestic creatures that call its waters home. However, Gansbaai has much more to offer than just sharks. From scenic coastal hikes to charming local shops and restaurants, there is something for everyone in this seaside haven.
Getting to Gansbaai
Gansbaai is located approximately 160 kilometers southeast of Cape Town, making it a convenient day trip or weekend getaway destination for those visiting the area. The most common way to get to Gansbaai is by car, either by renting a vehicle or taking a taxi. The journey takes around two hours and follows a scenic route along the coast.
For those who prefer not to drive, there are also several tour companies that offer guided trips to Gansbaai from Cape Town. These tours typically include transportation, activities such as shark cage diving or whale watching, and often lunch or snacks. Prices vary depending on the tour company and the activities included.
One of the main draws of Gansbaai is its reputation as the "Great White Shark Capital of the World." Shark cage diving has become a popular tourist activity in the area, allowing visitors to get up close and personal with these majestic creatures in their natural habitat. Several tour companies in Gansbaai offer shark cage diving trips, which typically last around four hours and include a briefing on shark behaviour and safety measures.
During the dive, participants are lowered into the water in a cage, where they can observe the sharks swimming around them. While the experience can be thrilling, it is important to note that great white sharks are wild animals and should be treated with respect. Tour operators follow strict safety guidelines to ensure both the safety of the participants and the sharks.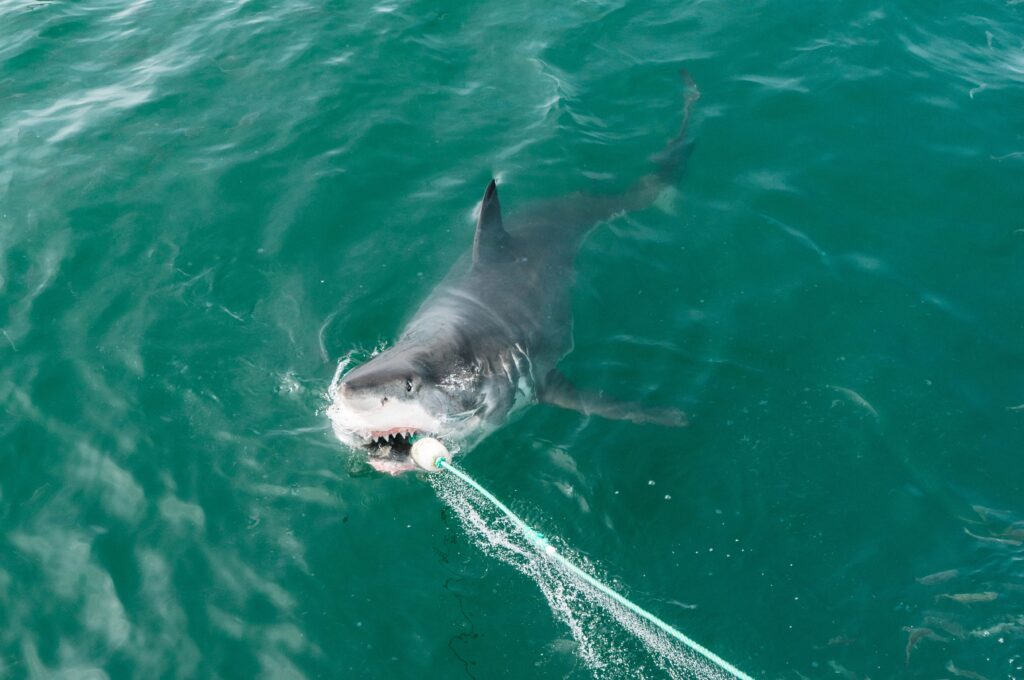 Gansbaai is also known for its whale-watching opportunities. Southern right whales can be spotted off the coast of Gansbaai from June to December, as they migrate to the area to mate and calve. Several tour companies in Gansbaai offer whale watching trips, which typically last around two hours and include a knowledgeable guide to provide information on whale behavior and biology.
Visitors can expect to see these gentle giants breaching, tail slapping, and swimming in the waters around Gansbaai. Other marine life, such as dolphins and seals, can also be spotted on these tours. Whale watching in Gansbaai is a truly unforgettable experience that offers a glimpse into the lives of these magnificent creatures.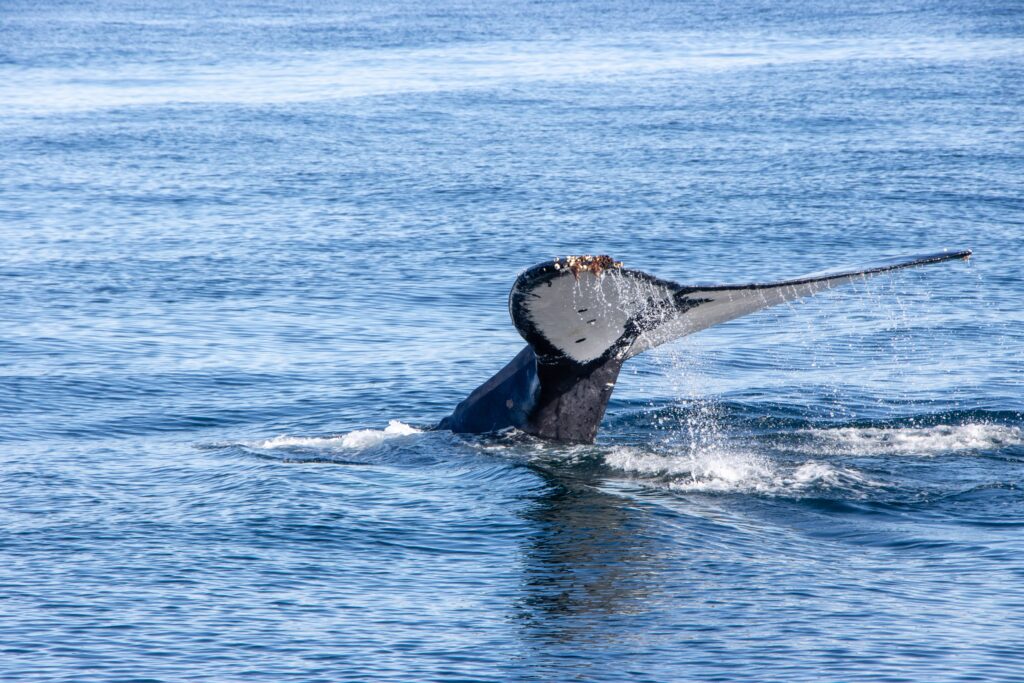 Coastal Hikes
For those who prefer to stay on dry land, Gansbaai offers several scenic coastal hikes that showcase the area's natural beauty. The Klipgat Trail is a popular option, offering stunning views of the coastline and the chance to spot whales and dolphins from the cliffs above. The trail is approximately 13 kilometers long and takes around six hours to complete.
Another popular hike is the Duiwelsgat Trail, which offers views of the rugged coastline and the picturesque Duiwelsgat Bay. The trail is approximately six kilometers long and takes around three hours to complete. Both of these hikes are relatively easy and suitable for hikers of all levels.
Want to know about another close by hiking trail? Check out Walker's Bay a picturesque coastal enclave renowned for its natural beauty and tranquil ambiance. Located near the azure waters of the ocean, it offers breathtaking views, sandy beaches, and opportunities for outdoor activities, making it a coveted destination for relaxation and exploration located.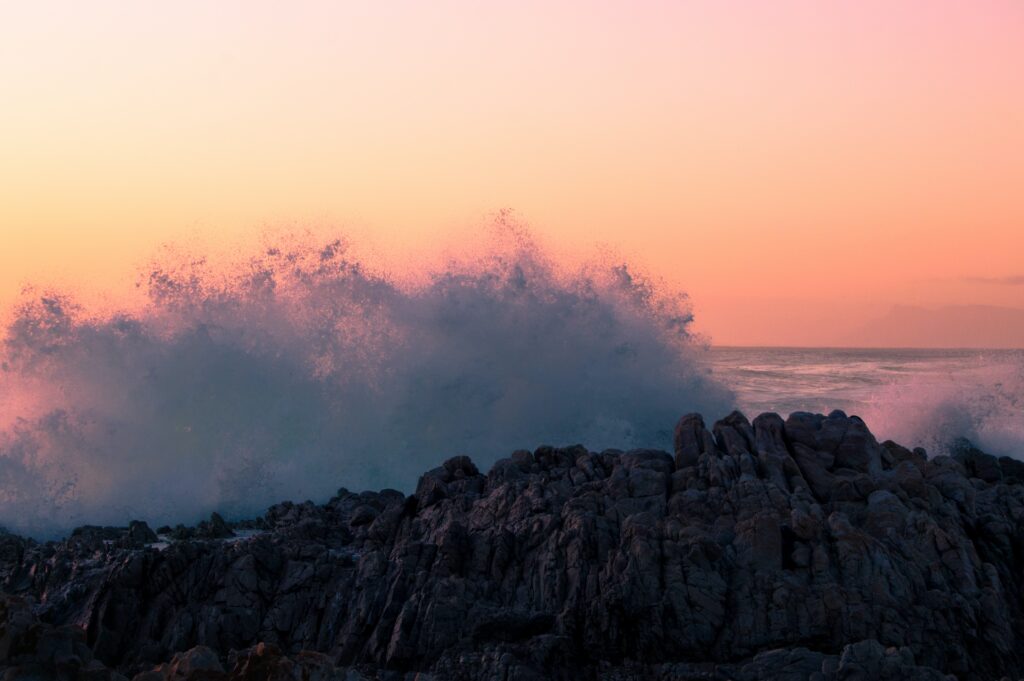 Local Cuisine in Gansbaai
After a day of adventure, visitors to Gansbaai can refuel at one of the area's many local restaurants. Seafood is a speciality in the Gansbaai, with fresh catches of the day featured on many menus such as The Blue Goose Restaurant.
The Blue Moose Café is a popular option for breakfast or lunch, serving up hearty dishes like eggs benedict and burgers made with locally sourced ingredients. For a more upscale dining experience, try La Pentola or Grootbos Private Nature Reserve's restaurant, both of which offer a farm-to-table menu with a focus on sustainable, organic ingredients.
Gansbaai also has a variety of local shops and markets that offer unique souvenirs and handmade crafts. The Gansbaai Farmers Market is a popular weekend destination for both locals and visitors, offering fresh produce, baked goods, and crafts from the surrounding area.
Accommodations in Gansbaai
For those looking to stay overnight in Gansbaai, there are several options available. From cozy guesthouses to luxurious resorts, there is something to suit every taste and budget. The Grootbos Private Nature Reserve is a top-rated option, offering luxury accommodations with stunning views of the surrounding fynbos and ocean.
For a more budget-friendly option, the Roundhouse Backpackers offers dormitory-style rooms and private chalets in a rustic, laid-back setting. Other popular accommodations in Gansbaai include the White Shark Lodge, the Whale Coast Hotel, and the 65onCliff Guesthouse.
Conservation Efforts
While Gansbaai is a popular tourist destination, it is also home to a rich ecosystem of marine and terrestrial wildlife. As such, conservation efforts are a top priority in the area. The Dyer Island Conservation Trust is a non-profit organization that focuses on research, education, and conservation initiatives in the area. The trust operates a marine research facility and offers educational programs for both locals and visitors.
In addition, several tour operators in Gansbaai have made a commitment to sustainable and responsible tourism practices. This includes limiting the number of visitors on shark cage diving tours, using eco-friendly boats and equipment, and supporting conservation efforts through donations and partnerships.


---
Gansbaai is a coastal gem that offers something for everyone. Whether you're seeking adventure and thrills or relaxation and tranquillity, this seaside town is sure to leave a lasting impression. From shark cage diving and whale watching to scenic hikes and delicious cuisine, Gansbaai has it all. And with a focus on conservation and sustainability, visitors can feel good about supporting the local community while enjoying all that this beautiful area has to offer.
Looking to Visit a National Park Nearby?
Agulhas National Park: is a must-visit destination for an unforgettable immersion in nature's beauty located in a captivating destination for nature enthusiasts! Located at the southernmost tip of Africa, this park offers a breathtaking experience for travelers seeking natural wonders. Embark on scenic hiking trails through diverse ecosystems, including fynbos and coastal dunes. Discover a paradise for birdwatching enthusiasts and soak in the mesmerizing views of the ocean. Agulhas National Park is a must-visit destination for an unforgettable immersion in nature's beauty.