Located in Paarl, Babylonstoren is a historic Cape Dutch farm that dates back to 1692. The Babylonstoren farm and hotel has become a beloved destination for travellers seeking an authentic South African experience that combines luxury, history, and natural beauty. From its breathtaking gardens to its world-class restaurants, Babylonstoren is a must-visit destination for anyone travelling to Cape Town. We will be exploring everything you need to know about this stunning property, from its fascinating history to its modern-day amenities.
🚘 Babylonstoren Is A Drive From Cape Town. Make Sure You Are Prepared By Renting A Car 🚗
All About Babylonstoren 🌼


The Babylonstoren history is a vast and exciting tale with it starting as a working farm that has been in existence for over three centuries. Originally founded in 1692, it was one of the first farms to be established in the Cape Winelands region of South Africa. The farm was initially used to grow fruit and vegetables to supply passing ships, but later it was used to produce wine. In 2007 Karen Roos took over and commissioned French architect Patrice Taravella to plan the layout of the famous garden.
One of the most striking features of Babylonstoren is its historic Cape Dutch architecture. The farm's buildings are characterized by their whitewashed walls, thatched roofs, and gabled facades. These features are a testament to the farm's rich history and the enduring legacy of Dutch colonialism in South Africa.
The Babylonstoren Garden 🧑‍🌾
Babylonstoren is perhaps best known for its breathtaking gardens. The property boasts over eight acres of meticulously landscaped gardens, each of which is inspired by a different theme. The gardens feature a variety of indigenous plants, including fruits, vegetables, and herbs.
One of the most striking features of the gardens is the magnificent greenhouse, which is home to a stunning collection of succulents and other plants. Visitors can stroll through the greenhouse and admire the stunning array of colours and textures on display. The gardens also feature a series of waterways and ponds, which add to the property's peaceful atmosphere. Visitors can relax by the water's edge and take in the serene beauty of the gardens.
Babylonstoren Accommodation 🏘️


Babylonstoren Hotel offers a range of luxurious accommodations, each of which is designed to showcase the property's rich history and natural beauty. The rooms are located in a series of historic buildings, including the Family Houses, the Farmhouse, Garden Cottages and the Fynbos Cottages.
The Fynbos Family House is a refined retreat catering to up to ten guests across five en-suite bedrooms, each equipped with a fireplace. The bedrooms feature marbled tile floors and freestanding baths, emphasizing functionality and comfort. A contemporary glass cube houses the fully equipped kitchen, forming the core of the residence. The central courtyard serves as a communal space, complemented by a crystal pool fed by a shallow channel, echoing the estate's natural streams.
The Farmhouse is a charming building that has been restored to reflect its original Cape Dutch architecture. The building features six spacious suites, each of which is decorated with vintage furnishings and local artwork. The Farmhouse suite features a large marble bathroom, comfortable sitting areas, and four-poster king-size beds.
The Fynbos Cottages is a stunning and cosy cottage which is among the vineyards and orchards. The cottage features a fireplace, bookshelves and a luxurious en-suite bathroom. The cottage is perfect for couples or small families looking for a peaceful retreat within these beautiful Babylonstoren cottages.
The Garden Cottages have repurposed existing farm buildings into refined guest accommodations, surrounded by a meticulously cultivated 3.5-hectare fruit and vegetable garden. Characterized by whitewashed walls, elegant gables, and hearty fireplaces, these cottages exude an authentic farm stay experience. Offering a diverse range of accommodations with six one-bedroom suites, three one-bedroom cottages, and four two-bedroom cottages.
Click Here To Book An Unforgettable Stay At Babylonstoren Today! 💤
Babylonstoren Restaurants 🥂
Babylonstoren is home to two world-class restaurants, Babel and Greenhouse. Both restaurants are committed to using fresh, locally sourced ingredients to create innovative, flavorful dishes.
Babel is Babylonstoren's flagship restaurant, and it has become famous for its inventive, farm-to-table cuisine. The menu features a range of dishes, from seafood to meat to vegetarian options, all made with ingredients sourced from Babylonstoren's gardens and other local farms.
The greenhouse is Babylonstoren's more casual dining option, located within the property's greenhouse. The restaurant serves a range of light, healthy dishes, including salads, sandwiches, and freshly squeezed juices. Visitors can enjoy their meals surrounded by the stunning beauty of the greenhouse's plants and flowers. Do not forget to try out their freshly made pasta and wood-fired pizzas at the Babylonstoren bakery.
What to do at Babylonstoren ☁️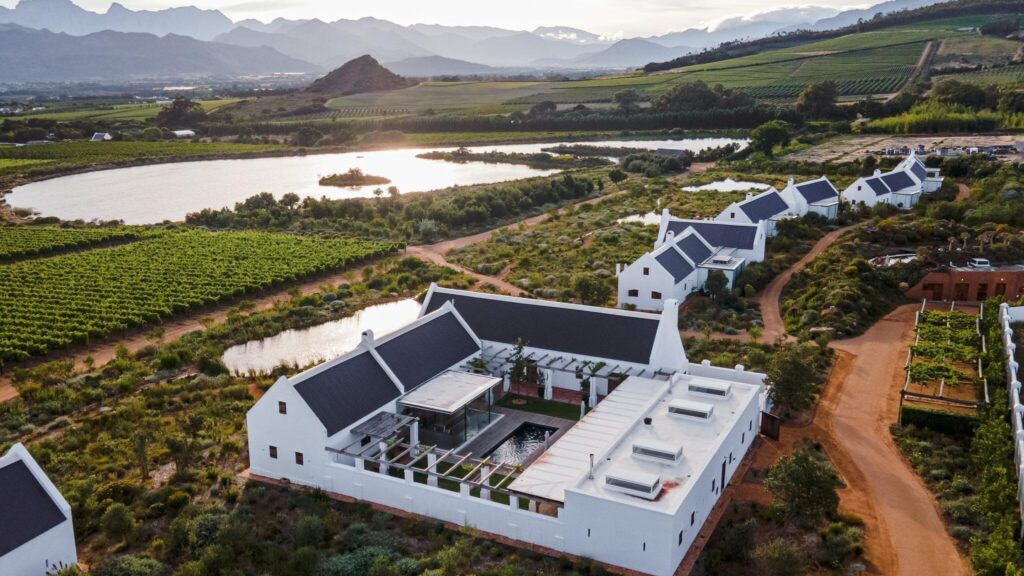 There are plenty of activities to keep visitors entertained during their stay. The Babylonstoren garden is a must-do activity for anyone visiting. The tours are led by knowledgeable guides who provide insight into the history and design of the gardens, as well as the various plants and flowers on display. Another popular activity at Babylonstoren. The property produces a range of wines, which visitors can sample in the beautiful wine-tasting room. Other activities at Babylonstoren include hiking and biking in the surrounding mountains, swimming in the property's pool, and relaxing in the Babylonstoren spa.
Babylonstoren is a truly unique destination that combines history, natural beauty, and luxury in a truly enchanting way. From its stunning gardens to its world-class restaurants, there is something for everyone at this Cape Dutch farm hotel. Whether you are seeking a romantic getaway, a family vacation, or a solo adventure, Babylonstoren is a must-visit destination that will leave you feeling refreshed and inspired.
Babylonstoren Entrance Fee
The Babylonstoren entrance fee per adult is R100.
Children under the age of 18 enter free of charge.
A once-off entrance fee allows you to register for Babylonstoren Garden Membership with the free Babylonstoren app (This will give you unlimited admission to Babylonstoren for 12 months).
Babylonstoren Opening Times: The Garden is open from 9 am to 6 pm (last entry is 5 pm), please take note that the restaurant opening hours vary
Website: https://babylonstoren.com/
Online Store: https://shop.babylonstoren.com/za
Experience The Top Wine Farms Around Cape Town Such As Babylonstoren And More! 🍷
FAQ
What are the opening hours of Babylonstoren?
Babylonstoren is open daily from 9 am to 6 pm, and the last entry is at 5 pm. However, the opening hours of the restaurant and the spa may vary.

What are the main attractions of Babylonstoren?
The main attractions of Babylonstoren are its gardens, which cover an area of 3.5 hectares and showcase over 300 varieties of plants that are all edible or have medicinal value. Visitors can also enjoy wine tasting, guided tours of the farm and garden, and relax at the spa.

Is Babylonstoren child-friendly?
Yes, Babylonstoren is child-friendly, and there are various activities for children, such as a farm tour, garden walk, and bug spotting. Children under 12 years old can also stay for free in the Farmhouse or Cottage, provided they share a room with their parents. However, some areas of the farm may not be suitable for young children, and parents should supervise their children at all times.

What type of wines does Babylonstoren produce?
Babylonstoren produces a range of award-winning wines, including Chenin Blanc, Chenin Blanc, Viognier, Mourvèdre, Chardonnay, Cabernet Sauvignon, and Shiraz. The grapes are grown on the estate's 60 hectares of vineyards, which are managed using sustainable and organic farming practices. The wines are known for their purity, elegance, and expression of the unique terroir of the Simonsberg-Paarl region. In addition to wine tasting, visitors can also take a guided tour of the vineyards and cellar to learn more about the winemaking process.