Table Bay is a vast body of water situated on the west coast of Cape Town, South Africa. It is bordered by the Cape Peninsula to the south and the iconic Table Mountain to the east. The bay has a rich history, offers excellent natural resources, and plays an essential role in the economic growth of the Western Cape region.
Geography and Topography
Table Bay is approximately 22 kilometres long and 30 kilometres wide, with an average depth of 20 meters. The bay is naturally sheltered by Robben Island, which sits in the middle of the bay and helps to protect the coastline from the Atlantic Ocean's strong currents. Table Bay is also home to a natural sandbar, which has been altered to form a breakwater and harbour.
Marine Life and Ecosystems


Table Bay is home to a diverse array of marine life, including a variety of fish species, shellfish, crustaceans, and mammals. The bay is also a vital breeding ground for marine life, including endangered southern right whales, which are known to come to the bay to mate and give birth. The bay is also home to the African penguin, a species that is endemic to the region.
The bay supports a range of coastal ecosystems, including kelp forests, rocky shores, and sandy beaches. These ecosystems provide habitat and food for a wide range of organisms, making Table Bay a significant contributor to the biodiversity of the region.
Shipping and Port Operations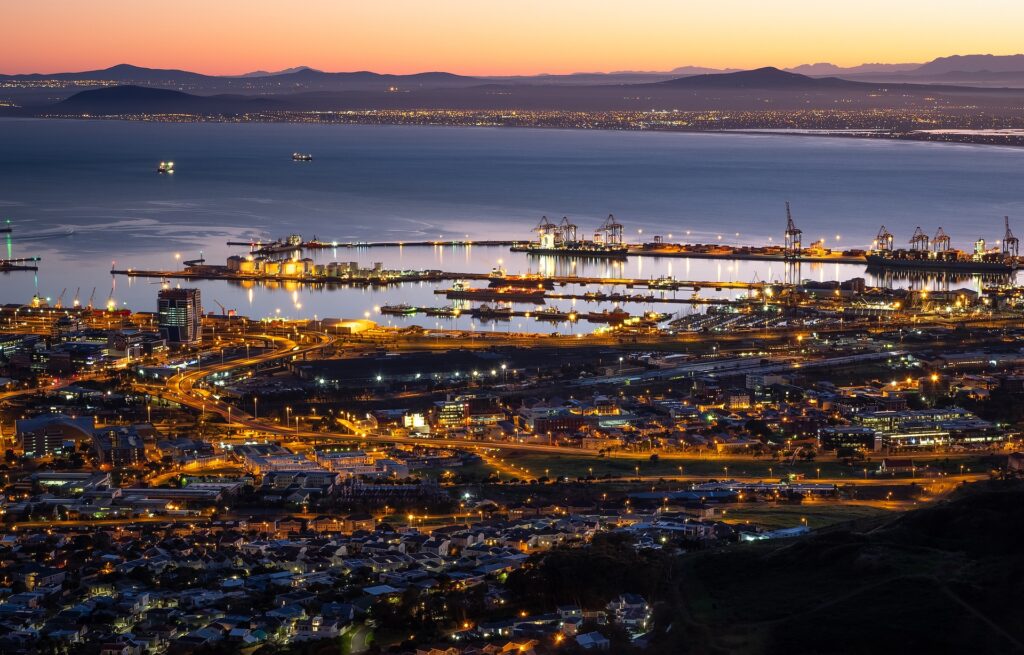 Table Bay is an essential shipping hub and port, handling a range of cargo and commodities, including oil, gas, chemicals, and minerals. The port is equipped with modern facilities and infrastructure, including container terminals, bulk cargo handling facilities, and storage tanks.
The port of Cape Town is South Africa's oldest and busiest port, and it is an essential gateway for trade between South Africa and the rest of the world. It is also a significant employer, providing jobs to thousands of people in the Western Cape region.
Fishing and Aquaculture
Table Bay is a significant fishing ground, supporting a variety of commercial and recreational fishing activities. The bay is home to a range of fish and shellfish species, including snoek, yellowtail, hake, and rock lobster. The bay is also a site for aquaculture operations, including oyster and mussel farming.
Coastal Development and Urbanization
Table Bay is located in a highly urbanized area, with a large number of people living in and around the Cape Town metropolitan area. As a result, the bay is under pressure from a range of development and urbanization activities, including land reclamation, pollution, and habitat destruction.
The development of the port of Cape Town and the associated infrastructure has significantly altered the natural landscape and coastal ecosystems of Table Bay. However, there are ongoing efforts to mitigate the impact of development and protect the biodiversity of the region.
Environmental Challenges and Conservation Efforts


Like many coastal areas around the world, Table Bay is facing a range of environmental challenges, including pollution, overfishing, and habitat destruction. The bay is also vulnerable to climate change, with rising sea levels and more frequent storms posing a threat to the region's infrastructure and ecosystem.
To address these issues, the South African government has implemented a range of measures, including pollution controls, marine conservation programs, and climate adaptation strategies. These efforts have helped to improve the health and resilience of the bay's ecosystem and ensure that it remains a vital resource for generations to come.
Tourism and Recreation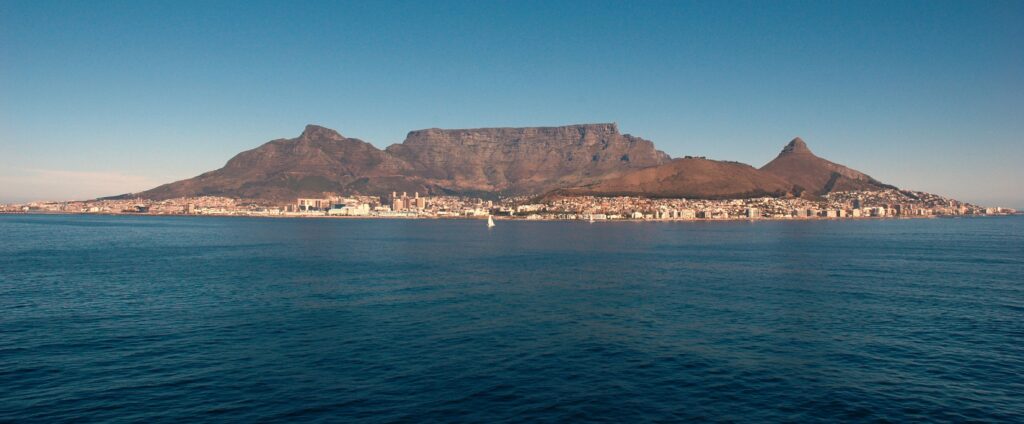 Table Bay is a popular destination for tourists, offering a wide range of activities and experiences. Visitors can enjoy a range of water sports, including surfing, sailing, and kayaking. The bay is also home to several beautiful beaches, including Bloubergstrand, Big Bay, and Camps Bay, which are popular with both locals and tourists.
Visitors can also take a scenic drive along the coastline and enjoy the stunning views of the bay and the surrounding mountains. The Victoria and Alfred Waterfront, located in the heart of Cape Town, is a bustling hub of shops, restaurants, and entertainment, and is a popular destination for tourists visiting Table Bay.
Table Bay also has a rich cultural history, with several historic landmarks and museums located in the area. One such landmark is Robben Island, which was once a prison and is now a UNESCO World Heritage Site. Visitors can take a ferry from the V&A Waterfront and tour the island, learning about its fascinating history and the role it played in the struggle against apartheid.
Another important cultural site is the Castle of Good Hope, a historic fort that was built by the Dutch East India Company in the 17th century. The castle is a well-preserved example of colonial architecture and is now a popular museum and tourist attraction.
---
Table Bay is a vital resource for the Western Cape region, providing natural resources, economic opportunities, and recreational activities. Despite the challenges it faces from urbanization and climate change, ongoing conservation efforts and sustainable development practices are helping to ensure that the bay remains a vibrant and thriving ecosystem for generations to come.