Welcome to the captivating city of Cape Town! A vibrant metropolis that effortlessly combines natural beauty, rich history, and modernity. This diverse South African gem beckons travellers from around the globe with its abundance of attractions and experiences. Whether you are an adventure seeker, a culture enthusiast, a foodie, or simply seeking relaxation, Cape Town has something special to offer each and every visitor. Let's dive into the top reasons why you should visit Cape Town and why it should be on your travel bucket list.
Table Mountain and Majestic Views from Above 🌄
No visit to Cape Town is complete without ascending Table Mountain, a flat-topped marvel that dominates the city's skyline. Take a cable car or hike up to the summit, where you'll be greeted by breathtaking panoramas of the city, ocean, and surrounding landscapes. The Table Mountain National Park also offers a variety of walking trails and abundant flora and fauna, making it a haven for nature lovers and hikers alike.
One of the most mesmerizing experiences in Cape Town is witnessing the sun dip below the horizon from atop Table Mountain. As the day comes to a close, the skies ignite with vibrant hues, creating a picture-perfect setting for a romantic evening or a memorable gathering with friends.
Robben Island and a Glimpse into South Africa's Past ⚖️
Robben Island, a UNESCO World Heritage Site, holds a significant place in South Africa's history as the site of Nelson Mandela's incarceration for 18 years during apartheid. Take a boat ride to the island and embark on a guided tour led by former political prisoners, offering a poignant and informative insight into the country's struggle for freedom and democracy.
Cape of Good Hope the Southernmost Tip of Africa 📸
Venture to the Cape of Good Hope, a place where the Atlantic and Indian Oceans meet, and stand at the southernmost tip of the African continent. The rugged coastline, fynbos-covered cliffs, and wild ocean waves create a dramatic backdrop for exploration and photography. The Cape of Good Hope is a biodiversity hotspot, home to a wide range of plant and animal species. Keep an eye out for baboons, ostriches, and a variety of bird species as you explore the region's scenic walking trails.
The V&A Waterfront A Shopper's Paradise 🛍️
The Victoria & Alfred Waterfront is a bustling hub of shopping, dining, and entertainment, perfect for a day of indulgence. Browse through a plethora of boutiques, craft markets, and flagship stores, or enjoy live performances, street art, and waterfront dining with spectacular views. For a family-friendly activity, visit the Two Oceans Aquarium at the V&A Waterfront. Discover the wonders of marine life and learn about the unique ecosystems that exist in both the Atlantic and Indian Oceans. The aquarium offers interactive exhibits, touch pools, and daily feeding shows, making it an educational and entertaining experience for all ages.

Kirstenbosch National Botanical Garden 🌻
Kirstenbosch National Botanical Garden is a horticultural masterpiece that showcases the diversity of South Africa's indigenous flora. Take leisurely strolls along the meandering paths, relax on lush lawns, and enjoy open-air concerts amidst the beautiful landscapes of this botanical wonderland. One of the highlights of Kirstenbosch is the Boomslang Canopy Walkway, an elevated walkway that winds through the treetops, offering a unique perspective of the gardens and surrounding mountain ranges. This architectural marvel promises stunning views and an immersive experience with nature.
Cape Winelands and Wine Tasting 🍷
The Cape Winelands, located a short drive from Cape Town, are renowned for their world-class vineyards and picturesque landscapes. Embark on a wine-tasting journey at some of the finest estates, sampling exquisite wines accompanied by gourmet cuisine. Visit the charming town of Stellenbosch, known for its Cape Dutch architecture and oak-lined streets. Stroll through the quaint town centre, visit art galleries, and explore the historic university campus that dates back to the 17th century.


Cape Point and Hiking to the Lighthouse 🐳
Embrace the thrill of hiking to the iconic Cape Point Lighthouse, perched atop a rugged cliff. The trek offers exhilarating views and encounters with various wildlife species, making it an unforgettable outdoor escapade. During the whale-watching season (June to November), Cape Point offers fantastic opportunities to spot Southern Right whales as they migrate along the coastline. Witness these gentle giants breach and frolic in the waters, providing an awe-inspiring spectacle.
Breathtaking Beaches 🏖️
Camps Bay is a trendy beachside suburb, famous for its palm-fringed beach, trendy eateries, and chic cocktail bars. Spend a day basking in the sun, playing beach volleyball, or enjoying refreshing dips in the Atlantic waters. Muizenberg Beach is a vibrant beach known for its colourful beach huts and ideal surfing conditions, making it a popular spot for beginners and seasoned surfers alike. Lessons and board rentals are readily available, ensuring a fun-filled day in the waves.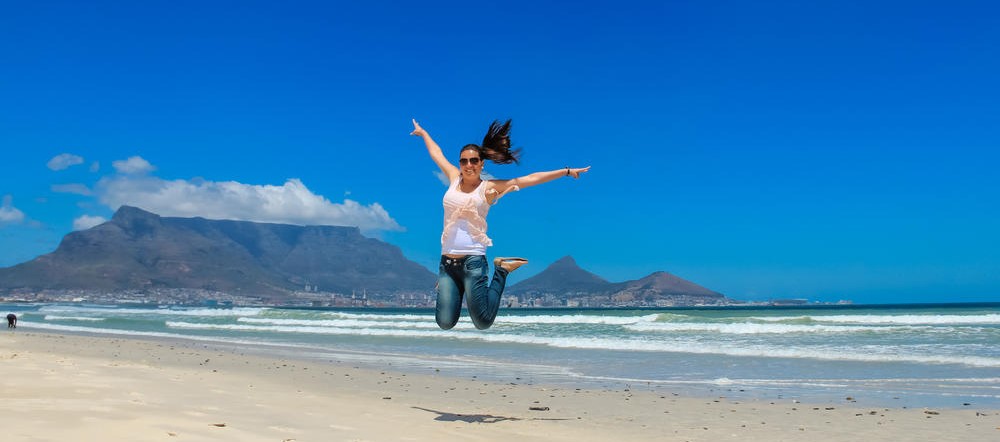 Bo-Kaap and Exploring the Colorful Streets 🚗
The Bo-Kaap neighbourhood is a vibrant and culturally rich area characterized by its brightly painted houses and cobblestone streets. Delve into the area's history and cultural heritage by visiting the Bo-Kaap Museum and sampling traditional Cape Malay cuisine. Take part in a cooking class to learn the art of Cape Malay cuisine, which blends Indonesian, Malaysian, and African flavours. This hands-on experience allows you to prepare and savour authentic dishes, providing a delicious immersion into local culture.
Township Life and Cultural Exchange 🖌️
Embark on a guided township tour to gain insights into the daily lives and vibrant culture of Cape Town's diverse communities. Engage with locals, visit community projects, and appreciate the resilience and creativity that thrive in these neighbourhoods. Langa, one of Cape Town's oldest townships, is a hub of artistic expression. Marvel at colourful street art, visit local art galleries and interact with talented artisans who create unique crafts and traditional artworks.
The Cape Town International Jazz Festival 🎷
If you happen to visit in March or April, the Cape Town International Jazz Festival is an event not to be missed. Regarded as one of the largest jazz festivals in Africa, it brings together local and international artists for a weekend of exceptional music and entertainment. Even outside of the festival dates, Cape Town boasts a vibrant jazz scene with various venues offering live performances. From cosy jazz clubs to open-air stages, immerse yourself in the soulful melodies that echo through the city.


Cape Town's Culinary Scene 🍔
Being a coastal city, Cape Town offers an abundance of fresh seafood. Head to the seafood markets or dine at one of the waterfront restaurants to savour the catch of the day, including delectable dishes like grilled line fish and West Coast mussels. Cape Town's culinary scene is a fusion of influences from various cultures, resulting in a diverse array of dishes and flavours. Don't miss out on trying Cape Malay curry, bobotie, and other dishes that exemplify the city's unique blend of tastes.
The Museums and Art Galleries 🎨
Zeitz Museum of Contemporary Art Africa, housed in a reimagined historic grain silo, showcases a vast collection of contemporary African art. Explore the thought-provoking exhibitions and installations that reflect the dynamism and creativity of the continent's artists. The District Six Museum is a poignant tribute to the forced removal of over 60,000 residents during apartheid. It tells the story of the vibrant and diverse community that once thrived in this area, making it an important reminder of Cape Town's past.


The Festivals and Events 🎆
Join the vibrant Cape Town Carnival, held annually, where the streets come alive with colourful parades, elaborate costumes, and exuberant performances. This carnival is a celebration of creativity, diversity, and community spirit. Design enthusiasts shouldn't miss Design Indaba, an annual event that showcases innovative and inspiring designs across various disciplines. Attend talks, exhibitions, and workshops, and be inspired by the creative minds shaping the future.
Warm Hospitality and Diverse Accommodation Options 🫂
Cape Town has a range of accommodation choices, from luxurious hotels and boutique guesthouses to cosy bed and breakfasts. Regardless of your budget and preferences, you're sure to find the perfect place to rest and rejuvenate after your daily adventures. The warmth and friendliness of the Capetonians are sure to make you feel at home during your stay. Don't hesitate to strike up a conversation with locals; they'll be more than happy to share their love for their city and offer insider tips.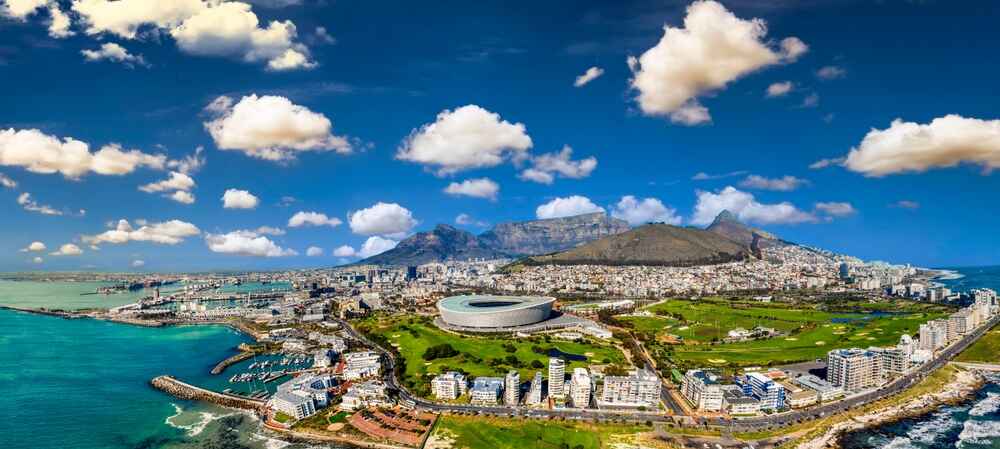 ---
Cape Town's natural landscapes, vibrant cultural heritage, and a boundless array of experiences, are a destination that captivates the hearts of all who visit. Whether you're an adventure seeker, a history enthusiast, or simply looking for a place to unwind, Cape Town has it all. From exploring the iconic Table Mountain and diving into the city's history at Robben Island to indulging in a culinary adventure and immersing yourself in the local culture, Cape Town promises a truly unforgettable journey.
---
FAQ
Q – What is the best time to visit Cape Town?
A – Cape Town's peak tourist season is during the summer months (November to February) when the weather is warm and ideal for outdoor activities. However, shoulder seasons (March to May and September to October) offer pleasant weather and fewer crowds, making them excellent times to visit.

Q – Is Cape Town a safe destination for travellers?
A – Cape Town, like any major city, has areas with higher crime rates. However, most tourist areas are considered safe during the day. It's essential to take standard safety precautions, such as avoiding poorly lit areas at night and not displaying expensive belongings in public.

Q – How can I get to the top of Table Mountain?
A – You can reach the top of Table Mountain either by hiking one of the various trails or by taking the Table Mountain Aerial Cableway, which offers stunning views during the ascent. The cableway operates daily, but it's advisable to check for weather conditions and operational status before planning your visit.

Q – Are there public transport options in Cape Town?
A – Cape Town has a reliable public transport system that includes buses and the MyCiTi rapid transit service. Ride-hailing services and traditional taxis are available for convenient travel within the city. Keep in mind that renting a car is recommended if you plan to explore areas outside the city centre.