Welcome to the vibrant and picturesque city of Cape Town, where stunning landscapes, cultural diversity, and unparalleled luxury come together to create an unforgettable experience for travellers. If you seek the epitome of opulence and comfort, look no further than Cape Town's top 5-star hotels. Each one of these exceptional establishments promises a stay filled with indulgence, personalized service, and unforgettable memories.
The 5-Star Experience in Cape Town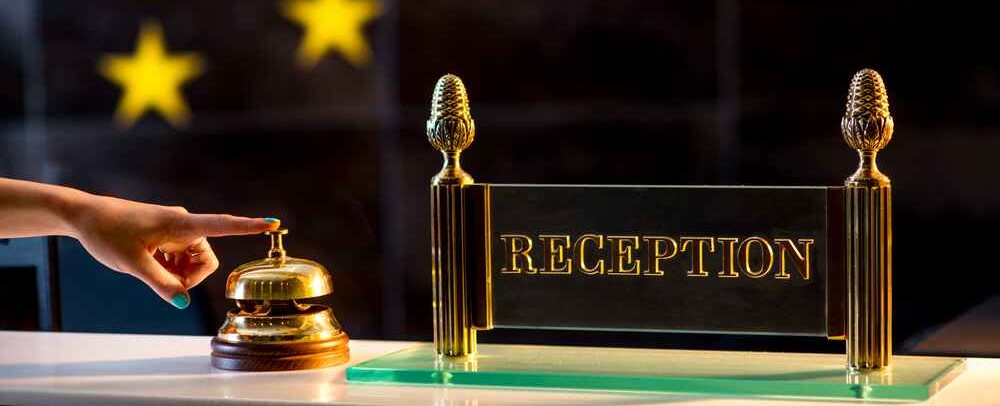 Experiencing a five-star hotel in Cape Town is like stepping into a world of unparalleled luxury and sophistication. From the moment you arrive, you'll be greeted with warm hospitality and personalized service that caters to your every need. The opulent interiors, adorned with exquisite furnishings and thoughtful details, create an ambience of indulgence and comfort, ensuring you feel pampered from the start. Whether you're relaxing in your lavishly appointed suite, savouring gourmet cuisine at the hotel's fine dining restaurant, or unwinding by the rooftop pool with breathtaking views of the cityscape, every aspect of your stay is designed to exceed your expectations.
Beyond the lavish amenities and elegant decor, a five-star hotel in Cape Town offers a gateway to explore the city's vibrant culture and natural beauty. With prime locations near iconic landmarks and attractions, you'll have easy access to the best Cape Town has to offer. Take a stroll along the bustling V&A Waterfront, immerse yourself in the city's rich history and art scene, or venture out to the nearby beaches and mountains for outdoor adventures. Whether you're in Cape Town for business or pleasure, the experience of staying in a five-star hotel promises to be an unforgettable journey of indulgence, discovery, and relaxation.
South Beach


Indulge in luxury and style at South Beach, an award-winning boutique hotel in Camps Bay, Cape Town. Located just 50 meters from the world-renowned Camps Bay Beach, this hotel offers stunning ocean views and a Miami-inspired design. The elegantly appointed rooms and suites provide a sophisticated and comfortable ambience. The rooftop pool adds a hip touch to the experience, while the nearby Promenade offers a variety of restaurants and bars for your enjoyment. With self-catering accommodation in a hotel setting, South Beach is the perfect blend of luxury and convenience.
Experience beachfront luxury at South Beach Camps Bay. Each sea-facing suite boasts contemporary decor and a Miami-inspired design. The rooftop pool offers relaxation and panoramic ocean views. Located near Camps Bay Beach and the vibrant Promenade, this boutique hotel ensures a memorable stay. Enjoy the coastal lifestyle and explore the diverse selection of nearby restaurants and bars. With excellent service and great value for money, South Beach promises an unforgettable Cape Town experience, blending luxury with self-catering convenience.
Book your stay here
Address: 6 Link Road, Camps Bay, Cape Town 8005
Website: https://southbeachsa.com/
Contact Number: 021 437 0074
The Silo Hotel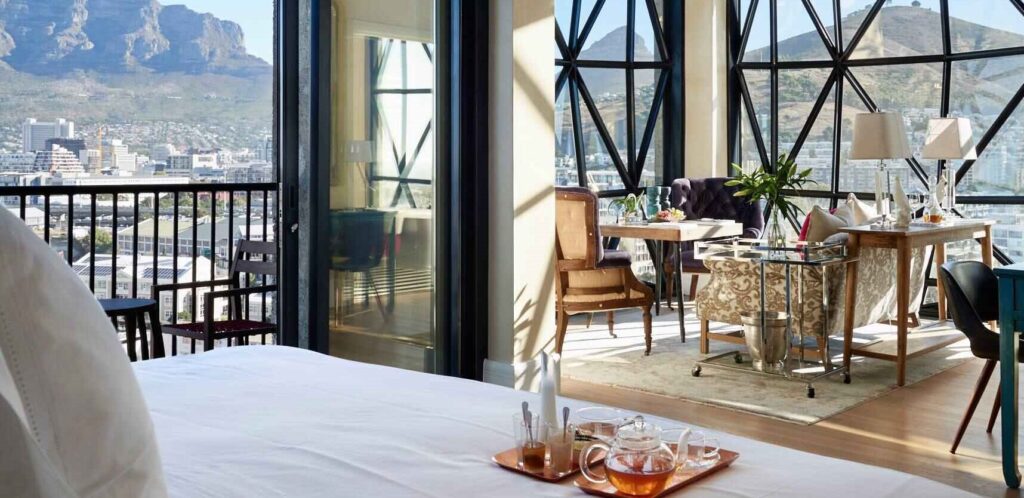 Discover The Silo Hotel, a luxury five-star boutique hotel located in Cape Town's vibrant V&A Waterfront, The Silo District. This unique establishment is the brainchild of owner Liz Biden, ingeniously built within the historic Grain Silo Complex's grain elevator portion. Offering stunning panoramic views of the iconic Table Mountain and Robben Island, The Silo Hotel sets the bar for opulence and comfort.
Experience a new standard for luxury Cape Town accommodation at The Silo Hotel. With 28 individually designed and decorated suites, each exuding a distinctive charm, you'll find yourself immersed in elegance and sophistication. Just 1.8 km from Mouille Point Beach, this superbly located hotel offers easy access to the city's attractions.
Enjoy the convenience of complimentary Wi-Fi throughout the property, and relish the exceptional service provided by the hotel's bar, restaurant, and 24-hour front desk. The Silo Hotel invites you to embrace a captivating escape that seamlessly blends exceptional design with breathtaking views, creating an unforgettable experience in the heart of Cape Town's bustling waterfront.
Book your stay here
Address: Silo Square, Victoria & Alfred Waterfront, Cape Town, 8001
Website: https://www.theroyalportfolio.com/the-silo-hotel/
Contact Number: 021 671 5502
Queen Victoria Hotel


Experience an enchanting blend of classic elegance and contemporary design at the Queen Victoria Hotel by Newmark in Cape Town. Nestled near the vibrant V&A Waterfront, this distinguished boutique hotel offers a serene and luxurious retreat away from the bustling city centre. Set in a beautifully renovated dock building with the iconic Table Mountain as a stunning backdrop, the Queen Victoria Hotel exudes opulence with its crystal chandeliers, white marble, and a grand spiral staircase that greets you upon arrival. The world-class accommodation showcases plush Egyptian cotton sheets and deluxe bathrooms with bathtubs, ensuring a restful and indulgent stay. Start your day with a superb breakfast before embarking on exciting adventures in the city, all while basking in the hotel's captivating atmosphere.
From the moment you step inside the Queen Victoria Hotel & Manor House, you'll be captivated by its grandeur and impeccable attention to detail. The opulent interiors and luxurious amenities promise a stay that surpasses all expectations. With the V&A Waterfront as your backdrop, each moment spent in this luxury hotel becomes a picture-perfect memory. Whether you're exploring the nearby attractions or simply unwinding in your sumptuous room, the Queen Victoria Hotel offers an oasis of tranquillity and indulgence, making it the perfect destination for discerning travellers seeking a world-class escape in Cape Town.
Book your stay here
Address: Moorings 5 & Portswood Ridge, 5 Portswood Road, Victoria & Alfred Waterfront, Cape Town
Website: https://newmarkhotels.com/accommodation/queen-victoria-hotel
Contact Number: 021 418 1466
The Belmond Mount Nelson
Take a look at The Belmond Mount Nelson in Cape Town, one of the city's finest 5-star hotels. From the moment you arrive, you'll be enveloped in warm hospitality and greeted with a genuine welcome. This iconic pink hotel, painted as a symbol of peace in 1918, sits amidst lush, landscaped gardens that resemble a tranquil Eden, creating a serene oasis in the heart of the Mother City. The interiors of this historic property have been exquisitely restored with a delightfully modern twist, offering stylish suites and comfortable beds that ensure a restful night's sleep.
Indulge in the hotel's classic luxury and intimate setting, and savour exquisite fine dining experiences, including one of the best high teas in Cape Town. Whether you're basking in the beauty of Table Mountain views from your private balcony, enjoying the spa and fitness centre, or taking a refreshing dip in the outdoor swimming pool, The Belmond Mount Nelson promises an unforgettable stay of unmatched elegance and tranquillity.
Its proximity to Company Gardens offers a delightful escape from the bustling city, allowing you to embrace the tranquillity of the surroundings while still being within walking distance of the heart of Cape Town's attractions. With manicured gardens, comfortable beds, and stylish interiors, the hotel exudes classic luxury in every detail. Experience the best of both worlds at The Belmond Mount Nelson, where history meets modernity, and impeccable service ensures a stay that is both memorable and rejuvenating.
Book your stay here
Address: 76 Orange Street, Gardens, Cape Town, 8001 South Africa
Website: https://www.belmond.com/hotels/
Contact Number: 021 483 1000
Tintswalo Atlantic
Discover one of Cape Town's hidden gems and best-kept secrets at Tintswalo Atlantic, a 5-star, award-winning boutique lodge nestled at the base of the ocean-facing Table Mountain National Park. Just 20 minutes from the city centre, this exquisite property sits at the foot of Chapman's Peak, boasting the city's only hotel with direct access to a pebble beach. Embrace the breathtaking panoramic views of Hout Bay harbour, the majestic Sentinel mountain peak, and the vast Atlantic Ocean beyond.
Each of the 11 glass-and-timber suites is thoughtfully named after an island, paying tribute to its unique nature and cultural heritage. From Cousine Island to Zanzibar and Robben Island, each suite offers a beautifully appointed space with a design that captures the essence of its namesake. Tintswalo Atlantic's regal presidential suite takes indulgence to new heights. The lodge's dining room provides a picturesque and cosy setting to savour beautifully presented and delicious cuisine while gazing out at the captivating scenery.
Perched on a pebbled beach, Tintswalo Atlantic offers an unrivalled coastal escape where luxury meets nature's grandeur. From its privileged location at the foot of Chapman's Peak, guests are treated to a tranquil retreat that invites relaxation and rejuvenation. Whether you're savouring gourmet delights in the dining room or enjoying the unique design and personalized touches of your island-named suite, every aspect of your stay is meticulously crafted to ensure an unforgettable experience.
Book your stay here
Address: Chapmans Peak Dr, Hout Bay, 7806
Website: https://www.tintswalo.com/atlantic/
Contact Number: 021 773 0900
One&Only Cape Town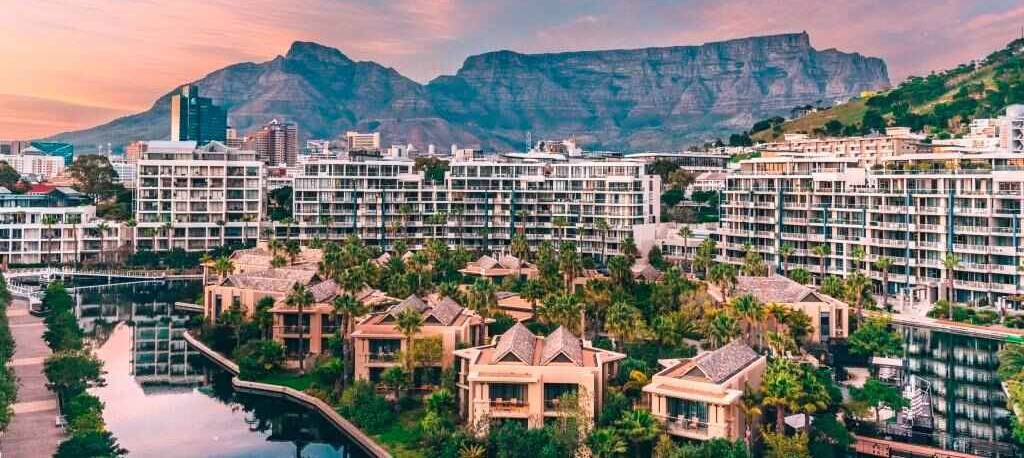 Find the epitome of contemporary luxury at The One&Only in Cape Town, nestled in the heart of the vibrant Victoria & Alfred Waterfront with majestic Table Mountain as a breathtaking backdrop. This urban escape is surrounded by private waterways, offering a tranquil oasis in the midst of the bustling city. The resort boasts spacious rooms and suites, the largest in Cape Town, with a minimum size of 63 square meters, each featuring a private terrace or balcony for you to unwind and enjoy the stunning surroundings. Embrace the resort's distinct ambience that draws inspiration from Africa's rich culture and heritage, creating a unique and immersive experience for every guest.
The One&Only is renowned for its unparalleled location in the Victoria & Alfred Waterfront, providing easy access to the city's vibrant attractions. Indulge in the exquisite tradition of High Tea, immerse yourself in relaxation at the Spa Island, and revel in the resort's proximity to the Yacht Marina. The Marina Rise rooms offer panoramic views of the iconic Table Mountain, while the resort's adjoining island rooms provide a distinctive resort feel and convenient access to the infinity pool and separate Spa Island. Whether you're lounging by the pool, exploring the nearby waterfront, or savouring the finest contemporary luxuries, The One&Only promises an unforgettable stay that seamlessly blends modern comfort with Africa's captivating heritage.
Book your stay here
Address: One&Only Cape Town, Dock Rd, Victoria & Alfred Waterfront, Cape Town, 8001
Website: https://www.oneandonlyresorts.com/cape-town
Contact Number: 021 431 5888
Radisson Blu


Experience the essence of Cape Town's best-known hotel, the Radisson Blu Hotel Waterfront, where every aspect meets the high standards expected from Radisson. This modern city centre hotel offers 224 stylish rooms, each adorned with upscale amenities and features captivating views of the harbour, Table Mountain, the city, or the sea. The true highlight of this exceptional establishment lies in its stunning vistas, where guests can relish the beautiful scenery of both the ocean and the iconic Table Mountain, creating a breathtaking backdrop to every stay.
Indulge in professional service and immerse yourself in a tranquil ambience as you unwind in your well-appointed room. Enjoy modern comforts like a Smart TV, a minibar, and complimentary high-speed Wi-Fi, ensuring that your stay is both enjoyable and connected. With an extensive in-room dining menu, you can savour delectable meals while admiring the captivating views from the comfort of your own space.
The Radisson Blu Hotel Waterfront offers impeccable service and welcoming staff, making sure that your every need is catered to during your stay. Whether you're exploring the nearby city centre or taking a leisurely stroll to the V&A Waterfront, this hotel guarantees a memorable experience that combines convenience, value, and contemporary comfort.
Book your stay here
Address: 22 Riebeek Street, Cape Town, 8000, South Africa
Website: https://www.radissonhotels.com/en-us/hotels/
Contact Number: 021 467 4000
Sugar Hotel


Indulge in a charming retreat at Sugar Hotel, a luxury boutique hotel situated in the trendy Green Point area of Cape Town. Whether you're travelling for business or pleasure, this hotel offers stylish accommodations and excellent value for your stay. From relaxing massages in the wellness centre to pampering your palate with award-winning bistro delights, every moment is enhanced with value-added services. Embrace the comfort of the cocoon-like luxury en-suite rooms, featuring natural fabrics and earth tones, creating a soothing ambience that prioritizes your comfort. The spacious bathrooms with large showers, twin basins, and heated towel rails ensure a private indulgence that pays attention to every detail.
At Sugar Hotel, you have the privilege of choosing a view that suits your preference – the iconic Waterfront or the majestic Mountain. The hillside suites, each featuring a private plunge pool, offer tranquil views of Signal Hill, the "rump" of the fabled Lion's Head mountain. Whether you're enjoying a refreshing drink on the welcoming deck or seeking guidance on local attractions from the friendly staff, the hotel's commitment to your everyday fulfilment ensures a delightful and memorable stay.
Book your stay here
Address: 1 Main Rd, Green Point, Cape Town, 8051
Website: https://www.sugarhotel.co.za/
Contact Number: 021 430 3780
Labotessa Boutique Hotel
Nestled in the heart of Cape Town's historically rich surroundings, Labotessa Boutique Hotel invites you to a five-star experience that captures the essence of its beautiful heritage. Dating back centuries ago when the area was first settled upon and known as "Kloof" or little valley, Labotessa's location on Church Square is steeped in history and culture. Spacious suites adorned with private bathrooms and kitchen amenities offer a home-away-from-home feel, ensuring your utmost comfort during your stay.
With direct elevator access to all suites, convenience is paramount at this boutique hotel. The luxurious 3-bedroom penthouse suite even boasts private splash pools and lounge areas, providing a blissful oasis to unwind and savour the breathtaking mountain views from every room. To add to the allure, a complimentary mini-bar awaits, enhancing your overall experience at Labotessa, where heritage is harnessed with integrity and elegance.
Labotessa Boutique Hotel beckons you to a uniquely distinctive five-star destination, where style and service come together to create a whimsical dalliance with the captivating city of Cape Town. Set amidst leafy green trees and cobbled lanes, the hotel exudes an air of inimitable charm and familiarity that embraces every guest with genuine warmth. As you step into this captivating haven, Labotessa's discernment in style and attention to detail becomes evident, providing an unparalleled experience that immerses you in the rich culture and history of the city. Discover the allure of Cape Town from the vantage point of Labotessa Boutique Hotel, where each moment is a delightful embrace of heritage and luxury.
Book your stay here
Address: 5 Church Square, 37 Parliament St, Cape Town City Centre, Cape Town, 8000
Website: https://labotessa.com/
Contact Number:  021 010 6600
Steenberg Hotel and Spa

The Steenberg Hotel & Spa is a luxurious 5-star haven nestled in the picturesque Constantia Valley of Cape Town. As you step onto this historic wine farm, you'll be greeted with a sense of understated luxury, where 24 rooms offer breathtaking views and discreet, personalized service. The original Manor House, lovingly restored and declared a Provincial Heritage Site, harmoniously blends the legendary elegance and traditions of the 17th century with the refined comforts of the modern age, ensuring a truly enchanting experience.
Discover a diverse dining destination with two exquisite restaurants and indulge in a wine tasting of our award-winning wines at the Tasting Room. For the ultimate relaxation, our world-class spa treats you to spectacular vistas of vineyards and mountains, inviting you to unwind and rejuvenate in an idyllic setting. Choose from private villa suites, premier rooms, and classic rooms, each thoughtfully designed to offer spacious luxury and all the amenities you desire for a blissful stay.
Beyond the elegance of the hotel, guests are invited to explore the pristine grounds that surround them. Tee off at our championship golf course, set amidst the vineyards, or set out on mountain bikes to discover our 300-hectare farm. As a special welcome, a bottle of our signature Steenberg Sauvignon Blanc and refreshing mineral water awaits, while The Pool House provides a relaxing haven for early arrivals and late departures. Experience the finest in luxury, dining, and service at the Steenberg Hotel & Spa, where every moment promises an exquisite journey in the heart of Cape Town's wine country.
Address: Steenberg Rd, Tokai, Cape Town, 7945
Website: https://www.steenbergfarm.com/hotel/
Contact Number: 021 713 2222
---
Cape Town's top 10 5-star hotels offer an unrivaled level of luxury, personalized service, and captivating experiences. From the stunning views at The Silo Hotel to the historical charm of Labotessa Boutique Hotel, each establishment creates a unique ambiance for travelers seeking the finest accommodations. Whether you're exploring the vibrant city center, indulging in a wine tasting experience, or simply relaxing in a rooftop pool overlooking the ocean, Cape Town's luxury hotels promise a memorable and enchanting stay. Embrace the beauty of this magnificent city and treat yourself to the ultimate in refined luxury.