Nestled amidst the scenic landscapes of Somerset West, Cape Town, Lourensford Market is a vibrant and bustling destination that offers a delightful blend of culinary delights, arts, crafts, and live entertainment. Whether you're a local food enthusiast, an art aficionado, or simply seeking a unique shopping experience, Lourensford Market has something for everyone. With its charming ambience, a wide array of stalls, and an inviting community atmosphere, this market has become a popular gathering spot for locals and tourists alike.
The Stalls at Lourensford Market 🧇
With over 60 permanent stalls, Lourensford Market showcases the talents and creativity of local artisans, craftsmen, and food vendors. As you stroll through the market, you'll be greeted by a captivating assortment of stalls offering an extensive range of products. From farm-fresh produce and delectable baked goods to handmade crafts and unique art pieces, the market is a treasure trove of delights.
Food lovers will find themselves spoilt for choice with the diverse culinary offerings available. Indulge in mouthwatering street food, including gourmet burgers, wood-fired pizzas, succulent grilled meats, and delectable vegan and vegetarian options. Satisfy your sweet tooth with heavenly desserts like artisanal ice cream, freshly baked pastries, and tantalizing cakes. Don't forget to wash it all down with a refreshing craft beer, a fine local wine, or a speciality cocktail from one of the market's beverage stalls.


Winter Edition (2023) ❄️
Adding to its charm and appeal, Lourensford Market introduces the Winter Edition, starting on June 2, 2023. Embracing the cosy atmosphere of the winter season, this special edition market offers a unique experience for visitors. As the sun sets and the evening unfolds, the market transforms into a warm and inviting space, complete with crackling fires, cosy blankets, and live entertainment. Delight in the enchanting ambience while savouring hot soups, hearty stews, and seasonal comfort foods, all made with love and using the finest locally sourced ingredients. The Winter Edition at Lourensford Market promises to be a memorable and heartwarming experience for all.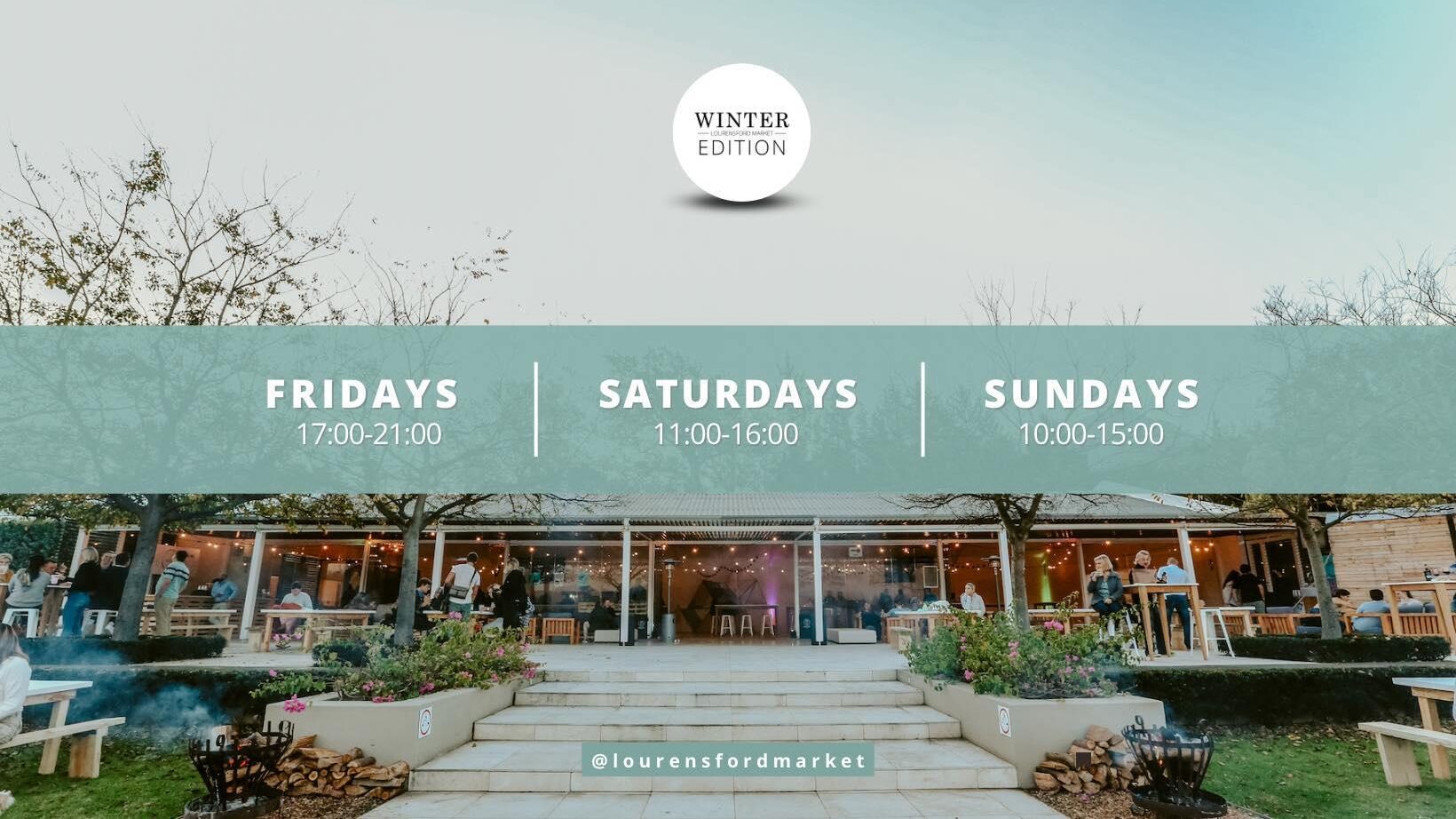 Payment Options at Lourensford Market 💸
To ensure convenience for visitors, Lourensford Market offers a range of payment options. Cash is accepted at most stalls, allowing you to enjoy the market's offerings without worrying about card machines. SnapScan, a popular mobile payment app in South Africa, is widely accepted throughout the market. Simply scan the QR code at the stall, confirm the amount, and make a secure payment using your smartphone. Credit card payments are also welcome, providing you with flexibility and ease of transaction. Whatever your preferred payment method may be, Lourensford Market strives to make your shopping experience as seamless as possible.
Need to Know about Lourensford Market 🚸
The communal kids' area on Lourensford Estate is a delightful space designed to keep young visitors entertained. Located behind the MILLHOUSE kitchen restaurant, this area is suitable for children aged 3 to 10. Let your little ones explore the play equipment, engage in interactive games, and make new friends in a safe and enjoyable environment. For those seeking a more adventurous experience, the Clay Pigeon Adventures Hub offers archery activities, providing a unique opportunity to try your hand at this ancient sport.


Live Music at Lourensford Market 🎶
Lourensford Market not only offers culinary delights and a diverse range of stalls but also treats visitors to live music performances. Each weekend, local musicians and bands take the stage, filling the market with enchanting melodies and creating an atmosphere of joy and relaxation. From jazz and folk to acoustic and contemporary hits, the live music performances cater to various musical tastes, adding an extra layer of enjoyment to the market experience.
As you explore the market, savour the delectable treats, and browse the crafts, find a cosy spot to sit back, relax, and immerse yourself in the captivating sounds. The combination of delicious food, captivating crafts, and enchanting live music makes Lourensford Market a truly unforgettable destination that engages all your senses.


Lourensford Market Opening Hours 🕰️
Lourensford Market operates on specific days and hours, ensuring that visitors have ample opportunity to explore and enjoy its offerings. The market welcomes visitors every Friday, from 17:00 to 21:00, for an evening edition that sets the perfect tone for a lively start to the weekend. On Saturdays, the market opens its doors from 11:00 to 16:00, providing a delightful daytime experience where you can leisurely explore the stalls and soak in the vibrant atmosphere. Sundays offer a relaxed weekend outing, with the market open from 10:00 to 15:00, allowing visitors to enjoy a leisurely Sunday morning or afternoon exploring the market's offerings.
Where is Lourensford Market? 📌
Lourensford Market is conveniently located at Lourensford Estate in Somerset West, Cape Town. The address is Lourensford Road, Somerset West, 7130, Western Cape, South Africa. Situated amidst the picturesque landscapes of the Helderberg region, the estate is easily accessible from major roads and is just a short drive from Cape Town. Visitors can enjoy the scenic journey to the market, taking in the beauty of the surrounding vineyards and mountains as they make their way to this charming destination.
---
Lourensford Market is a captivating destination that brings together the best of local cuisine, arts, crafts, and entertainment. Whether you're a food lover, art enthusiast, or simply seeking a vibrant community atmosphere, this market offers an unforgettable experience. With its diverse range of stalls, the Winter Edition that adds warmth and charm to the winter season, and convenient payment options, Lourensford Market is a must-visit destination in Somerset West, Cape Town. Immerse yourself in the vibrant ambience, savour the delectable flavours, and embrace the creativity that abounds in this lively marketplace. Plan your visit to Lourensford Market and discover a world of culinary delights and artistic wonders.
Website: https://www.lfhm.co.za/
Contact Number: 072 284 1654
Email: hello@lfhm.co.za
Instagram: https://www.instagram.com/lourensfordmarket/
Facebook: https://www.facebook.com/lourensfordmarket
---
FAQ
Q – Is parking available at Lourensford Market and what are the associated costs?
A – Yes, parking is available at Lourensford Estate, and the cost is R10 per vehicle, ensuring convenient access for visitors.

Q – Can I bring my own food for a picnic at Lourensford Market?
A – No, private picnics are not allowed on Lourensford Estate. However, with the wide variety of delicious food options available at the market, you'll be spoiled for choice.

Q – Are pets allowed at Lourensford Market?
A – While Lourensford Estate welcomes pets on its grounds, it's recommended to check with the market directly regarding their policy on bringing pets to ensure a pleasant experience for all visitors.

Q – Is Lourensford Market open during Winter?
A – Yes, Lourensford Market features an outdoor market with a roof overhead, allowing visitors to enjoy the market's offerings even in less favourable weather conditions.