Welcome to Cape Town, a coastal paradise renowned for its pristine beaches and breathtaking natural beauty. Among the numerous seaside destinations that dot the Cape Town coastline, the Blue Flag beaches stand out as true gems. These beaches have been awarded the prestigious Blue Flag certification, a globally recognized eco-label that guarantees cleanliness, safety, and environmental sustainability. With their golden sands, crystal-clear waters, and picturesque surroundings, these Blue Flag beaches offer the perfect escape for beach lovers and nature enthusiasts alike.
From the trendy and glamorous Clifton Beach to the tranquil and secluded Silwerstroomstrand, each Blue Flag beach in Cape Town has its unique charm and allure. Whether you're looking for a family-friendly atmosphere, thrilling water sports, or simply a place to relax and unwind, Cape Town's Blue Flag beaches provide an unforgettable experience. Join us as we embark on a journey to explore the nine Blue Flag beaches in Cape Town, where sun, sand, and sea come together in perfect harmony.
Bikini Beach


Located in the quaint coastal town of Gordon's Bay, Bikini Beach is a true gem along the Cape Town coastline. This Blue Flag beach is renowned for its pristine white sands, crystal-clear waters, and stunning mountain views. Its name originates from a time when it was one of the few beaches where women were allowed to wear bikinis, setting a trend for fashion-forward sunbathers.
Bikini Beach offers a host of activities for visitors to enjoy. The beach is also popular with snorkelers and divers, thanks to its excellent visibility and diverse marine life. Adrenaline junkies can even try their hand at kiteboarding or windsurfing, making use of the reliable breeze that sweeps across the bay.
When you need a break from the beach, take a stroll along the Gordon's Bay promenade, lined with charming cafés, restaurants, and shops. The area also boasts a vibrant nightlife scene, with several bars and clubs where you can dance the night away. With its picturesque setting and variety of attractions, Bikini Beach is a must-visit destination for beach lovers and adventure seekers alike.

Address: Bikini Beach, Gordons Bay Central, Cape Town, 7151
Mnandi Beach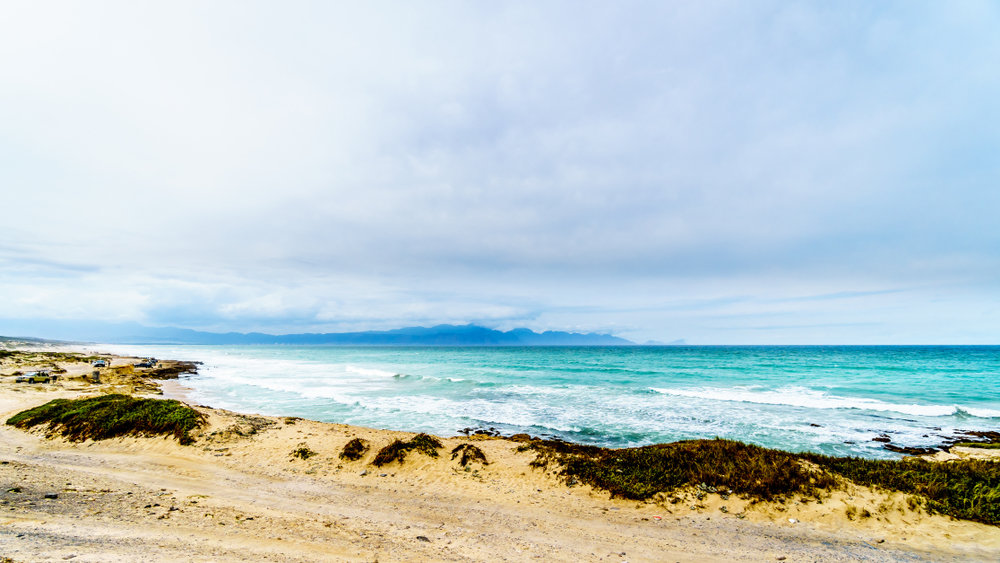 Situated on the outskirts of Cape Town, Mnandi Beach is a hidden treasure that offers a tranquil escape from the city's hustle and bustle. This Blue Flag beach is known for its unspoiled natural beauty, with rolling dunes, indigenous vegetation, and breathtaking views of the Atlantic Ocean. Mnandi, meaning "sweet" in the local Xhosa language, perfectly captures the serene atmosphere that envelops the area.
Mnandi Beach is an ideal spot for those seeking solitude and relaxation. Its peaceful shores invite visitors to take long walks along the sand, enjoy a picnic under the shade of the coastal vegetation, or simply unwind while listening to the rhythmic sound of the waves. The beach also provides excellent conditions for swimming, although caution is advised as there are no lifeguards on duty.
Nature enthusiasts will appreciate the abundant birdlife that frequents the beach, as well as the diverse flora and fauna found in the surrounding nature reserves. Keep an eye out for the endangered African black oystercatcher, a bird species that nests on the beach. Mnandi Beach offers a serene retreat that showcases the unspoiled beauty of the Western Cape, making it a must-visit destination for nature lovers and those seeking a peaceful beach getaway.

Address: Lukannon Dr, Strandfontein, Cape Town, 7788
Strandfontein Beach


Nestled along the False Bay coastline, Strandfontein is a popular destination for beachgoers seeking a family-friendly atmosphere and ample recreational activities. This Blue Flag beach offers a long stretch of golden sand and calm waters, making it ideal for swimming, sunbathing, and various water sports.
Strandfontein's expansive beachfront provides ample space for visitors to relax and enjoy the scenic surroundings. With its shallow waters and lifeguards on duty during peak seasons, it is a safe haven for families with children. The beach is also equipped with well-maintained facilities, including showers, changing rooms, and picnic areas, ensuring a comfortable experience for all.
Strandfontein boasts a diverse range of recreational opportunities. Anglers can try their luck from the beach or cast their lines from the nearby pier, hoping to catch a variety of fish species that inhabit these waters. The beach is also a favourite spot for windsurfing, kitesurfing, and paddleboarding enthusiasts, thanks to the consistent winds and favourable conditions.
For those who prefer to stay on land, Strandfontein offers scenic walking paths and cycling routes along the coastline, allowing visitors to soak up the beauty of the area at their own pace. With its family-friendly atmosphere and abundance of activities, Strandfontein is a beach destination that caters to all ages and interests.

Address: New Strandfontein Rd, Strandfontein, Cape Town, 7788
Muizenberg Beach
As one of Cape Town's most iconic beaches, Muizenberg holds a special place in the hearts of locals and tourists alike. This Blue Flag beach, located on the False Bay coast, offers a unique blend of natural beauty, historical charm, and a vibrant beach culture that has made it a beloved destination for generations.
Muizenberg Beach is renowned for its colourful beach huts that line the shore, creating a picturesque backdrop for beachgoers. The vibrant hues and retro charm of these huts have become synonymous with Muizenberg and make for Instagram-worthy photo opportunities. The beach's gently sloping sandy shores and warm waters make it an ideal spot for swimming and bodyboarding, attracting both experienced surfers and beginners.
Beyond its stunning coastline, Muizenberg boasts a rich history and cultural heritage. The beach is home to the iconic Muizenberg Pavilion, a century-old building that serves as a landmark and gathering place for locals and visitors. The area is also steeped in surfing history, with Muizenberg being one of the birthplaces of surfing in South Africa. The nearby Surfer's Corner is a popular meeting spot for surfers, offering a relaxed beachfront atmosphere and a range of surf schools and shops.
In recent years, Muizenberg has also emerged as a vibrant artistic hub, with galleries, studios, and street art adding a creative touch to the beachside suburb. Visitors can explore the local art scene, enjoy live music performances, or simply soak up the bohemian vibe that permeates the area. With its unique blend of natural beauty, cultural heritage, and artistic flair, Muizenberg is a must-visit beach destination that embodies the spirit of Cape Town.

Address: Muizenberg Beach, Beach Rd, Muizenberg, Cape Town, 7950
Fish Hoek Beach


Nestled on the eastern side of the Cape Peninsula, Fish Hoek is a charming coastal town that offers a family-friendly beach experience like no other. This Blue Flag beach, with its wide sandy shores and inviting waters, has long been a favourite among locals and tourists seeking a safe and relaxed environment for swimming and sunbathing.
Fish Hoek Beach is known for its warm waters, which are sheltered by the surrounding mountains and create ideal conditions for a leisurely swim. The beach is also well-suited for various water activities, including snorkelling, kayaking, and stand-up paddleboarding. For those who prefer to stay on land, there are ample opportunities for beach games, picnicking, or simply soaking up the sun while admiring the scenic views.
Fish Hoek itself offers a quaint town centre with a range of shops, cafés, and restaurants, where visitors can grab a bite to eat or browse for souvenirs. For those looking to explore further, the beach is a gateway to the picturesque coastal drives and hiking trails that wind their way along the Cape Peninsula. Fish Hoek Beach is a charming seaside escape that combines natural beauty, marine wildlife, and a relaxed atmosphere, making it an ideal destination for families and nature enthusiasts.

Address: Fish Hoek Beach
Llandudno Beach
Tucked away between the towering cliffs of the Atlantic Seaboard, Llandudno Beach is a secluded paradise that offers a sense of tranquillity and natural beauty. This Blue Flag beach is known for its pristine white sands, sparkling blue waters, and breathtaking panoramic views, making it a popular choice for those seeking a peaceful and picturesque beach experience.
While swimming at Llandudno Beach is a favourite pastime, caution is advised as there are no lifeguards on duty. However, the beach's natural rock pools provide a safe and sheltered area for children to splash and play. The beach is also frequented by surfers, who come to ride the waves created by the Atlantic swells.
Beyond its natural allure, Llandudno offers convenient access to a range of activities and attractions. Nearby hiking trails lead to viewpoints that offer breathtaking vistas of the coastline, while the charming town of Hout Bay is just a short drive away, offering an array of shops, restaurants, and a vibrant harbour. Llandudno Beach is a hidden gem that showcases the raw beauty of Cape Town's coastline, providing a tranquil escape for nature lovers and those seeking a serene beach experience.

Address: Llandudno Beach, Llandudno, Cape Town, 7806
Clifton Beach


Regarded as one of Cape Town's most exclusive beach destinations, Clifton Beach offers a luxurious and glamorous beach experience. This collection of four Blue Flag beaches, aptly named Clifton 1st, 2nd, 3rd, and 4th, is nestled between the slopes of Lion's Head and the Atlantic Ocean, creating a dramatic backdrop for beachgoers.
Each of the four beaches at Clifton has its own distinct character, but they all share a common appeal: pristine white sands, azure waters, and a vibrant beach scene. Clifton 4th Beach, in particular, is known for its trendy atmosphere and attracts a fashionable crowd, while Clifton 2nd Beach offers a more relaxed and family-friendly environment. The beaches are accessible via a series of steps, and while parking can be limited, the effort to reach these idyllic shores is well worth it.
Visitors to Clifton can expect a sophisticated beach experience, with sun loungers and umbrellas available for rent, ensuring a comfortable day in the sun. The beaches are popular for sunbathing, socializing, and the crystal-clear waters beckon for a refreshing swim. Clifton is also a great spot for beach games, picnics, or simply enjoying a stroll along the shore.
When hunger strikes, there are various nearby cafés and restaurants where visitors can indulge in a delicious meal or sip on a refreshing cocktail while taking in the breathtaking ocean views. Clifton Beach embodies the glamour and beauty of Cape Town's coastline, offering a luxurious beach experience that attracts both locals and foreigners alike.

Address: Clifton 4th
Camps Bay Beach
Camps Bay Beach is one of the best blue flag beaches in cape town it's a playground for beach enthusiasts, offering a combination of natural beauty, vibrant energy, and a cosmopolitan atmosphere. This Blue Flag beach is located in the trendy suburb of Camps Bay, nestled between the Twelve Apostles mountain range and the Atlantic Ocean, creating a picturesque setting that is hard to resist.
Camps Bay Beach is famous for its long stretch of golden sand, fringed by palm trees and overlooked by luxurious villas and trendy cafés. The beach's vibrant atmosphere is complemented by the backdrop of the Twelve Apostles, which creates a dramatic and awe-inspiring view. The crystal-clear waters of the Atlantic Ocean are inviting for a refreshing swim, and lifeguards are on duty during peak seasons to ensure the safety of beachgoers.
Camps Bay Beach offers a wide range of recreational activities. The beach is a popular spot for beach volleyball, frisbee, and paddleboarding, providing plenty of opportunities for active beachgoers to enjoy themselves. The nearby promenade is perfect for a stroll, with various shops, restaurants, and bars lining the way, offering a diverse range of culinary delights and refreshing beverages.
As the sun sets, Camps Bay Beach transforms into a vibrant social hub, with beachfront bars and restaurants coming alive with music and laughter. Visitors can enjoy a romantic dinner, sip cocktails while watching the sunset, or indulge in a night of dancing and entertainment. Camps Bay Beach is a true embodiment of Cape Town's cosmopolitan beach culture, combining natural beauty, recreational activities, and a lively atmosphere that leaves a lasting impression on all who visit.

Address: Camps Bay Beach, Cape Town, 8005
Silwerstroomstrand Beach


Located along the West Coast of Cape Town, Silwerstroomstrand offers a serene and unspoiled beach experience away from the city's bustling crowds. Out of the blue flag beaches, this one is renowned for its rugged beauty, expansive sandy shores, and tranquil atmosphere, making it a hidden gem for those seeking a peaceful coastal retreat.
The beach is known for its captivating views of the Atlantic Ocean and the striking sunsets that paint the sky in hues of orange and gold. Nature lovers will appreciate the diverse birdlife that frequents the area, including the endangered black oystercatcher and various species of gulls and terns. The beach's untouched environment provides an opportunity to connect with nature and immerse oneself in tranquil surroundings.
Swimming at Silwerstroomstrand is possible, although caution is advised as there are no lifeguards on duty. The beach's waters are known for their colder temperatures, which are characteristic of the Atlantic Ocean. However, the invigorating nature of the water adds to the unique experience of this coastal paradise. With its unspoiled beauty and serene atmosphere, Silwerstroomstrand is a hidden treasure that showcases the raw and untamed allure of Cape Town's West Coast.

Address: Silverstroomstrand, Cape Farms, Cape Town
---
Cape Town is home to a variety of breathtaking Blue Flag beaches that cater to different preferences and interests. From the trendy and glamorous atmosphere of Clifton to the tranquil and secluded charm of Silwerstroomstrand, each beach offers its own unique experience. Whether you're seeking a vibrant social scene, family-friendly activities, water sports, or simply a place to relax and soak up the sun, Cape Town's Blue Flag beaches have it all. Explore these stunning coastal destinations and discover the beauty and diversity that make Cape Town a world-class beach destination.