The live music Cape Town has on offer is remarkable, to say the least, and in combination with the good food and live performances, you've got a memorable night out. This guide will take you through the top 5 live music restaurants in Cape Town, where you can enjoy delicious food and soulful tunes in a lively atmosphere
The House of Machines 🏍


The House of Music is more than just a restaurant; it's a lively oasis for all. Snuggled in the heart of the city, this establishment seamlessly combines various elements that make it a unique and unforgettable experience. At the House of Music, patrons can expect a range of offerings, from delectable food and aromatic coffee to handcrafted cocktails and a curated selection of beers.
If you're looking for a live band in Cape Town centre, with talented musicians setting the perfect soundtrack for your evening. Come to the House of Machines. The melodies vary from jazz to rock, ensuring something suits every musical palate. The House of Music is not just an epicurean and auditory delight; it's also a sanctuary for enthusiasts of custom bikes, where they can admire and discuss their shared passion. The environment is electric, fostering a sense of community among visitors.
Address: 84 Shortmarket Street, Cape Town City Centre
Website: https://thehouseofmachines.com/
Contact Number: 021 426 1400

The Piano Bar 🎹


The Piano Bar is undeniably the ultimate destination for jazz lovers and seekers of relaxation in Cape Town. This restaurant with live music in the heart of the city, has a calm and welcoming environment that effortlessly draws you into its musical embrace. Night after night, this establishment treats its patrons to the soul-stirring melodies of live jazz performances.
One of the remarkable aspects of The Piano Bar is its diversity in music. Various musicians grace its stage, ensuring that the auditory journey is an inclusive one. Whether you prefer classic jazz, contemporary rhythms, or bluesy tunes, there's something to cater to every musical taste.
Adding to the charm, the veranda offers mesmerizing views of De Waterkant, creating a peaceful setting for the harmonious tunes that fill the air. As if that weren't enough, The Piano Bar boasts an impressive selection of delectable food and drinks. From signature cocktails to mouthwatering dishes, it's a culinary experience that pairs perfectly with the music. The Piano Bar is more than just a venue for jazz; it's a place of repose, offering diverse music, captivating views, and delicious food.
Address: 47 Napier Street, Cape Town
Website: https://thepianobar.co.za/
Contact Number: 021 007 5212
Stardust Theatrical Dining ⭐

Stardust Theatrical Dining, tucked in the neighbourhood of Woodstock, is an extraordinary fusion of food and entertainment. This unique restaurant in Cape Town with live music offers a dining experience like no other, where singing and dancing waiters take centre stage, turning every meal into a captivating performance.
As you savour the flavours of Mediterranean cuisine, the talented staff at Stardust enchant you with their extraordinary vocal and dance talents. Their seamless integration of serving and performing creates an immersive and unforgettable atmosphere, making each visit a memorable event. The menu at Stardust is a journey through the Mediterranean, featuring a rich tapestry of flavours, from succulent grilled meats to fresh seafood and flavorful vegetarian options. It's the perfect complement to the spectacular entertainment.
Address: 118 Sir Lowry Road, Woodstock, Cape Town
Website: https://stardustcapetown.com/
Contact Number: 021 462 7777

🎷Looking for Hidden Gems and Jazz? Well, Look No Further!🕺
The Bay Harbour Market🎶


The Bay Harbour Market in Hout Bay is a true embodiment of South Africa's diversity, creativity, and cultural richness. Nestled within the charming backdrop of a working harbour, this market is not just a place to shop. Every weekend, the Bay Harbour Market comes alive with live entertainment on the Bay Harbour Market Sound Stage, creating an atmosphere that is not just friendly and entertaining but quintessentially South African.
Visitors of all ages and backgrounds gather here to revel in the unique South African spirit, making it a melting pot of cultures and traditions. The market's setting in an authentic fish factory adds to its character, infusing the air with the hustle and bustle of a lively marketplace. From handcrafted treasures to mouthwatering cuisine, the Bay Harbour Market offers an array of goods and flavours that reflect the country's rich heritage. For those seeking an authentic and vibrant experience in Cape Town, the Bay Harbour Market is the place to be, where the heart and soul of South Africa shine through in every corner.
Address: 31 Harbour Rd, Hout Bay, Cape Town
Website: https://www.bayharbour.co.za/
Contact Number: 084 370 5715
Harrington's Cocktail Lounge🍸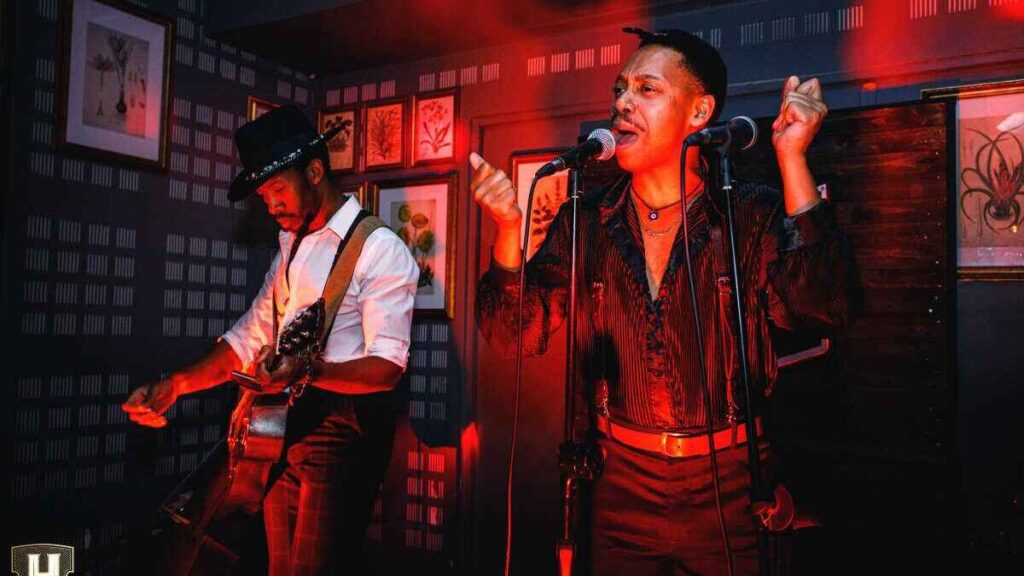 Another restaurant with live music Cape Town keeps secret is Harrrington's Cocktail Lounge. It has swiftly become the epitome of sophistication and exclusivity in Cape Town's nightlife. This newcomer exudes an aura of timeless elegance, drawing in a discerning and upscale clientele who appreciate its Ratpack-inspired charm.
One of the standout features of Harrington's is its Thursday night East City Sessions, a weekly event that has quickly gained renown throughout the city. These sessions are synonymous with lively music, an electric atmosphere, and handcrafted cocktails that, while on the expensive side, are undeniably worth every penny. The fusion of live entertainment and meticulously crafted libations creates an experience that is both opulent and unforgettable.
Harrington's Cocktail Lounge sets itself apart by offering more than just drinks; it offers a captivating journey through the golden age of entertainment, where the allure of the Ratpack era meets modern sophistication. With its upscale ambience and Thursday night extravaganzas, this establishment has solidified itself as a must-visit destination for those seeking refined luxury and indulgence in Cape Town. A visit to this Harrington Restaurant is a must!
Address:61b Harrington Street, Cape Town
Website: https://www.harringtonstreet.co.za/
Contact Number: 078 916 7903
If you're looking for a restaurant with live music Cape Town is the place to be. Cape Town's live music scene is a testament to the city's rich cultural diversity and artistic talent. These top 5 offer live shows Cape Town, has so much more to offer. Live music restaurants provide an immersive experience that combines exceptional food with soul-stirring tunes.
Whether you're a jazz enthusiast, a blues lover, or simply seeking a memorable night out, Cape Town's live music restaurants have something for everyone. So, plan your visit to these iconic venues and let the rhythm of the city sweep you off your feet. Enjoy the harmonious blend of music, food, and culture that Cape Town has to offer! All of these live music and food spots are gems in Cape Town.