Cape Town is famous for its stunning views, mixed cultures, and buzzing nightlife. Sure, the regular bars and clubs are cool, but there's a whole secret scene for those who love a bit of mystery. Let's spill the tea on Cape Town's underground bars, where it's all about awesome vibes, great music, and drinks that'll blow your mind.
🚗 A Night Out In Cape Town! Jazz Nights And Hidden Gems Await 🎺
The Drinkery 🥃


The Drinkery stands out in Cape Town's evolving bar scene. Since its establishment in 2020, this hidden gem has seamlessly blended the city's rich history with some incredible drinks. Beyond its prime location in the Cape Town City Centre, The Drinkery distinguishes itself by offering more than just a drinking experience. What sets The Drinkery apart is its strategic position, overlooking the oldest fruit-bearing vine in the Southern Hemisphere. This unique backdrop sets the stage for an exceptional blend of fine dining and vibrant conversations within a vintage-inspired lounge. By drawing inspiration from Cape Town's traditions and history, The Drinkery becomes more than just a bar; it becomes a place where time seems to slow down.
In every corner, patrons are invited to step into a world of sophistication, where each sip becomes a narrative, and every drink served tells a captivating story. The commitment to embodying timelessness and honouring traditions shapes an atmosphere that encourages immersive and unhurried enjoyment. Thus, a visit to The Drinkery is more than a night out; it's an opportunity to create cherished memories, where the past and present intertwine in a uniquely Cape Town way.
The Drinkery Opening Hours: Monday to Friday 4 pm to 12 am and Saturday 2 pm to 12 am
Address: 100 Shortmarket Street Mezzanine Level, Cape Town City Centre, Cape Town, 8000
Website: https://thedrinkery.co.za/
Contact Number: 082 464 4866
The Dark Horse 🐴
The Dark Horse bar is your cosy spot for good vibes and great eats. Their menu is like a flavour adventure, mixing comfort food with daring dishes that are perfect for sharing or creating your feast. But it's not just about the food, The Dark Horse is all about keeping it local and sustainable. They source their goodies nearby, focusing on ethical farming and eco-friendly eats.
They've got a cool approach to meat too, embracing a nose-to-tail philosophy that's all about creativity and minimal waste. The Dark Horse has expert bartenders who craft concoctions that are nothing short of extraordinary, pushing the boundaries of flavour and presentation. From classic cocktails with a modern twist to bespoke creations tailored to individual preferences, The Dark Horse sets a new standard for the art of drink-making.
The Dark Horse Opening Hours: Tuesday to Thursday 4 pm to 11 pm and Friday to Saturday 1 pm to 11 pm
Address: 145 Kloof St, Gardens, Cape Town, 8001
Website: https://darkhorsebar.co.za/
Contact Number: 021 422 0825
The Gin Bar 🍸


Founded in 2014 as a passion project among four close friends, The Secret Gin Bar has evolved from a hidden gem to one of the city's beloved spots. Accessed solely through Honest Chocolate Cafe, it sits snugly in a romantic Mediterranean-style courtyard, standing as one of the country's authentic speakeasies. Housed in a heritage building with a quirky history as a former mortuary, The Secret Gin Bar embraces its playful side with a cocktail menu featuring "quack" medicinal remedies. The original tiny bar, now the Bubbly Bar, holds the charm of the morgue's Embalming Room, infusing the space with unique character.
Fast forward eight years, and the bar boasts an impressive menu of over 100 gins, with more than 80 crafted locally in South Africa. It has become a celebration of the country's crafters, particularly in the realm of Cap Classique, the South African equivalent of Champagne. The bar's dedication to showcasing local makers experimenting with unconventional grape varietals promises an experience you won't want to miss.
The Gin Bar Opening Hours: Monday to Wednesday 5 pm to 1 am and Thursday to Saturday 3 pm to 1 am
Address: 64A Wale St, Cape Town City Centre, Cape Town, 8000
Website: https://theginbar.co.za/
Contact Number: 071 241 2277
Asoka Restaurant, Bar and Lounge 🪷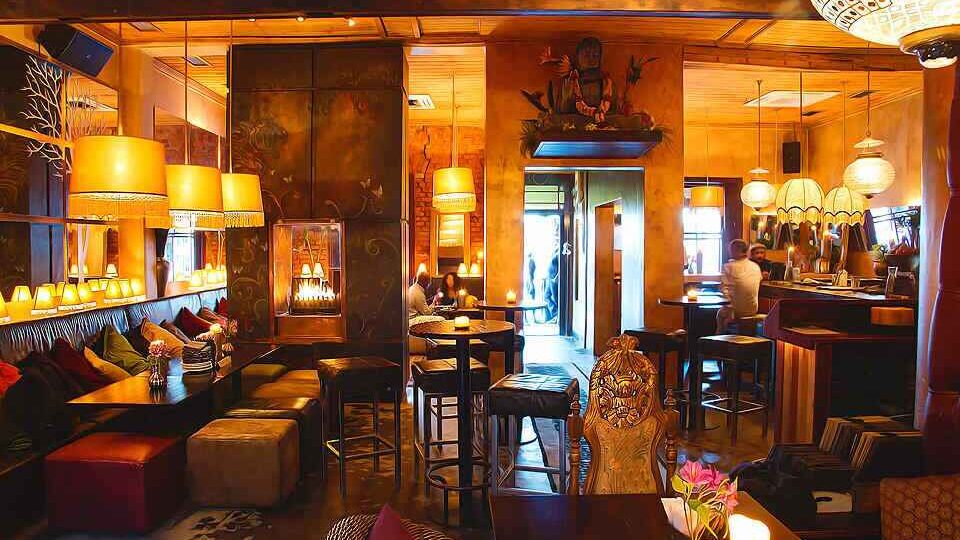 Asoka Restaurant, Bar & Lounge has been doing its thing on Kloof Street in Cape Town for over a decade, making it a cool and reliable spot. From its roots as a regular house, it's now this chill place that mixes relaxation with a bit of mystery. The deck is the spot to be, giving you a sweet view of Kloof Street rolling down from the front door.
Knowing that the night's where it's at, Asoka's kitchen stays open until midnight. They get it; dancing makes you hungry. And let's talk about the bar, they have legendary cocktails and They mix spirits with the freshest stuff, offering a bunch of classics and some Asoka specials that just scream their vibe. But it's not just about the food and drinks. Asoka pumps out some soul-awakening music, making the whole place buzz with energy. It's their way of saying that good food and soulful sounds bring folks together. So, when you're up for a symphony of flavours and beats, Asoka's got your back.
Asoka Restaurant Opening Hours: Monday to Saturday 5:30 pm to 2 am and Sunday 5:30 pm to 12 am
Address: 68 Kloof St, Gardens, Cape Town, 8001
Website: https://asoka.za.com/
Contact Number: 021 422 0909
The House of Machines 🏍️


The House of Machines (THoM) isn't your typical spot, it's like the cool hangout where you make friends and enjoy good vibes. Forget about trying to be trendy; THoM is all about casual hangs, new friendships, and feeling like you belong. Picture this: a place that's part Coffee, Café, Beer, Cocktails, Music, and a sprinkle of 'Moto Hero.' It's a mix that's unique and lively, setting the stage for good times. But THoM is more than that; it's about bringing people of all kinds together, creating a community rooted in real history and making memories that stick.
Even though THoM is technically someone's house, it's more like the home for everyone who steps through the door. You don't just visit; you become part of a crew that's all about feeling at home and making memories that last. THoM is where the good times are, and you're always welcome to join the fun.
The House of Machines Opening Hours: Monday to Friday 7 am to 2 am and Saturday 9 pm to 2 am
Address: 84 Shortmarket St, Cape Town City Centre, Cape Town, 8000
Website: https://thehouseofmachines.com/
Contact Number: 021 426 1400
Harald's Bar & Terrace 🍹
Perched at Park Inn by Radisson Cape Town Foreshore, Harald's Bar & Terrace is the go-to spot for cocktail lovers in Cape Town, offering breathtaking views of Table Mountain and the city below. Harald's is more than just a place to eat and drink; it's an experience. The signature assortment of cocktails, wines, and beers adds an extra layer of flavour to the vibrant atmosphere, making every visit a celebration of taste and scenery. Whether you're in the mood for a classic cocktail or a local wine, Harald's has it.
Immerse yourself in the lively setting, where local entertainment adds a dynamic touch to the atmosphere, creating an engaging and enjoyable environment for visitors. Harald's Bar & Terrace isn't just a place to unwind; it's a destination where every sip, bite, and moment is infused with the spirit of Cape Town, making it a must-visit for those looking to savour the city's flavours while enjoying its lively nightlife.
Harald's Bar & Terrace Opening Hours: Monday to Sunday 11 am to 10:30 pm
Address: Park Inn by Radisson, 29 Heerengracht St, Foreshore, Cape Town, 8000
Website: https://www.radissonhotels.com/haralds-bar-terrace
Contact Number: 021 427 4800
Embark On A Secret Cocktail Nightlife Experience! 🍸
Cape Town's got some cool hidden bars that bring a different vibe to the nightlife scene. These spots are off the beaten path, each with its own thing going on. Whether you're a local who knows the drill or just checking things out, these places are waiting to be discovered. So, grab a drink, soak in the good vibes, and here's to the awesome side of Cape Town's nightlife.