With its scenic landscapes, rich history, and diverse attractions, Worcester is a hidden gem waiting to be explored. We will be taking you through the enchanting sights, cultural experiences, and natural wonders that make Worcester a must-visit destination.
Discovering Worcester's Charm ⛰️
Situated in the breathtaking Breede River Valley, Worcester is surrounded by majestic mountains, lush vineyards, and fertile farmlands. Known for its wine production and Mediterranean climate, Worcester offers a delightful combination of natural beauty and warm hospitality.
Breede River Valley is nestled in the captivating Western Cape of South Africa. Renowned for its natural beauty and diverse landscapes, the Breede River Valley is a haven for outdoor enthusiasts and nature lovers alike. This enchanting region boasts majestic mountain ranges, verdant vineyards, and the meandering waters of the iconic Breede River.
With its favourable climate and fertile soils, the valley is also known as the heart of the South African wine industry, producing world-class wines that tantalize the palate. Whether you're exploring the charming towns and villages that dot the valley, embarking on thrilling outdoor adventures, or indulging in the rich flavours of the local cuisine, the Breede River Valley offers a truly unforgettable experience for visitors.
Immerse yourself in the region's abundant natural wonders, bask in the warm hospitality of the locals, and create lifelong memories in this idyllic corner of the Western Cape.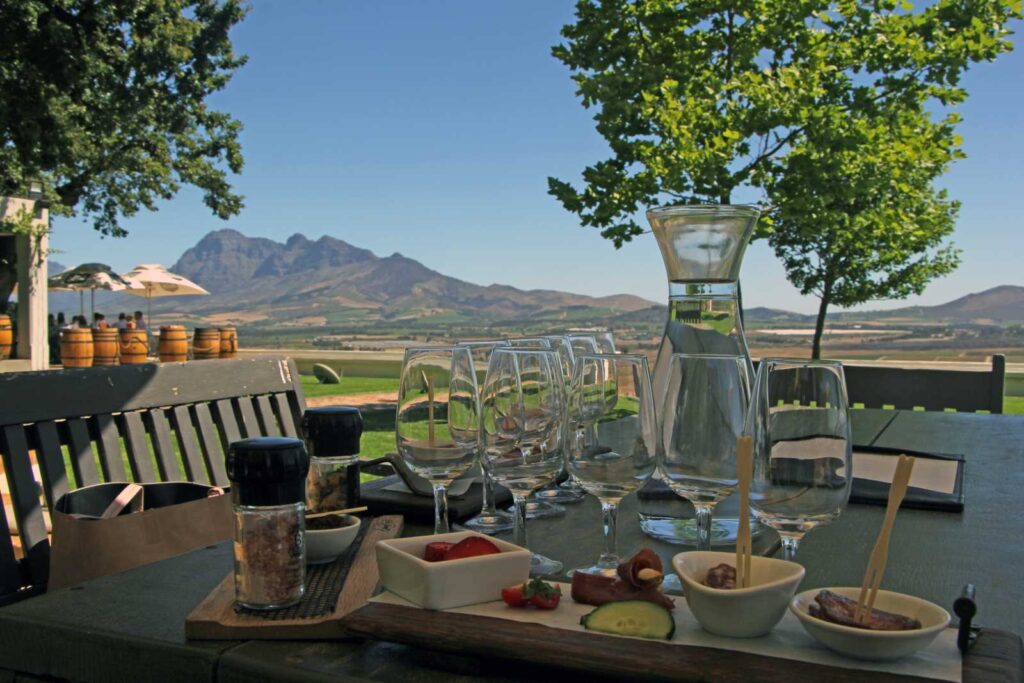 Worcester Accommodation 🏘️
Whether you prefer a tranquil countryside retreat or a centrally located stay in the heart of town, Worcester accommodation ensures comfort and convenience during your visit. Worcester offers a range of comfortable and convenient options to suit every traveller's needs.
From luxurious hotels and charming guesthouses to cosy bed and breakfasts and self-catering cottages, you'll find the perfect place to rest and rejuvenate. Whether you're visiting for business or pleasure, these accommodations provide top-notch amenities, friendly service, and a warm and inviting atmosphere.


Located in close proximity to the town's attractions, restaurants, and shopping areas, you'll have easy access to everything Worcester has to offer. Indulge in comfortable beds, modern facilities, and stunning views, ensuring a memorable stay in this picturesque part of the Western Cape. Book your accommodation in Worcester today and discover the perfect base for your unforgettable South African adventure.


Things to Do in Worcester 🌻
Worcester boasts a variety of activities and attractions to keep visitors entertained. Explore the Worcester Museum to delve into the town's fascinating history, or take a leisurely stroll through the Karoo Desert National Botanical Garden, showcasing a unique array of indigenous flora. Wine enthusiasts can embark on wine-tasting tours at renowned vineyards in the area, sampling exquisite Cape wines.


This vibrant town offers a diverse range of things to do, ensuring a memorable experience for all visitors. Explore the rich heritage and history of the area by visiting the Worcester Museum or taking a stroll through the beautiful Montagu Pass. Nature enthusiasts can embark on scenic hikes in the nearby Hex River Mountains or enjoy a relaxing picnic along the banks of the picturesque Breede River.
Wine lovers will be delighted by the numerous vineyards and wineries in the region, offering wine tastings and cellar tours. For an adrenaline rush, engage in thrilling outdoor adventures such as river rafting, ziplining, or mountain biking. Immerse yourself in the local culture by attending festivals, markets, and live music events throughout the year.
Whether you're seeking relaxation, adventure, or a taste of local flavours, Worcester has something to suit every interest. Start planning your itinerary today and uncover the hidden gems of this captivating Western Cape town.
Worcester Weather and The Best Time to Visit 🌦️
Worcester experiences a Mediterranean climate with hot, dry summers and mild, wet winters. Summers (December to February) are characterized by warm temperatures, ideal for outdoor activities and exploring the natural beauty of the region. Winters (June to August) are cooler, but still pleasant for sightseeing. It's recommended to pack layers and a waterproof jacket during winter, as rainfall is more frequent.
Outdoor Adventures in Worcester 🛶
Nature enthusiasts will be thrilled by the outdoor adventures Worcester offers. Hike in the surrounding mountain ranges, such as the Hex River Mountains, to enjoy breathtaking views of the valley. The Breede River provides opportunities for water sports like canoeing and fishing. Golf enthusiasts can tee off at Worcester Golf Club, surrounded by picturesque landscapes.


Lace up your hiking boots and traverse the picturesque trails of the Hex River Mountains, where breathtaking vistas and hidden gems await at every turn. For a rush of adrenaline, conquer the rushing waters of the Breede River through exhilarating river rafting or kayaking adventures. If you prefer to soar through the sky, zip-lining experiences provide a unique perspective of the surrounding landscapes.
Mountain biking enthusiasts can explore the region's rugged terrain, pedalling through scenic routes that showcase the area's natural wonders. For a more relaxed outdoor activity, indulge in picnics along the riverbanks, fishing in tranquil waters, or simply basking in the sunshine in one of the many picturesque spots.
Worcester, Western Cape's hidden gem, invites you to embark on an unforgettable journey filled with history, natural beauty, and warm hospitality. Whether you're exploring the charming town, indulging in wine tasting, or embracing outdoor adventures, Worcester offers a captivating experience for every traveller. Plan your visit, discover the region's diverse attractions, and enjoy the tranquillity and serenity of this remarkable destination in the heart of the Western Cape.


---
Phone Number: 023 342 6244
Email Address: info@worcestertourism.com
Website: https://worcestertourism.com
Facebook: @WorcesterTourism
Instagram: @WorcesterTourism
---
FAQ
Q – What is the population of Worcester?
A – Worcester, South Africa, has an estimated population of around 107,000 people. It is the largest town in the Breede Valley Local Municipality and serves as an economic hub for the surrounding agricultural region.

Q – What is Worcester known for?
A – Worcester, South Africa, is known for its wine production and is a prominent part of the Cape Winelands region. It is surrounded by picturesque vineyards and wineries, offering visitors opportunities for wine tasting and tours. Worcester is also known for its scenic beauty and outdoor recreational activities.

Q – What to do in Worcester?
A – Worcester, South Africa, offers various attractions and activities. Visitors can explore the beautiful wine estates, enjoy wine tastings, and experience cellar tours. The town is also known for outdoor activities like hiking, mountain biking, and bird-watching in the surrounding mountains and nature reserves. the Karoo Desert National Botanical Garden and the Kleinplasie Open-Air Living Museum are popular cultural and educational attractions worth visiting in Worcester.

Q – How far is Worcester from Cape Town?
A – Worcester, South Africa, is located approximately 111 kilometres northeast of Cape Town. The driving distance between the two cities is around 139 kilometres and can take about 1.5 to 2 hours depending on the route and traffic conditions.
Looking for Activities Nearby?
Take a short drive to the exciting De Doorn and discover a marvellous land of luxurious accommodations and fun-filled activities. Take a look at our guide which shows what to do and where to go on this exciting adventure!