Welcome to the captivating world of the Blaauwklippen Market, a hidden gem nestled within the renowned Route 44 Market in the picturesque Stellenbosch region of South Africa. With a focus on family-friendly experiences and a vibrant atmosphere, the Blaauwklippen Family Market offers visitors a unique blend of artisanal products, delicious food, and local charm. Join us as we embark on a virtual journey through this market and explore the enchanting offerings that have made it a beloved destination for locals and tourists alike.
History of the Blaauwklippen Family Market


The Blaauwklippen Market holds a captivating history that spans several centuries. Situated within the esteemed Blaauwklippen Wine Estate in Stellenbosch, South Africa, this market has deep roots in the region's heritage. The estate itself boasts a rich history of over 330 years, making it one of the oldest wine farms in the country.
The market takes its name from this prestigious wine estate, creating a unique connection between the past and the present. Over the years, the Blaauwklippen Market has evolved into a vibrant hub where locals and tourists gather to celebrate the region's cultural traditions and entrepreneurial spirit.
The Route 44 Market Experience


The Blaauwklippen Family Market is an integral part of the larger Route 44 Market, which stretches along the scenic R44 route. This bustling market is a hub for artisans, farmers, and local businesses, offering an array of products and activities. If you're seeking a vibrant and diverse market experience, look no further.
Located along the scenic R44 route, whether you're a food enthusiast, a lover of handmade crafts, or simply looking for a unique shopping experience, Route 44 Market has something for everyone. From the enchanting Blaauwklippen Family Market to an array of stalls showcasing locally sourced goods, this market offers a delightful blend of products and activities. Immerse yourself in the lively atmosphere and explore the rich tapestry of offerings at Route 44 Market, a true gem in the heart of Stellenbosch.
Discovering the Blaauwklippen Family Market


The Blaauwklippen Family Market is a must-visit destination for families and individuals seeking a memorable experience. Every Sunday, this vibrant market comes alive with a diverse range of stalls, showcasing handmade crafts, artisanal products, and locally sourced goods. From unique jewellery and clothing to organic produce and homeware, the market offers something for everyone.
Family-Friendly Atmosphere


The Blaauwklippen Family Market prides itself on providing a welcoming and family-friendly atmosphere. Children can enjoy pony rides, face painting, and a dedicated play area while parents browse the stalls. The market's lively ambience, combined with its breathtaking surroundings, creates a perfect setting for quality family time.
Gastronomic Delights


Prepare your taste buds for a culinary adventure at the Blaauwklippen Market in Stellenbosch. This vibrant market is a haven for food lovers, offering a tantalizing array of gastronomic delights. From traditional South African dishes to international cuisines, the market's diverse selection of food stalls caters to all palates.
Indulge in freshly baked goods, gourmet treats, and farm-fresh produce that showcase the region's rich flavours and culinary heritage. Immerse yourself in the lively atmosphere as you savour mouthwatering delicacies prepared by local vendors. Whether you're craving savoury dishes, sweet treats, or refreshing beverages, the Blaauwklippen Market has something to satisfy every craving. Explore the market's vibrant tapestry of flavours, aromas, and textures, and experience the culinary diversity that makes Stellenbosch a food lover's paradise.
Blaauwklippen Wine Estate 🍷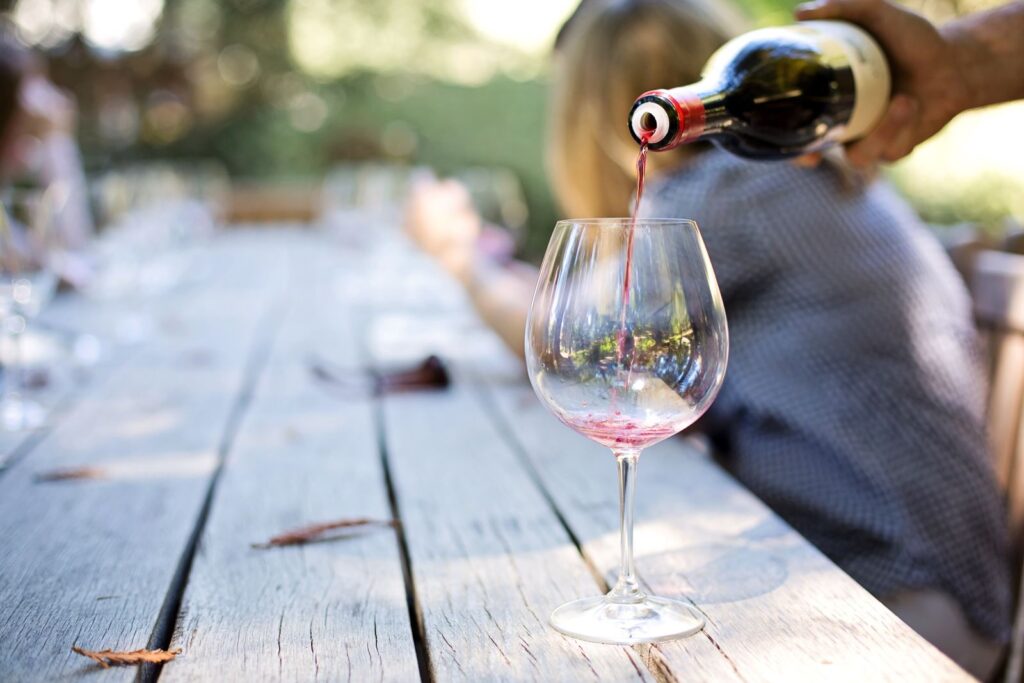 Nestled within the Blaauwklippen Wine Estate, the Blaauwklippen Market offers visitors a unique opportunity to immerse themselves in the world of exceptional wines. Located in Stellenbosch, this renowned wine estate boasts a rich history and breathtaking vineyards.
Wine enthusiasts can indulge in a memorable tasting experience guided by knowledgeable sommeliers who showcase the estate's award-winning vintages. From crisp whites to robust reds, Blaauwklippen Wine Estate caters to every palate. The picturesque surroundings and the estate's commitment to sustainable winemaking practices create an idyllic backdrop for wine appreciation.
By visiting the Blaauwklippen Market, patrons can complement their shopping experience with a visit to the tasting room, where they can savour the flavours and aromas of these exquisite wines. Blaauwklippen Wine Estate epitomizes the essence of the Stellenbosch wine region, inviting visitors to explore the rich heritage and craftsmanship that goes into each bottle.
Supporting Local Businesses


At the Blaauwklippen Market, supporting local businesses is a core value that drives its vibrant community. This enchanting market in Stellenbosch provides a platform for local artisans, crafters, and farmers to showcase their talents and products. By shopping at the market, visitors directly contribute to the growth and sustainability of these small businesses.
From handcrafted jewellery and unique home decor items to organic produce and gourmet treats, the market offers a wide range of locally sourced goods. With each purchase, patrons can take pride in supporting the talented individuals and entrepreneurs who pour their passion into their craft. The Blaauwklippen Market celebrates the spirit of local entrepreneurship and encourages visitors to shop with a purpose, knowing that their contributions have a direct and positive impact on the community.
The Blaauwklippen Family Market at Route 44 is committed to supporting local artisans, crafters, and farmers. By showcasing their products and providing a platform for small businesses, the market contributes to the growth of the community. Visitors can shop with a purpose, knowing that their purchases directly support talented individuals and local entrepreneurship.
Buying from a local does not only leave you with a souvenir to take home but also leaves you with lasting memories of feeling a part of a community of people. Memories you will cherish for a long time.
The Blaauwklippen Family Market at Route 44 in Stellenbosch is a captivating destination that promises a memorable experience for all. From its vibrant atmosphere and family-friendly activities to its diverse range of stalls and gastronomic delights, this market captures the essence of South African culture.
---
Phone Number: 021 880 0133
Website:https://www.blaauwklippen.com/market
Email Address: info@blaauwklippen.com
---
FAQ
Q – Where is Blaauwklippen Market located?
A – Blaauwklippen Market is located in Stellenbosch, South Africa. It is situated on the Blaauwklippen Wine Estate, a historic vineyard with beautiful surroundings.

Q – What can I expect to find at Blaauwklippen Market?
A – At Blaauwklippen Market, you can expect to find a wide range of products including fresh produce, artisanal food, handcrafted goods, local wines, and live entertainment. The market offers a diverse selection of vendors and activities for visitors to enjoy.

Q – When is Blaauwklippen Market open?
A – Blaauwklippen Market is typically open on Sundays from 10 am to 3 pm. However, it's always a good idea to check the official website or social media channels for any updates or changes to the operating hours.

Q – Is there an entry fee for Blaauwklippen Market?
A – No, there is no entry fee to access Blaauwklippen Market. Visitors can enter the market free of charge and explore the various stalls and offerings. However, individual vendors may have their own pricing for their products.