Nestled in the heart of the Western Cape, there are a plethora of waterparks in Cape Town that promise excitement, adventure, and a splash of fun for visitors of all ages. From thrilling slides to tranquil pools, Cape Town's waterparks are the ideal destinations for families seeking unforgettable memories and aquatic escapades. Let's dive into the refreshing world of waterparks in and around Cape Town.
Cape Town Waterparks
Bugz Family Playpark


Bugz Family Playpark stands as a haven tailored for kids aged 2-10, seamlessly weaving together an enchanting fusion of amusement park rides and aquatic delights. Under the watchful eyes of parents, children can revel in the waterpark's offerings, ensuring both safety and enjoyment.
This unique blend of attractions makes Bugz the ultimate destination for your child's birthday celebration, promising a day adorned with laughter, adventure, and enduring memories. With its versatile appeal and commitment to family fun, Bugz Family Playpark crafts an environment where young imaginations flourish and every visit becomes a cherished experience of joy and togetherness.
Address: 56 Tarentaalstreet, Joostenbergvlakte Kraaifontein, Cape Town
Website: https://www.bugzplaypark.co.za/
Contact Number: 021 988 8836
Waterworld Strand


Waterworld Strand is a true delight for both kids and parents alike. With its abundant water tunnels, inviting pools, and an array of aquatic attractions, it promises endless fun for the entire family. As laughter fills the air, parents and children can create lasting memories together.
After frolicking in the water wonderland, satiate your appetite at the café, where the allure of delectable pizza and invigorating coffee awaits. This culinary oasis is the perfect pit stop to recharge your energy for more water-soaked escapades. Waterworld Strand ensures a day brimming with joy, aquatic adventures, and shared moments that resonate for years to come. This waterpark strand is kept so secret and is a must-visit for anyone who loves a great swim!
Address: 195, Beach Rd, Strand, Cape Town
Website:https://www.waterslides.co.za/
Contact Number: 021 854 4702
Milnerton Water Park
Milnerton Water Park in Cape Town is an irresistible call for families to forge precious bonds through quality time. Its remarkable water slides and inviting pools create an ideal setting for both adults and children to immerse in a day filled with shared delight. This water park Milnerton has on offer has a star attraction, the exhilarating water slides, guarantee peals of laughter and a tapestry of cherished moments.
As families splash and slide, the park weaves a tapestry of unforgettable memories. Milnerton Water Park stands as a testament to the magic of unity, where joy is found in every splash, and the heartwarming camaraderie of loved ones paints the day with vibrant hues of happiness.
Address: Birkenhead Rd, Table View, Cape Town
Contact Number: 083 270 4000
Muizenberg Water Slides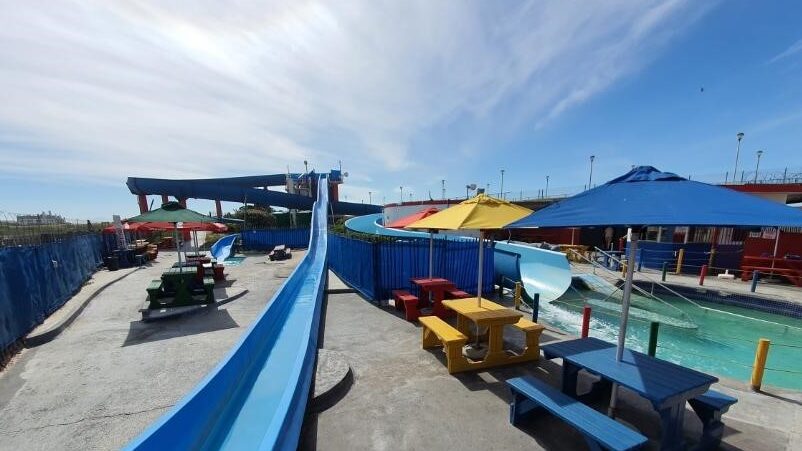 Muizenberg Water Slides has been a source of delight for three decades, enchanting visitors with timeless aquatic thrills. The iconic Kamikaze Slide and the mesmerizing looping rocket offer an unparalleled rush of excitement, creating indelible memories. A haven for thrill-seekers and water enthusiasts, this enduring attraction promises boundless enjoyment.
From the heart-pounding plunge to the exhilarating loops, Muizenberg Water Slides exemplifies the essence of endless amusement and the joy of aquatic adventure. With each slide, this cherished destination encapsulates the spirit of exhilaration, drawing guests into a world of excitement that remains evergreen throughout the years.
Address: 20a Beach Rd, Muizenberg, Cape Town
Website:https://www.muizenbergslides.co.za/
Contact Number: 082 454 5023
Bluerock Cable Waterski Resort
Bluerock Cable Waterski Resort offers an exhilarating playground for adrenaline enthusiasts. With boundless excitement and pulse-pounding activities, the resort becomes a haven for those seeking an adrenaline rush. From heart-racing ziplining and wakeboarding to the thrill of waterskiing and kneeboarding, the options are as limitless as the excitement itself.
Nestled amid stunning freshwater surroundings, Bluerock Cable Waterski Resort caters to the most daring spirits, creating an unforgettable tapestry of adventure. Whether conquering the waves or soaring through the air, every moment at this resort is a reminder that life's true thrill lies in embracing the rush of exhilaration.
Address: Sir Lowry's Pass Road, Somerset West, Cape Town
Website:https://www.bluerock.co.za/
Contact Number: 021 858 1330
Waterparks in the Western Cape
Wiesenhof Adventure Park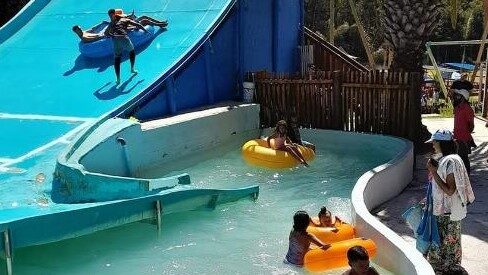 Wiesenhof Adventure Park is a water park Stellenbosch boasts and it has eight exhilarating waterslides, inviting visitors to embrace the excitement. With multiple swimming pools, including options for kiddies, this park caters to families seeking varied aquatic experiences. Trampolines, open-air spaces, and numerous braai areas ensure an all-encompassing day of enjoyment.
Visitors can indulge in endless aquatic enjoyment at Wiesenhof Adventure Park, relishing the thrill of water slides and the refreshment of numerous swimming pools throughout the day. Basking in the warm sun, families can also savour the unique delight of having a braai, a South African barbecue, in the park's welcoming surroundings.
This fusion of aquatic adventure and leisurely relaxation forms an ideal recipe for a memorable day out. At Wiesenhof Adventure Park, the possibilities are boundless as laughter echoes through water-filled adventures and the sizzle of delicious meals on the grill, creating a wholesome and joyful experience for all.
Temporarily closed for annual maintenance
Address: Wiesenhof Adventure Park, off the R44 12, km North of Stellenbosch
Website:https://wapark.co.za/
Contact Number: 065 820 2737
Graceland Venues Waterpark in Paarl


Graceland Venues Waterpark offers a unique blend of water activities and fantasy play areas. With a focus on catering to children of all ages, this park provides a perfect setting for family picnics and laughter-filled explorations. Children can frolic in the water while parents unwind in the serene environment.
Graceland, a family-owned estate established in 2012, blossomed from a profound love for nature, children, and the outdoors. This passion spurred them to create a haven of joy and excitement. Graceland Water and Kids Playground stands as a testament to their commitment, offering an enchanting assortment of child-friendly activities.
From exhilarating water slides to a playful splash pad, a soothing beach pool, and the captivating new Fantasy Kingdom, this sanctuary beckons families to celebrate togetherness amid nature's embrace. Rooted in family values and nurtured by a dedication to children's delight, Graceland is a testament to the enduring magic of family-owned enterprises.
Address: Lustigan Rd, Paarl
Website:https://www.graceland-venues.co.za/water-kids-playground
Contact Number: 072 264 4009
The Crystal Pools
For those seeking a different type of aquatic experience, the Crystal Pools at Steenbas Nature Reserve Trail offers a tranquil alternative. A two-kilometre hike leads to these refreshing pools, where the beauty of a waterfall and crystal-clear waters create an idyllic backdrop for relaxation.
The view of the sunset at the Crystal Pools is an awe-inspiring spectacle that captivates the heart and soul. As the sun dips below the horizon, its golden hues dance upon the tranquil waters, casting a spellbinding reflection that illuminates the crystal-clear pools. The breathtaking panorama paints the sky with an artist's palette of warm colours, creating a serene and magical ambience.
This natural masterpiece, framed by lush surroundings and the soothing sounds of nature, is a true feast for the senses. Witnessing the sunset at the Crystal Pools is an experience that creates an indelible memory of beauty and tranquillity. It may not be a waterpark Cape Town has such beautiful spots it would be remiss to not mention the Crytal Pools.
Address: Faure Marine Drive (R44), about 9 km from Gordon's Bay
Website:https://www.capetown.gov.za/Family
Contact Number: 021 444 6927
Adventure Land in Plettenberg Bay


Adventure Land stands as one of Cape Town's premier water parks. The 75-meter super cylinder slide and the 25-meter smaller slide offer thrills for visitors of all ages. Baby pools and child-friendly slides ensure that even the youngest members of the family can revel in the aquatic fun.
Adventure Land stands as the quintessential family destination, offering an unparalleled blend of excitement and relaxation. Adventure Land's inclusive design creates an environment where parents can bond with their little ones in the baby pool, while older children revel in the excitement. This holistic experience, combined with its stunning setting, establishes Adventure Land as the ultimate haven for multigenerational family fun and lasting memories.
Address:N2 Harkerville, Plettenberg Bay
Website:http://www.adventurelandplett.co.za/
Contact Number: 044 532 7869
The Farmyard Park
When it comes to exploring the best water parks in Cape Town, The Farmyard Park stands out as an unforgettable oasis of entertainment and relaxation. Nestled amidst the picturesque landscapes of Cape Town, this park offers a perfect blend of fun, adventure, and tranquillity. With three inviting swimming pools catering to visitors of all ages, it's a family-friendly destination that ensures everyone has a splashing good time. The shallow pools are perfect for the little ones, while the deeper ones, complete with diving boards, provide ample excitement for older kids and adults.
One of the unique features of The Farmyard Park is its integration of a delightful animal farmyard into the water park experience. As you soak up the sun and enjoy the refreshing water, you can also pay a visit to the friendly farm animals, making this park a true gem for nature enthusiasts. For those seeking an adrenaline rush, the Supertube adds an extra layer of thrill to your day, with its intensity adjusted based on the park's occupancy.
To ensure a memorable day out, don't forget to bring your bathing suit. Keep in mind that the park operates seasonally, opening its gates from October to mid-April. Whether you choose to braai, picnic, swim, or simply relax in this miniature farm's tranquil atmosphere, The Farmyard Park promises an unforgettable adventure in the heart of Cape Town's water park scene.
The Farmyard Park is closed during the winter season
Address: ​The Farmyard Park, Protea Road, Klapmuts
Website: https://www.farmyardpark.co.za/
Contact Number: 081 461 4246
---
Cape Town's waterparks present a diverse array of experiences, from heart-pounding excitement to tranquil serenity. Whether you're seeking an adrenaline rush, a family-friendly outing, or a serene retreat, these waterparks offer something for everyone. Embark on a journey of aquatic delight, creating cherished memories that will last a lifetime at a Cape Town water park.