Nestled between the stunning mountains and the crystal-clear waters of the Atlantic Ocean, Cape Town is a haven for travellers seeking both natural beauty and urban charm. While the city boasts numerous attractions, there's one recreational aspect that stands out on a scorching summer day and that's the inviting public swimming pools. These aquatic sanctuaries offer not only respite from the sun's relentless heat but also a chance to immerse oneself in the vibrant culture of Cape Town. Join us as we embark on a refreshing journey to explore the many public swimming pools that adorn this picturesque city.
Safety Precautions When Going to a Public Pool 🛟


Before plunging into the refreshing waters of Cape Town's public swimming pools, it's essential to keep safety in mind. While these pools are well-maintained, following a few simple guidelines ensures a worry-free experience. Always remember to stay hydrated, while the pools provide a cooling escape, the sun's rays can dehydrate you quickly. Carry a water bottle and take regular sips to stay hydrated.
Always remember to apply sunscreen even if you plan to spend most of your time in the water, applying sunscreen with a high SPF is crucial to protect your skin from harmful UV rays. It is also important to swim in designated areas and to pay attention to signage and lifeguard instructions. Stay within designated swimming areas to ensure your safety.
If you're travelling with kids, keep a watchful eye on them at all times, even if they are competent swimmers and don't leave your cell phone or any other high-value belongings lying around. The pool is a place for everyone so be sure to rinse off before entering the pool to reduce the introduction of contaminants into the water. With these precautions in mind, let's dive into the swimming pools in Cape Town and how there are numerous pools for locals and tourists to enjoy.
.
Muizenberg Swimming Pool 🌊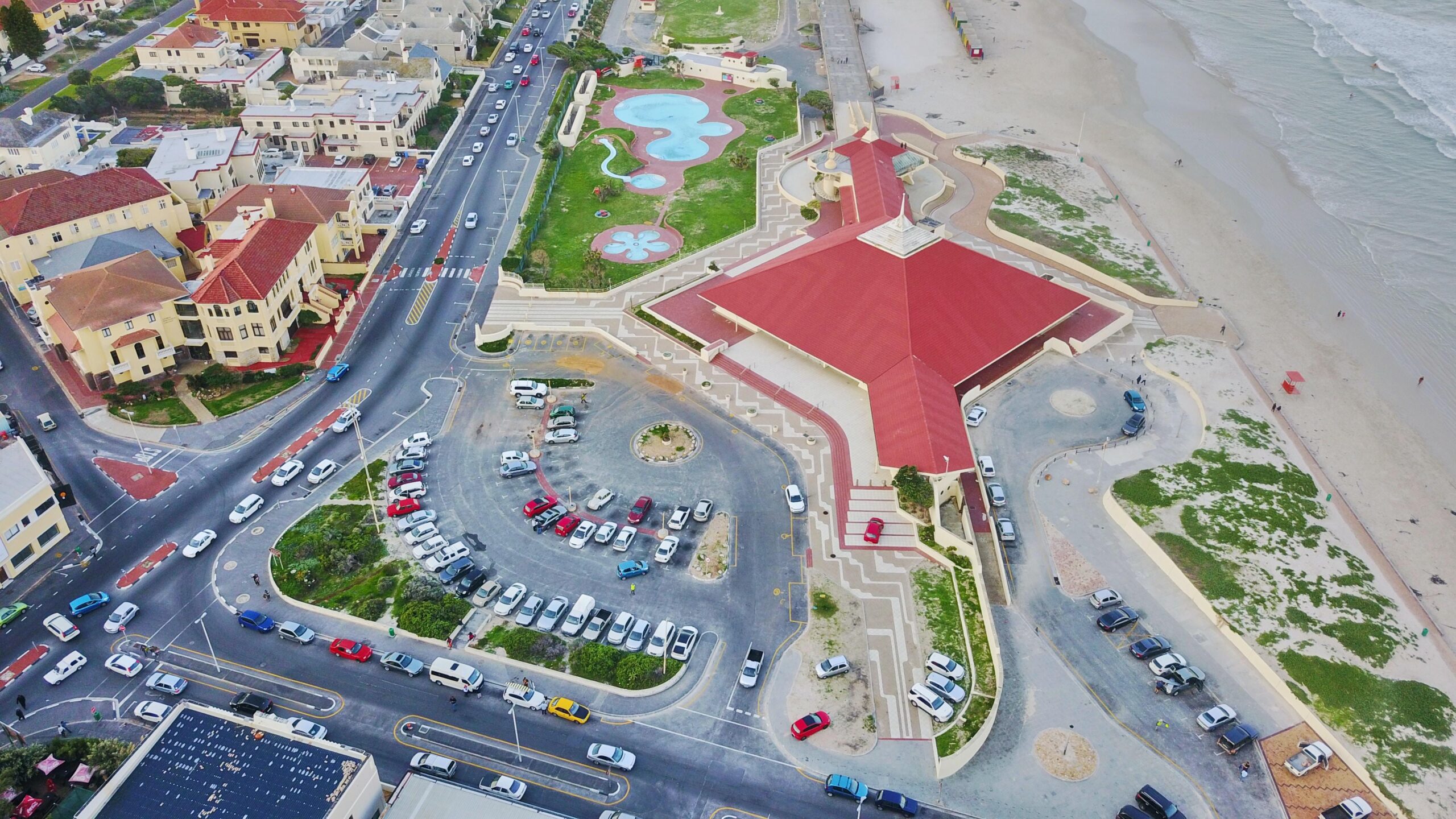 Our journey begins with the Muizenberg Swimming Pool, situated along the breathtaking False Bay coastline. This iconic saltwater pool boasts panoramic views of the sea, making it a favourite among both locals and tourists. With its refreshing sea breeze and the backdrop of the vibrant Muizenberg Beach, this pool offers a unique swimming experience that's hard to replicate. If you change your mind on the pool the beach is in walking distance and is also surrounded by many restaurants or places to explore.
The pool's well-maintained facilities, including clean changing rooms and friendly lifeguards, ensure a safe and enjoyable time for visitors of all ages. Whether you're an avid swimmer or just want to sunbathe, the Muizenberg Swimming Pool promises a serene aquatic escape that perfectly encapsulates Cape Town's laid-back beach culture.
Muizenberg Swimming Pool Opening Hours: Monday to Sunday 10 am – 5 pm
Website: https://www.capetown.gov.za/
Address:  Beach Rd, Muizenberg, Cape Town, 7950
Contact Number: 021 788 1929
Sea Point Pavilion 🌴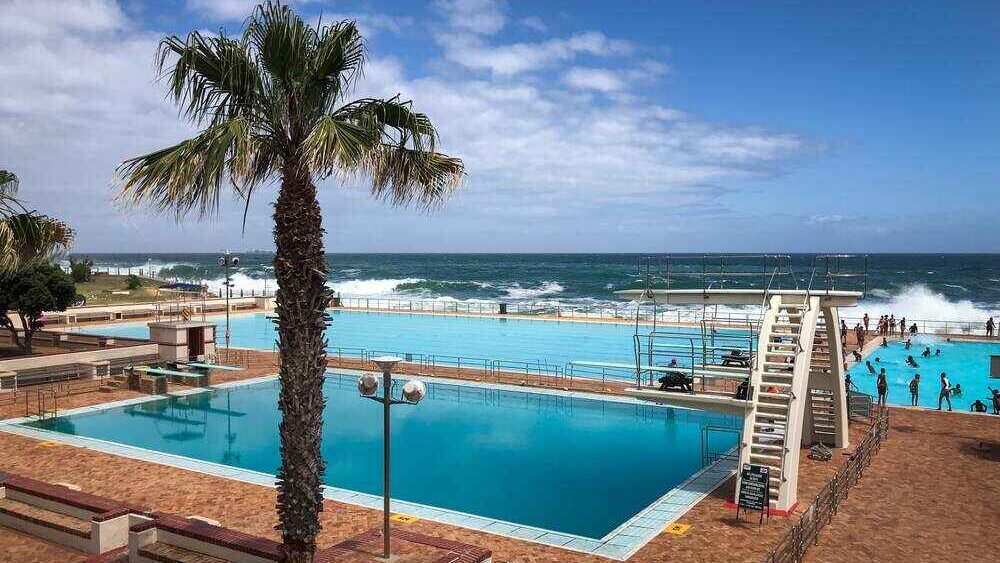 Moving along the coastline, we arrive at the Sea Point Pavilion a true gem among Cape Town's public pools. This Olympic-sized seawater pool stands as a testament to the city's commitment to providing world-class aquatic facilities. The Sea Point Pavilion offers more than just a place to swim; it's a social hub where visitors can connect with locals and fellow travellers while relishing the stunning ocean views.
The pool's unique location, perched right at the edge of the Ocean, creates an illusion of swimming directly in the open sea. With its three distinct pools catering to different ages and swimming preferences, the Sea Point Pavilion is the ideal destination for families, fitness enthusiasts, and those seeking a tranquil swim amidst the backdrop of crashing waves. This pool in Cape Town has always been one of the most well-known public pools and with its stunning view and amenities, it is not a surprise.
Sea Point Swimming Pool Opening Hours: Monday 12 pm – 5 pm, Tuesday to Sunday 8 am – 5 pm
Website: https://www.capetown.gov.za/
Address: Lower, Beach Rd, Sea Point, Cape Town, 8060
Contact Number: 021 814 1052
Long Street Turkish Baths 🛁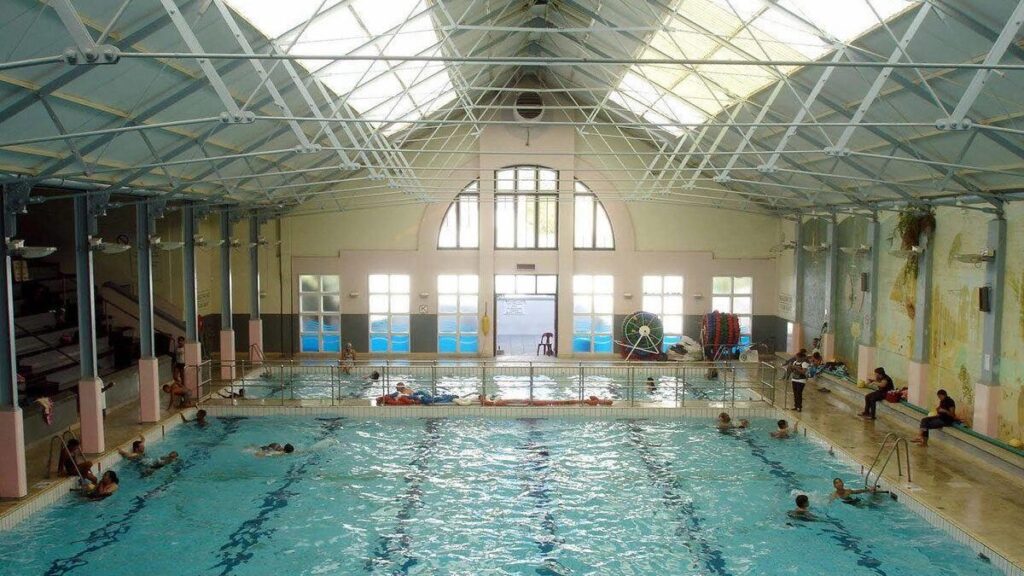 Venturing further into the heart of Cape Town, we encounter the historic Long Street Baths. Steeped in tradition, this public swimming pool has been a beloved fixture of the city for over a century. The Victorian-style architecture and mosaic-adorned walls evoke a sense of nostalgia, transporting visitors to a bygone era. The pools are heated so even if you find yourself on a winter day you can still get the full Long Street Baths experience.
The Long Street Baths is more than just a pool – it's a cultural experience. The building itself is an architectural masterpiece, and the pool's thermal spring water is believed to possess therapeutic properties. Here, you can swim in warm mineral-rich waters while admiring the exquisite details of the surroundings. The Long Street Baths is a must-visit for those seeking a blend of history, relaxation, and rejuvenation.
Long Street Baths Opening Hours: Monday to Sunday 7 am – 5:30 pm, Ladies only on Tuesday from 10 am – 2 pm
Website: https://www.capetown.gov.za/
Address: Long St, Gardens, Cape Town, 8001
Contact Number: 081 048 6008
Newlands Swimming Pools 🏊


Tucked away in the leafy suburb of Newlands, you'll discover a hidden aquatic treasure the Newlands Swimming Pools. This complex features two pristine pools: a main pool for adults and a smaller, shallower pool ideal for kids and beginners. Surrounded by a lush landscape, the Newlands Swimming Pools offer a serene environment that contrasts beautifully with the city's bustling energy.
The pools' convenient location near the iconic Newlands Rugby Stadium makes them a popular pre- or post-game relaxation spot for sports enthusiasts. Whether you're seeking a quiet escape or a family-friendly swim, the Newlands Swimming Pools deliver an inviting setting that showcases Cape Town's dedication to providing diverse recreational options.
Newlands Swimming Pool Opening Hours: Thursday to Friday 2 pm – 5 pm, Saturday to Sunday 10 am – 5 pm
Website: https://www.capetown.gov.za/
Address: Sans Souci Rd, Newlands, Cape Town, 7725
Contact Number: 021 444 2829
As we conclude our exploration of Cape Town's public swimming pools, it's evident that these Public Swimming Pools offer far more than just a place to swim. From the iconic coastal pools with breathtaking ocean views to the community-oriented spaces that foster connections among residents, each pool showcases Cape Town's commitment to providing accessible, inclusive, and enjoyable recreational opportunities. The pools in Cape Town offer a refreshing escape from the city's scorching summer heat.
Public swimming pools in Cape Town are popular destinations for locals and tourists, Cape Town's public swimming pools have something for everyone. These pools not only reflect the city's rich cultural diversity but also stand as a testament to its dedication to the well-being and happiness of its residents and visitors alike. So, the next time you find yourself in the beautiful city of Cape Town, don't forget to take a dip in one of its inviting public swimming pools an experience that's sure to leave you refreshed, rejuvenated, and with lasting memories of your aquatic adventure.
FAQ
Q – Are there any public swimming pools open in Cape Town?
A – Yes, there are several public swimming pools open in Cape Town. However, it's always a good idea to check their individual websites or contact them directly for the most up-to-date information on their operating hours and availability.

Q – Where can I have a pool party in Cape Town?
A – Many of the public swimming pools in Cape Town. You can inquire about booking a section of the pool area for your party, and some pools may even have designated party areas or picnic spots nearby. Be sure to check with the specific pool for their policies, fees, and availability for pool parties.

Q – What is the entrance fee for Southern Suburbs Swimming Pool in 2023?
A – The entrance fee for Southern Suburbs Swimming Pool in 2023 may vary, so it's advisable to check their official website or contact them directly for the most current pricing information. Entrance fees for public swimming pools can change over time, so it's essential to verify the rates before planning your visit.

Q – Are there any swimming lessons or classes available at these public swimming pools?
A – Yes, many public swimming pools in Cape Town offer swimming lessons and classes for people of various ages and skill levels. These classes can include beginner lessons, advanced swimming techniques, and even specialized classes like water aerobics. Contact the specific pool you're interested in to inquire about their swimming lesson offerings, schedules, and fees.