Located along the stunning coastline of Cape Town, Camps Bay stands as a picturesque holiday destination that effortlessly brings together luxurious holiday experiences with breathtaking natural beauty. With its pristine beaches, towering palm trees, and sweeping views of the Atlantic Ocean, Camps Bay has rightfully earned its place as one of the most sought-after destinations to visit in South Africa. Offering a plethora of activities, incredible dining options, and a range of exquisite holiday houses, Camps Bay promises an unforgettable vacation for travellers seeking both relaxation and adventure.
Things to do in Camps Bay


Camps Bay is more than just a pretty face it's a vibrant hub of activities that cater to every type of traveller. Whether you're a thrill-seeker, a nature lover, or someone looking to relax, Camps Bay has it all.
Explore the Beaches
The heart of Camps Bay lies in its beaches. The powdery white sands are perfect for sunbathing, beach walks, or beach volleyball. The clear blue waters invite you to take a refreshing dip, while the Twelve Apostles mountain range backdrop makes for a postcard-perfect view.
Hiking and Nature Trails
For the adventurers, Camps Bay offers a network of hiking trails that traverse the iconic Table Mountain National Park. The trails vary in difficulty, allowing both beginners and experienced hikers to explore the region's diverse flora and fauna.
Water Sports and Activities
From paddleboarding and kayaking to surfing and paragliding, the ocean offers endless opportunities for water sports enthusiasts. Rent equipment from local vendors and experience the thrill of riding the waves or soaring above the coastline.
The Restaurants and Food
Camps Bay boasts an array of world-class restaurants and cafes that offer diverse culinary experiences. Indulge in freshly caught seafood, fine dining, or casual beachfront eateries Camps Bay will have something to satisfy every palate.
Now that you know a little bit about Camps Bay let's take a look at the best guest houses and villas Camps Bay has to offer for an unforgettable holiday.
Medburn Views Villa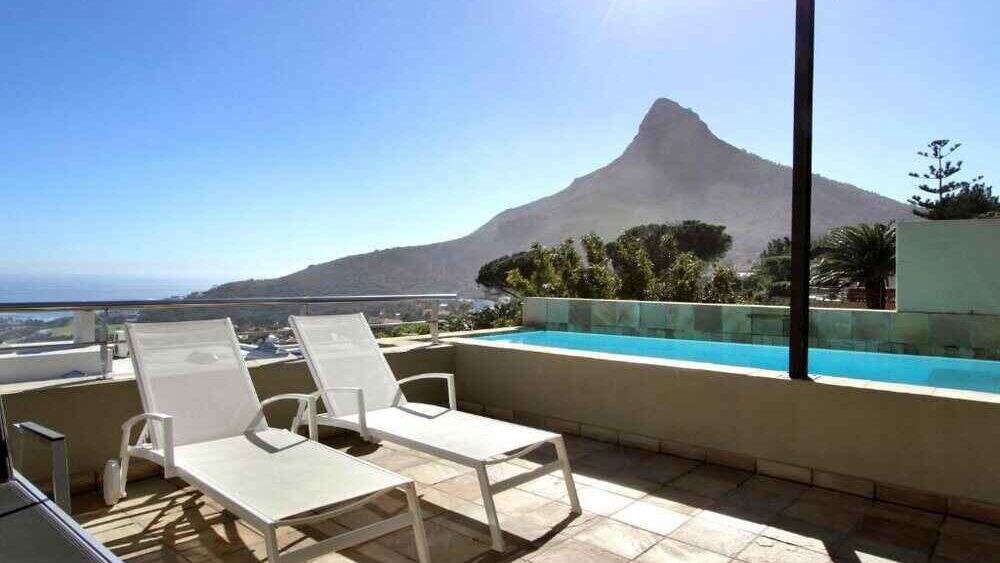 Perched on the slopes overlooking the Camps Bay beach, the Medburn Views Villa stands as a testament to luxury and elegance. This holiday house offers panoramic views of the Atlantic Ocean and the Twelve Apostles mountain range, creating a mesmerizing backdrop for an unforgettable getaway. The villa boasts spacious living areas adorned with modern décor, seamlessly blending comfort with style.
Step onto the terrace and bask in the South African sun, or take a refreshing dip in the infinity pool that seems to merge with the ocean. The Medburn Views Villa is perfect for families and groups, with multiple bedrooms, each exuding an air of sophistication. From here, you can explore the nearby Camps Bay Promenade, indulge in gourmet dining, or simply relish the tranquillity that this villa provides.
Book your stay Here
Website: https://medburnviewsvilla.hotelonia.com/
Address: 13 Medburn Rd, Camps Bay, Cape Town, 8040
Villa FortyFive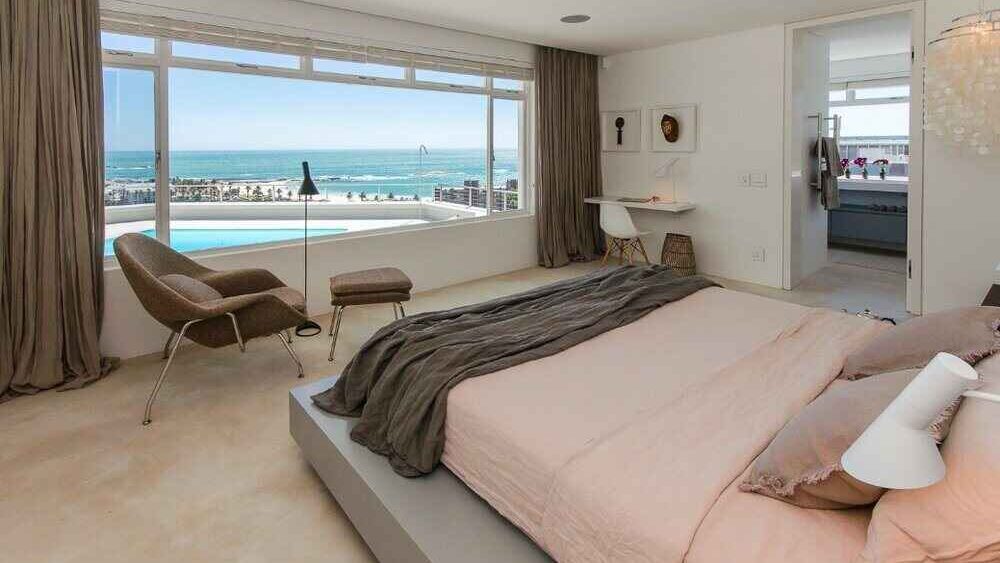 A true architectural masterpiece, Villa FortyFive offers a holiday experience that's second to none. Situated in the heart of Camps Bay, this modern marvel presents a symphony of glass, steel, and natural elements that harmonize with the surrounding environment. The villa's design prioritizes open spaces and uninterrupted views, making you feel as though you're suspended between the mountains and the sea.
Indulge in the villa's private cinema, unwind in the sauna, or enjoy a glass of local wine in the infinity-edge pool. With meticulously designed interiors and a seamless indoor-outdoor flow, Villa FortyFive redefines luxury living. This holiday house is perfect for those seeking privacy, exclusivity, and a fusion of contemporary design with the beauty of nature.
Book your stay Here
Website: https://www.fortyfive.co.za/
Address: 45 Strathmore Rd, Camps Bay, Cape Town, 8004
Bingley Place


For travellers yearning for a fusion of historic charm and modern comfort, Bingley Place offers a delightful retreat. This holiday house showcases Victorian architecture with a contemporary twist, creating a unique ambience that's both inviting and captivating. Located just a stone's throw away from Camps Bay Beach, Bingley Place is an oasis of relaxation.
The house features spacious suites with high ceilings and elegant furnishings, transporting you to a bygone era while providing all the amenities of today. The lush garden is a perfect setting for a morning coffee, and the sundeck offers unparalleled views of the beachfront. Bingley Place is a testament to the seamless integration of history and modernity, offering a truly enchanting stay.
Website: https://www.micasa-pm.com/
Address: 105 Victoria Rd, Camps Bay, Cape Town, 8005
Contact Number: 079 528 1986
Jo Leo House By Totalstay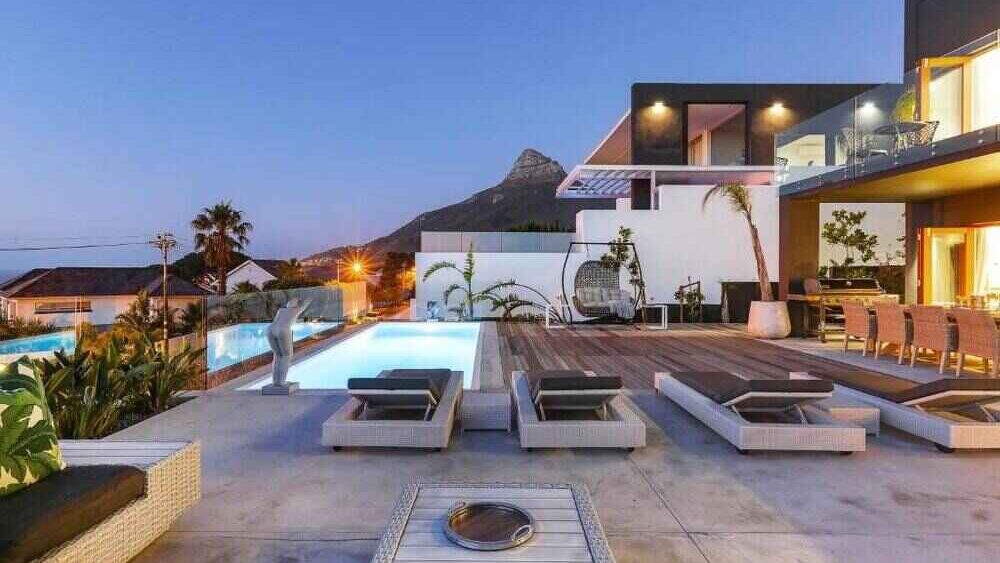 The Jo Leo House By Totalstay offers a cosy and intimate holiday experience. This charming house is characterized by its warm wooden accents, comfortable furnishings, and a tranquil atmosphere that envelopes you upon arrival. Ideal for couples and smaller groups, Jo Leo House provides a haven of serenity away from the hustle and bustle.
The outdoor patio is perfect for enjoying a barbeque with loved ones, while the Jacuzzi adds a touch of luxury to your stay. With Camps Bay Beach just a short stroll away, you can spend your days basking in the sun or exploring the vibrant local scene. Jo Leo House captures the essence of a peaceful retreat, making it an ideal choice for those seeking solace in a captivating setting.
Book your stay Here
Website: https://joleohousebytotalstay.hotelonia.com/
Address: 2 Willesden Rd, Camps Bay, Cape Town, 8040
Bakovenbay Luxury Suites
Located in the charming neighbourhood of Bakoven, Bakovenbay Luxury Suites offers a secluded and tranquil escape from the world. This collection of luxury suites provides an intimate and personalized holiday experience, with each suite designed to maximize comfort and privacy. The suites are a perfect blend of modern design and natural elements, creating a harmonious space that invites relaxation.
Enjoy a leisurely stroll to the nearby Bakoven beach, or unwind on your private balcony with breathtaking ocean views. The suites are equipped with all the modern amenities you could desire, ensuring a seamless and enjoyable stay. Bakovenbay Luxury Suites is the perfect choice for those seeking a serene and rejuvenating getaway, surrounded by the soothing sounds of the ocean.
Book your stay Here
Address: 23 Rottingdean Rd, Bakoven, Cape Town, 8005
Contact Number: 021 438 1306
Finchley Guest House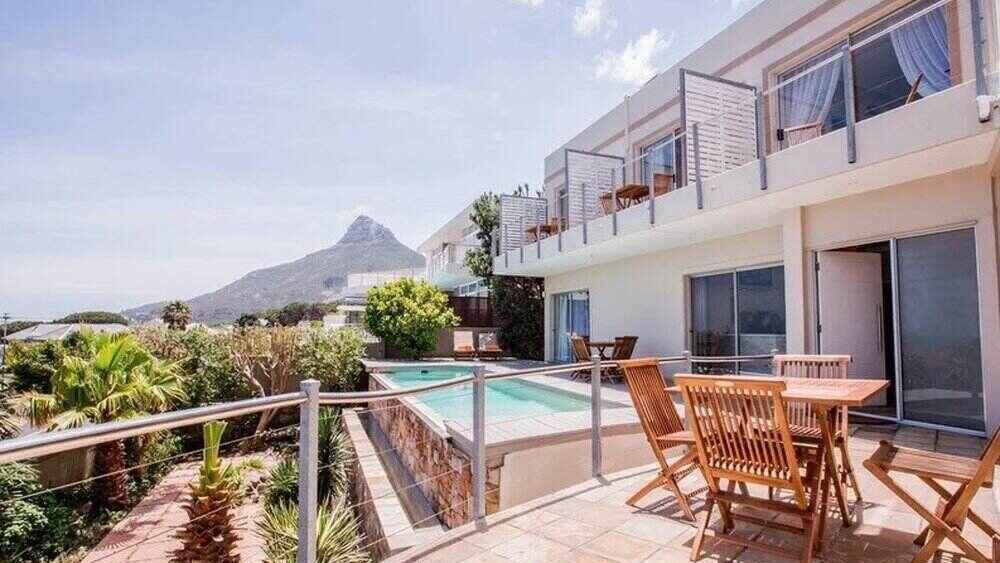 Tucked away in a quiet corner of Camps Bay, the Finchley Guest House offers a charming and personalized holiday experience. This boutique accommodation exudes warmth and hospitality, ensuring that every guest feels like part of the family. The Finchley Guest House is renowned for its attention to detail, from the individually designed rooms to the personalized service that caters to your every need.
The lush garden provides a serene backdrop for relaxation, and the inviting pool is perfect for a refreshing dip. Start your day with a delicious homemade breakfast before setting out to explore the nearby attractions. With its emphasis on personalized care and a welcoming ambience, Finchley Guest House offers a delightful escape from the ordinary.
Book your stay Here
Website: https://www.finchleyguesthouse.com/
Address: 18 Finchley Rd, Camps Bay, Cape Town, 8005
Contact Number: 063 931 9800
African Groove Camps Bay
Searching for a holiday house that embodies the vibrant spirit of Camps Bay, African Groove is the answer. This eclectic and stylish guesthouse captures the essence of South African culture, art, and hospitality. With its colourful interiors and unique design elements, African Groove is a celebration of creativity and individuality.
The guesthouse offers a range of accommodation options, from private rooms to self-catering apartments, catering to different preferences. The communal areas are adorned with African-inspired art, creating a sense of community and connection among guests. Enjoy a sundowner on the terrace while soaking in the panoramic views, or explore the local art galleries and boutiques that give Camps Bay its distinctive character.
Book your stay Here
Website: https://www.african-groove.com/
Address: 55 Rottingdean Rd, Camps Bay, Cape Town, 8005
Contact Number: 072 507 3392
Villa Aqua By Totalstay
Villa Aqua By Totalstay is a modern masterpiece that redefines luxury living in Camps Bay. This exquisite holiday house seamlessly blends contemporary design with comfort, offering a lavish escape for discerning travellers. The villa boasts spacious living areas, state-of-the-art amenities, and floor-to-ceiling windows that frame the sweeping ocean views.
Indulge in the private cinema, relax in the sauna, or host a gourmet dinner party in the stylish dining area. The infinity pool and outdoor lounge area create an inviting space for socializing and relaxation. With its sleek design and lavish features, Villa Aqua is the epitome of sophistication and indulgence, promising an unforgettable stay in Camps Bay.
Book your stay Here
Website: https://www.totalstay.co.za/villa-aqua/
Address: 1A Atholl Rd, Camps Bay, Cape Town, 8005
Blue Views Villas and Apartments
Offering a diverse range of holiday accommodations, Blue Views Villas and Apartments is a collection of luxurious spaces designed to cater to every need. From lavish villas to chic apartments, this establishment provides an array of options for travellers seeking comfort and convenience. The interiors are beautifully appointed, with modern furnishings and attention to detail that elevate the overall experience.
Each villa and apartment comes with a fully equipped kitchen, allowing guests to indulge in home-cooked meals or dine out at nearby restaurants. With locations that offer both ocean and mountain views, Blue Views invites you to explore the beauty of Camps Bay from different angles. Whether you're travelling with family, friends, or as a couple, Blue Views ensures a memorable and enjoyable stay.
Website: https://blueviews.com/
Address: 5 Link Street, Camps Bay, Cape Town, 8005
Contact Number: 021 437 0074
Lions View
Perched high on the slopes of Camps Bay, Lions View offers a private and exclusive retreat that commands awe-inspiring views of the ocean and mountains. This luxurious holiday house is a sanctuary of opulence, with spacious interiors, designer furnishings, and meticulous attention to detail. The villa's architecture and layout ensure that every room offers a breathtaking vista, creating an immersive connection with the surrounding nature.
The outdoor area features a solar-heated pool, expansive terraces, and a barbeque area, making it ideal for both relaxation and entertainment. Indulge in the private spa and fitness facilities, or simply unwind in the sumptuous living spaces. Lions View is a true haven for those seeking privacy, elegance, and a sensory journey through the beauty of Camps Bay.
Website: https://www.lionsview.co.za/
Address: 4 First Crescent Camps Bay, Cape Town, 8005
Contact Number: 083 719 5735
---
Camps Bay present a realm of possibilities for those seeking an unforgettable escape along the Cape Town coastline. From luxurious villas to cosy retreats that provide true solace, each holiday house offers a unique perspective on the beauty and vibrancy of Camps Bay. Whether you're indulging in panoramic ocean views, immersing yourself in the local culture, or simply relishing in the tranquillity of your surroundings, Camps Bay promise an experience that's nothing short of extraordinary. So, pack your bags, soak in the sun, and embark on a journey to discover the allure of Camps Bay that promises relaxation, rejuvenation, and cherished memories while staying in luxury comfort.