Welcome to Tryn Restaurant at Steenberg Estate in Cape Town, where contemporary spirit meets historical charm. Dedicated to its 17th-century founder, Catharina Ras, or Tryn, this restaurant offers a delightful dining experience amidst the picturesque Constantia Valley Winelands. From refined breakfasts to sumptuous dinners, Tryn Restaurant is an oasis of relaxation and indulgence. Let's delve into the experience, the wines, the food, and the private functions this remarkable venue has to offer.
The Tryn Restaurant Experience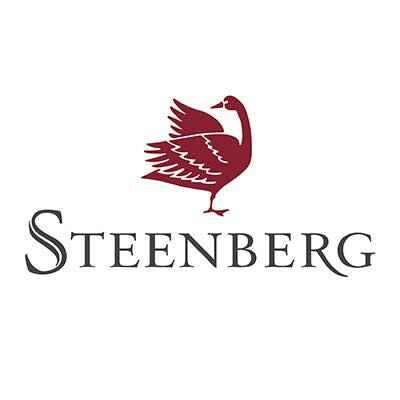 As you step into Tryn Restaurant, you are greeted by a bold and modern interior that beautifully complements the serene surroundings. The large sun-dappled terraces provide stunning views of the vineyards and gardens, making it a perfect spot for enjoying a meal or sipping cocktails as the sun sets. Families are encouraged to bring their children, who can roam freely on the lawns or engage in lawn games while parents unwind.
Tryn Restaurant Wines and Cocktails


One of the highlights of the Tryn Restaurant experience is its association with Steenberg Wines. There are many to choose from but there are some that just sets the show. The restaurant proudly serves the exceptional Steenberg 1682 Chardonnay Cap Classique Brut, which sets the tone for a memorable meal. With an emphasis on wine pairings, the sommelier curates an impeccable selection to elevate your dining pleasure.
The cocktails at Tryn Restaurant are a delightful fusion of creativity and taste. Sip on the "Plum Steady," a refreshing concoction featuring the sweetness of plums balanced with a subtle tang. For a burst of tropical flavours, the "Hibiscus Sunset" entices with its vibrant blend of hibiscus and citrus notes. The "Clover Club" offers a classic twist with its raspberry-infused gin, creating a delightful balance of fruitiness and botanicals.
Indulge in the "Palomimosa," a sparkling blend of tequila and grapefruit, for a zesty and invigorating treat. The "Fennel 75" surprises the palate with its unique combination of fennel-infused gin and lemon, offering a refreshing herbal twist to the classic French 75. Lastly, the "Tryn Mimosa" elevates the traditional mimosa with the addition of fresh flavours, making it the perfect companion for any occasion at Tryn Restaurant.
The Food at Tryn Restaurant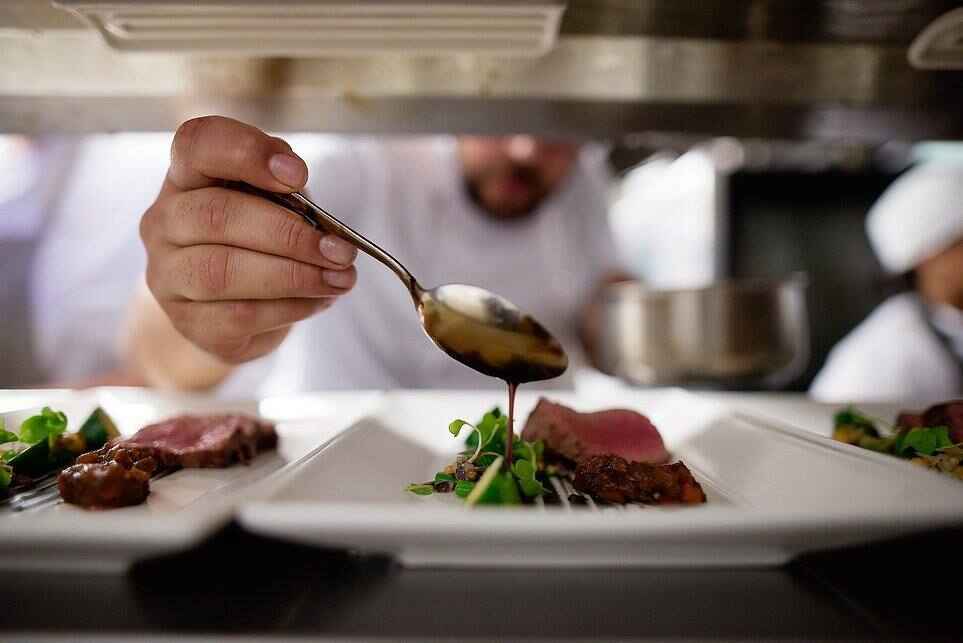 At Tryn Restaurant, the culinary journey is a celebration of diverse flavours that cater to all tastes and dietary preferences. The menu boasts an array of delectable starters, including the enticing goat's cheese panna cotta served on a bed of pineapple jam, showcasing the chef's ingenious creativity. During harvest season, guests can indulge in the freshly-baked mosbolletjies made with estate-grown "mos," adding a delightful local touch to the dining experience.
For mains, the classic Caesar salad is a standout choice, combining crispy pork belly, croutons, poached egg, white anchovies, and shaved parmesan atop a bed of baby gem lettuce. The restaurant's commitment to sustainability shines through in the ethically-sourced fish options, where each dish supports local fishermen and women through the Abalobi App, allowing diners to trace the origins of their food.
To conclude the meal, Tryn Restaurant offers a delectably spiced blackberry and apple sorbet, delivering a refreshing and perfectly balanced dessert. Alternatively, the Seedlip gin and tonic garnished with strawberries and blueberries provide a delightful option. The menu further entices with tantalizing dishes like oysters, pan-fried scallops, Steak Tartare, Tempura Prawns, Mature Gruberg Souffle, and Beef Fillet. Dessert options include Vanilla Bean Baked Cheesecake, Creme Brulee, and Tryn's Signature Chocolate Truffle. For the ultimate indulgence, guests can treat themselves to the Imperial Heritage Caviar, elevating the dining experience to new heights of luxury and sophistication.
Tryn Restaurant Private Functions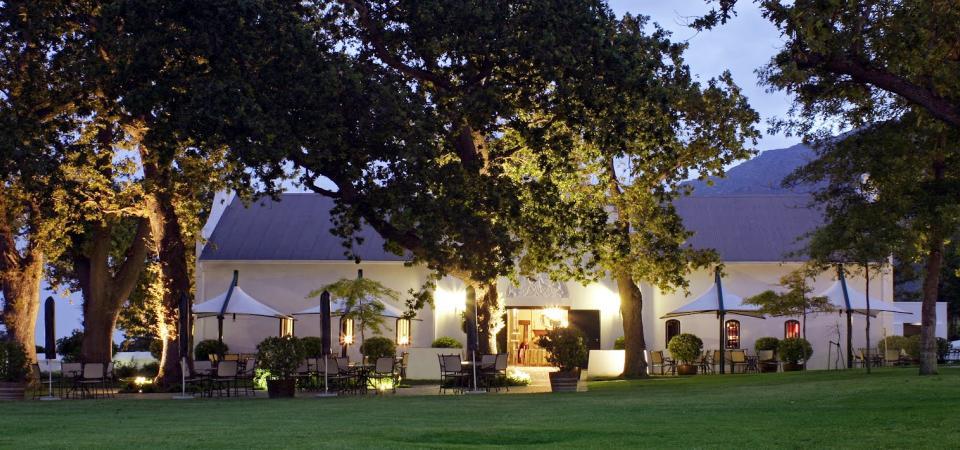 Tryn Restaurant at Steenberg Estate offers exclusive private function rooms for groups seeking a more intimate and personalized experience. The Cuvée Room accommodates up to 40 guests and is available for breakfast, lunch, and dinner. For a more intimate gathering of up to 18 guests, the Ruby Room is an ideal choice. Each room requires a minimum spend, ensuring a dedicated and exclusive atmosphere for your event.
Cuvée Room:

Breakfast: R8,000 minimum spend
Lunch: R14,000 minimum spend
Dinner: R20,000 minimum spend


Ruby Room:

Breakfast: R4,000 minimum spend
Lunch: R8,000 minimum spend
Dinner: R10,000 minimum spend
How to Get to Tryn Restaurant at Steenberg Estate
Located in the heart of the Constantia Valley Winelands, Tryn Restaurant is easily accessible from Cape Town. Visitors can take a scenic drive through picturesque vineyards and lush landscapes, immersing themselves in the beauty of the region. The restaurant's location at Steenberg Estate ensures ample parking and hassle-free arrival.
---
Tryn Restaurant at Steenberg Estate in Cape Town offers a captivating dining experience steeped in history and contemporary allure. The fusion of delicious food, remarkable wines, and charming ambience creates an unforgettable setting for any occasion. Whether you're indulging in a family meal, celebrating a special event, or simply exploring the delights of Constantia Valley, Tryn Restaurant promises an experience to savour for a lifetime. Come and experience the flavours, the views, and the warmth of Tryn Restaurant – a true gem nestled in the heart of Cape Town's Winelands.
Tryn Restaurant Opening Hours: Breakfast: Monday to Sunday 8 am – 11 am Lunch: Monday to Sunday 12 pm – 3 pm Dinner: Monday to Sunday 6 pm – 10 pm
Address: Steenberg Estate, Steenberg Road, Constantia Valley, 7945, Cape Town
Website: https://www.steenbergfarm.com/tryn-cape-town-contemporary-restaurant/
Contact Number:  021 713 7178
Email: info@tryn.co.za
---
FAQ
Q – What makes Tryn Restaurant unique in Cape Town?
A – Tryn Restaurant stands out in Cape Town with its contemporary spirit, historical connection to its founder, Catharina Ras (Tryn), and its idyllic location in the Constantia Valley Winelands, providing a serene setting for refined dining experiences. Not to mention Steenberg was the first farm to be established in the Cape in 1682.

Q – Does Tryn Restaurant offer vegetarian and vegan options?
A – Yes, Tryn Restaurant caters to various dietary preferences, offering a diverse menu that includes delectable vegetarian and vegan dishes, ensuring all guests can enjoy a delightful dining experience.

Q – How can I book a private function at Tryn Restaurant?
A – To book a private function at Tryn Restaurant, simply contact the restaurant and inquire about availability. They offer exclusive function rooms, the Cuvée Room for up to 40 guests and the Ruby Room for up to 18 guests, each with specific minimum spend requirements for breakfast, lunch, and dinner events.

Q – Does Tryn restaurant offer outdoor seating?
A – Yes, Tryn Restaurant offers ample outdoor seating on its large sun-dappled terraces, providing guests with beautiful views of the vineyards and gardens, creating a relaxed and enjoyable ambience for dining.