Welcome to Thesen Island, a captivating haven nestled in the breathtaking Knysna Lagoon. Thesen Island offers a rich history, natural beauty, and a unique experience that will leave memories with you that will last a lifetime. Let's uncover the hidden charms of this idyllic South African destination. Our comprehensive guide will ensure that you don't miss a single detail while exploring The island's wonders.
A Glimpse into Thesen Island's History✍
Thesen Island is steeped in the captivating history of the Southern Cape, nestled amidst the serene waters of one of South Africa's most ecologically diverse estuaries. The island's origins trace back to the ancient San people, or Bushmen, who were believed to be the earliest inhabitants of the area. As settlers arrived, drawn by the abundance of indigenous forests that harboured herds of the renowned Knysna elephant, the island came to be known as Paarden Island, meaning "Horse Island."
The island's modern-day name, Thesen, has its roots in Norway. In 1869, Arndt Leonard Thesen, a prominent timber merchant from Stavanger, embarked on a journey to New Zealand with his family. However, their ship encountered difficulties near Cape Town, prompting Arndt Thesen to make South Africa their new home. Settling in the picturesque town of Knysna, surrounded by pristine forests, the Thesen family established a timber trading company.
Fast forward several decades to 1991, Dr Chris Mulder, an environmental engineer with a doctorate in environmental design, proposed a visionary redevelopment plan for Thesen Island as a distinctive residential marina. The project faced rigorous scrutiny due to the estuary's ecological significance and its popularity as a tourist attraction. After eight years of meticulous research and planning, Dr Mulder and his team received approval in December 1998, albeit with over one hundred strict and complex conditions.
The journey from the initial concept to final approval spanned a decade and involved twenty-five alterations to the master plan, demonstrating the commitment to maintaining ecological, architectural, and social integrity. Thesen Island's history is a testament to the resilience of nature and the transformative power of human vision. Today, it stands as a testament to sustainable development, harmoniously blending modern living with the preservation of its unique natural surroundings.


Thesen Island Accommodation🏡
Immerse yourself in the extraordinary lifestyle that Thesen Island offers. Thesen Island Real Estate presents a captivating array of properties that embody the essence of luxury waterfront living in Knysna. With its idyllic location within the breathtaking islands, this real estate portfolio offers an exceptional selection of residential options for discerning buyers. Whether you seek a stylish apartment, an elegant townhouse, or a magnificent waterfront home, Thesen Island Real Estate showcases a diverse range of properties to suit your preferences.


Thesen Harbour Town🏬
Unlike the residential area accessible only to residents and their guests, Thesen Harbour Town is open to all and easily reached via the causeway connecting the islands to the mainland. The village's main street features weather-protected arcades, housing an enticing mix of the island's restaurants, boutiques, offices, and apartments.
A picturesque village square marks the end of the street, complete with a scenic pier that offers stunning views of the lagoon and Knysna town. Historic buildings like the Sawtooth Building, Parking Garage, and Boatshed have been thoughtfully restored, adding an authentic touch.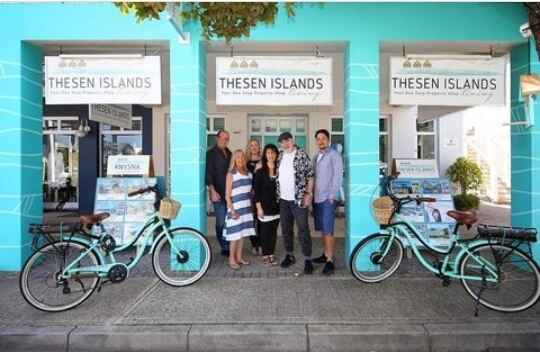 Natural Beauty-A Nature Lover's Paradise🌄
Discover the awe-inspiring natural beauty that envelops Thesen Island. From its lush greenery to its diverse birdlife, Thesen Island is a sanctuary for nature enthusiasts. Learn about the array of outdoor activities available, including kayaking, paddleboarding, fishing, and hiking.

The Islands boast an abundant and diverse marine ecosystem, providing a sanctuary for various sea creatures, including the iconic Knysna seahorse. As South Africa's sole endemic seahorse species and one of the world's two endangered seahorse species, the Knysna seahorse is a national treasure.
The waterways surrounding Thesen Islands not only provide a safe haven for these unique creatures but also harbour a rich array of marine life. Octopuses have found refuge in the gabions, making them a fascinating sight for visitors. These Islands occasionally attract the attention of seals, as they explore the waterways in search of food.
These encounters with marine wildlife contribute to the allure and wonder of Thesen Islands' natural surroundings. There are also many plants and animals on the land from rare species of bird and frog to various indigenous trees. With so many sights to see in the natural wonder. It is no surprise why so many people call Thesen Island home.


Dry Mill Apartments🚪
The Dry Mill Apartments, located on Timber Island within the Thesen Islands, offer a luxurious and contemporary living experience with a distinctive marine/industrial aesthetic. Originally an old timber drying and storage shed, the building was thoughtfully transformed into a stunning complex that pays homage to its heritage. The architectural team preserved much of the main structure, resulting in a unique blend of brick, steel, and timber.
Comprising 56 duplex, triplex, and penthouse apartments, The Dry Mill prioritizes spaciousness, natural light, and outdoor living. The upper-level open-plan lofts, lookout decks, and private jetties showcase the area's maritime origins, while the verandahs are adorned with tensile sail shade structures. Amenities include covered parking, garages, private jetties, and built-in barbecues. Many units also offer private gardens, lifts, swimming pools, and spa baths.
Ideal for those seeking a lock-up-and-go lifestyle, The Dry Mill Apartments on Thesen Islands provide a practical and visually appealing living option. Whether you're looking for a permanent residence or a holiday retreat, these apartments combine modern comforts with the island's captivating surroundings.
---
Thesen Island stands as a true treasure on the Knysna Lagoon, offering a blend of history, natural beauty, and a vibrant lifestyle. As you prepare to explore this tranquil oasis, keep our comprehensive guide handy to discover the island's hidden charms. From the intriguing history to the captivating outdoor activities and the delightful dining experiences, The island promises an unforgettable journey. Embrace the serenity, embrace the adventure, and let this island weave its spell on you.
Website:https://www.thesenislands.co.za/
Instagram:@thesenislandliving
Address: Thesens Island, 6571, Knysna, Western Cape, South Africa
Phone:+27(0)44 382 2192
---
FAQ
Q – When was Thesen Island built?
A – Thesen Island was built in the early 1990s, with the redevelopment and construction taking place during that period.

Q – Who owns Thesen Island?
A – Thesen Island is owned by a combination of private property owners, as well as the Thesen Islands Homeowners Association, which oversees the management and maintenance of the island's common areas and infrastructure.