An experience of a lifetime awaits you at Signal Hill ⛰️
Signal Hill in Cape Town is a must-visit destination for those seeking breathtaking views of the city and beyond. With its prominent location overlooking the Atlantic Ocean, visitors can enjoy panoramic vistas of Table Bay, Robben Island, and the surrounding mountain ranges. Not only is this hill in Cape Town a popular spot for sightseeing, but it also offers exciting activities such as paragliding and hiking. Additionally, the area's rich history, including its association with the noon gun tradition, makes it a fascinating cultural landmark. If you're looking for a unique and unforgettable experience in Cape Town, Signal Hill should definitely be on your list.
Signal Hill at Cape Town has a rich and fascinating history that dates back centuries. Originally known as "Lion's Rump" by the Dutch settlers, the hill was used as a lookout point for ships entering the bay. In the 19th century, it became home to a signalling station, where flags were used to communicate with ships at sea. At Cape Town's Signal Hill, the noon gun tradition is still carried out, where a cannon is fired every day at precisely 12 pm. The hill also played a significant role in the apartheid era, where it was used as a site for protests and political demonstrations. Today, this hill is a popular tourist destination and a symbol of the city's rich history and cultural heritage. Visitors can explore the area's fascinating past while enjoying breathtaking views of Cape Town.
Signal Hill Lodge 🛖
If you are looking for a place to stay while in the area. Signal Hill Lodge in Cape Town is a charming and cosy guesthouse nestled in the foothills of Signal Hill. The lodge boasts a convenient location, just a stone's throw away from some of Cape Town's most popular attractions, including the V&A Waterfront, Camps Bay Beach, and the city centre. The lodge offers a range of comfortable and spacious rooms, each with its unique character and decor, providing guests with a home-away-from-home experience. Cape Town's Signal Hill Lodge has a lush garden and outdoor pool that offer a tranquil escape from the bustle of the city, while the onsite restaurant serves up delicious local cuisine. Signal Hill Lodge is the perfect base for exploring all that Cape Town has to offer, with friendly staff on hand to assist with planning activities and excursions. Whether you're travelling for business or leisure, it is the perfect retreat for a memorable stay in Cape Town.
Sunset Views 🌅
A Signal Hill Sunset is renowned for its beauty. Signal Hill's lovely Cape Town sunsets begin to dip below the horizon, the sky transforms into a vibrant palette of colours, ranging from fiery oranges to soft pinks and purples. The panoramic views from the hill offer a breath-taking backdrop to the natural beauty of the sunset, with views stretching across Table Bay, Robben Island, and the city skyline. Visitors to Cape Town's Signal Hill can watch the sunset from various vantage points, including the Lion's Battery, a historic fortification that was used to defend Cape Town during the Anglo-Boer War. Whether you're a photographer looking for the perfect shot or just looking to soak in the beauty of the city, a Signal Hill sunset is an experience not to be missed.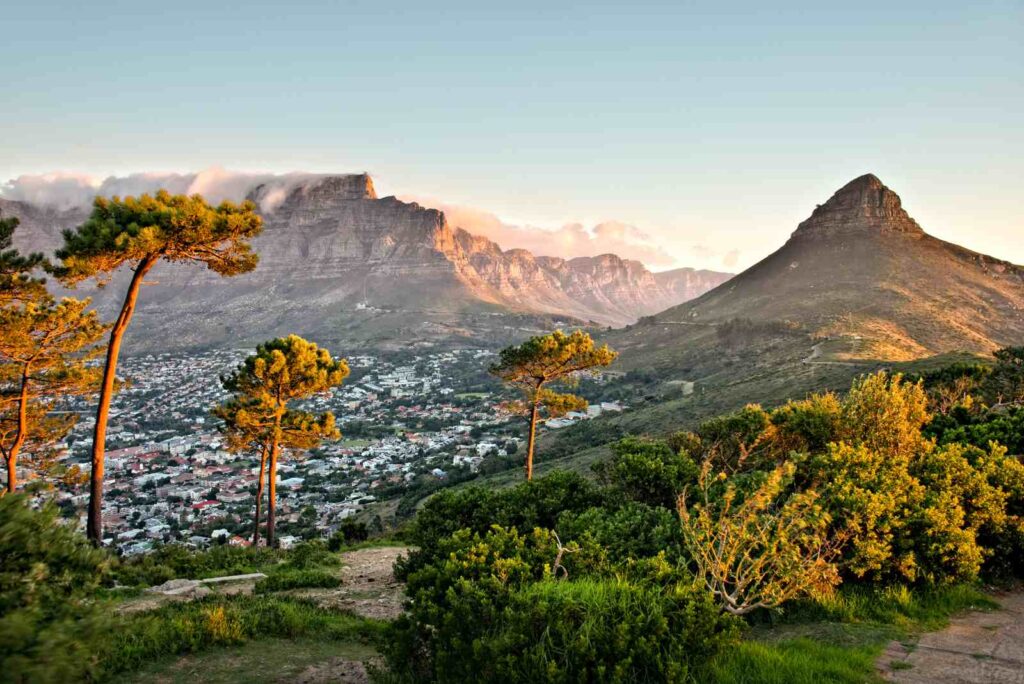 Paragliding at Signal Hill 🪂
Paragliding at Signal Hill in Cape Town is an exhilarating experience that attracts adventure-seekers from around the world. With its elevated position and gentle slopes, Signal Hill provides ideal conditions for paragliding, offering breath-taking views of the Atlantic Ocean, Table Mountain, and the surrounding landscape. The activity is suitable for both beginners and experienced paragliders, with tandem flights and training courses available. Visitors can take off from various locations on this prominent hill, including the Lion's Head summit, and soar through the air, enjoying a bird's eye view of the city below. Safety is a top priority, with experienced pilots providing expert guidance and state-of-the-art equipment ensuring a safe and enjoyable flight. Paragliding at Signal Hill is a thrilling and unique way to experience the natural beauty of Cape Town and create unforgettable memories.
Hiking at Signal Hill 👟
A Signal Hill hike in Cape Town is a popular way to experience the natural beauty of the area and enjoy panoramic views of the city and surrounding landscape. The hike offers several trails of varying difficulty, ranging from easy walks suitable for families with children to more challenging routes for experienced hikers. The most popular trail is the Signal Hill Lion's Head trail, which starts at the hill's parking area and takes visitors on a scenic route through the fynbos-covered slopes of the hill. The trail offers stunning views of the city, Table Bay, and the Atlantic Ocean, with a summit that provides a panoramic 360-degree view of Cape Town. The hike is also an excellent opportunity to spot local wildlife, including dassies, lizards, and birds. Visitors should wear sturdy shoes, bring plenty of water, and be prepared for the changeable weather conditions. A Signal Hill hike is a unique and rewarding way to experience the natural beauty of Cape Town and make unforgettable memories.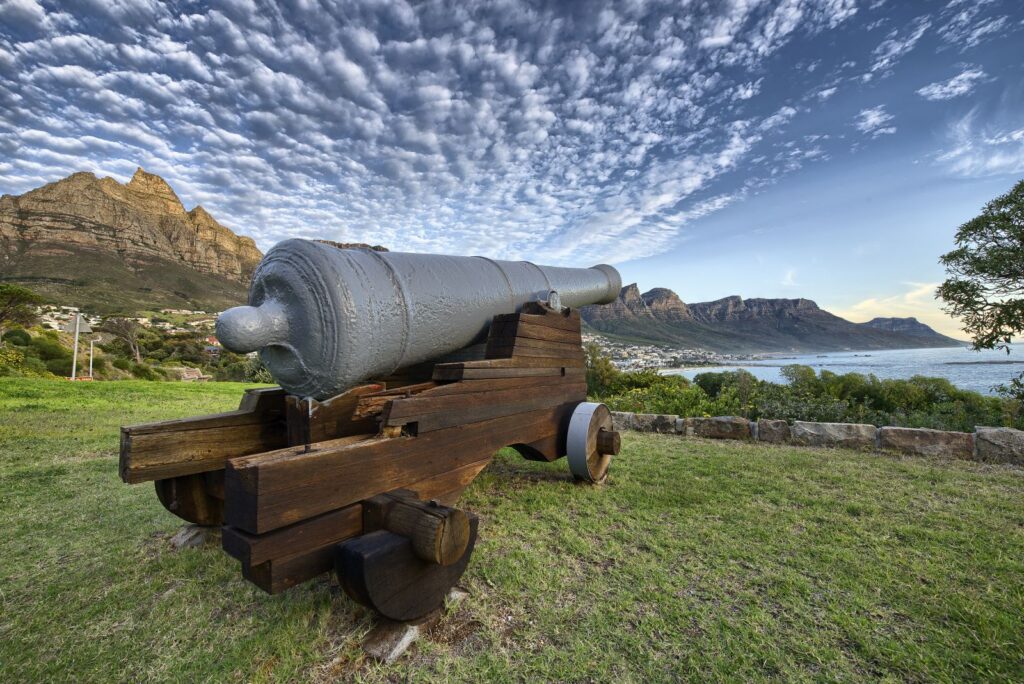 What Weather to Expect 🌦️
Signal Hill's weather is Mediterranean with warm, dry summers and mild, wet winters. Weather at this famous hill, during the summer months of November to February temperatures soar up to 30°C, making it the perfect time to enjoy outdoor activities like paragliding and hiking. However, the summer months can also bring strong winds to the area, which can affect certain activities such as cable car rides up to Table Mountain. In winter, from June to August, the weather is cooler, with temperatures ranging from 10°C to 20°C. While the area experiences some rainfall during this period, it is still a popular time to visit, with fewer crowds and stunning views of the surrounding mountains and coastline. Whatever the season, Cape Town's spectacular hill is a unique location where the weather can change quickly, and visitors should be prepared for all conditions when planning their trip.
---
Visiting Signal Hill in Cape Town promises to be a remarkable experience for all types of travellers. With its rich history, stunning natural scenery, and wide range of activities, there is something for everyone to enjoy. From watching the spectacular sunset to paragliding over the Atlantic Ocean or hiking through the fynbos-covered slopes, Signal Hill offers a unique and unforgettable experience that visitors will cherish for years to come. Whether you're a nature lover, adventure seeker, or simply looking for a relaxing retreat, Signal Hill in Cape Town is a must-visit destination that should not be missed.