Cape Town, nestled between the Indian and Atlantic Oceans, boasts a Mediterranean climate that sets the stage for year-round picnicking adventures. With a rich tapestry of natural wonders, cultural attractions, and wineries, this South African gem is a picnic enthusiast's dream come true. Let's explore 15 of the finest picnic spots Cape Town has to offer.
The Cellars-Hohenort


The Cellars-Hohenort beckons picnickers to experience an idyllic retreat in their enchanted garden under the ancient camphor trees. As we explore the top picnic spots in Cape Town, The Cellars-Hohenort stands out as a haven for those seeking both seclusion and city proximity. This five-star destination offers a serene escape, where you can relax and unwind without straying far from the bustling urban landscape.
The Cellars-Hohenort's enchanted garden is an oasis of tranquillity, perfect for a leisurely afternoon picnic. Imagine spreading out under the colossal camphor trees, a glass of champagne or your favourite wine in hand, surrounded by the lush greenery of this historic estate. The picnic experience here is a culinary delight, with a thoughtfully prepared basket featuring tapas, olive and sundried tomato focaccia bread, lemon-and-rosemary-roasted chicken, and artisanal house salads drizzled with vinaigrette.
However, the true stars of this picnic are the mini scones, generously adorned with butter and strawberry jam, evoking a sense of timeless charm. All of this can be washed down with your choice of orange, apple, or vegetable juice. At R365 per person or R725 for two, The Cellars-Hohenort offers a luxurious picnic experience that marries the best of Cape Town's flavours and natural beauty.
Address: 93 Brommersvlei Road, Constantia, Cape Town
Website: https://www.thecellars-hohenorthotel.com/
Contact Number: 021 794 2137
Cape Point Vineyards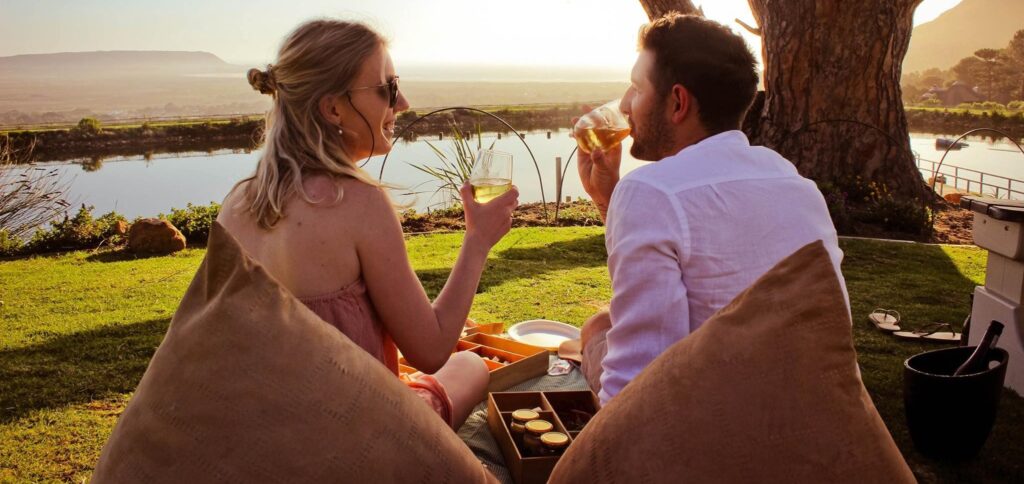 Cape Point Vineyards, a true gem among Cape Town's picnic spots, enchants picnickers with its captivating vistas of Noordhoek beach, sprawling fynbos, and picturesque vineyards. This idyllic setting, nestled within an award-winning winery, is a haven for those seeking a picnic experience that seamlessly blends natural beauty with gourmet delights. Here, you have the privilege of choosing from three distinct picnic spots, each offering its unique charm. For a romantic escape, the secluded area next to the dam provides an intimate setting, ideal for couples.
Families will find respite in the shaded family area, conveniently adjacent to a jungle gym. Lastly, the mid-level picnic lawns, boasting unhindered ocean views, cater to larger groups, promising a picturesque backdrop for your gathering. Whether you're a wine enthusiast or simply seeking a memorable picnic, Cape Point Vineyards caters to all, offering vegetarian picnic baskets and a dedicated kids' menu to ensure everyone's satisfaction.
As you unpack your picnic basket at Cape Point Vineyards, you'll discover a carefully curated selection of gourmet delights that complement the breathtaking scenery. The picnic experience here is elevated by an array of delectable treats, including Mastro Dario coppa, bresaola, and truffle salami, an assortment of cheeses such as Brie, Chevin, and mature cheddar, balsamic onion marmalade, butternut and lentil balls accompanied by wild mushroom pâté, a smoked-chicken couscous salad with harissa yoghurt dressing, and a delightful salmon trout and cream cheese bagel.
To satisfy your cravings for freshly baked bread, the basket also includes ciabatta and a French baguette paired with herbed butter. To conclude your feast on a sweet note, indulge in a dark chocolate tart adorned with seasonal fruits. This culinary journey is designed to tantalize your taste buds and enhance your enjoyment of the Cape Point Vineyards' scenic splendour. The cost of this exceptional picnic experience for two is R590, ensuring that your day amidst nature and gastronomy is truly unforgettable.
Temporarily closed due to renovations will be reopening on the 1st of September 2023
Address: Cape Point Vineyards, Silvermine Rd. Noordhoek.
Website: http://cpv.co.za/
Contact Number: 021 789 0900
Little Stream


Between the renowned Groot Constantia and Klein Constantia Wine Estates lies the picturesque Little Stream, a charming tea garden exuding the ambience of an English country setting. As we explore the top picnic spots in Cape Town, Little Stream stands out as a romantic oasis for couples and a welcoming space for larger groups to relax and enjoy the natural beauty of the area.
Little Stream's enchanting setting spans three hectares of lush greenery, offering an idyllic escape from the city's hustle and bustle. For those seeking a romantic picnic, the garden unveils secret nooks with tables for two, creating an intimate atmosphere amidst the sylvan expanses. Alternatively, you can opt to relax on the lawns with your own blanket and cushions, perfect for larger gatherings. The gourmet picnic platters at Little Stream are a testament to their commitment to quality, featuring the finest local artisanal produce.
Homemade chicken liver pâté, onion-marmalade crackers, crumbed grilled camembert, Huguenot cheese from Dalewood, poached pear, green fig preserve, a selection of salami, pastrami, and prosciutto from wild peacock, olives, freshly baked ciabatta, and butter compose this delectable picnic spread. To round off your picnic experience, sweet treats accompanied by coffee or tea await. While the tea garden isn't licensed, you are welcome to bring your own wine to complement the feast. Remember to make a reservation at least 72 hours in advance and don't forget to bring your own blankets. At a cost of R450 for two, Little Stream offers a delightful picnic experience that harmonizes nature, gourmet delights, and romance.
Address: Little Stream Conference Centre & Café, Klein Constantia Road, Constantia, Cape Town
Website: https://www.littlestream.co.za/
Contact Number: 021 794 9147
Disa River Gorge
Within the tranquil embrace of the Kirstenbosch National Botanical Gardens lies the Disa River Gorge, a hidden gem among Cape Town's picnic spots. Tucked away and lesser known, this picnic spot offers a unique natural experience for those seeking a peaceful retreat amidst the beauty of Kirstenbosch. To reach Disa River Gorge, embark on a journey to the top of Cecilia Contour Path and follow the signs leading you to Disa Kloof. Here, you'll uncover a picturesque gorge adorned with a gentle stream and shaded by a canopy of trees, setting the stage for a serene picnic excursion. It's the perfect setting to unwind and create cherished memories with family and friends while surrounded by the wonders of nature.
The highlight of Disa River Gorge is the old stone dam that seals the top of the gorge, creating an enchanting reservoir. Perched above this reservoir, a shallow cave invites picnickers to savour a leisurely lunch while overlooking the pristine waters below. This secluded vantage point offers a unique perspective of the surrounding landscape, making it an ideal spot for a memorable picnic. Whether you're seeking solitude amidst nature or a picturesque setting for a social gathering, the Disa River Gorge provides an idyllic backdrop. Escape the hustle and bustle of the city and immerse yourself in the serenity of this hidden gem within Kirstenbosch National Botanical Gardens.
Address: Kirstenbosch National Botanical Gardens, Table Mountain National Park, Cape Town
Norval Foundation


The Norval Foundation emerges as a captivating choice among Cape Town's picnic spots. Its blend of scenic beauty and accessibility makes it a convenient escape for city dwellers and visitors alike. The Norval Foundation's picnic experience unfolds within a natural wetland garden adorned with an array of sculptures, creating an artful ambience that surrounds you with the charm of vineyards and the majesty of mountains.
This harmonious setting provides the perfect backdrop for picnickers to unwind and savour their meals, feeling as if they have a piece of this picturesque paradise all to themselves. As an added bonus, before or after your picnic, you have the opportunity to explore the world-class museum and its current exhibitions, enriching your cultural experience.
The Norval Foundation caters to picnic-goers with a build-your-own-basket Norval Foundation menu that includes a delightful assortment of culinary delights. Picture a delectable spread featuring a breadboard, a refreshing mixed salad, a crispy chicken wrap, succulent beef sliders, a selection of charcuterie and cheeses, olives, nuts, seasonal sliced fruits, and a delectable cake of the day. To satisfy your sweet cravings, a slice of banana bread awaits.
The beauty of this picnic experience is that it allows you to create a personalized feast that suits your tastes and preferences. The cost is a minimum spend of R150 for free access to the garden, making it a budget-friendly option for families and picnickers of all kinds, with children enjoying free access to this captivating artistic and natural haven. At the Norval Foundation, art, nature, and culinary delights come together to create a picnic experience that is both enriching and memorable.
Address: 4 Steenberg Road, Tokai, Cape Town
Website: https://www.norvalfoundation.org/
Contact Number: 087 654 5900
Buitenverwachting


Buitenverwachting offers a unique picnic experience that allows you to be close to Cape Town's city centre while feeling like you've escaped to a charming countryside farm. This historic wine estate was founded by Cape's first governor, Simon van der Stel, and beckons picnickers seeking a tranquil summer escape. The estate's wide, shaded lawns are graced by the presence of 250-year-old trees and the whimsical sight of free-roaming chickens, creating an idyllic setting for relaxation. Buitenverwachting provides an array of picnic platters, catering to various appetites, from simple snacks to lavish feasts, ensuring that picnickers can curate their ideal culinary experience amidst this picturesque landscape.
The picnic platters at Buitenverwachting offer an exquisite medley of flavours to tantalize your taste buds. Expect a delightful selection that includes bread and butter, a trio of cheeses (Camembert, Emmenthaler, Chevin), German salami, coppa, peppadew pâté, stuffed peppadews, olives, pickled patty pans, dill cucumbers, an array of delectable spreads such as hummus, sundried tomato feta, olive tapenade, and peppadew chutney. Seasonal fruits add a refreshing touch, complemented by roasted almonds and Turkish apricots.
To sweeten the experience, a mouthwatering chocolate brownie awaits. With the estate's deli and coffee shop conveniently nearby, you can easily enhance your picnic with additional baked treats while away in the afternoon. Buitenverwachting offers various picnic options, including the harvest platter for two at R380, a cheese board for two at R200, and a bread and pâtés platter for two at R145. This historic wine estate invites you to savour the best of Cape Town's culinary and natural charms while basking in the serene ambience of the countryside.
Address: Buitenverwachting, Klein Constantia Rd, Constantia, Cape Town
Website: https://buitenverwachting.com/
Contact Number: 021 794 5190
Boulders Beach

Boulders Beach, nestled within a sheltered cove near Simon's Town, stands as one of Cape Town's most beloved and picturesque picnic spots. What sets Boulders Beach apart is not only its idyllic natural beauty but also its charismatic residents – a thriving colony of African penguins. As you arrive at this captivating destination, you'll be greeted by the soothing sound of waves lapping against the shore and the sight of these charming creatures in their natural habitat. It's an ideal setting for a relaxing day out with friends or family, offering a unique opportunity to witness these penguins up close in an environment carefully managed for their protection within Table Mountain National Park.
The beach's appeal extends beyond its resident penguins. The sheltered cove, framed by colossal boulders resembling giant marbles, provides a serene haven that shields picnickers from the wind, heavy waves, and currents typically found along the Atlantic seaboard. Here, in the warmer waters of False Bay, you can find your perfect spot on the sand, lay out your picnic, and immerse yourself in the breathtaking scenery. Whether you're visiting as part of a Cape Point tour or embarking on a scenic self-drive around the Cape Peninsula, Boulders Beach offers a tranquil escape where you can relax, savour a picnic, and embrace the natural wonders of Cape Town's coastline.
Address: Boulders Beach, Simons Town
Quoin Rock Wine Estate


Quoin Rock Wine Estate, gracefully perched on the slopes of the Simonsberg Mountains, stands as a serene sanctuary and one of Cape Town's best picnic spots. Its stunning location is adorned with lush gardens, where mystical sculptures add an artistic touch to the natural beauty that surrounds you. At Quoin Rock, the picnic experience is elevated to a new level of sophistication and convenience. The estate offers eight custom-built picnic pods, thoughtfully spaced ten meters apart to ensure privacy and comfort for picnickers. This idyllic setting invites you to savour a culinary journey featuring an array of gourmet delights served on proper crockery, thoughtfully designed to be plastic-free, and accompanied by unlimited still and sparkling water.
The Quoin Rock picnic basket is a masterpiece of culinary craftsmanship, featuring an enticing selection of flavours and textures. The basket includes a freshly baked baguette, sweet wine butter, biltong pâté, cashew pesto, carrot purée, a duo of Dalewood cheeses (Camembert and Gruberg), Boerenkaas, Jewell's bresaola, and squashed Italian salami. You can also relish creamy garlic prawns, sweet potato and butternut ribbons, burrata, and a zesty citrus salad.
For those with a penchant for meat, the basket presents pork-belly confit, while dessert lovers can indulge in a delightful lemon posset. Quoin Rock ensures that no palate is left unsatisfied, offering vegan and vegetarian options to cater to diverse tastes. The thoughtful addition of walkie-talkies allows you to easily summon the waitrons for any requests, ensuring that your picnic experience at Quoin Rock Wine Estate is as convenient as it is indulgent. The cost is R400 per person, and there's also a kids' basket option at R180, making it a family-friendly picnic destination in Cape Town.
Address: Quoin Rock Wine Estate, Knorhoek Road, Stellenbosch
Website: https://www.quoinrock.co.za/
Contact Number: 021 888 4740
Haskell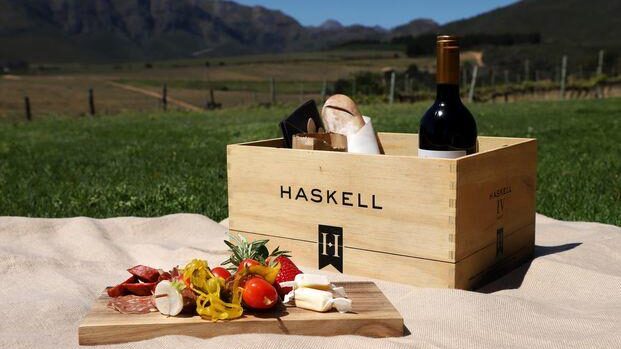 Haskell Vineyards, nestled on the picturesque slopes of the Helderberg Mountains near Stellenbosch, offers a unique and family-friendly picnic experience that beautifully blends nature and gastronomy. Surrounded by breathtaking vistas, this relaxed haven invites picnickers to unwind on rolling lawns beside the vines, thoughtfully adorned with cosy blankets and cushions. Haskell Vineyards prides itself on being a destination where both kids and dogs can frolic freely, with an array of games provided to keep them entertained. It's a perfect setting for families, friends, and even four-legged companions to bask in the joys of nature while relishing delectable food.
At Haskell Vineyards, the picnic options cater to diverse tastes, ensuring that every guest's culinary desires are met. Picnic-goers can choose between meticulously curated picnic baskets or freshly baked pizzas emerging from the outdoor oven, adorned with locally and responsibly sourced ingredients. The picnic basket presents a delightful array of treats, including home-baked bread, an assortment of cheeses accompanied by preserves, locally cured meats, roasted summer vegetable salads, seasonal fruits, and mouthwatering chocolate desserts.
Whether you're savouring a picnic for two or sharing this experience with loved ones, Haskell Vineyards offers a relaxed and welcoming atmosphere for an unforgettable day in the heart of the Cape Winelands. The cost for two is R399, making it an accessible and delightful choice among Cape Town's picnic spots.
Address: Haskell Vineyards, Annandale Road, Lynedoch, Stellenbosch
Website: https://www.haskellvineyards.com/
Contact Number: 021 881 3746
Noordhoek Beach


Noordhoek Beach, often lauded as one of Cape Town's premier picnic spots, offers an expansive stretch of sandy coastline that is nothing short of a natural wonder. It ranks among the longest beaches in the city, gifting visitors with awe-inspiring views of the surrounding mountains. This unspoiled gem is a paradise for outdoor enthusiasts, attracting horse riders, strollers, and picnickers alike.
The beach provides an escape from the urban hustle and bustle, enveloped by the serenity of Chapman's Peak and protected by the sentinel presence of the Kommetjie lighthouse. What sets this beach apart is its pristine beauty, free from the urban sprawl that often characterizes Cape Town's bays, thanks to the National Park-protected wetlands that form its backdrop.
As you explore Noordhoek Beach, you'll find a multitude of opportunities for adventure and relaxation. Horse riding is a common sight here, as many residents own horses and keep them on their properties. Riding schools also offer opportunities for visitors to experience the joy of horseback riding along the expansive shoreline. Scenic trails meander through the protected wetlands and along the beach, inviting nature enthusiasts to explore the diverse flora and fauna that grace this area.
Noordhoek village exudes a rustic, country charm, boasting an inviting common area, paddocks, and an array of charming local shops, restaurants, and bars. For those seeking access to Cape Town, the renowned Chapman's Peak Drive, with its breathtaking views of the Atlantic coast, provides a spectacular connection to the city, ensuring that Noordhoek Beach remains a must-visit destination for those craving a day of natural beauty and outdoor adventure.
Address: Noordhoek Beach, Noordhoek, Cape Town
Tietiesbaai

Tietiesbaai, a hidden gem on the West Coast, offers a secluded paradise just a scenic 2-hour drive from Cape Town. Nestled within a breathtaking bay, this picturesque destination is enveloped by towering cliffs, making it a haven for outdoor enthusiasts seeking a blend of fishing, swimming, and picnicking. Beyond the recreational activities, Tietiesbaai promises awe-inspiring views that will leave you reaching for your camera to capture the beauty of this unspoiled coastline. With its crystal-blue waters and golden sands, you can leave your special shoes behind and enjoy a leisurely walk along the shoreline.
The gentle entry into the water ensures a comfortable experience for all, making Tietiesbaai an ideal destination for solo travellers, relaxation seekers, and anyone in search of a serene getaway in Cape Town. Even during the peak season, this beach remains relatively uncrowded, allowing you to relish its tranquillity. The nearby area offers opportunities for wild camping, inviting you to extend your stay and immerse yourself fully in the natural beauty of Tietiesbaai.
Address: Tietiesbaai, Paternoster, 7381
Jordan


Nestled within the enchanting Stellenbosch wine region, Jordan Wine Estate offers a gourmet picnic experience amidst breathtaking natural beauty. Eight individually named private picnic pods, each accommodating two to ten people, are strategically placed around a serene dam, providing picturesque valley views that redefine the meaning of relaxation. Your pod is a private haven for the day, complete with cosy blankets, cushions, and an ice bucket, ensuring that you can stretch out, unwind, and fully immerse yourself in the tranquil surroundings. The picnic baskets, thoughtfully prepared by the Cellar Door at Jordan, are brimming with a delectable assortment of culinary delights, making this an unforgettable picnic destination.
The Jordan picnic basket promises a culinary journey that delights the senses. Indulge in wood-fired ciabatta, focaccia, and Cape seed loaf, all baked in-house, complemented by a selection of locally produced cheeses like Dalewood Camembert, Brie, Klein River Stanford, and De Pekelaar Boerenkaas. Savour charcuterie offerings, including Parma ham and biltong, along with smoked hake and fennel paté. Delight in petite butternut, leek, and feta quiches, accompanied by Jordan estate olives and homemade preserves, spreads, aubergine achar, and whipped butter.
For a heartier option, enjoy a homemade pita filled with slow-cooked pork, slaw, and Greek yoghurt dressing. The picnic also includes a daily salad creation and a delightful sweet treat to round out your meal. This gourmet picnic experience at Jordan, with its captivating valley views and sumptuous fare, is a testament to the culinary excellence found in the heart of the Stellenbosch wine country. The cost for two is R625, and a kid's basket is available at R169, making it a family-friendly destination that caters to every palate.
Address: Stellenbosch Kloof Road, Stellenbosch, South Africa
Website: https://www.jordanwines.com/
Contact Number: 021 881 3441
Alluvia


Alluvia Wine Estate emerges as a truly picturesque picnic spot in the Winelands. Here, tranquillity reigns supreme as you set up your picnic blanket beneath the shade of ancient oaks, cascading willows, or by the serene dam, all while being enveloped by breathtaking panoramas in every direction. The setting at Alluvia invites you to savour an alfresco feast in the heart of nature, a sensory experience heightened by the stunning surroundings that stretch as far as the eye can see.
The Alluvia picnic basket is a masterpiece of culinary craftsmanship, promising a delightful array of flavours and textures. Relish a freshly baked selection of bread paired with southwest hummus, and enjoy chilled yellow-fin tuna pâté served with garlic and herb crostini. Delight in a halloumi and pear salad featuring charred broccoli, savour Korean chicken accompanied by crunchy Asian coleslaw and indulge in boneless beef short rib paired with honey mustard potato salad.
The picnic also includes a charcuterie selection, quiche Lorraine, assorted local cheeses with crackers and preserves, and delectable sweet treats like picnic brownie bars, mini doughnut balls, and mini milk tarts. To complete the experience, a bottle of Alluvia sauvignon blanc awaits, ensuring that every bite is perfectly complemented by the estate's exquisite wine. Alluvia Wine Estate's picnic offering promises a sensory journey like no other, making it a must-visit destination for those seeking the perfect blend of natural beauty and culinary excellence. The cost for two is R545, ensuring that this experience is accessible for all who wish to indulge in a day of picnicking in the Winelands.
Address: Glen Arum Road, Helshoogte Pass, Stellenbosch
Website: https://www.alluvia.co.za/
Contact Number: 021 885 1661
Muizenberg Beach

Muizenberg Beach offers a vibrant beachfront escape that caters to a range of outdoor activities and culinary delights. Renowned for its inviting turquoise waters, this beach is a popular destination for swimmers, sunbathers, and surfers alike. Set against the backdrop of a majestic mountain, Muizenberg Beach presents a picturesque scene that captivates the senses. Whether you're seeking a relaxing day of sunbathing, exhilarating surf sessions, or a refreshing swim, this beach has it all.
Along the beachfront, you'll discover a delightful array of restaurants and cafes where you can savour a delicious meal before finding the perfect spot to lay down your picnic blanket. Should the weather take an unexpected turn, you can easily retreat to one of the fabulous coffee shops and restaurants that line the beach, ensuring that your culinary desires are met, no matter the conditions.
Muizenberg Beach's reputation as one of Cape Town's best swimming spots is well-deserved. Nestled within a secluded bay, its waters are renowned for their warmth, creating an ideal environment for both swimmers and surfers. The beach is fringed with brightly coloured Victorian change houses, a charming reminder of Muizenberg's rich history as a beloved beach destination in Cape Town.
While False Bay, where Muizenberg Beach is located, is known for its population of Great White sharks, incidents are rare, thanks to the vigilant efforts of the shark spotter program. This program uses colour-coded flags to inform beachgoers about water conditions and safety. With generally calm waters and a flat, open beach, Muizenberg Beach is a family-friendly haven, making it an ideal spot for a day of seaside picnicking and enjoyment for all ages.
Address: Muizenberg Beach, Muizenberg, Cape Town
Hout Bay Beach

Hout Bay Beach beckons with its natural beauty and leisurely charm. This stunning beach, located in the esteemed suburb of Hout Bay, captivates visitors with its soft, powdery sand dunes, inviting turquoise waters, and the dramatic backdrop of majestic mountain ranges. It's no wonder that both locals and tourists alike are drawn to this idyllic coastal haven, seeking solace and relaxation amidst nature's splendour.
Hout Bay Beach offers an expansive stretch of coastline that extends for nearly a kilometre, from the iconic Chapman's Peak Drive toward the Hout Bay Harbour. This family-friendly beach is a hub of activity, frequented by horse riders, dog walkers, and sea kayakers. Its protected bay boasts almost consistently calm waters, ensuring safe and enjoyable swimming for all.
As you relax by the shore, keep an eye out for the occasional appearance of dolphins, whales, and seals in the bay, adding a touch of wonder to your beach experience. The beachfront is adorned with a multitude of restaurants and shops, while the nearby harbour offers opportunities to savour fresh seafood, peruse tourist curios, and embark on memorable boat rides, making Hout Bay Beach a quintessential destination for seaside picnicking and exploration.
Address: Hout Bay Beach, Hout Bay, Cape Town
---
Cape Town's diverse landscape offers a cornucopia of picnic experiences, from the lush gardens of Constantia to the vineyards of Stellenbosch and the serene shores of Noordhoek Beach. Whether you're looking for a simple self-catering picnic spot or a picnic spot that includes your picnic basket, or simply seeking a tranquil natural escape, the Mother City has a picnic spot that will capture your heart. Plan your next adventure and savour the fusion of nature and culinary delights in this breathtaking South African destination. Cape Town awaits, ready to enchant and inspire your picnic dreams.