If you're looking for accommodation in Montagu, you're in the right place. Montagu Hotels offers an array of world-class experiences that cater to the most discerning travellers. If you find yourself travelling outside of Cape Town and want to explore the Western Cape then Montagu is the place to be. From beautiful locations to plentiful amenities, these 10 Montagu Hotels will surely exceed your expectations and make your stay unforgettable.
Montague Country Hotel 🌴


Montagu Country Hotel offers a captivating blend of vintage charm and modern luxuries. Surrounded by the scenic Langeberg Mountains on Route 62, this historic hotel is conveniently located halfway between the Cape Winelands and the Garden Route, making it an ideal escape just a two-hour drive from Cape Town. The hotel boasts an array of amenities, including two swimming pools, two restaurants, an art gallery, and beautifully manicured gardens for guests to explore. As a proud founding member of the Cape Country Routes, it is known for its commitment to preserving and sharing the rich heritage of the region. One unique feature is the hotel's 22kw DC Electric Vehicle Charging Point, demonstrating its dedication to sustainability.
Guests can indulge in culinary delights at Charlestons restaurant, where Chef Werner Blom reinvents local classics with fresh, locally sourced ingredients. The hotel also offers the chance to explore the wine region in vintage Cadillac cars, making guests feel like movie stars as they tour the stunning surroundings. The Montagu spa provides relaxation and beauty treatments, including couples massages and private mineral jacuzzi baths, all featuring the therapeutic water from Montagu's famous thermal springs. Montagu Country Hotel promises a unique and unforgettable experience for travellers.
Address: 27 Bath Street, Montagu, Western Cape
Website: https://www.montagucountryhotel.co.za/
Contact Number: 023 614 3125
The Vineyard Country House 🍷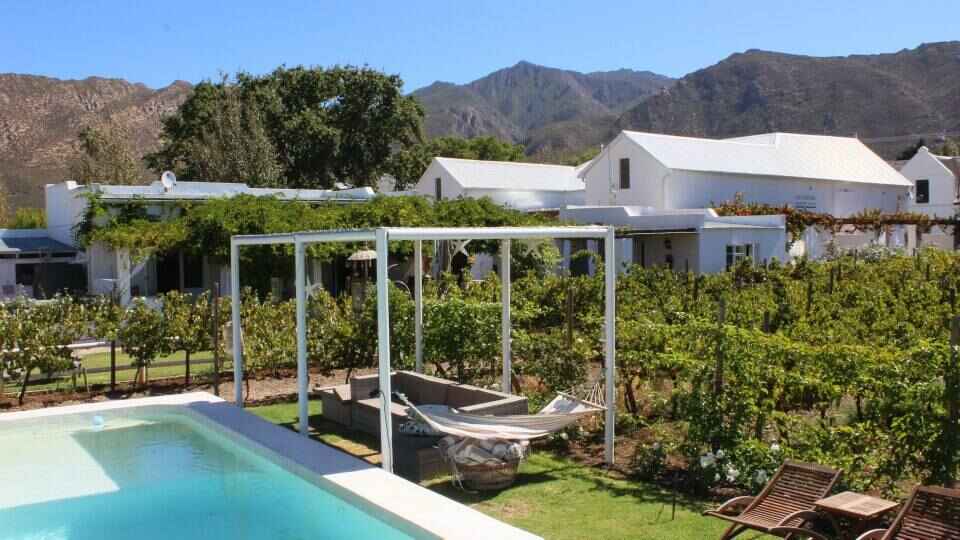 The Vineyard Country House, a distinguished four-star guest house, is an enchanting retreat. Situated amidst gorgeous wineries, it thrives as a working fruit and vineyard smallholding, offering a truly immersive experience for its guests. This idyllic guest house provides five exquisitely decorated rooms, each with en-suite facilities and some featuring delightful outdoor showers. The Vineyard Country House is a sanctuary of tranquillity and natural beauty, offering an escape for those seeking a respite from the bustle of everyday life and a chance to savour the charm of the Western Cape's winemaking region.
Address:42 Long Street, Montagu, Western Cape
Website: https://thevineyardcountryhouse.co.za/
Contact Number: 076 160 0764
Book Your Stay At The Vineyard Country House Today! 🍷
Mimosa Lodge 🛌


In the heart of Montagu on the famed Route 62. This charming retreat has earned a stellar reputation for its warm hospitality, personalized care, and attention to detail. Guests can unwind in the oasis-like garden, take a refreshing dip in the swimming pool, or relax in the stylish Art Deco lounges. Mimosa Lodge's restaurant, helmed by owner-chef Bernhard Hess, is celebrated for its exceptional cuisine, focusing on seasonal ingredients. The lodge offers beautifully appointed en-suite rooms open to a sprawling garden with a sparkling pool, Bernhard's herb and vegetable garden, and a boules pitch. Mimosa Lodge also boasts a range of handcrafted boutique wines, the creation of owner-chef Bernhard Hess and winemaker Lourens van der Westhuizen.
Surrounded by the stunning Robertson Valley, Mimosa Lodge offers a more intimate wine route experience and easy access to neighbouring towns and villages like Robertson, Bonnievale, McGregor, Ashton, Barrydale, and Swellendam. Guests can also enjoy local attractions such as hot springs, nature trails, a Saturday Farmer's Market, and adventure activities like rock climbing, mountain biking, quad biking, and 4×4 routes. With breathtaking mountain views, excellent conference facilities, an idyllic wedding venue, and many culinary delights, Mimosa Lodge is the perfect place to rejuvenate, refresh, and explore in the heart of South Africa's scenic Western Cape.
Address: 19 Kerk Street, Bergsig, Montagu, Western Cape
Website: https://mimosa.co.za/
Contact Number:023 614 2351
Stay At Mimosa Lodge By Booking Here! 🥂
Avalon Springs 💧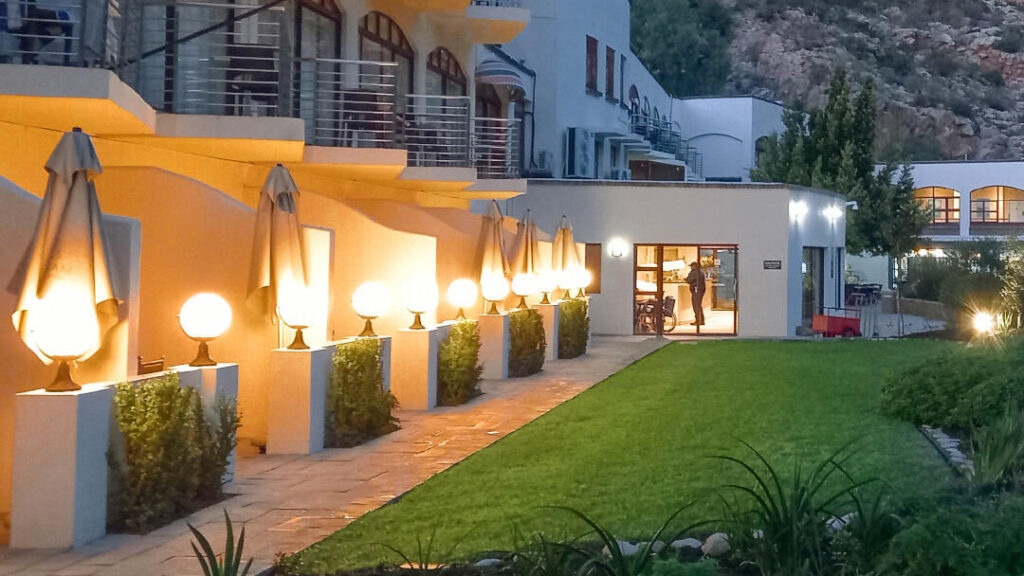 Avalon Springs by Dream Resorts is a treasure in the Western Cape, it is renowned for its exceptional hospitality and the natural hot springs that grace its grounds. These mineral-rich, 43-degree Celsius thermal waters, sourced from Cogman's Kloof, flow through nine pools, providing visitors with a serene sanctuary to relax, unwind, and alleviate stress and physical discomfort. The resort offers varied accommodation options, from hotel rooms and chalets to self-catering apartments and wheelchair-friendly garden suites. The service is efficient, the atmosphere relaxed, and the options plentiful. On-site dining at Cogman's Restaurant, a café, and the Dassies Cove poolside bar ensure that guests never go hungry or thirsty during their stay.
Additional amenities include waterslides, a children's play area, communal braai facilities, and a private wellness spa. Avalon Springs and its surroundings provide many activities, including hiking, golf, and tennis. The nearby town of Montagu offers a mix of upscale restaurants and quirky local establishments, making Avalon Springs the ideal base for exploration and relaxation in the Western Cape.
Address: Uitvlucht Str, Montagu, Western Cape
Website: https://dreamresorts.co.za/hotels-resorts/avalon-springs/explore/
Contact Number: 023 614 1150
Montagu Springs Resort 🌊


Montagu Springs Resort, situated amidst the majestic Langeberg mountains and a prominent stop along the renowned Route 62, has been a coveted destination for its temperate climate, stunning natural surroundings, and year-round attraction—the natural mineral hot springs. While relaxing and indulging in pool time at the resort is a delight, exploring the local area offers many activities. Wine enthusiasts can embark on a wine tour and tasting along the 'world's longest wine route.' The region boasts an array of attractions, from historical monuments and fruit farms to vibrant markets, restaurants, shops, and scenic river cruises. With its natural beauty and exciting activities, Montagu Springs promises a vibrant and memorable getaway.
Address: Uitvlucht Street, Montagu, Western Cape
Website: https://montagusprings.co.za/
Contact Number: 023 614 1050
Don't Miss Out! Stay At Montagu Springs Resort! 👙
Koo Karoo Guest Lodge and Self Catering 🌼


Koo Karoo Guest Lodge and Self-Catering, located 200km from Cape Town, is the perfect destination for a weekend getaway. This historic lodge, dating back to 1899, is a charming base for exploring the town. The village is rich in history, boasting architectural jewels and historic buildings waiting to be discovered during a stroll. For those who appreciate the great outdoors, Montagu offers many activities, from scenic walks and nature trails to challenging mountain hikes, mountain biking trails, and some of South Africa's most demanding rock climbing. The nearby Avalon Springs Resort is famous for its hot springs and can be experienced by day visitors.
After a day of adventure, guests can relax with a glass of Montagu muscadel or savour a delicious dinner at one of the fine restaurants just a street away from their accommodation. Koo Karoo Guest Lodge provides an array of amenities, including Free WiFi, full DSTV, laundry service, braai/BBQ facilities, credit card payment options, a seasonal pool in a secluded garden, and ample off-street parking. With its rich history and proximity to natural wonders, this self-catering accommodation in Montagu promises a delightful and rejuvenating escape.
Address: 5 Piet Retief St, Bergsig, Montagu
Website: https://kookaroo.co.za/
Contact Number: 082 926 6555
Olive Stone Farm Cottages 🫒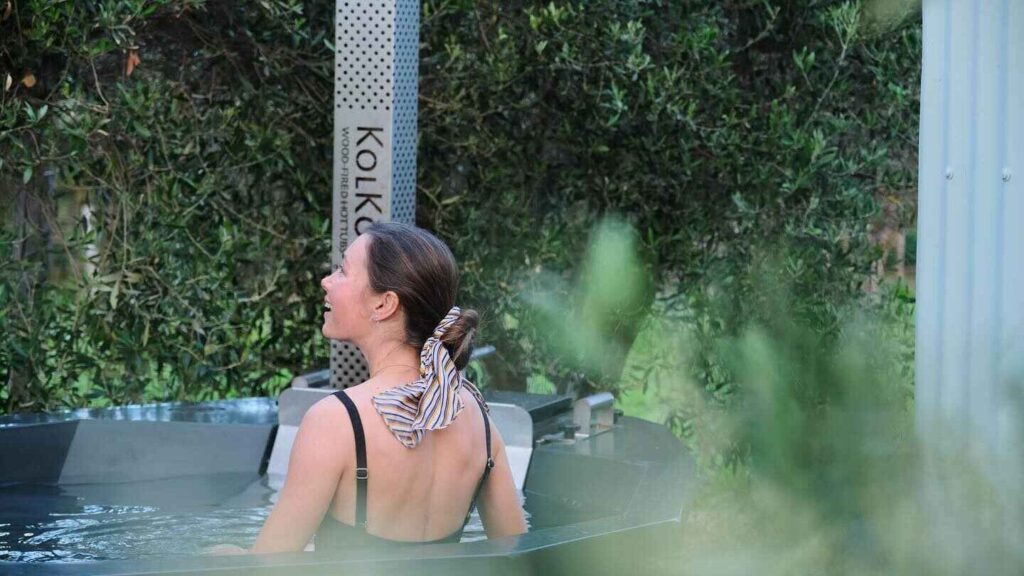 Olive Stone Farm Cottages embodies warmth, beauty, and meticulous attention to detail. This charming piece of land, once adorned with olive trees, has been lovingly transformed into a thriving working farm, offering off-the-grid self-catering cottage accommodations in Montagu. The cottages, constructed from hand-picked stones from nearby farms, are a testament to the farm's commitment to sustainability and aesthetics. The stone barn, animal kraal, flourishing vegetable garden, and natural stone swimming pools contribute to the farm's unique character. Home to chickens, sheep, and even a couple of tamed guinea fowl, it radiates an authentic farmstead ambience.
Olive Stone Farm takes pride in producing its delectable olive oil, bottled olives, fresh vegetables, and free-range eggs. During autumn, the Mission and Frantoio olives are hand-picked and pressed to create a smooth, sweet-tasting oil. Guests are encouraged to use the vegetable and salad garden, adding to the farm's ethos of sustainability and self-sufficiency. Olive Stone Farm Cottages offer a tranquil and authentic escape in the heart of Montagu.
Address: Church Street, Montagu, Western Cape
Website: https://olivestonefarm.co.za/
Contact Number: 083 271 0244
Kogman & Keisie Guest Farm 🪴


Situated at the foot of the Montagu Mountains, Kogman & Keisie Guest Farm offers a tranquil escape just a 10-minute walk from Montagu's town centre. This organic farm is filled with natural beauty, featuring olive trees, a small vineyard, and friendly farm animals. The guest farm provides a range of comfortable accommodations. Each room has a basic kitchenette, satellite TV, and a private bathroom. For those seeking a more independent stay, the self-catering cottages offer fully-equipped kitchens, a TV, a bathroom, and a furnished patio with BBQ facilities.
Guests can savour a farm-style breakfast showcasing local and farm-fresh produce. The property boasts two swimming pools, one of which is heated, complete with sun loungers for relaxation. There's also a playground and guests can interact with the farm animals or pick fresh produce. To explore the beautiful surroundings, free bicycles are available for guests. Kogman & Keisie Guest Farm ensures a delightful stay with free WiFi and convenient on-site parking.
Address: 2 Kloof Straat, Montagu, Western Cape
Website: https://www.kogmanandkeisie.com/
Contact Number: 083 767 6943
Do Not Miss Out On An Opportunity To Stay At Kogman & Keisie Guest Farm 🌱
Monte Vista Boutique Hotel 💎


Monte Vista Boutique Hotel offers a charming and luxurious escape. With thirteen "Afri-chic" en-suite bedrooms, each featuring its private veranda, guests can relish in a serene and elegant atmosphere. Alternatively, the adjacent Airlies Historical House provides a more traditional Karoo heritage experience. The hotel's idyllic setting is perfect for unwinding and indulging in leisure time around their inviting pools and beautifully landscaped gardens, all while taking in the breathtaking mountain vistas. Monte Vista Boutique Hotel promises a memorable and relaxing stay where guests can feel at home in this beautiful South African town.
Address: 16 Church Street, Montagu, South Africa
Website: https://montevistaboutiquehotel.co.za/
Contact Number: 023 614 2943
Enjoy Pure Luxury By Booking Your Stay At Monte Vista Boutique Hotel 🌟
360on62🗻


360on62 Farm Cottages, in the enchanting Little Karoo, offers breathtaking 360° mountain views. With a selection of five self-catering farm cottages, guests can choose their favourite vista while enjoying the tranquillity of the setting. Pet-friendly by prior arrangement, recognizing the importance of pets in the family, 360on62 Farm Cottages warmly welcomes four-legged friends. The cottages provide a home away from home, including fully equipped kitchens and outdoor braai facilities on the stoep (patio). Instead of traditional TVs, guests are treated to panoramic views, melodious birdsong during the day, and star-studded night skies serenaded by owls and jackals.
The property also offers a charming function venue accommodating up to 25 people, complete with the Khaya Karoo Pizza Bar, a bar, pool, and lapa. Activities range from stargazing to tractor trips, birdwatching, and wood-fired hot-tub baths by the dam. Here, nature and relaxation combine to provide an idyllic and pet-friendly retreat in the heart of the Little Karoo.
Address: 360on62 Farm Cottages, Rietvlei 1, Montagu, Western Cape
Website: https://www.360on62.co.za/
Contact Number: 079 653 6924
Book The Best View At 360on62! 🌄
From the tranquil surroundings of Montagu Springs to the historic charm of Airlies Historical House and the natural wonders of Olive Stone Farm, these top 10 hotels in Montagu cater to a wide range of preferences and desires. Whether you're exploring the rich heritage of Montagu, savouring award-winning cuisine, or relaxing in the natural hot springs, each hotel promises a unique and unforgettable escape. The inspiring landscapes, lush vineyards, and mountain views create a stunning backdrop for your adventures.