Located at the foot of the Langeberg Mountains in the Western Cape, Swellendam is a small town that exudes South African charm. Known for its historic architecture, natural beauty, and outdoor activities, it's a favourite destination for travellers looking to experience the beauty of the countryside. To make your stay in Swellendam truly special, we've made a list of the finest hotels that offer unparalleled comfort and hospitality. Whether you seek tranquillity, luxury, or adventure, Swellendam has the perfect accommodations to meet your desires.
Hotel Roosje Van De Kaap ⛰️


Roosje van de Kaap, a distinguished 4-star Boutique Hotel, stands as a beacon of historical charm in Swellendam. Located near the iconic Drostdy Museum, dating back to 1790, this hotel is a testament to the town's rich heritage. The accommodation comprises 14 exquisitely appointed rooms, offering a blend of luxury and comfort. Two inviting pools adorn a lush garden, providing a stunning backdrop with panoramic views of the majestic Langeberg mountains. Ideal for families, Roosje van de Kaap extends its warm hospitality with affordable rates for children of all ages. Guests are treated to a unique dining experience in the on-site restaurant, housed in a historical stable.
Situated in the oldest part of Swellendam, the hotel allows easy access to local attractions. Within walking distance are charming coffee shops, souvenir stores, hiking adventures in the Marloth Nature Reserve, golfing at the local course, and cycling trails that beckon mountain bikers. Testimonials laud the beauty, serenity, stunning rooms, great pool, and convenient location of Roosje van de Kaap, solidifying its reputation as a quiet luxury getaway. For those seeking a retreat into the heart of Swellendam, Roosje van de Kaap offers a great escape.
Address: 5 Drostdy St, Swellendam, 6740
Website: https://roosjevandekaap.com/
Contact Number: 028 514 3001
Book Your Stay At Roosje Van De Kaap Today! 🌹
Hermitage Huisies 🩷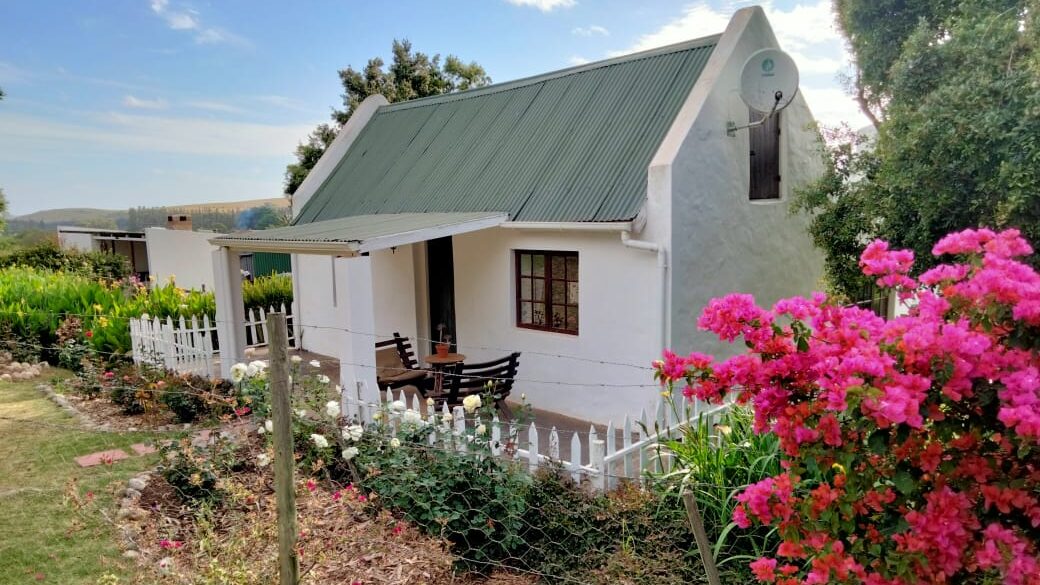 Kick back and chill in the beauty of Hermitage Valley, just a short 2km from Swellendam, where the Zaayman Family has your perfect spot right by the Langeberg Mountains. They've got four awesome self-catering cottages, decked out with all the stuff you need and an outdoor braai area for those laid-back vibes. Sleep like a champ on mega comfy pocket spring mattresses, and don't stress about staying connected – there's unlimited wifi. Dip into the cold water swimming pool, soak in mountain views at the braai spot, or relax with wood-fired hot tubs when winter hits.
If you're into outdoor adventures, you're set with horse trails, mountain biking, hiking, and game viewing. Swellendam, the third oldest town in South Africa, is nearby with sweet attractions, from tasty restaurants to berry-picking fun. Whether you're popping in quick, on a business hustle, planning a weekend escape, or plotting that epic holiday, Hermitage Valley's got your back. It's all about easy vibes, adventure, and the warm Zaayman hospitality in the heart of the Western Cape.
Address: Hermitage Huisies, POBOX 296, Hermitage South Lane, S2, Hermitage, Swellendam, 6740
Website: https://www.hermitage-huisies.co.za/
Contact Number: 061 660 2138
Bloomestate Swellendam 🌱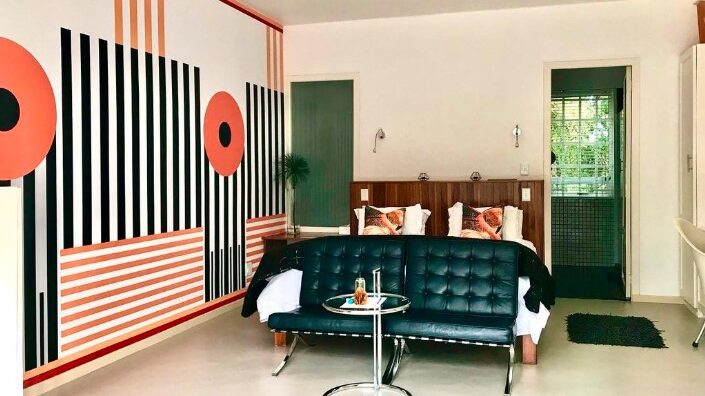 Bloomestate Swellendam is a modern boutique hotel that seamlessly combines luxury with sustainability. This contemporary gem stands out in Swellendam's accommodation scene for its commitment to eco-friendly practices and attention to detail. This distinguished guesthouse boasts seven garden rooms, each with spacious bathrooms, walk-in showers, inviting baths, private terraces, and garden views. The design is a blend of crisp, clean decor, contemporary architecture, and expansive natural spaces.
Situated in the foothills of the Overberg mountains, Bloomestate is not just a guesthouse but a gateway to exploring the rich history of Swellendam and its surroundings. In keeping with its commitment to sustainability, Bloomestate prioritizes locally-made or Fair Trade products, serves up local fruits and organic vegetables, and implements energy-efficient and eco-friendly practices. There is Solar-heated hot water and waste that is composted, these are just a couple of the sustainable energy initiatives that underscore Bloomestate's dedication to responsible luxury. Immerse yourself in the beauty of Swellendam while contributing to a greener, more conscious way of travel at Bloomestate.
Address: 276 Voortrek St, Swellendam, 6740
Website: https://www.bloomestate.com/
Contact Number: 028 514 2984
Book A Room At Bloomestate Here! ☘️
Elianthe Boutique Guesthouse 🍃


Elianthe Boutique Guesthouse, a cherished family-owned accommodation in Swellendam, has been under the caring ownership of the Sands and Human family since April 2013. Located in a beautifully renovated Victorian heritage building dating back to 1850, this 4-star graded establishment offers a unique blend of history and modern comfort. With ten thoughtfully designed rooms, including standard/luxury rooms and family-friendly spaces, Elianthe ensures a cosy stay. Rooms are equipped with modern amenities such as flat-screen TVs, high-speed fans, bar fridges, and en-suite bathrooms. Free Wi-Fi is an added convenience.
The guesthouse beckons with a swimming pool in a spacious garden, a fire pit, and braai facilities, providing a perfect setting for relaxation. Conveniently located near attractions like the Swellendam Golf Course, Marloth Nature Reserve, and Bontebok National Park, Elianthe is an ideal stopover accessible from the N2 and R60, bridging the journey between Cape Town and the Garden Route. Owners Elize and Joanne, fuelled by their deep love for Swellendam, strive to share its beauty with travellers. The airy dining room, adorned with a fireplace and French doors opening onto the front garden, sets the scene for delightful breakfasts. A new bar/lounge area invites guests to unwind with a selection of local and well-known wines and beers at reasonable prices.
Address: 184 Voortrek St, Swellendam, 6740
Website: https://www.elianthe.com/
Contact Number: 082 451 7341
Don't Miss Out! Stay At Elianthe Boutique Guesthouse Today! 🍂
The View Swellendam B&B 🌳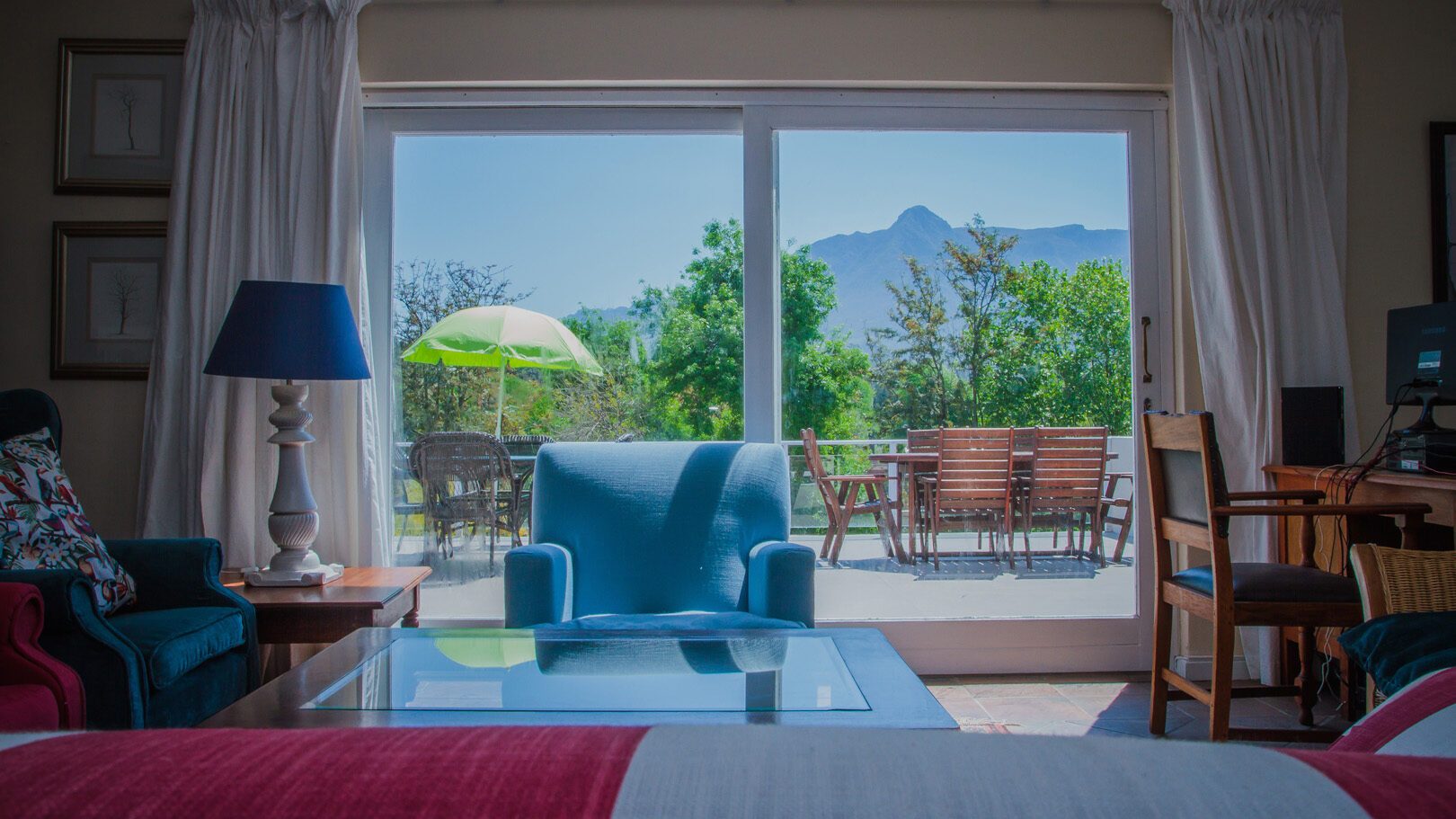 True to its name, The View Swellendam B&B offers some of the most breathtaking panoramic views of the Langeberg Mountains and the town. This family-run bed and breakfast prides itself on providing guests with warm hospitality and a comfortable home away from home. Within an easy stroll to historical buildings, museums, and restaurants, this newly renovated family home provides a serene haven for quiet relaxation. The B&B boasts four beautifully appointed ensuite rooms, each offering breathtaking mountain views. The lush garden envelops a large swimming pool with a water seat, inviting guests to unwind in the beauty of nature. The interior is inviting, featuring a spacious lounge and a dining room area that opens onto a large deck.
As winter blankets the region, the rooms at The View ensure warmth with heaters and electric blankets. Guests can also cosy up by the sitting room fire or use a rug on the deck to stargaze next to a brazier, creating a magical ambience. More than just a guesthouse, The View is a family-run establishment with a mission to make guests feel at home in comfortable surroundings. Whether you're taking a dip in the pool, enjoying the mountain views, or stargazing on the deck, The View Swellendam B&B promises an unforgettable experience.
Address: 24 Berg St, Swellendam, 6740
Website: https://theviewswellendam.co.za/
Contact Number: 083 626 6856
Check Out The View And Book A Room 🪟
Mountain View Swellendam 🌲
Since 2013, Mountain View Swellendam has been the go-to spot for holidaygoers. Tucked away in a quiet corner, it serves up killer views of Swellendam and the Langeberg Mountain Range, making it a haven for anyone wanting a break. The rooms are all about cosy vibes and top-notch care. You've got the works – DStv, air conditioning, and bathrooms that are just right. People can't stop talking about the revamped rooms, the super clean setup, and the bonus coffee and cookies that come with the deal.
Now, let's talk facilities. Mountain View Swellendam's got it all: DStv, air conditioning, free wifi, a chill braai area, a fully-loaded self-catering setup, top-notch linen, a fridge, beds that go on forever, parking just for you, a lounge by the pool, the pool itself, and even a DIY laundry setup. For accommodation, you've got choices – The Cottage, cosy for four, or The Lodge, with four units hosting a crew of up to ten. Set in lush gardens with the best view in town, Mountain View Swellendam isn't just a spot to sleep; it's your gateway to soaking in the goodness of the Western Cape.
Address: 37 Drostdy St, Swellendam, 6740
Website: https://mountainviewswellendam.co.za/
Contact Number: 076 981 6889
Don't Miss Out On The Mountain View In Swellendam 🌄
Cypress Cottage 🧚‍♂️


Cypress Cottage is a quaint and rustic accommodation option in Swellendam, perfect for those who appreciate the serenity of rural living and boasts a rich history dating back to 1796, originating in the Dutch East India Company era. The main house, steeped in tradition and adorned with yellowwood ceilings and doors, preserves remnants of its Cape Dutch heritage, having undergone a Victorian-style renovation after a fire in 1840. Under the care of the Van Leeuwen family since 2007, Cypress Cottage radiates comfort and character. The main house takes centre stage, while four en-suite rooms in the stables, including a spacious self-catering family unit, offer a cosy retreat. Guests are welcomed by Daniel, a friendly Labrador, and accompanied by two grey cats, Rafa and Kleintjie, adding a touch of warmth to the stay.
Sip quality wines from the Overberg and Boland regions on the veranda, and relish the inviting atmosphere Cypress Cottage exudes as a true home away from home. The Country Room, a standard double option with contemporary styling and a small sitting room, is highlighted for budget-conscious or business travellers. Guest reviews rave about the luxurious accommodations, friendly service, delectable breakfast, and enchanting garden. Positioned near cultural attractions and dining options, Cypress Cottage is a haven for those seeking both comfort and cultural immersion.
Address: 3 Voortrek St, Swellendam, 6740
Website: https://www.cypress-cottage.co.za/
Contact Number: 082 655 1334
A Riverbed Guesthouse 🪴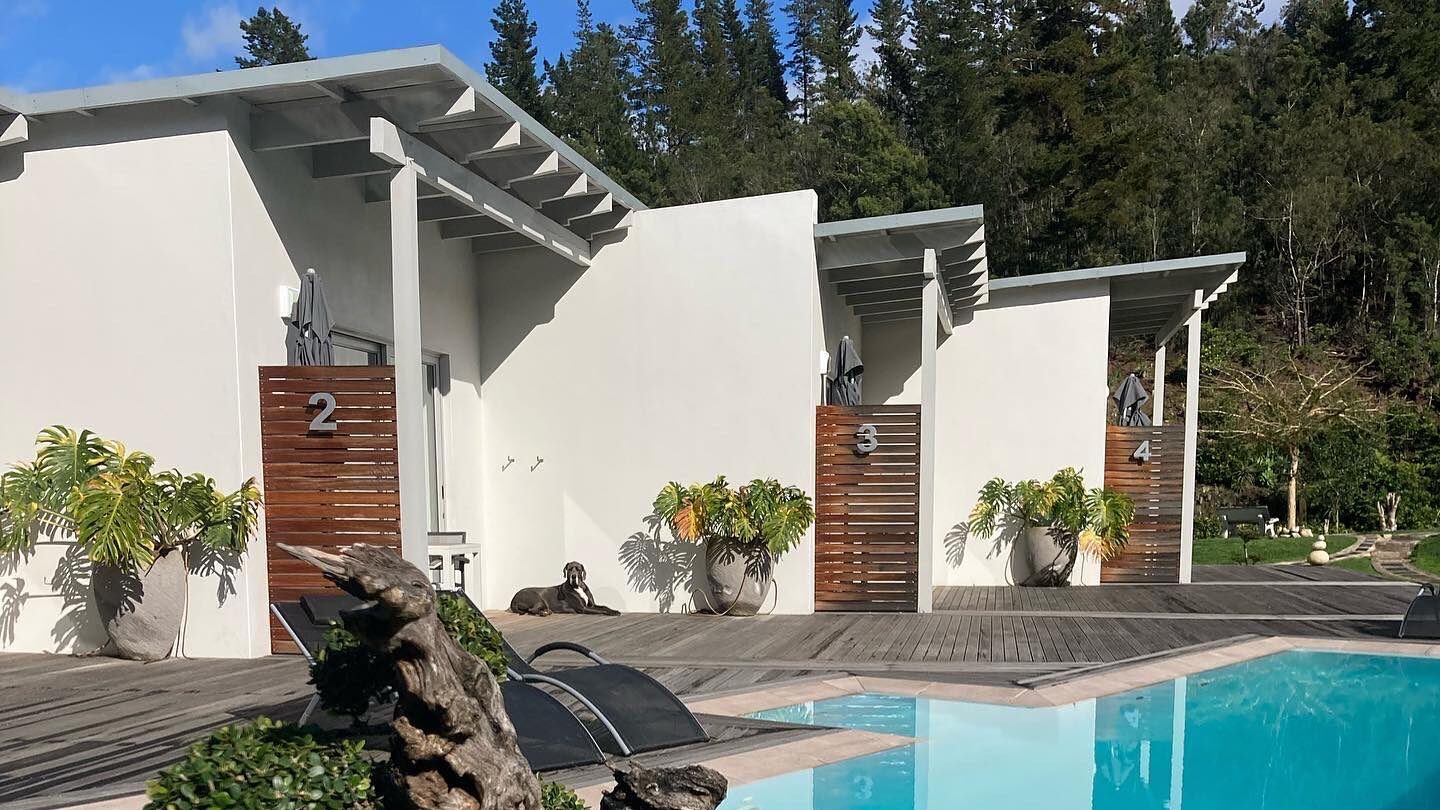 Kick back at A Riverbed Guesthouse in Swellendam, where luxury meets nature at the foot of the Langeberg mountains along the Koornlands River. This spot has four swanky suites, loaded with cool stuff like AC, smart TVs, and kitchens that have all you need. Oh, and heated towel rails in the bathrooms for that extra touch. Outside, take a dip in the rim flow pool – it's got a jacuzzi-style, jetted section for some extra chill vibes with a view. You're a quick stroll from town, where you can hit up restaurants, shops, and the trails of Marloth Nature Reserve.
Swellendam is the spot to kick off adventures. Hike in Marloth Nature Reserve, go horseback riding with Two Feathers Horse Trails and soak in history at the Drostdy Museum. When hunger strikes, Drostdy Restaurant, Field & Fork, and De Companjie are your go-tos. Beyond the town, day trips open up a world of possibilities – De Hoop Nature Reserve, L'Agulhas, Robertson Wine Route, Montagu, Warmwaterberg Hot Springs, and the scenic Tradouw Pass to Barrydale. And don't miss the Rain Forest Day Spa, Bee Things Honey shop, and a round of golf at Swellendam Golf Course. A Riverbed Guesthouse is your ticket to laid-back luxury and exploring Swellendam's gems.
Address: 7 River Ln, Swellendam, 6740
Website: http://www.ariverbed.co.za/
Contact Number: 060 940 3342
Relax At A Riverbed Guesthouse 😎
Aanhuizen Guest House 🛌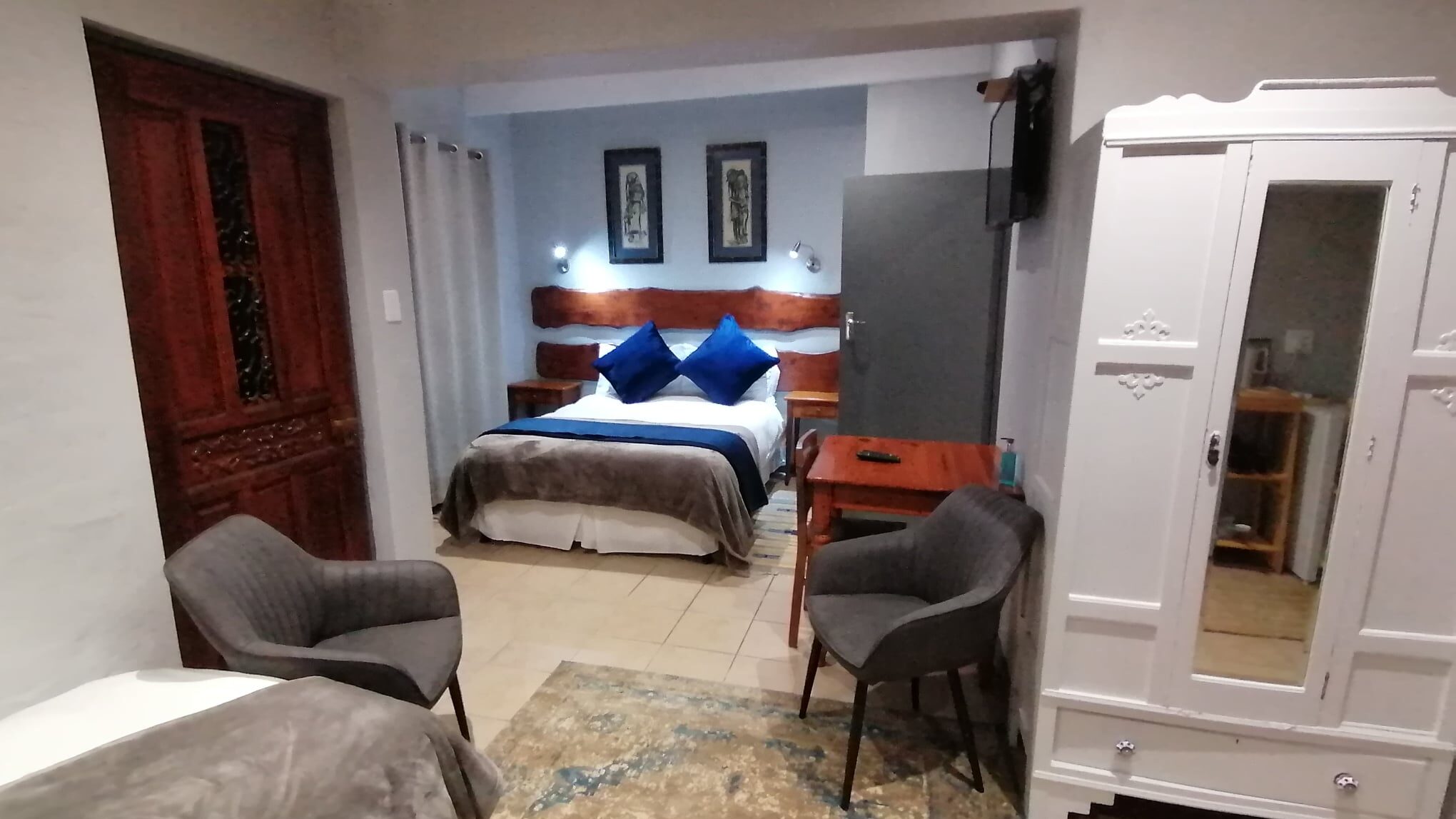 Chill out at Aanhuizen Guest House, your getaway from the daily chaos in Swellendam, just about 15km from Tradouw's Pass. It is the perfect pitstop if you're cruising to Garden Route, Route 62, Barrydale, or Oudtshoorn. It's a breezy 2-hour drive from Cape Town, located by the Langeberg mountains for that extra zen. Start your day with a killer full English breakfast by the pool, setting the vibe for exploring the historic coolness of Swellendam. You're within walking distance from hotspots, awesome restaurants, and the Marloth Nature Reserve for those who dig hiking and birdwatching.
Activities? Oh, they got you covered. Hiking, sipping on Robertson Wine Route, sampling Wildebraam's goodies, and day trips to Cape Agulhas, Malgas pont, Witsand, and de Hoop Nature Reserve for some extra adventure. Aanhuizen Guest House hooks you up with top-notch value, offering slick rooms with comfy vibes – think percale cotton linen, fluffy towels, and private entrances for maximum chill. Known for their awesome South African hospitality, hosts Suezann and Olwyn throw in a welcome drink for good measure. It's relaxation and exploration, Aanhuizen style.
Address: 6 Van Blommenstein St, Swellendam, 6740
Website: https://www.aanhuizen.co.za/
Contact Number: 084 597 2651
Chill Out At Aanhuizen Guest House By Booking Here!🛏️
Aviento Guest House 🌿


Aviento Guest House is a delightful and family-friendly accommodation choice in Swellendam. This welcoming guest house is situated in a quiet residential area, ensuring a peaceful stay for its guests. Offering charming and affordable bed and breakfast rooms, this vintage haven named "Aviénto" opened its doors in February 2016, embodying a commitment to excellent standards for accommodation and services. Aviento B&B is surrounded by majestic landscapes, rivers, and oceans. This charming establishment is strategically situated in the centre of the tourism business area, providing a peaceful and relaxed country way of living.
Get guided tours to explore nearby attractions like Suurbraak, Barrydale, Infanta, Malgas, Bonnievale Wine District, and Montagu. Within walking distance from various Swellendam attractions, including a shopping mall, museum, restaurants, banks, and historical sites, Aviénto invites you to immerse yourself in the rich tapestry of the town. Owners Dewald and Juanita, well-known figures in town, extend a warm welcome to guests, fostering a hospitality that aims to build a "see you soon" relationship. Aviento Bed & Breakfast is not just a place to stay; it's an invitation to experience the vintage charm and genuine warmth of Swellendam.
Address: 26 Kerk St, Swellendam, 6740
Website: https://www.aviento.co.za/
Contact Number: 028 514 1120
Swellendam perfectly blends history, natural beauty, and warm hospitality. Whether you're seeking a romantic escape, an adventure in the great outdoors, or a tranquil retreat, the town has the perfect accommodations to suit your needs. No matter which hotel you choose, you're sure to experience the best that Swellendam offers, from its natural beauty to its warm hospitality. Enjoy your Swellendam adventure!