Nestled along the picturesque South African West Coast, just a short drive away from Cape Town lies the charming town of Langebaan. Boasting pristine beaches, clear waters, and rich history, this idyllic destination has become a sought-after retreat for locals and tourists alike. With its breathtaking natural beauty and an array of outdoor activities, Langebaan offers a serene escape from bustling city life. let us delve into the captivating allure of Langebaan, taking you on a journey through its history, exploring its pristine beaches, uncovering exciting things to do, restaurants and hotels to visit, and providing essential travel information.
The History of Langebaan


Steeped in a captivating history, Langebaan holds significance dating back centuries. The Khoi people, indigenous to the region, were the first to inhabit this coastal haven. They thrived on abundant seafood and fertile land, leaving behind a rich cultural legacy. In the late 17th century, European settlers arrived, led by the Dutch East India Company, and established the first formal settlement in the area.
During the 19th and early 20th centuries, Langebaan played a crucial role as a whaling and fishing hub, attracting a diverse mix of seafarers and traders. Today, remnants of this heritage can be seen in the town's architecture, with charming Cape Dutch-style buildings lining the streets. The West Coast Fossil Park, a short distance from Langebaan, provides a fascinating glimpse into the ancient past, showcasing a wealth of fossils dating back millions of years.
Langebaan Beach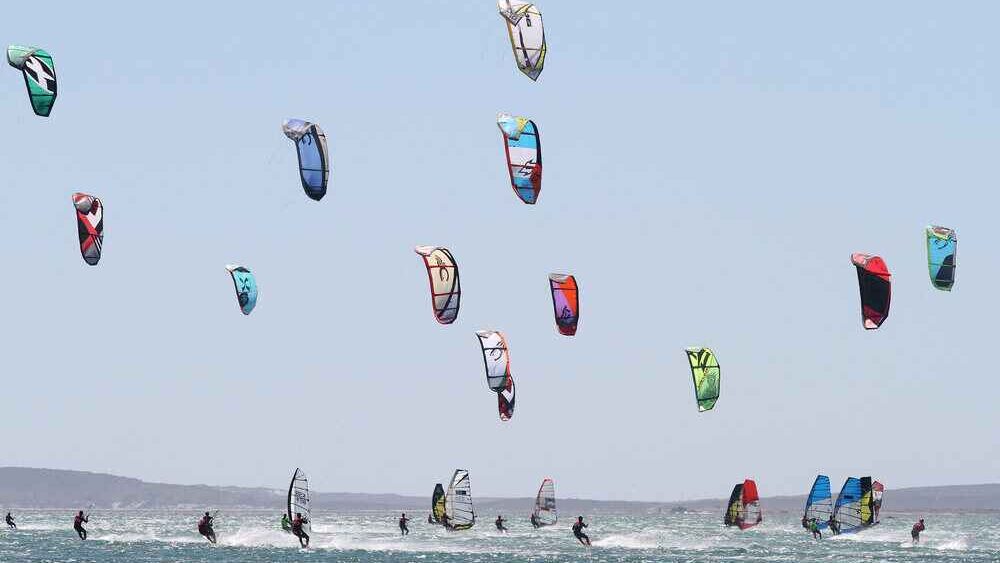 Langebaan boasts a coastline that beckons travellers to bask in the sun and indulge in water-based activities. The crown jewel of this coastal paradise is the aptly named Langebaan Beach. Stretching for kilometres along the town's shoreline, this exquisite beach offers soft golden sands and crystal-clear waters, providing the perfect setting for sunbathing, beach sports and picnicking.
Langebaan's beach is not only a haven for relaxation but also a playground for adventure enthusiasts. The consistent coastal winds make it an ideal spot for water sports such as kiteboarding and windsurfing. The lagoon's calm waters create a safe environment for beginners, while experienced riders can harness the wind's power for exhilarating thrills. Visitors can rent equipment from local vendors or sign up for lessons with certified instructors to make the most of their beachside experience.
Things to Do in Langebaan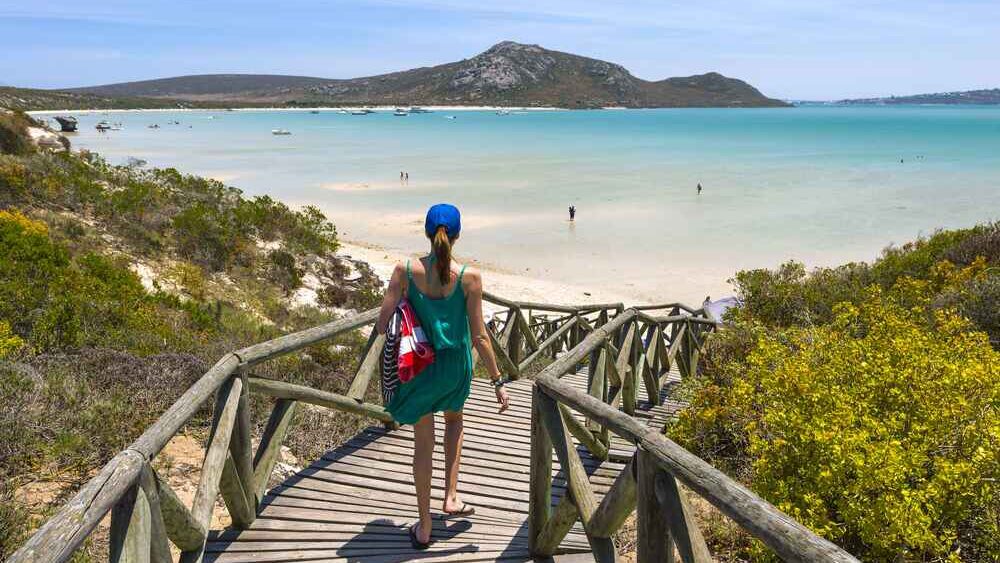 Beyond its stunning coastline, Langebaan offers an array of activities to suit all tastes and preferences. Nature enthusiasts will be delighted by the diverse ecosystems and wildlife found in the West Coast National Park, a mere stone's throw away from the town. Take a leisurely drive or hike through the park's scenic trails, which wind through vibrant fynbos, dense forests, and picturesque viewpoints. Birdwatchers will be in their element, as the park is a haven for numerous species, including the striking pink flamingos that migrate here during the summer months.
For those seeking a bit of adventure, Langebaan has no shortage of thrilling options. Embark on a kayaking expedition to explore the lagoon's hidden corners, discover secluded bays, and marvel at the abundance of marine life. Alternatively, hop aboard a boat cruise and sail along the coastline, enjoying the scenic vistas and the refreshing sea breeze.
Restaurants in Langebaan
Langebaan's restaurant scene has an amazing blend of fresh seafood, international flavours, and South African cuisine. From beautiful beachside cafes to fine dining establishments, the town offers a range of dining options to satisfy every palate. Indulge in a feast of locally caught seafood, such as succulent West Coast mussels, buttery crayfish, and perfectly grilled line fish.
For those seeking international flavours, the town boasts an array of eateries serving Italian, Mediterranean, and Asian-inspired dishes. Sample wood-fired pizzas, homemade pasta, and flavoursome curries crafted with local ingredients. Don't forget to pair your meal with a refreshing Cape wine or try a traditional South African craft beer.
Pearly's Restaurant
Pearly's Restaurant is a renowned beachfront dining establishment located in Langebaan, Situated on the main beach with stunning views of the lagoon, it has become an iconic landmark in the area. Pearly's offers a vibrant and upbeat atmosphere, making it a popular choice for locals and visitors alike. Specializing in seafood, grills, and pizza, the restaurant also serves delectable salads and chef's specials. With its inviting ambience and delectable menu, Pearly's is a must-visit destination for a memorable dining experience by the beach.

Website:https://pearlys.co.za/
Contact Number: 022 772 2734
Queens Cottage Wood-Fired Kitchen
Queens Cottage Wood-Fired Kitchen is a chef-owned and managed restaurant located in Langebaan. Known for its unique and delicious food, the restaurant specializes in open-fire cooking, creating an amazing smoky taste. With a focus on using high-quality ingredients, including top-notch meats from American BBQ, the kitchen is considered the heart of their business. With excellent service and a cosy atmosphere, Queens Cottage Wood-Fired Kitchen is a hidden gem that offers a memorable dining experience.

Website:https://woodfiredkitchen.co.za/
Address: Queens Cottage, 8 Suffren St, Langebaan, 7357
Contact Number: 079 830 7235
Boesmanland Plaaskombuis
Boesmanland Farm Kitchen is an informal outdoor seafood and African cuisine restaurant located on the beautiful Langebaan beach. With its relaxed atmosphere and breathtaking views, it offers a unique dining experience. Indulge in their mouthwatering menu featuring a variety of fresh seafood and traditional boerekos dishes. Whether you're visiting for a romantic dinner or a group gathering, Boesmanland Farm Kitchen promises a memorable culinary adventure. Don't miss the chance to savour delicious flavours while enjoying the seaside ambience of this renowned restaurant.

Website:https://boesmanlandfarmkitchen.com/
Address: Langebaan, 7357, West Coast, South Africa, Langebaan, 7357
Contact Number: 082 773 0646
Kokomo Beach Bar & Restaurant
Kokomo Beach Bar & Restaurant is a popular beachfront dining destination located in Langebaan, Western Cape. Offering a delightful combination of delicious cuisine, a welcoming atmosphere, and breathtaking beach views, Kokomo is more than just a place to eat; it's an experience. With a diverse menu featuring fresh seafood and other delectable dishes, along with a wide selection of cocktails, visitors can savour the flavours while enjoying the relaxed beach vibes. Kokomo Beach Bar & Restaurant promises a memorable dining experience in a stunning setting.

Website:http://www.kokomolangebaan.co.za/
Address: 121 Main St, Langebaan Country Estate, Langebaan, 7357
Contact Number: 022 772 1600
The Curry Bar in Langebaan


The Curry Bar is a popular restaurant located in Langebaan, Western Cape. Known for its authentic Durban spiced cuisine, the restaurant offers a casual dining experience with a bar and big screens for sports enthusiasts. Guests can enjoy sit-down meals in a tented garden setup or opt for takeaway and delivery services. With a diverse menu featuring delicious curries, bunnies, rotis, and samosas, The Curry Bar promises a flavorful dining experience that satisfies all taste buds.

Website:https://www.thecurrybar.com/
Address: Shop No 2, @3648 on, Oostewal Rd, Langebaan, 7357
Contact Number: 066 230 9569
Langebaan Accommodation
Langebaan offers a selection of accommodation options to suit various budgets and preferences. Whether you're seeking a Langebaan hotel, a luxury beachfront resort, a cosy guesthouse, or a self-catering cottage in Langebaan, the town has you covered. Wake up to breathtaking ocean views, unwind in well-appointed rooms, and take advantage of the amenities on offer, including swimming pools, spas, and restaurants.
If you prefer a more intimate experience, consider staying at one of Langebaan's charming guesthouses or bed and breakfast establishments. These hidden gems offer personalized service, comfortable accommodations, and a home-away-from-home ambience. Many guesthouses boast tranquil gardens, inviting communal areas, and attentive hosts who can provide insider tips on exploring the area.
Langebaan Boutique Hotel & Spa
The Langebaan Boutique Hotel and Spa is a luxurious 5-star retreat located on the picturesque West Coast of South Africa. This boutique hotel offers exquisite accommodations, world-class spa treatments, and impeccable hospitality. Guests can enjoy a range of amenities, including a full-body spa, elegant rooms, and a stunning pool area. With its prime location and exceptional service, the Langebaan Boutique Hotel and Spa promises a memorable and rejuvenating stay for those seeking relaxation and comfort in a beautiful coastal setting.

Website:https://www.lbhs.co.za/
Address: 2 Turffontein Road, Long Acres Country Estate, Langebaan, 7357
Contact Number: 087 630 1753
Rox & Sea Country Lodge
Rox & Sea Country Lodge is a stylish and elegant accommodation situated in the beautiful coastal town of Langebaan. With its hand-picked decor and cosy cottage-like rooms, the lodge offers a relaxing and charming stay for guests. The lodge features amenities such as an outdoor swimming pool, free WiFi, and a shared lounge. Whether you're looking for a romantic getaway or a family vacation, Rox & Sea Country Lodge provides a touch of luxury and a refreshing coastal atmosphere.

Website:https://roxandsea.com/
Address: 38 Loop St, Long Acres Country Estate, Langebaan, 7357
Contact Number: 061 525 9980
Masada Guest House B&B
Masada Guest House B&B is a charming and picturesque accommodation located in Langebaan. Nestled within an equestrian estate overlooking Saldanha Bay, this 4-star B&B offers comfortable and luxurious rooms with beautiful countryside views. Guests can enjoy amenities such as free Wi-Fi, free parking, and kitchens in some rooms. With its serene surroundings and proximity to attractions like West Coast National Park, Masada Guest House B&B is an ideal choice for a relaxing getaway.

Website:https://www.masadaguesthouse.co.za/
Address: 18 Loop St, Long Acres Country Estate, Langebaan, 7357
Contact Number: 079 525 5051
Three Feathers Cottages Langebaan
Three Feathers Cottages in Langebaan is a charming self-catering accommodation situated in the Oliphantskop Private Nature Reserve. Surrounded by natural beauty and overlooking the Equestrian Estate Long Acres, it offers a laid-back and tranquil getaway. The cottages provide a comfortable and cosy stay, allowing guests to immerse themselves in the picturesque surroundings. With positive reviews and a range of amenities, Three Feathers Cottages is an ideal choice for those seeking a peaceful retreat in the Western Cape region of South Africa.

Website:https://www.threefeathers.co.za/
Address: Nature Reserve, 16 Olifantskop Rd, Olifantskop, Langebaan, 7357
Contact Number: 083 541 0517
Bayview Self-Catering Langebaan


Bayview Self-Catering Langebaan is a modern and spacious accommodation option located in the Langebaan Country Estate in South Africa. With a capacity to sleep up to eight guests, this self-catering house offers a comfortable and secluded retreat. It is fully equipped with amenities and features, providing a home away from home experience. Situated near the Langebaan Golf Course, Bayview allows guests to enjoy a peaceful and tranquil setting while exploring the beautiful West Coast region.

Address: 779 Marthilda Drive, Langebaan Country Estate, Langebaan, 7357
Contact Number: 071 880 3561
Langebaan Weather
Langebaan's climate is classified as Mediterranean, characterized by warm summers and mild winters. The summer months, from November to February, bring long, sunny days with temperatures averaging between 25°C and 30°C (77°F-86°F). It's the perfect time to enjoy the beach, indulge in water sports, and soak up the vibrant atmosphere.
Winter, which spans from June to August, is milder but still pleasant, with temperatures ranging from 10°C to 20°C (50°F-68°F). Although the weather is cooler, it remains a great time to visit Langebaan, as the crowds are smaller, and the region takes on a tranquil charm. Pack layers and a light jacket for cooler evenings and early mornings, as well as sunscreen to protect against the sun's rays.
How to Get to Langebaan
Langebaan is conveniently located just over 120 kilometres (75 miles) from Cape Town, making it easily accessible by road. The journey takes approximately 1.5 to 2 hours, depending on traffic conditions and the route chosen. Travellers can opt to rent a car from Cape Town International Airport or make use of private shuttles and transfer services.
For those who prefer public transportation, scheduled bus services are operating between Cape Town and Langebaan. These services offer a convenient and cost-effective option for travellers without a vehicle. Once in Langebaan, getting around the town is best done by car, as public transportation within the area is limited.
---
Langebaan's allure as a coastal gem near Cape Town is undeniable. From its rich history and pristine beaches to the abundance of outdoor activities and delectable dining options, this idyllic destination has something for everyone. Whether you're seeking relaxation, adventure, or a glimpse into South Africa's natural beauty, Langebaan promises an unforgettable experience. So pack your sunscreen, embrace the coastal charm, and discover the enchantment of Langebaan – a true West Coast treasure.
---
FAQ
Q – Is Langebaan suitable for a day trip from Cape Town?
A – While a day trip to Langebaan is possible, it is recommended to spend at least a night to fully enjoy the town's offerings and soak up its relaxed ambience.
Q – Are there any entrance fees for the West Coast National Park?
A – Yes, there are entrance fees to access the West Coast National Park. The fees vary depending on the time of year and whether you are a South African resident or an international visitor. It is advisable to check the park's official website for the latest information on fees.
Q – Can I swim in the Langebaan Lagoon?
A – Yes, swimming is allowed in the Langebaan Lagoon. The lagoon's calm waters and sandy shallows make it a safe and enjoyable swimming spot for visitors of all ages.
Q – Are there any cultural festivals or events held in Langebaan?
A – Langebaan hosts various cultural festivals and events throughout the year, showcasing the town's heritage and vibrant community. The Langebaan Lagoon Festival, held annually in March, is a highlight, featuring live music, food stalls, water sports activities, and entertainment for the whole family.