Kommetjie is a beautiful coastal suburb located on the southern tip of the Cape Peninsula in South Africa. This small town is a paradise for surfers and nature enthusiasts, with its pristine beaches, breathtaking mountains, and charming village atmosphere. We will be exploring everything there is to know about Kommetjie, from its history and geography to its attractions and activities.
Kommetjie Weather and Geography
Kommetjie is situated on the western side of the Cape Peninsula, approximately 40 kilometres from Cape Town. The town is nestled between the Atlantic Ocean to the west and the Table Mountain National Park to the east. The area is known for its rugged coastline, which stretches for several kilometres and features rocky outcrops, tidal pools, and sandy beaches. Kommetjie tides are renowned, especially for their high tides and are loved by surfers from all around so why miss out take a enjoy the Kommetjie tides but be sure to keep safe.
The climate in Kommetjie is mild and Mediterranean, with warm summers and cool winters. The average temperature in summer (December to February) is around 25°C, while the winter months (June to August) see temperatures averaging around 15°C. The area experiences rainfall throughout the year, with the winter months being the wettest.

Windguru Kommetjie – https://www.windguru.cz/30614
The History of Kommetjie
Kommetjie Cape Town has a rich history that dates back to the early 18th century. The area was first inhabited by the indigenous Khoisan people, who lived off the land and sea. In the 1700s, the Dutch East India Company established a trading post in the area, which was used as a supply station for ships travelling to and from the East. The town was named after a small sand dune called "de Kom", which was used by sailors as a landmark.
In the late 1800s, Kommetjie became a popular holiday destination for Cape Town residents, who would travel to the area by horse-drawn carriage. During this time, several holiday homes and guesthouses were built, and the town began to take shape as a holiday resort.
Attractions in Kommetjie
Kommetjie is home to a range of attractions and activities, including:
Beaches: Kommetjie is renowned for its beautiful beaches, which are popular among surfers, swimmers, and sunbathers. Some of the best beaches in the area include Kommetjie public beach called Long Beach, which is ideal for surfing and kiteboarding, and Fisherman's Beach, which is perfect for swimming and snorkelling.
Slangkop Lighthouse: The Slangkop Lighthouse is an iconic landmark in Kommetjie and is one of the tallest lighthouses in South Africa. The lighthouse was built in 1914 and is still in operation today, warning ships of the treacherous coastline.
Imhoff Farm: Imhoff Farm is a family-friendly attraction that offers a range of activities, including camel rides, horse riding, and a petting zoo. The farm also has several restaurants and shops, making it a great place to spend a day out.
Kommetjie Environmental Awareness Group: KEAG is a local organization that is dedicated to preserving the natural beauty and biodiversity of Kommetjie. The group offers a range of educational programs and initiatives, including beach clean-ups and environmental workshops.
Table Mountain National Park: Kommetjie is situated on the edge of Table Mountain National Park, which is a nature lover's paradise. The park boasts an array of hiking trails, scenic drives, and picnic spots, as well as an abundance of flora and fauna.
Things to do in Kommetjie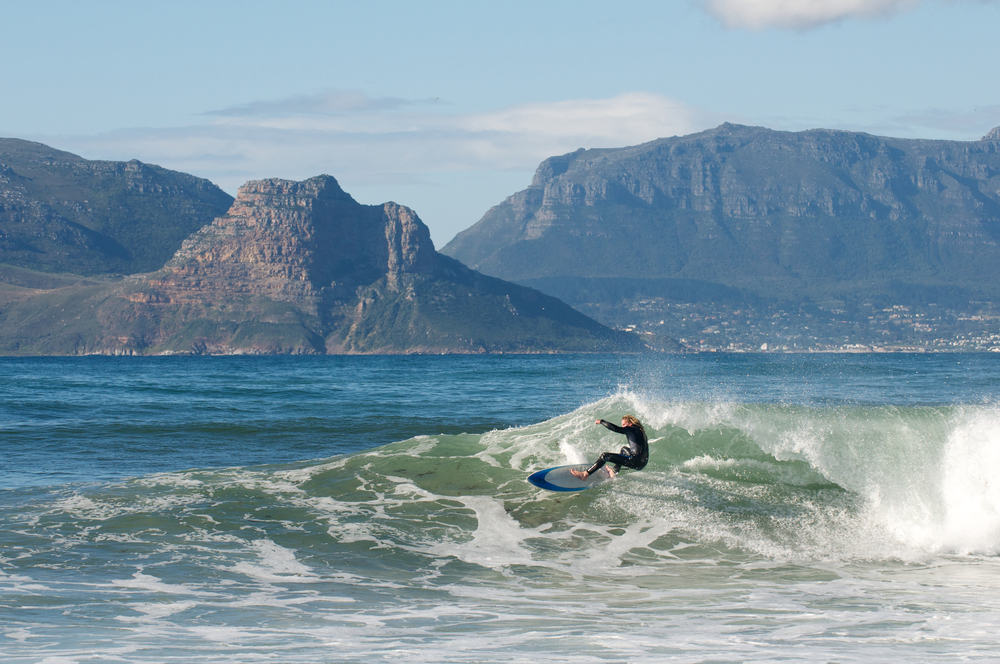 Kommetjie is a hub of outdoor activities, and visitors can enjoy a range of activities in the area, including:
Surfing: Kommetjie is one of the best surfing spots in South Africa and attracts surfers from all over the world. The area is renowned for its consistent waves and is ideal for both beginners and experienced surfers.
Tides Kommetjie – https://www.surfline.com/surf-report/kommetjie/584204204e65fad6a77094b6?view=table
Kiteboarding: The area is also popular among kiteboarders, particularly at Long Beach, which has ideal wind conditions for the sport.
Hiking: The Table Mountain National Park offers a range of hiking trails, including the popular Slangkop Trail, which offers stunning views of the coastline.
Fishing: Fishing is a popular pastime in Kommetjie, and visitors can enjoy both surf fishing and rock fishing in the area.
Whale watching: Kommetjie is located on the migration route of the Southern Right Whale, and visitors can often spot these majestic creatures from the shore during the winter months.
Bird watching: The area is home to a range of bird species, including the African Fish Eagle, the Cape Gannet, and the African Penguin.
Photography: With its stunning natural beauty and wildlife, Kommetjie is a paradise for photographers, and visitors can capture some truly breathtaking shots of the area.
Kommetjie Restuarants
Fisherman's: Indulge in the freshest catch of the day, from succulent prawns to melt-in-your-mouth oysters, while enjoying the relaxed beachfront ambience and stunning ocean views. Fisherman's is also known for their spectacular live performances so why not enjoy a slice of pizza while listening to some of the local's musical talents?
Kommetjie Pizzeria: Experience a slice of heaven with mouthwatering pizzas, including classic Margherita and gourmet creations piled high with delicious toppings, served in a cosy setting that brings the flavours of Italy to Kommetjie.
The Green Room: Delight in a menu focused on fresh, organic ingredients, offering vibrant salads, nourishing grain bowls, and hearty vegan dishes, all served in a laid-back atmosphere that caters to health-conscious diners.
Expresso Kommetjie: Sip on expertly crafted coffee made from ethically sourced beans, while enjoying breathtaking coastal views from the outdoor terrace, making it the perfect spot to start your day or take a break in Kommetjie.
Kommetjie Accommodation
Kommetjie offers a range of accommodation options, from self-catering apartments and holiday homes to bed and breakfasts and guesthouses. Some of the best places to stay in the area include:
Slangkop Views: This stylish guesthouse is located just a stone's throw away from the beach and offers stunning views of the ocean and mountains.
Website: https://slangkopviews.hotelonia.com/
Address: 7 Mauritius Cl, Capri, Cape Town
Phone: 073 387 7369
Kommetjie Hideaway: This self-catering holiday home is perfect for families and groups and features a swimming pool, barbecue facilities, and a large garden.
Website: https://www.kommetjiehideaways.co.za/
Address: 7 Blue Whale Way, Klein Slangkop, Cape Town
Phone: 082 447 7960
The Last Word Long Beach: This luxury guesthouse is situated on the dunes overlooking Long Beach and offers world-class accommodation and facilities.
Website: https://www.thelastword.co.za/
Address: 1 Kirsten Ave, Kommetjie, Cape Town
Phone: 021 783 4183
Kommetjie Beach House: This spacious holiday home is ideal for families and groups and features a large garden, swimming pool, and outdoor entertainment area.
Address: 8 Gladiola Way, Kommetjie, Cape Town
Phone: 074 414 6679
How to get to Kommetjie
Kommetjie is located approximately 40 kilometres from Cape Town and is easily accessible by car. Visitors can either hire a car or take a taxi or Uber from the airport or city centre. Once in Kommetjie, most attractions and amenities are within walking distance, although it is recommended to have a car to explore the surrounding areas.
---
Kommetjie is a hidden gem on the Cape Peninsula and offers visitors a unique combination of natural beauty, outdoor activities, and a laid-back village atmosphere. Whether you're a surfer, nature lover, or simply looking for a peaceful getaway, Kommetjie has something to offer everyone. So why not plan your next vacation in this picturesque coastal town and discover all that it has to offer?
---
FAQ
Q – What to do in Kommetjie?
A – Kommetjie offers a range of outdoor activities, including surfing the world-class breaks, exploring the pristine beaches, hiking along scenic coastal trails, and visiting the famous Slangkop Lighthouse.

Q – How far is Kommetjie from Cape Town?
A – Kommetjie is approximately 40 kilometres south of Cape Town, making it easily accessible for a day trip or a short drive to enjoy its natural beauty and attractions.

Q – Where did Kommetjie get its name?
A – Kommetjie got its name from the Afrikaans word "kom," which means "small basin" or "bowl," referring to the natural tidal pools found along the coastline in the area.

Q – Why live in Kommetjie?
A – Living in Kommetjie offers a laid-back coastal lifestyle with beautiful beaches, a tight-knit community, breathtaking scenery, and a variety of outdoor activities, making it an ideal place for nature lovers, surfers, and those seeking a tranquil escape.

Q – How far is Kommetjie from Fish Hoek?
A – Kommetjie is approximately 12 kilometres south of Fish Hoek, making it a relatively short distance by car or public transportation to explore the neighbouring coastal towns and enjoy their unique attractions.