Located on the Garden Route, George is a lesser-known town in South Africa but it offers travellers a unique blend of natural beauty and urban convenience. As you plan your visit to this town, one of the key decisions you'll face is choosing the perfect place to stay in George. Fortunately, George boasts a diverse range of hotels, each with its own distinct charm and appeal. In this list, we'll take you on a tour of the top hotels in George, ensuring that your stay is as comfortable and memorable as the destination itself.
Acorn Guest House 🐿️


Acorn Guest House is a fantastic 4-star luxury spot in George, focused on giving you a wonderful stay. They've got 13 fully serviced rooms, from standard to family, so pick the one that suits your vibe. What's cool about this place is that they pay serious attention to making your room look awesome. They've decorated everything with fancy linen, super-comfy cotton sheets, and a mix of furniture they've collected from auctions, flea markets, and even original art.
Acorn Guest House is all about food too. They'll hook you up with whatever you need – if you're Halaal, they've got you covered. And if you're vegetarian, they've got breakfast options just for you. If you're the adventurous type, they've even got a Banting-to-Go Brekkie. But it's not just about the place and the food – the folks here are friendly and will make sure you have a blast. Plus, they've got sweet deals on Garden Route activities, and they're happy to share those savings with you. And, if you want to check out the Garden Route, they'll even set up private tours just for you. Sounds pretty cool, right? Be sure to check them out.
Website: https://www.acornguesthouse.co.za/
Address: 4 Kerk Street, Bodorp, George, 6529
Contact Number: 044 874 0474
The Hawthorn Boutique Hotel ⛰️
Situated at the foot of the beautiful Outeniqua mountains in George, the Hawthorn Boutique Hotel has a fascinating history dating back to the 1940s. Back in the day, it was known for its tall palm trees and peacocks, and it hosted everything from weddings to Sunday brunches and lively pub nights that people still fondly remember. As times changed, the old Hawthorndene Hotel closed up shop, and the property sat empty for a while. Then, in 2017, a savvy entrepreneur from Rustenburg swooped in and gave it a new lease on life with a restoration project. They managed to keep the hotel's original charm while adding modern comforts. They even threw in some streetlights from Cape Town's Adderley Street for a cool touch in the gardens.
Today, the Hawthorn Boutique Hotel is a fantastic spot for those who appreciate history and modern comfort. The Forester Restaurant is all about old English vibes and serves up delicious dishes like Krummelpap and Lamb Rump. For a more laid-back atmosphere, check out Pronk, the hotel bar, where you can sip on designer whiskeys, wines, and signature cocktails, along with gourmet milkshakes. The hotel has a variety of room options to fit your style, from standard rooms with all the modern perks to deluxe rooms with a touch of timeless elegance. The Manor Suites in the original manor house give off an old-world vibe, while the Garden Studios offer a simple and stylish stay. The Superior Rooms give you a bit of everything, making sure your visit is comfy and enjoyable. Whether you're here for the history, the modern comforts, or a mix of both, the Hawthorn Boutique Hotel has something special in store for you.
Website: https://hawthorn.co.za/
Address: 23 Morning Glory Ln, Heatherlands, George, 6529
Contact Number: 044 023 0070
Book Your Stay With Hawthorn Boutique Hotel Today! 🌄
Fancourt 🛡️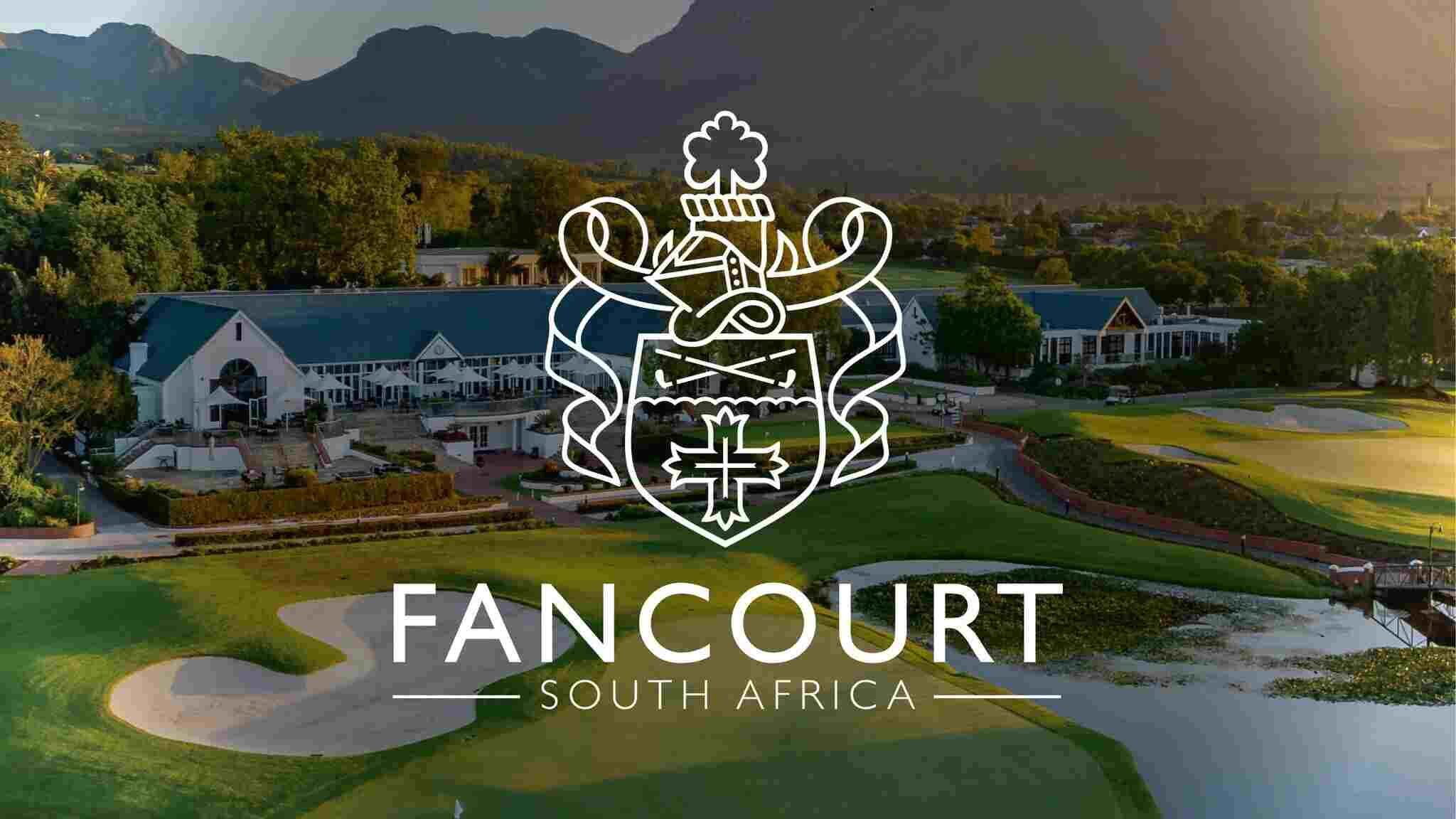 For avid golfers and those who appreciate the finer things in life, Fancourt is a legendary destination in George. Fancourt is a mere 7km away from George Airport. This expansive property sprawls over 613 hectares, framed by the majestic Outeniqua Mountains. Fancourt proudly hosts two opulent five-star establishments: the renowned Fancourt Hotel and the exclusive Manor House Boutique Hotel, both meticulously designed for an unparalleled experience. Accommodations at Fancourt cater to every preference, from spacious Two Bedroom Suites to cosy One Bedroom Suites, elegant Luxury Rooms, and Classic Rooms designed for comfort and style.
Fancourt extends a warm invitation with enticing packages, including golf getaways and special offers for a memorable stay. The resort offers secure parking, convenient room service, refreshing swimming pools, seamless Wi-Fi access, and a delectable daily breakfast buffet. There are four distinct restaurants: La Cantina for healthy Italian cuisine, Monet's for a French-style bistro dining experience, The Club Lounge for post-golf relaxation, and Henry White's for exquisite fine dining. Fancourt's reputation for luxury and hospitality caters to the desires of both local and international guests. A visit to this exquisite resort promises an experience you won't forget anytime soon.
Website: https://fancourt.co.za/
Address: Montagu St, Fancourt, George, 6530
Contact Number: 044 804 0000
⚔️ Book Your Stay With Fancourt 🤺
Harvil House 🪴


Harvil House isn't your run-of-the-mill place; it's a Lifestyle Centre and Accommodation spot that's all about bringing out your creative side. The building itself is designed to be modern and artsy, with a touch of nature, making it a space where curiosity and hope can flourish. Here, you've got a mix of cool services under one roof – there's food, coffee, health and beauty services, and even help with weight loss, dental care, and financial advice. And the best part? Whether you're staying for a little while or a longer stretch, they've got apartments that fit the bill. Now, about those extras: there's a fully-equipped boardroom you can rent, complete with all the techie stuff and even freebies like water, mints, and notepads.
For added comfort, you can grab some coffee and tea from their in-house coffee shop, Pocoloco, and even arrange for some catering. They've got self-catering serviced apartments with all the basics covered – cleaning, free WiFi, secure parking, and 24-hour security. You get your own kitchenette with a coffee machine, a TV for entertainment, and all your linens provided. In case you need to do some laundry, there's a tumble dryer and a washing machine in each unit. Each apartment has a private balcony, and they're all non-smoking and pet-free. Harvil House offers different types of serviced units, so you've got options for your stay, whether you're here for business or just a fun getaway. It's all about comfort, creativity, and convenience!
Website: https://harvilhouse.co.za/
Address: 76 York St, George Central, George, 6530
Contact Number: 071 155 9965
Burrough Place 🌲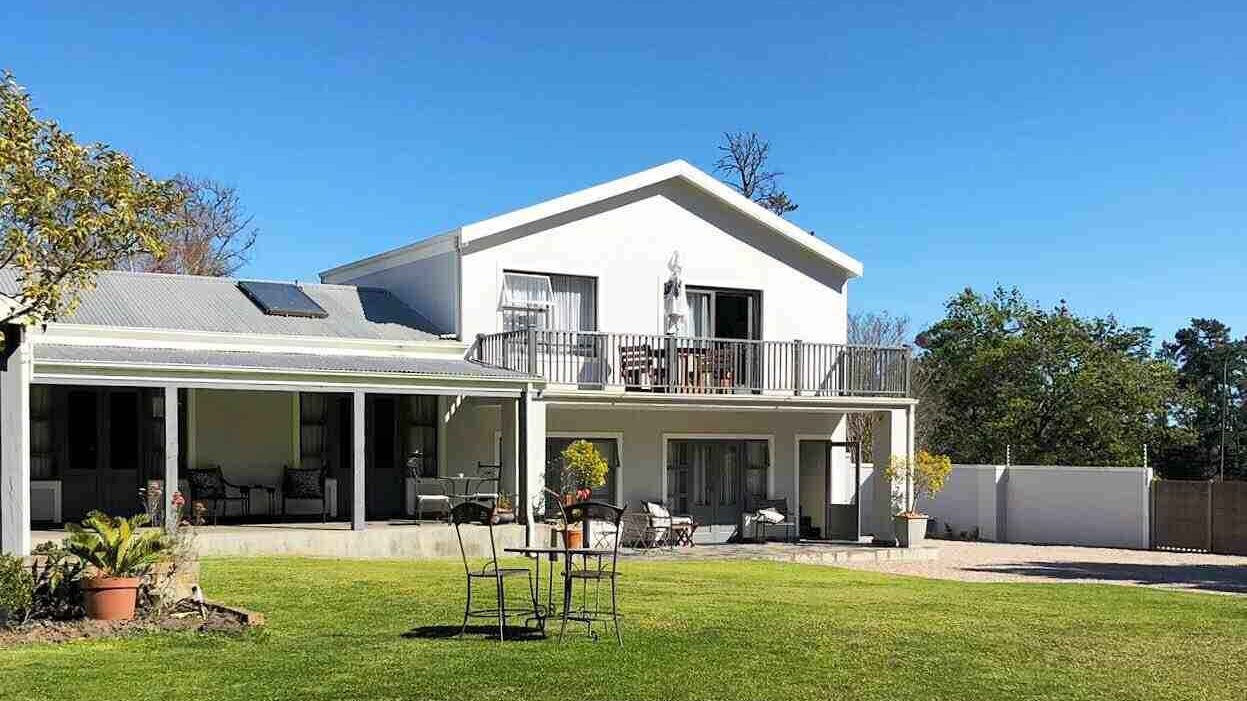 Tucked away in the Heatherlands suburb of George, you'll find the welcoming Burrough Place Guest House. It's a laid-back and cosy 4-star spot that caters to all sorts of guests, from business travellers to golf lovers, cyclists, and folks just here for a good time. The guest house has a real homey feel with seven comfy rooms. Each one has its own entrance and bathroom, so you've got your privacy covered. And when it comes to staying here, you get to pick what works best for you – they offer "Room Only" or "Bed and Breakfast" options, so you can do your thing. Mornings at Burrough Place start with a tasty breakfast. They really focus on fresh, local ingredients, so you're in for a treat. Plus, it's super convenient if you're into golf – the George Golf Course is close by, and the airport is just a 15-minute drive away.
You've got a bunch of room choices, from modern ones with private balconies to standard ones with all the usual stuff like TVs and mini-fridges, and comfy suites that even have a kitchenette. And don't worry, they've got the basics covered too, with free Wi-Fi, safe parking, and an easy check-in. If you need to pick up something quick or squeeze in a workout, you're in luck. There's a gym, grocery store, hair salon, and bank ATMs all close by. And when it's time to explore, you've got loads of restaurants, beaches, bakeries, and shops just a short drive away. Or if you're feeling lazy, you can order take-out. At Burrough Place Guest House, they're all about giving you a comfy and relaxed retreat in a chill atmosphere. So get ready for a stay that's bound to be unforgettable.
Website: https://burroughplace.co.za/
Address: 80 C. J. Langenhoven Rd, Heatherlands, George, 6529
Contact Number: 044 874 2026
🌳 Book Your Stay With Burrough Place Today! 🌲
Sanjika Escapes 🌿
Sanjika Escapes brings you The Boshuis, a rustic two-bedroom farmhouse that's perfect for a relaxing retreat. This eco-friendly hideaway is all about sustainable living – it runs on solar power, and gas, and has its own borehole for water. It's just a 15-minute drive from George Airport, but it feels like you're a world away from the daily grind. Sanjika Escapes has lined up nature trails, including one leading to a stunning waterfall and a freshwater pool, so you can soak up the natural beauty. Inside The Boshuis, you'll find everything you need, from a well-equipped kitchen to comfy king-size beds that can turn into singles. The bathrooms come with forest-view soaking tubs and even showers with a view.
When you're not out exploring, there are cosy spots to relax, like an indoor braai, a fireplace, an outdoor fire pit, and even a pizza oven. One thing to remember is you'll want a car with a bit of clearance to get here because of the farm roads and low-water bridges. They've thought of everything to make your stay unique, including a welcome pack with farm-fresh eggs, homemade peppers, and rusks. Plus, you get kitchen gadgets, limited WiFi, and more. If you're ready to escape into nature without sacrificing comfort, check out Sanjika Escapes.
Website: https://sanjika.co.za/
Address: Houtbosch Farm, Boshoff St, Blanco, George, 6529
Contact Number: 072 463 3669
Cherry Berry Guest House 🍒


Travelling with family can be a great experience, and Cherry Berry Guest House is the ideal accommodation option in George for such adventures. This family-friendly guest house welcomes guests of all ages and provides a comfortable and safe environment for everyone. The De Lux Lavender Apartment is the pinnacle of luxury, boasting a spacious bedroom with a queen-sized bed, a well-appointed ensuite bathroom, a fully equipped kitchen, a cosy lounge/dining area, and a private patio with breathtaking mountain views, There's even a sleeper couch for a third person or a child.
The Serengeti Suite shines with its rich gold and ochre decor. It offers twin beds, a full ensuite bathroom with both a bath and a shower, a walk-in closet for clothing storage, and a small private balcony overlooking the peaceful garden. All rooms are thoughtfully equipped with amenities like flat-screen TVs with full DSTV, free WiFi, kitchen facilities, and hairdryers to ensure a comfortable and enjoyable stay. The guest house's central location means you're never far from George's attractions, such as the Redberry Farm or the George Museum. Cherry Berry Guest House is the perfect base for family adventures along the Garden Route.
Website: https://www.cherryberry.co.za/
Address: 67 Erica Rd, Heatherlands, George, 6530
Contact Number: 083 444 3364
Edenwood House ☕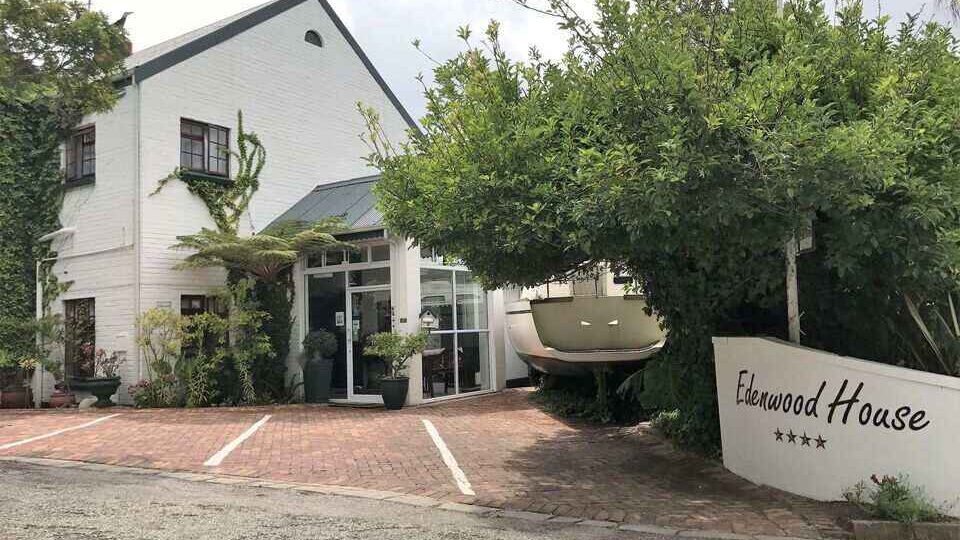 Edenwood Guest House is a 4-star Gust house that caters to both Bed and breakfast and self-catering stays, giving guests the freedom to choose. Located at the base of the stunning Outeniqua Mountains, this guest house sits right next to the beautiful Katberg Nature Reserve, offering a getaway full of exploration. Each room at Edenwood House has its own unique charm, comfy mattresses, and cosy bathrooms to ensure a comfy stay. But one of the highlights here is the breakfast buffet – it's got everything from English classics to continental treats, and even a selection of coffee and tea.
The lush garden is perfect for a chilled walk and it has loads of birdlife to keep you company. And when you're in the mood for a dip, the saltwater pool with a cascading waterfall is a perfect place to unwind with a good book. With high-speed Wi-Fi all over, you'll have no trouble staying connected. B&B rooms get daily housekeeping, and self-catering units can be serviced too if you want. And here's a bonus: the concierge service is super helpful, from booking golf games to arranging local tours, finding top-notch dining spots, and helping with your travel plans. You're in the ideal spot for exploring the Garden Route, famous for its beautiful beaches, golf courses, hiking and biking trails, delicious food, safari parks, and thrilling adventures, so be sure to check out Edenwood for an all-around great holiday experience.
Website: https://www.edenwood.co.za/
Address: 9 Hammerkop St, Eden George, George, 6530
Contact Number: 082 682 2717
Book Your Stay With Edenwood Guest House 🍵
Oubaai Hotel Golf & Spa 🌅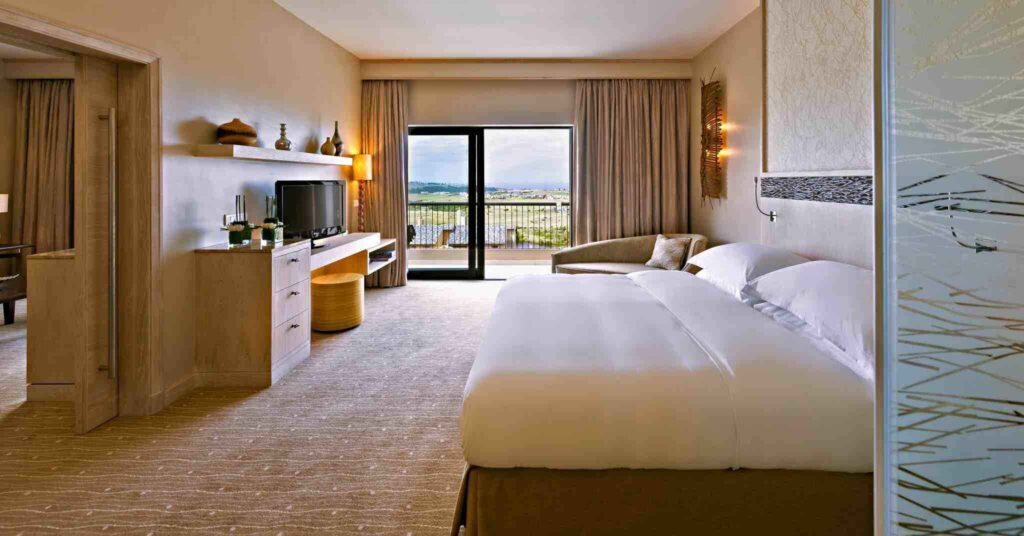 Oubaai Hotel Golf & Spa is a testament to luxury hotels near George and is just a 7-minute drive from George Airport. This world-class establishment is perched on the edge of the Indian Ocean, offering breathtaking sea views and top-notch amenities for a truly indulgent experience. Accommodation at Oubaai Hotel caters to a variety of preferences with options like Standard Rooms, Club Rooms, and Suites, ensuring that every guest enjoys a comfortable stay.
Golf enthusiasts are in for a treat with an 18-hole golf course designed by the renowned Ernie Els. It's a golfer's paradise, perfectly situated in the golfing mecca of the Garden Route. For those looking for a wellness retreat, Oubaai Hotel offers a place where you can escape the daily grind, bask in luxury, and soak in breathtaking views. Your taste buds are in for a treat too, with dining options that include Herold's Bistro & Bar and the delectable Cucina Restaurant, guaranteeing a diverse and satisfying culinary experience during your stay. At Oubaai Hotel, you're in for an experience that blends luxury, nature, and food, creating memories that last a lifetime.
Website: https://www.oubaaihotels.com/
Address: 406 Herolds Bay Road, George, 6528
Contact Number: 044 851 1234
Book Your Stay In Herolds Bay With Oubaai Hotel 🌊
Protea by Marriott Hotel George King 👑


Protea Hotel King George is a 5-star hotel in the lovely town of George. You won't have to travel far, as it's close to both George Airport and the beautiful beaches around. This 4-star Hotel has a country vibe and sits right at the foot of the Outeniqua mountains, giving you great views of the George Golf Course. It's a great choice for all sorts of travellers, whether you're here for work or just exploring the Garden Route. They've got a few swimming pools that are super inviting, a play area for kids, a well-stocked bar, and flexible spaces for meetings and gatherings.
They make sure you're always well taken care of with uninterrupted power and have a variety of accommodations, from comfy rooms to spacious suites. You can grab a cup of coffee or tea, enjoy meals at their on-site restaurant, and cool off in the outdoor pool. Checking in and out is a breeze, and the place is smoke-free, and pet-free except for service animals. You'll also find free on-site parking. Plus, they're part of the Marriott Bonvoy™ network, so you can enjoy all the perks of their loyalty program. Protea Hotel King George is the perfect spot to relax and explore the beautiful surroundings of George and its attention to detail will truly make your experience unforgettable.
Website: https://www.marriott.com/
Address: King George Dr, King George Park, George, 6529
Contact Number: 044 874 7659
⭐ Book A Luxury Stay At Protea Hotel King George 👑
In George, the diversity of hotels and accommodations reflects the town's multifaceted charm. Whether you're drawn to the elegance of boutique hotels like The Hawthorn, the sustainable luxury of Sanjika Escapes, or the family-friendly atmosphere of Cherry Berry Guest House, there's a place to suit every traveller's taste. George is a destination that deserves to be explored at your own pace and our choice of accommodation can greatly enhance your experience, so choose wisely, and make the most of your visit to this remarkable town on the Garden Route of South Africa.