The Company's Gardens in Cape Town, South Africa, is a lush oasis nestled in the heart of the bustling city. This serene haven is not only a popular spot for locals and tourists to relax and unwind, but it is also home to a vibrant population of squirrels. These furry critters, with their bushy tails and playful antics, have become an integral part of the Company's Gardens experience, drawing in visitors of all ages. Feeding the squirrels has become a beloved pastime for many, and it's no wonder why.
The Experience of Feeding the Squirrels 🐿️
Feeding the squirrels at the Company's Gardens is not only a fun and rewarding activity, but it also provides a unique opportunity to connect with nature in the heart of the city. Interacting with these furry creatures can be a truly magical experience, as they display their playful and acrobatic nature, darting between trees, scampering up branches, and leaping from one spot to another with remarkable agility.
Many visitors are captivated by the squirrels' endearing behaviours, such as their cheeky antics as they scurry up to people in search of treats, their adorable grooming habits as they meticulously clean their fur, and their playful interactions with each other as they chase and play tag. Feeding the squirrels can be a delightful way to observe these charming creatures up close and learn more about their behaviour and habits.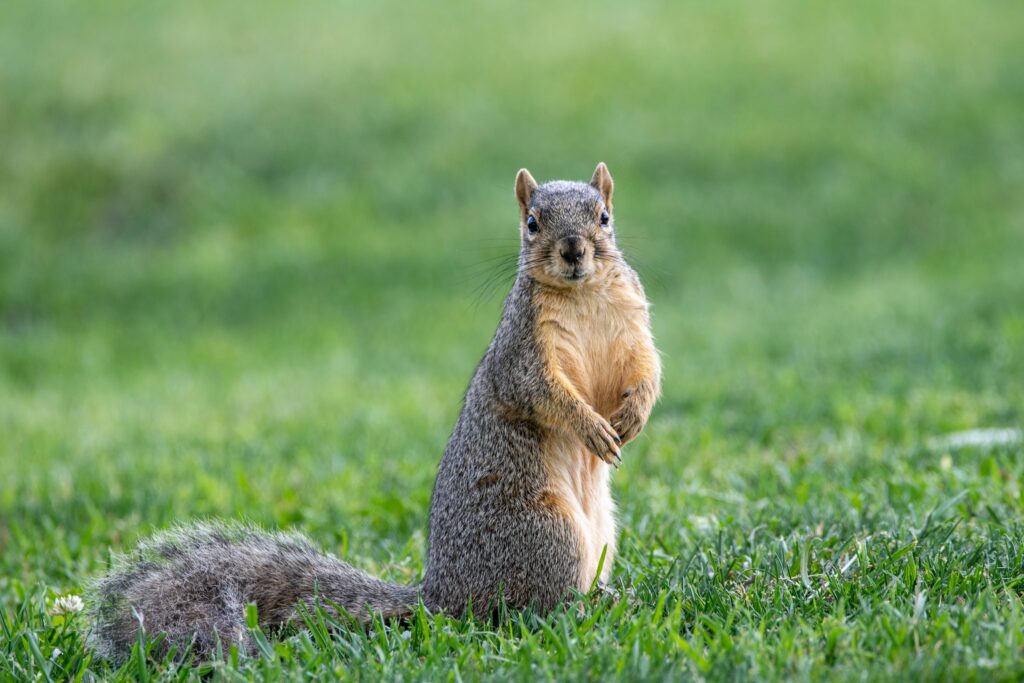 Feeding the Squirrels Responsibly 🥜
While feeding the squirrels at the Company's Gardens can be a joyous experience, it is important to do so responsibly to ensure the well-being of both the squirrels and the environment. Here are some tips for feeding the squirrels responsibly:
Stick to Natural Foods – Squirrels are naturally omnivorous, but their diet primarily consists of nuts, seeds, fruits, and vegetables. It is best to feed them natural foods that are suitable for their digestive system. Avoid feeding them processed or sugary foods, as these can be harmful to their health.

Offer Small Quantities – It is important not to overfeed the squirrels, as it can lead to obesity and other health issues. Offer them small quantities of food at a time and avoid leaving food out for them to consume in excess.

Use Suitable Food Containers – When feeding squirrels, it is essential to use suitable food containers that are safe for them to access. Avoid using plastic or metal containers with sharp edges that could potentially harm the squirrels. Instead, opt for natural materials such as wooden or ceramic bowls.

Avoid Feeding Human Food – While it may be tempting to share your picnic leftovers or other human food with the squirrels, it's best to stick to their natural diet. Human food, especially processed or high-sugar foods, can be harmful to squirrels and may disrupt their natural eating patterns.

Respect the Wildlife – It's important to remember that squirrels are wild animals and should be treated with respect. Avoid trying to touch or handle them, as they may become stressed or defensive. Observe them from a safe distance and allow them to approach you if they are comfortable.

Be Mindful of the Environment – Feeding the squirrels should not negatively impact the environment. Avoid littering and clean up after yourself to keep the Company's Gardens clean and tidy. Dispose of food waste properly and avoid leaving any plastic or litter behind.

Follow Garden Regulations – Always adhere to the rules and regulations of the Company's Gardens when feeding the squirrels. Some parks or gardens may have specific guidelines on feeding wildlife, so be sure to check for any signs or information provided by the park authorities.


The Impact of Squirrel Feeding at the Company's Gardens 🌲
Feeding the squirrels at the Company's Gardens has not only brought joy and delight to visitors, but it has also had positive impacts on the local ecosystem. Squirrels play an important role in seed dispersal, as they bury nuts and seeds in various locations for future consumption. This behaviour helps to promote the growth of new trees and plants in the Gardens, contributing to the overall biodiversity of the area.
The friendly and approachable nature of the squirrels in the Company's Gardens has fostered a sense of community and connection among visitors. Many people, both locals and tourists alike, have formed special bonds with these furry creatures and have cherished memories of their interactions with them. The shared experience of feeding the squirrels has brought people together and created a unique bond between humans and wildlife.
The presence of squirrels in the Company's Gardens has also served as an educational opportunity for children and adults alike to learn about wildlife, their behaviour, and their role in the ecosystem. Through observing and interacting with the squirrels, visitors can gain a deeper appreciation for nature and develop a greater understanding of the importance of wildlife conservation and habitat preservation.
---
Feeding the squirrels at the Company's Gardens in Cape Town is a delightful and heartwarming experience that brings joy to visitors while also contributing to the local ecosystem. By following responsible feeding practices, respecting wildlife, and being mindful of the environment, visitors can create memorable moments and develop a deeper appreciation for nature and wildlife.