Welcome to the enchanting Dorp Hotel, located high on the slopes of Signal Hill in Cape Town. As its Afrikaans name suggests, Dorp, meaning "village," offers a distinctive experience that defies categorization. Created by the visionary late hotelier Gail Behr, this boutique hotel exudes historic charm and artistic flair. From the captivating views of Table Mountain and the Twelve Apostles to the quirky, individually decorated rooms and a salon filled with character, Dorp Hotel Cape Town promises a cocoon of decadence and generosity.
The Dorp Hotel Experience 🌴


The Dorp Hotel Experience is unique, earning the establishment accolades as Cape Town's best-kept secret and the city's most mysterious hotel. A stay at Dorp is likened to finding oneself in a cocoon or a womb, a sanctuary where oddballs, romantics, and beauty seekers can find comfort. Far from the typical five-star hotel experience, Dorp embraces its imperfections and quirks, creating an atmosphere that feels more like an unofficial club than a conventional luxury hotel. The staff at Dorp exude warmth and passion for their work, going above and beyond to ensure guests' happiness and contentment.
The incomparable view from Dorp Hotel's rooftop terrace is a sight to behold. From this vantage point, guests can marvel at the breathtaking panorama of Signal Hill, Table Mountain, the Bo-Kaap and City Bowl, the sweeping bay of Cape Town, and the boundless expanse of the Atlantic Ocean. The hotel's hillside haven, conceptualized and designed by Behr, exudes an aura of delight and charm that is difficult to put into words.
Staying at Dorp Hotel 🛏️


Staying at Dorp Hotel is a truly indulgent and enchanting experience, where guests are greeted with unique and characterful rooms that evoke a sense of comfort and charm. The luxurious Dorp option offers rooms with stunning city and Table Mountain views, inviting guests to linger and savour the stunning scenery. Each room is a masterpiece of design, adorned with pretty wallpaper, hand-printed linen curtains, and an artful mix of patterned fabrics on the beds.
Instead of the usual in-room files, guests will find everything they need to know on an informed pin board, adding a delightful touch of nostalgia to the experience. Some rooms even feature spacious bathrooms with city views, and guests have the option to specify their preference for a shower or bathtub, ensuring their utmost comfort and satisfaction. The thoughtful details, such as the Behr Necessities tin filled with essentials, showcase the hotel's unwavering attention to detail.
The dreamy bedrooms and enchanting suites at Dorp Hotel are individually decorated and the attention to detail is apparent in every aspect, from the luxurious handmade linen dressing gowns to the bedside jars filled with midnight snacks. The anticipatory service at Dorp ensures that guests' every whim is catered to, creating an atmosphere of comfort and delight.
The rooms are designed to cocoon guests in an aura of decadence and generosity, allowing them to revel in the homestyle cuisine served in the hotel's gorgeous Salon. With an array of accommodation options, ranging from cosy rooms opening onto garden patios under leafy arbours to expansive suites with kitchens and fireplaces, Dorp Hotel caters to every guest's preferences. For those seeking a longer stay or travelling in groups, Onderdorp, the self-sufficient wing of the hotel, offers 15 unique rooms, each equipped with a kitchenette or fully equipped kitchen. Guests at Onderdorp can enjoy a full breakfast served in the Salon, making their stay both comfortable and convenient.
Don't Miss Out! Book Your Stay At Dorp Hotel Here 💤
The Interior and Style 🌱


The interior and style at the Dorp Hotel are nothing short of captivating and immersive. From the moment guests step foot inside, they are greeted with a visual feast that tempts them to capture every moment with their camera. The hotel's atmosphere is quirky and personal, exuding a historic and nostalgic atmosphere that transports guests to another time. The late Gail Behr, an artist with a keen eye for design, infused Dorp Hotel with astonishing attention to detail and an artful mix of old-world charm with decadence and luxury. Each corner of the hotel is thoughtfully curated, with small imperfections that add a homely touch and make guests feel welcome and at ease.
Dorp Hotel's commitment to creating a relaxed and sensual environment is evident in every aspect of its interior design. The hotel beautifully blends old and found elements with quirky and contemporary touches, resulting in a truly unique and inviting space. The attention to detail is impeccable, from the selection of books and bowls of apples to the thoughtful cards pinned up as in-room notices.
Even the Behr Necessities tin in every bathroom showcases the hotel's dedication to ensuring guests' comfort and convenience. The layered choice of fabrics on every bed and the bespoke perfume infused in the Dorp soaps further demonstrate the hotel's commitment to creating an extraordinary experience for each guest. Every aspect of the interior design at Dorp Hotel is a testament to the late Gail Behr's artistic vision, making the hotel an unparalleled destination for those seeking a truly immersive and captivating stay.
The Salon at the Dorp Hotel 🪴
The Salon at Dorp Hotel is a beautiful and inviting space, exuding a sense of elegance and comfort. Filled with lush plants and adorned with antiques, the Salon boasts a warm and inviting feeling, enhanced by sisal and Persian rugs, pink patterns, velvet, and wool. The large arched glass windows frame the most magnificent view of Table Mountain and the city, creating a breathtaking backdrop for meals and gatherings.
For lunch and dinner, guests can indulge in a simple yet delectable menu featuring well-prepared and generously portioned home-style meals. Top choices include the prego roll made with fillet steak, the classic Caesar salad, and the Dorp House salad, all of which are winners among the guests. Other highlights include the twice-baked cheese soufflé and the potato latkes with salmon, both worth ordering more than once. The Dorp roast chicken, with its international reputation, is a must-try dish that further elevates the dining experience at the Salon.
The Salon at Dorp Hotel deviates from the typical offerings found in conventional five-star properties. Instead of a spa, conference centre, or gym, the hotel embraces a collaborative drawing room as the heart of its establishment. This unique space is reminiscent of grand soirées that would have been hosted by the likes of Oscar Wilde. Guests have the freedom to enjoy meals alfresco in the enchanting fairytale gardens or savour a romantic dinner for two under the shade of a tree.
For those seeking an elevated dining experience, the Salon provides an ideal setting, where the piano seems to reside amid a lush jungle of greenery, adding a touch of musical charm to the vibe. The kitchen at Dorp Hotel takes pride in preparing a somewhat old-fashioned yet consistently delightful selection of generously portioned and simple home-style meals. The Dorp hotel menu showcases dishes such as the twice-baked cheese soufflé, spinach, and ricotta ravioli with burnt-sage butter, and the famous rotisserie roast chicken have been perfected over time and continue to delight guests, ensuring a memorable and satisfying culinary journey at the Salon.
The Dorp Hotel Bar 🥂


The Dorp Hotel Bar is a delightful and inviting space where guests can unwind and socialize in style. While the hotel does not have a liquor license out of respect for the Muslim community of Bo-Kaap, guests are more than welcome to bring their drinks or request the hotel to purchase them. The bar is well-stocked, offering a variety of mixers to complement guests' preferences. Whether indulging in a refreshing cocktail or savouring a glass of wine, the bar at Dorp Hotel ensures that guests have a delightful and relaxed experience.
The Dorp Hotel Bar exudes a sense of warmth and conviviality, making it an ideal spot for socializing and connecting with fellow guests. The hotel's staff is attentive and friendly, ensuring that every guest feels welcome and well taken care of during their time at the bar. The bar becomes a hub of camaraderie, where guests can share stories and create lasting memories. Whether enjoying a leisurely drink after a day of exploring Cape Town or starting an evening of adventure, the Dorp Hotel Bar provides the perfect atmosphere for relaxation and enjoyment.
Events at Dorp Hotel 🎶


Events at Dorp Hotel are made even more special with the addition of Onderdorp, a separate wing that offers a charming and versatile space for hosting various gatherings. With its small compound of buildings, Onderdorp can accommodate up to 25 guests, making it an ideal retreat venue for intimate groups seeking a serene and inspiring setting. Whether it's a corporate bosberaad, a film production location, family reunions, creative events, or quiet celebrations, Onderdorp provides the perfect backdrop for a wide range of occasions. The wing boasts its reception, conveniently located in the Shop, ensuring a seamless and personalized experience for event attendees.
The highlight of Onderdorp is the Games Room, equipped with a long dining or meeting table that can comfortably seat up to 30 guests. A fireplace and a huge-screen TV add to the room's cosiness, providing a perfect spot for collaborative discussions and interactive gatherings. Tactfully hidden within a cupboard, the TV allows for flexible use of space, transforming the room from a dining area to a dynamic presentation space as needed.
The heart of the Onderdorp wing, however, lies in the Palm House, an enchanting demonstration kitchen that also serves as a dining area. With its fireside nooks and adjacent lounge and verandah, the Palm House offers guests the opportunity to unwind and bask in the captivating views of Table Mountain framed by sash windows. Whether it's a creative workshop, a team-building event, or a heartfelt celebration, Onderdorp at Dorp Hotel provides the perfect setting to curate memorable and meaningful gatherings.
Rules While Staying at Dorp Hotel 📜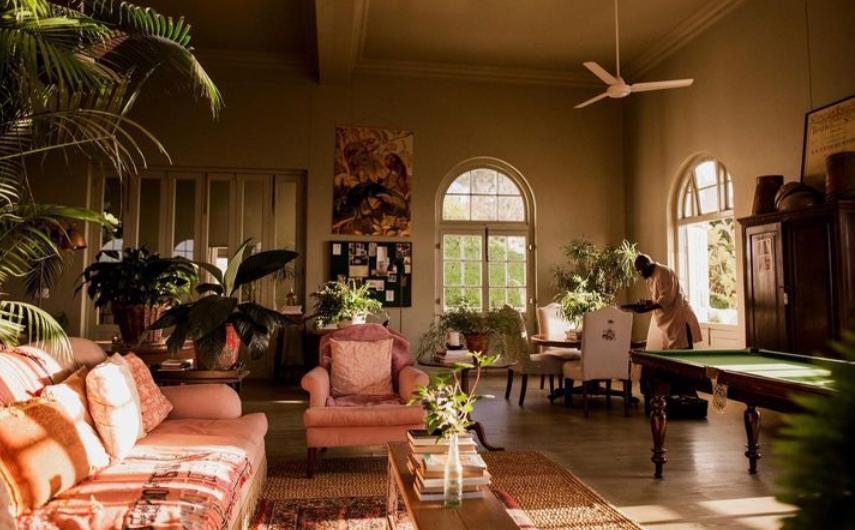 To maintain a tranquil atmosphere, children under 14 are not allowed at the hotel. Dorp encourages kindness and consideration among guests, and while quiet celebrations are welcome, loud music and parties are discouraged. Smoking is not permitted indoors, but guests can enjoy the lovely Dorp Hotel garden, patios, and balconies for their smoking needs. Dorp Hotel also asks guests to refrain from intrusive photography in public spaces and to minimize phone usage in the Salon and other communal areas.
Where is the Dorp Hotel? 📌


The Dorp Hotel's location is perched discreetly above Bo-Kaap, high on the slopes of Signal Hill, offering a truly magnificent view of Cape Town. While it may not be in the heart of the city's hustle and bustle, it's only a five-minute drive to the city centre. This ensures that guests can enjoy both the serenity of the hotel's vantage point and easy access to the city's attractions. Whether arriving by car, taxi, or other means of transport, reaching Dorp Hotel is a breeze, and the sight that awaits you at the top is undoubtedly worth the journey.
🚘 Need A Car To Get To Your Stay At Dorp Hotel? We've Got You Covered! 🚗
Dorp Hotel in Cape Town offers a unique and enchanting experience that sets it apart from other boutique hotels. From its stunning location with panoramic views of the city and Table Mountain to the charmingly decorated rooms and eclectic Salon, every aspect of Dorp Hotels Cape Town exudes character and thoughtfulness. The hotel's founder, Gail Behr, poured her artistic flair and attention to detail into creating an extraordinary retreat for guests seeking a touch of magic and nostalgia.
Dorp's commitment to warmth, generosity, and a dash of humour is evident in every facet of the hotel, making it a delightful haven for those who appreciate the well-worn and the lived-in. Whether you're looking for a romantic weekend getaway, a creative event venue, or a peaceful retreat, Dorp Hotel welcomes you with open arms and a promise of memorable experiences. So, check in at your own risk; you might find yourself falling under the spell of Dorp in Cape Town and never wanting to leave this enchanting village in the skies of Cape Town.
Website: https://dorp.co.za/#slide1
Address: 273 Longmarket St, Schotsche Kloof, Cape Town, 8001
Contact Number: 021 422 1676 / 021 612 0298
Email Address: reservations@dorp.co.za
FAQ
Q – What makes Dorp Hotel unique among Cape Town accommodations?
A – Dorp Hotel stands out with its quirky and personal atmosphere, historic nostalgia, and stunning views of Table Mountain and the city, creating an unparalleled experience for guests.

Q – Does Dorp Hotel offer self-catering options for longer stays or group bookings?
A – Yes, Dorp Hotel's Onderdorp wing provides 15 self-catering apartments, ideal for longer stays or group bookings, along with its lounge and a beautiful demonstration kitchen in the Palm House.

Q – Are children allowed at Dorp Hotel, and what is the minimum age requirement for guests?
A – Dorp Hotel welcomes guests with older children, and the minimum age requirement is 14 years. However, exceptions can be made by prior arrangements.

Q – Does Dorp Hotel have a liquor license, and can guests bring their drinks?
A – Dorp Hotel does not have a liquor license out of respect for the Muslim community of Bo-Kaap. However, guests are welcome to bring their drinks, and the hotel also offers a well-stocked bar with mixers available.