De Doorns is a charming town nestled in the heart of the Western Cape province of South Africa. With its picturesque landscapes, rich history, and warm hospitality, De Doorns is a hidden gem waiting to be explored. In this comprehensive travel guide, we'll take you through the enchanting attractions, cultural experiences, and natural wonders that make De Doorns a must-visit destination.
Whether you're a nature enthusiast, a history buff, or simply seeking a tranquil escape, De Doorns has something for everyone. Get ready to uncover the beauty and charm of this extraordinary town that deserves a spot on your travel itinerary.
History and Background


To truly appreciate De Doorns, it's important to understand its historical significance. Originally inhabited by the indigenous Khoi-San people, the town later became a settlement for European colonists. The name "De Doorns" is derived from the Dutch word for "the thorns," which refers to the abundant thorny bushes found in the area.
Today, De Doorns remains an important agricultural hub in the Western Cape, attracting visitors with its scenic beauty, agricultural heritage, and cultural significance. The town continues to evolve while retaining its connection to its historical roots, making it a fascinating destination for those interested in exploring the history and agricultural heritage of South Africa.
Best places to visit when in De Doorns
The Hex River Valley


The Hex River Valley is a captivating destination nestled in the heart of the Western Cape province in South Africa. Renowned as the "fruit basket" of the country, this picturesque valley boasts breathtaking landscapes and a thriving agricultural industry.
With its fertile soil and favourable climate, the Hex River Valley is home to expansive vineyards and orchards that produce an abundance of high-quality fruits, including delicious table grapes, peaches, apricots, and plums. The region's scenic beauty is enhanced by the majestic mountains that surround it, providing a stunning backdrop for visitors to explore.
Whether you're a nature enthusiast, a wine connoisseur, or simply seeking tranquillity amidst nature's bounty, the Hex River Valley offers an enchanting experience. From scenic drives along Route 62 to immersive wine-tasting tours at renowned estates, the valley provides endless opportunities for exploration and enjoyment.
Hex Valley Table Grape Festival
If you happen to visit in February, don't miss the Hex Valley Table Grape Festival. This vibrant celebration showcases the region's finest grapes, local cuisine, live music, and exciting entertainment for the whole family. The Hex Valley Table Grape Festival is an annual celebration that takes place in the picturesque region of Hex River Valley, South Africa.
This vibrant and colourful festival showcases the area's rich agricultural heritage and exceptional grape-growing traditions. Each year, during the harvest season, locals and visitors gather to revel in the bountiful display of table grapes and partake in a wide array of festivities. The festival offers an incredible opportunity to taste and savour the finest varieties of table grapes, as well as explore the vineyards and learn about the intricate process of grape cultivation.
With live music, cultural performances, grape stomping competitions, and delicious food stalls, the Hex Valley Table Grape Festival creates a festive atmosphere that truly captures the spirit of this thriving wine-producing region. It is an event that brings together people from all walks of life to celebrate the natural beauty, flavours, and traditions of Hex River Valley.
Klipbokkop Mountain Reserve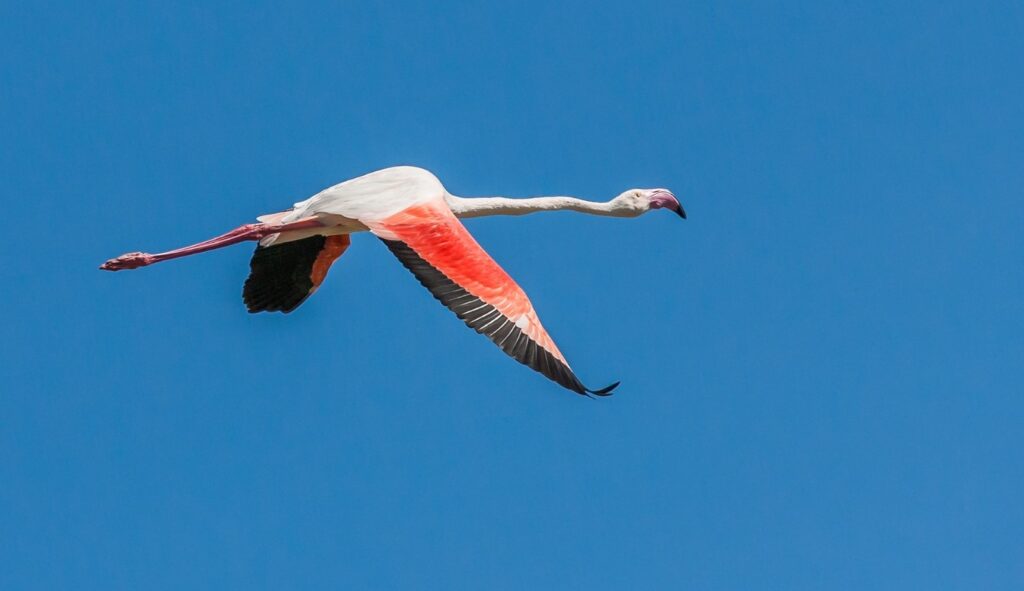 Klipbokkop Mountain Reserve stands as a pristine sanctuary for nature enthusiasts and adventure seekers alike. This enchanting reserve spans vast stretches of rugged mountains, cascading waterfalls, and lush valleys, offering a true haven for wildlife and outdoor enthusiasts. Home to a diverse array of flora and fauna, including the elusive klipspringer antelope from which it derives its name, Klipbokkop Mountain Reserve provides a unique opportunity to immerse oneself in the untamed beauty of the African wilderness.
Visitors can embark on thrilling hiking trails, traverse the rugged terrain on mountain bikes, or simply soak in tranquillity while birdwatching. The reserve also offers an array of accommodation options, from cosy chalets to well-equipped campsites, ensuring a memorable stay amidst nature's embrace. Klipbokkop Mountain Reserve is a hidden gem that beckons explorers to discover its natural wonders and forge a deep connection with the remarkable beauty of the Western Cape.
Doornrivier Wine Estate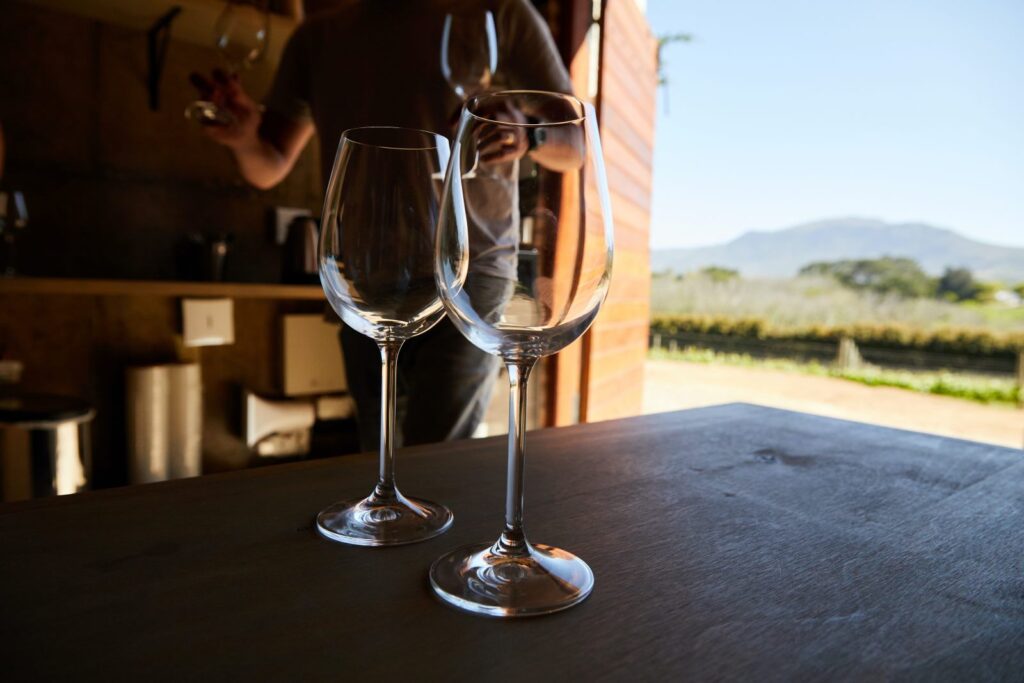 Doornrivier Wine Estate is a captivating destination surrounded by rolling hills and vineyards, this boutique estate embodies the essence of winemaking excellence and a commitment to quality. With its rich history dating back centuries, Doornrivier Wine Estate cultivates vineyards that thrive in the region's fertile soil and favorable climate. The estate's dedicated winemakers skillfully craft a range of exceptional wines, each displaying the unique character and terroir of the area.
Visitors to Doornrivier can indulge in wine tastings, guided vineyard tours, and even partake in hands-on winemaking experiences. The estate's rustic yet elegant tasting room provides a picturesque setting to savor their acclaimed wines, accompanied by delectable local produce. Whether strolling through the vineyards, soaking in the serene surroundings, or immersing oneself in the art of winemaking, Doornrivier Wine Estate offers an unforgettable experience for wine enthusiasts and those seeking a tranquil escape
What to do in De Doorns?
Khoi-San Cultural Village
Immerse yourself in the rich heritage of the Khoi-San people by visiting a cultural village. Learn about their traditions, music, and art, and sample traditional cuisine for a truly authentic experience. De Doorns offers the full historical experience where you can learn everything you need to know about the Khoi-San people and creates a once-in-a-lifetime experience.
Karoo National Arts Festival


The Karoo National Arts Festival is located in the charming town of Oudtshoorn. This vibrant festival showcases a diverse range of artistic disciplines, including theatre, music, dance, visual arts, and literature. For one week, the town comes alive with a flurry of performances, exhibitions, workshops, and interactive activities, drawing artists, performers, and art lovers from all corners of the country.
It provides a platform for both established and emerging artists to showcase their talent, fostering creativity and promoting cultural exchange. From thought-provoking plays to captivating musical performances, from thought-provoking art installations to engaging literary discussions, the Karoo National Arts Festival offers a feast for the senses and a celebration of the rich cultural heritage of South Africa. It is a true melting pot of artistic expression that leaves a lasting impact on all who attend, nurturing a love for the arts and fostering a sense of community and appreciation for creativity.
Wine Tasting Tours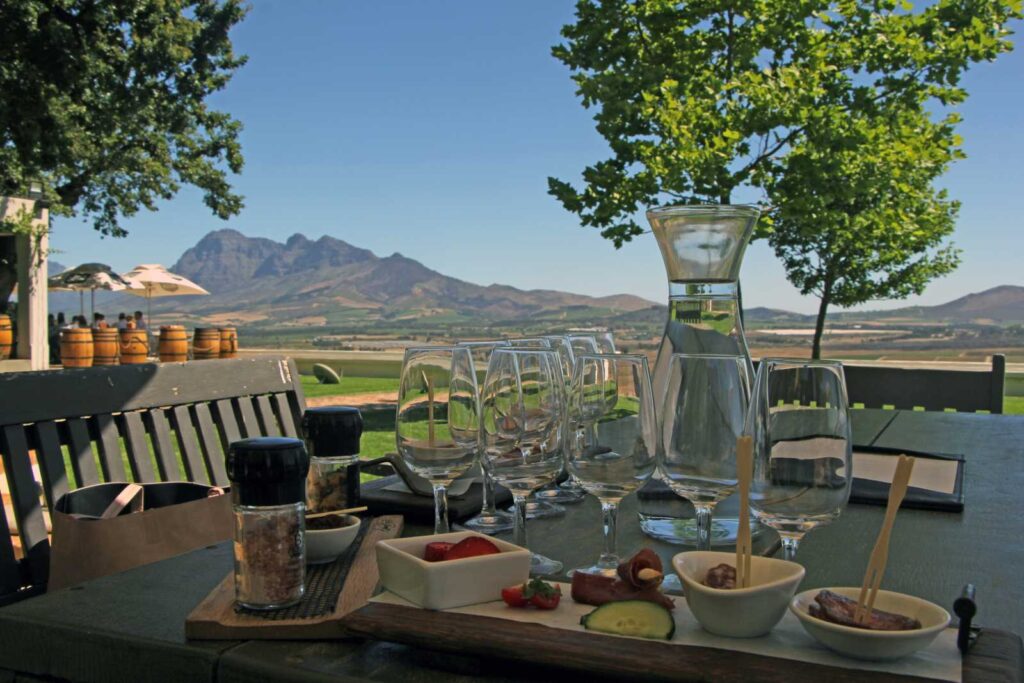 De Doorns is nestled in the heart of the Cape Winelands, offering the perfect opportunity to explore the renowned vineyards and indulge in wine-tasting tours. Visit local wineries, meet passionate winemakers, and savour award-winning wines. Any wine lover or enthusiast will enjoy this opportunity to indulge in tasting and experiencing the making of these rich-tasting wines.
De Doorns Activities
Hiking and Nature Trails


Lace up your hiking boots and explore the natural wonders surrounding De Doorns. From leisurely walks to challenging hikes, there are trails suitable for all fitness levels. Don't forget to bring your camera to capture the breathtaking vistas along the way. With each step, hikers can savour the fresh air, bask in the beauty of the countryside, and embrace the serenity that only nature can provide.
Mountain Biking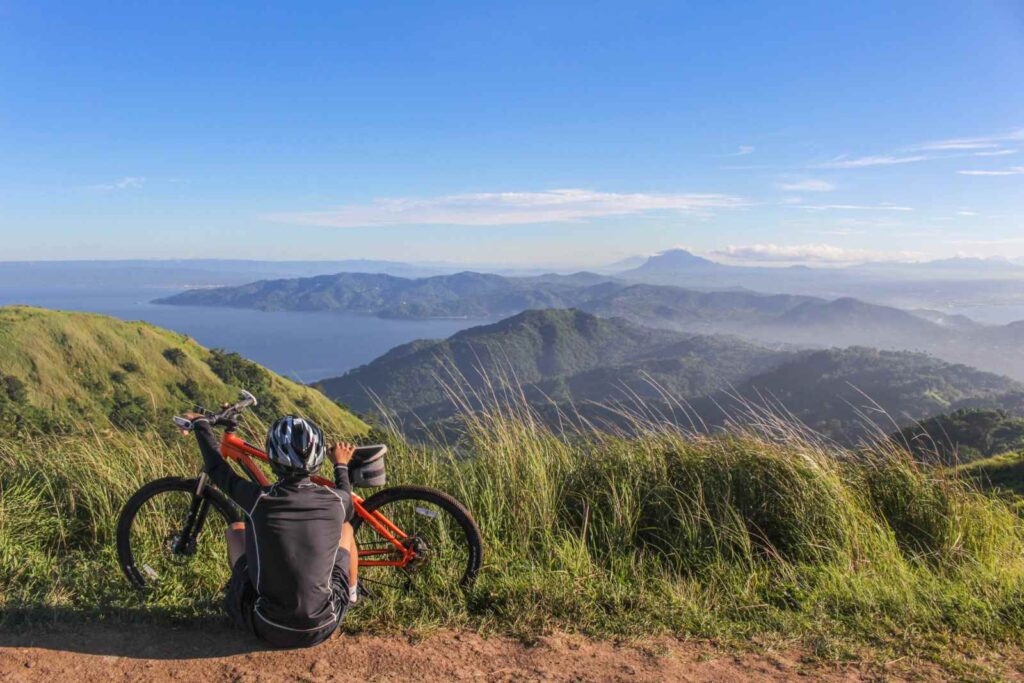 Experience the thrill of mountain biking amidst the picturesque landscapes of De Doorns. From thrilling downhill descents to challenging uphill climbs, the trails offer a mix of technical sections, fast-paced stretches, and breathtaking views. Riders can navigate through the Hex River Mountains, winding their way through fynbos-covered slopes and vineyard-dotted valleys.
The diversity of the terrain caters to various preferences, whether it's adrenaline-fueled downhill runs or scenic cross-country routes. With its mild climate and well-maintained trails, De Doorns provides the perfect backdrop for unforgettable mountain biking adventures, where riders can feel the rush of speed, conquer challenging obstacles, and experience the joy of exploring the outdoors on two wheels.
Finding Accommodation at De Doorns
When it comes to accommodation in De Doorns, you'll find a range of options to suit every traveller's needs. From cosy guesthouses to charming bed and breakfasts, De Doorns offers a selection of comfortable and welcoming establishments. Whether you prefer a more rustic and rural experience or a modern and luxurious stay, there's something for everyone.
Many of the accommodations in De Doorns are nestled amidst picturesque landscapes, offering stunning views of the surrounding mountains and vineyards. You can choose from accommodations that provide a serene and peaceful atmosphere, perfect for relaxation and rejuvenation.
Additionally, the hospitality in De Doorns is known for its warmth and friendliness, ensuring a pleasant stay for visitors. The staff at these establishments are often knowledgeable about the local area and can provide valuable insights and recommendations for exploring the town and its attractions.
To enhance your stay, some accommodations offer additional amenities such as on-site restaurants serving local cuisine, swimming pools, and spa facilities. This allows you to unwind and indulge in the comforts provided by your chosen accommodation.
When planning your visit to De Doorns, be sure to book your accommodation well in advance, especially during peak seasons or if you're visiting during the Hex Valley Table Grape Festival. This will ensure you secure the best options and make the most of your time in this charming town.
Whether you're seeking a tranquil retreat, a romantic getaway, or a base for exploring the region's attractions, De Doorns offers a range of accommodation options that cater to different preferences and budgets. Experience the warm hospitality and embrace the beauty of this hidden gem in the Western Cape with a comfortable and enjoyable stay in De Doorns.


The Weather in De Doorns
During the summer months, De Doorns experiences warm to hot temperatures with plenty of sunshine. Average daytime temperatures range from 25°C to 35°C, occasionally reaching higher. The evenings are generally pleasant and mild, offering relief from the daytime heat. It's important to note that summer in De Doorns is relatively dry, with minimal rainfall.
Autumn in De Doorns brings milder temperatures as summer transitions into winter. Daytime temperatures range from 20°C to 30°C, with cooler evenings. This season is generally dry, but there may be occasional showers or light rainfall.
Winter in De Doorns is cool and relatively wet. Daytime temperatures range from 15°C to 20°, with colder nights. Rainfall is more frequent during this season, and it's advisable to pack layers and a waterproof jacket when visiting during winter.
Spring in De Doorns is a pleasant season when the landscape comes alive with blooming flowers and vibrant colours. Daytime temperatures gradually increase, ranging from 20°C to 30°C. The evenings remain cool, but milder compared to winter. Spring is generally a drier season, but sporadic showers may occur.
It's important to note that weather patterns can vary from year to year, and it's always a good idea to check the forecast before your visit. Additionally, being located in the Western Cape, De Doorns may experience occasional strong winds, particularly during the summer months.
Whether you prefer the warmth of summer or the milder temperatures of autumn and spring, De Doorns offers a pleasant climate throughout the year, making it an inviting destination for outdoor activities and exploration.
With its captivating history, natural wonders, and warm hospitality, De Doorns invites you to uncover its hidden treasures. Whether you're a nature lover, a history enthusiast, or a food and wine connoisseur, this remarkable destination promises an unforgettable journey. So pack your bags and embark on an extraordinary adventure to De Doorns, where you'll discover the beauty, charm, and unique experiences that make it a must-visit destination in the Western Cape.
Website Address: https://www.hexrivervalley.co.za/
Email: info@hexrivervalley.co.za
Phone Number: 023 356 2041