Cape Town is known for its stunning natural beauty, varied culture, and romantic charm. In between the majestic Table Mountain and the sparkling waters of the Atlantic Ocean, a Cape Town weekend getaway is the perfect destination for couples seeking a romantic escape. Whether you're celebrating an anniversary, or honeymoon, or simply want to rekindle the flames of love, Cape Town offers a multitude of couples' retreats that promise unforgettable experiences. Let's explore six handpicked couples' retreats in Cape Town, each offering its unique blend of luxury, serenity, and romance.
The Twelve Apostles Hotel and Spa 💙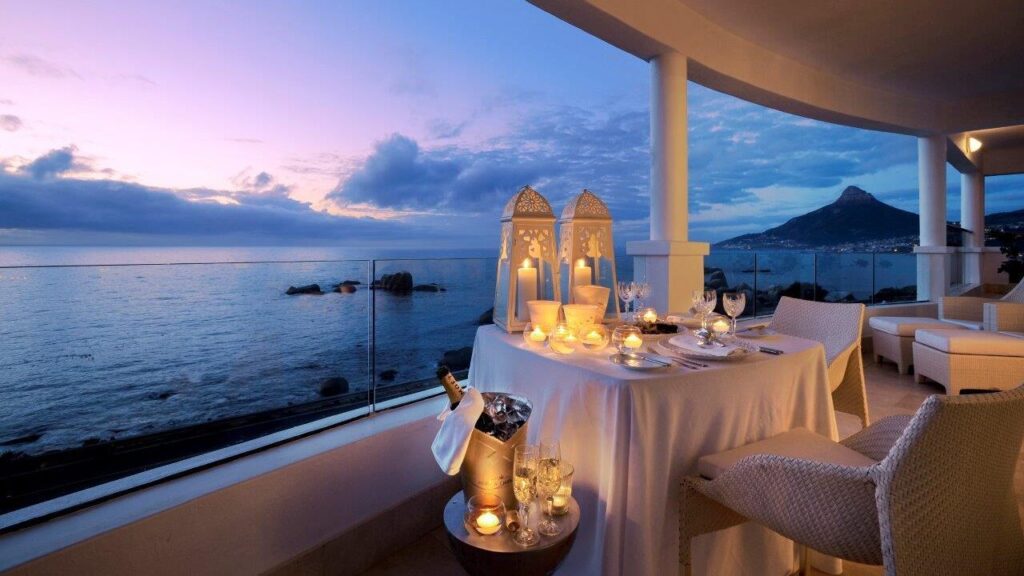 Located on the slopes of the Twelve Apostles mountain range, with a commanding view of the glistening Atlantic Ocean, The Twelve Apostles Hotel and Spa is a true seaside sanctuary for weekend getaways to Cape Town. This luxurious retreat offers a front-row seat to nature's most captivating performances, with stunning sunrise and sunset views that paint the sky in hues of gold and crimson.
Its reputation is well-deserved, thanks to a host of exceptional features. The hotel boasts 70 impeccably appointed rooms and suites, each adorned with tasteful furnishings, a choice of sumptuous pillows, and a selection of luxurious toiletries. If you're looking for something extra book the stylish Presidental Suite. The evening turndown service ensures your comfort and plush bathrobes and slippers add to the sense of indulgence.
Address: Victoria Road, Camps Bay, Camps Bay, Cape Town
Website: https://12apostleshotel.com/
Contact Number: 021 437 9000
Book A Romantic Stay At The Twelve Apostles Hotel And Spa Today!🥂
La Petite Ferme 🤍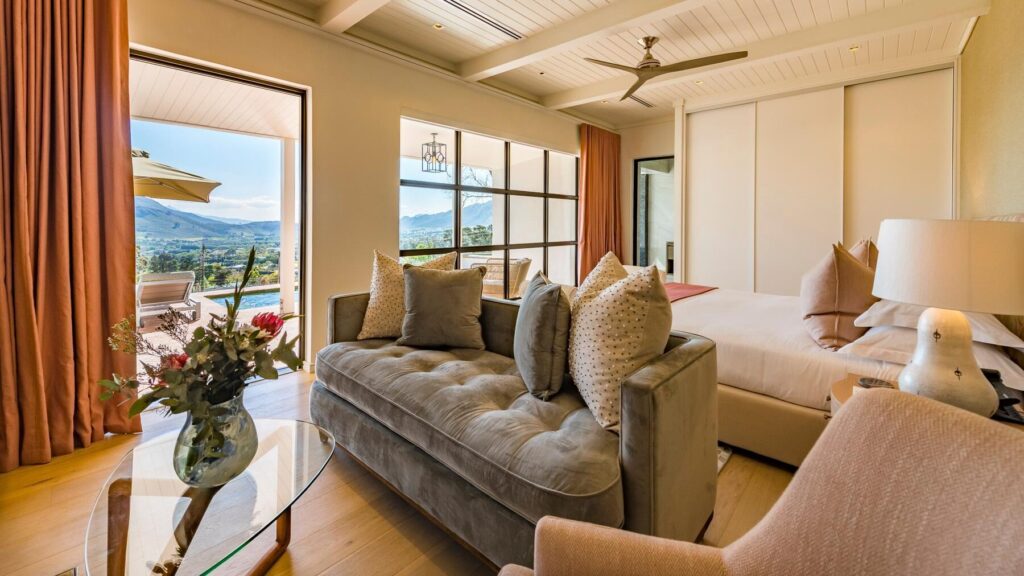 In the charming town of Franschhoek, La Petite Ferme is a beloved destination renowned for its exquisite small-batch wines, stunning natural landscapes, farm-fresh cuisine, and warm hospitality. This idyllic property captures the essence of the Cape Winelands, offering guests a memorable escape from the ordinary. With an extensive amount of options, you can choose the setting of your romantic getaway by booking either The Manor House, Vineyard Suites or The Winery Suites.
As you step onto the grounds, you'll be greeted by a sprawling green expanse where graceful peacocks roam freely. Dominating the view is a charming restaurant with a glass front, where guests can enjoy breakfast, lunch, and dinner. Inside the rooms, you'll discover comfort and opulence in every detail—spacious beds, high-quality linens, inviting fireplaces, and lavish baths with convenient showers. Outside, comfortable chairs and loungers beckon, inviting you to immerse yourself in the beautiful views.
Exploration is made easy with access to some of the Cape's finest wineries, as well as the charming boutiques, art galleries, and eateries that dot Franschhoek. La Petite Ferme is not just a destination; it's an experience, where the pleasures of the palate and the beauty of nature harmoniously converge, ensuring an unforgettable visit for all who come seeking respite and revitalization in the heart of the Winelands.
Address: Franschhoek Pass Road, Franschhoek
Website: https://lapetiteferme.co.za/
Contact Number: 021 876 3016
Book Your Romantic Visit To La Petite Ferme Now! 🦚
Lanzerac ☕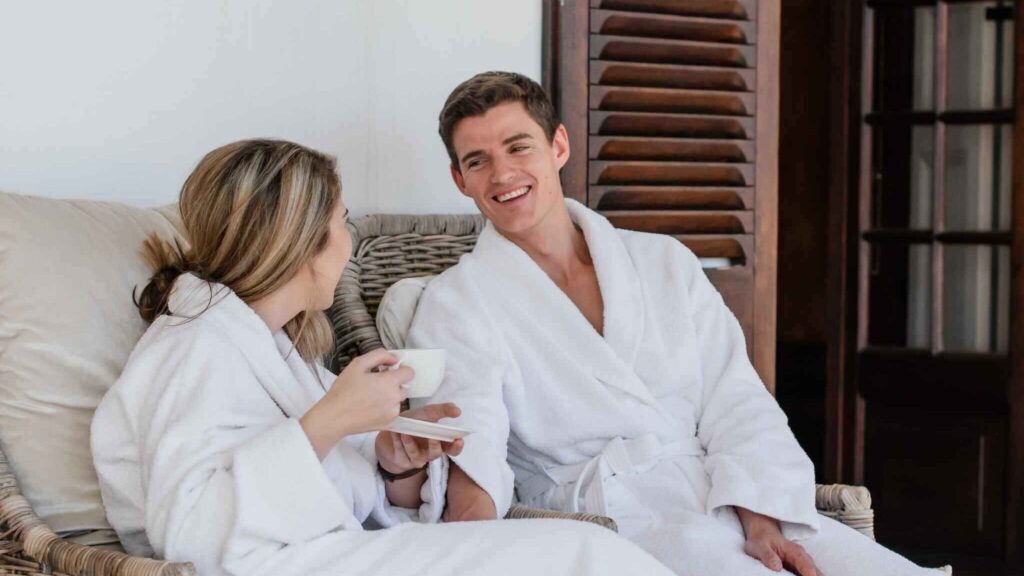 In the hills of the Jonkershoek Valley, Lanzerac offers 53 individually decorated rooms and suites, each exuding its unique character and featuring exquisite furnishings. Modern amenities, upscale toiletries, and well-stocked minibars ensure a pampering stay. Dining at Lanzerac is a joy with three distinct venues, each offering a unique epicurean experience. The Manor Kitchen serves up elegant breakfasts, dinners, afternoon teas, and delectable Sunday lunches. Meanwhile, the Lanzerac Tasting Room and Deli provides a relaxing spot under the trees for light snacks and refreshments.
Nature enthusiasts will find themselves in paradise with Jonkershoek and Nature Reserves nearby, easily accessible from Lanzerac. Guided walks and bike rides in these reserves allow visitors to immerse themselves in the natural beauty of the area. Furthermore, history buffs can explore the cultural heritage of Stellenbosch through guided walking tours that unravel the town's rich past and treasures. Lanzerac is more than a wine estate; it's a timeless sanctuary where the splendours of the Cape Winelands, top-notch luxury, and a serene countryside environment converge to create an unforgettable experience for any traveller.
Address: Lanzerac Road ,Stellenbosch
Website: https://lanzerac.co.za/
Contact Number: 021 887 1132
Land Your Booking At Lanzerac Here! 🍷
La Cotte Farm Cottages 💗


La Cotte Farm Cottages, located in the heart of the Cape Winelands, is a charming sanctuary that has been enchanting visitors since its establishment in 1698. This historic wine farm is not only a place of peaceful respite but also a sought-after destination for weddings and romantic getaways. The moment you set eyes on La Cotte, you'll understand why it's a beloved retreat. Its white buildings are elegantly scattered amidst enchanting gardens and serene woodland spaces, offering sweeping vistas of lush vineyards and majestic mountains.
To unwind, you can bask by the pool, meander along the farm's scenic paths, or head to the bar with its magnificent views, serving afternoon tea and evening cocktails. La Cotte Restaurant with breakfast and brunch offerings, and its proximity to various restaurants, coffee shops, and deli's in Franschhoek adds to the epicurean allure. At La Cotte Farm Cottages, you'll discover an enchanting blend of history, natural beauty, and modern comforts, creating the perfect setting for an unforgettable Winelands getaway.
Address: La Cotte Farm, Franschhoek, South Africa
Website: https://www.lacottefarm.com/
Contact Number: 021 207 3907
Southern Yurts 💫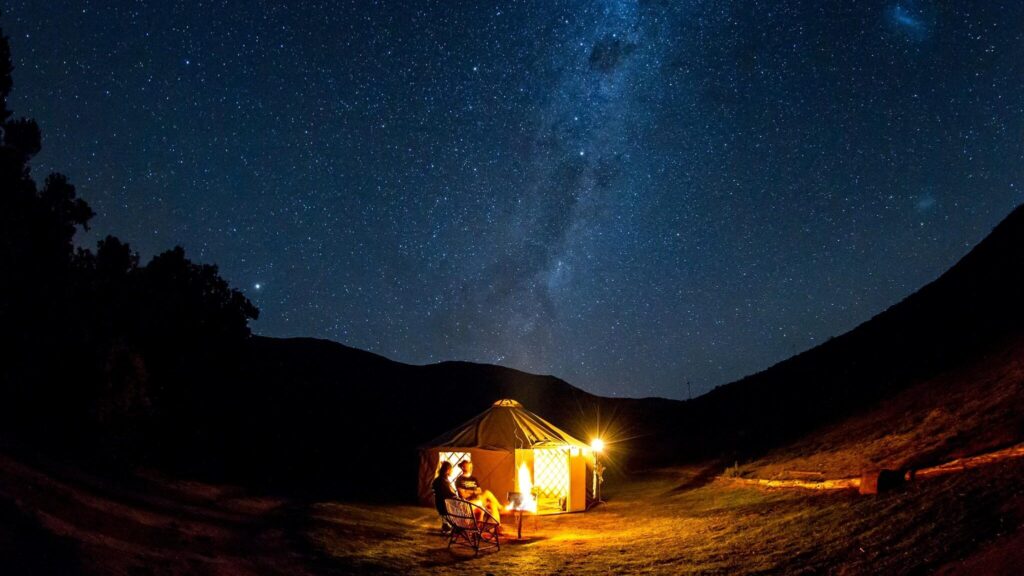 Located within the beauty of the Diepklowe Nature Conservancy at Porcupine Hills Guest Farm, Southern Yurts offers an exceptional glamping experience that seamlessly combines comfort with nature. Located not far from Bot River, this enchanting getaway features five distinct accommodations, including three yurts and two cabins, all immersed in the serenity of untouched wilderness.
The yurts, constructed from wood and cloth, boast a rustic yet tastefully decorated interior that provides all the comforts of a luxurious cabin. Here, you can revel in the beauty of nature without the inconveniences of traditional camping. If yurts aren't your style, cosy cabins hidden amidst the forest by the river await your discovery.
For those seeking a romantic escape, the private Forest View Yurt is a dream come true. It offers stunning views of valley sunrises and sunsets and accommodates two guests comfortably. The yurt comes complete with a fully enclosed bathroom with a hot shower and a kitchen equipped for cooking your meals. Outdoors, a wood-fired hot tub and a wooden deck elevate your experience, providing unobstructed views of the surrounding nature.
Address: 113/7 Van der Stel Pass Botrivier, Cape Town
Website: https://www.southernyurts.co.za/
Contact Number: 076 060 7424
Languedoc Cabin 🛏️


Tucked in the charming Blaauwklippen Valley, Languedoc Farm is a serene slice of English countryside in the heart of South Africa's Winelands. This charming retreat boasts lush gardens, stunning mountain views, and horses gracefully grazing in the surrounding fields. At the heart of this idyllic setting lies the rustic wooden cabin, offering an opportunity to immerse yourself in the romance of nature.
The fancy and comfortable cabin features a spacious open-plan layout where you can cook, unwind, and bask in the warmth of a cosy fireplace that quickly envelops the entire area in a comforting glow. Outside, a generous covered porch overlooks a fire pit and a serene rock pond. The view extends to the paddock where horses peacefully roam, creating a serene vista that soothes the soul.
If you're a wine enthusiast, the finest vineyards, including Dornier, Waterford, Keermont, and de Trafford, are just a stone's throw away. The charming town of Stellenbosch, with its museums, historic buildings, and an abundance of dining and drinking options, is a mere 10-minute drive. However, with the serene beauty of Languedoc Farm at your doorstep, it's entirely understandable if you choose to stay put. Languedoc Cabin promises a rural escape, where nature's romance intertwines seamlessly with the allure of the Winelands.
Address: Blaauwklippen Road ,Stellenbosch ,South Africa
Website: https://www.languedoc.co.za/the-cabin/
Contact Number: 082 876 2219
In the heart of the Western Cape's enchanting landscape, Languedoc Cabin, Southern Yurts, La Cotte Farm Cottages, Lanzerac, and The Twelve Apostles Hotel and Spa stand as beacons of romance and escape and exist as some of the best weekend getaways Western Cape has on offer. Whether tucked in the wilderness, the vineyards, or beside the ocean, each retreat paints a unique canvas for couples to create cherished moments.
These romantic spots in Cape Town and its surrounds offer varied experiences, but one common thread: the chance to reconnect and rediscover love in one of the world's most captivating settings. Cape Town's couples' retreats promise not just vacations, but unforgettable chapters in the love stories of those who visit plan your romantic getaway in Cape Town today.