Bo-Kaap is a historic neighbourhood in Cape Town, South Africa. The area is famous for its brightly painted houses and cobblestone streets. The area was formerly known as the Malay Quarter, and it is one of the oldest neighbourhoods in Cape Town. The area is a fascinating destination for tourists interested in history, culture, and architecture. We will be discussing everything you need to know about taking a tour through Bo-Kaap.
Bo-Kaap Museum 🏛
The Bo-Kaap Museum is the best place to start your tour of Bo-Kaap. The museum is housed in one of the oldest houses in the neighbourhood, and it provides an excellent overview of the area's history, culture, and traditions. The museum also has a gift shop where you can buy souvenirs and a tea room where you can enjoy traditional Cape Malay cuisine.
The museum is open from Monday to Saturday from 9 am to 4 pm and on Sundays from 10 am to 4 pm. The entrance fee is R20 for adults and R10 for children.
Walking Tour 🚶🏼‍♀️
The best way to experience the area is on foot. A walking tour will allow you to explore the neighbourhood's narrow streets and alleys and to see the colourful houses up close. There are several guided walking tours available, or you can explore the area on your own.
Some of the highlights of a walking tour of Bo-Kaap include:
The Houses: The brightly painted houses are the most famous features. The houses are painted in a range of colours, including pink, blue, green, and yellow. The residents are proud of their colourful homes and consider them a symbol of their heritage.

The Mosques: The area is home to several mosques, the oldest of which is the Auwal Mosque. The Auwal Mosque was built in 1794, and it is the first mosque in South Africa. The mosque is open to visitors, but you should dress modestly and remove your shoes before entering.

The Food: Famous for its cuisine, which is a fusion of Malay, Indian, and African flavours. You can sample traditional Cape Malay dishes at one of the many restaurants and cafes in the neighbourhood.

The History: There is a rich history that is tied to the arrival of the Cape Malay community in the 17th century. The residents are also proud of their heritage and are happy to share their stories with visitors.

The Views: Bo-Kaap is situated on the slopes of Signal Hill, which means that several vantage points offer panoramic views of the city. One of the best views is from the Bo-Kaap Cemetery.
A tour through Bo-Kaap is a must-do for anyone visiting Cape Town. The neighbourhood's colourful houses, rich history, and delicious cuisine make it a fascinating destination for tourists. Whether you choose to explore on your own or take a guided tour, Bo-Kaap is sure to leave a lasting impression.




Bo-Kaap Restaurants 🍽
Bo-Kaap, a vibrant and culturally rich neighbourhood in Cape Town, South Africa, offers a delightful array of restaurants that cater to various tastes. Bo-Kaap Kombuis stands out as a must-visit destination, known for its authentic Cape Malay cuisine and mesmerizing views of Table Mountain. This traditional restaurant encapsulates the essence of the area, immersing visitors in its culture, beauty, and uniqueness. Indulge in their unbeatable Masala Steak Sandwiches and savour the flavours that make Cape Malay food renowned. Bo-Kaap Kombuis is an institution that truly captures the spirit of Bo-Kaap.
Another noteworthy option is Biesmiellah Restaurant, a simple Cape Malay curry eatery that has garnered a loyal following. Located in Bo-Kaap, it offers a charming and unpretentious dining experience. The restaurant prides itself on serving delectable Cape Malay curries, bursting with aromatic spices and rich flavours. Whether you're a fan of mild or fiery dishes, Biesmiellah Restaurant has something to satisfy every palate. Explore the flavours of Cape Malay cuisine at this hidden gem in Bo-Kaap, and discover why it has become a favourite among locals and visitors alike.
Accommodation in Bo-Kaap 🏡
When it comes to accommodation in Bo-Kaap, Cape Town, there are a variety of options that cater to different preferences and budgets. From charming guesthouses and boutique hotels to self-catering apartments, there's something for everyone. Bo-Kaap Lodge, a popular choice, offers a delightful stay with its cosy rooms and warm hospitality. Its central location allows easy access to the colourful streets and cultural attractions of Bo-Kaap. For those seeking a more luxurious experience, Cape Town Cntr – Historic Cottages provide beautifully restored villas with a touch of history. These accommodations offer a glimpse into the rich heritage of the area while providing modern comforts. Whether you're a history enthusiast or simply looking for a comfortable stay, Bo-Kaap offers a range of options to suit your needs.
If you prefer a self-catering experience, there are numerous apartments available for rent in Bo-Kaap. Cape Town Holiday Apartments offer a selection of well-appointed units with fully equipped kitchens, allowing guests to prepare their own meals. This option provides flexibility and convenience for those who prefer to explore the local markets and create their own culinary adventures. For a true home-away-from-home experience, Airbnb listings in Bo-Kaap offer unique stays in local homes. From cosy studios to spacious townhouses, these accommodations provide an opportunity to immerse yourself in the vibrant community of Bo-Kaap. Whether you're a budget traveller or seeking a luxurious retreat, Bo-Kaap's accommodation offerings ensure a comfortable and memorable stay in this culturally rich neighbourhood.
Tips for Visiting Bo-Kaap 📑
To make the most of your visit to Bo-Kaap, here are some tips to keep in mind:
Respect the Residents: It is a residential neighbourhood, and the residents value their privacy. While it is perfectly fine to take photos of the houses and streets, be mindful of the people who live there. Avoid taking photos of people without their permission, and be respectful of their personal space.

Dress Appropriately: The area is a Muslim neighbourhood, and it is important to dress modestly out of respect for the residents' culture and traditions. Avoid wearing revealing clothing or clothing with offensive slogans.

Take Your Time: It is a small neighbourhood, but there is a lot to see and do. Take your time to explore the area and soak in the atmosphere. Stop at a cafe or restaurant for a break and chat with the locals.

Try the Cuisine: Bo-Kaap is famous for its cuisine, so be sure to try some of the traditional Cape Malay dishes. Some popular dishes include boboties, samoosas, and koeksisters.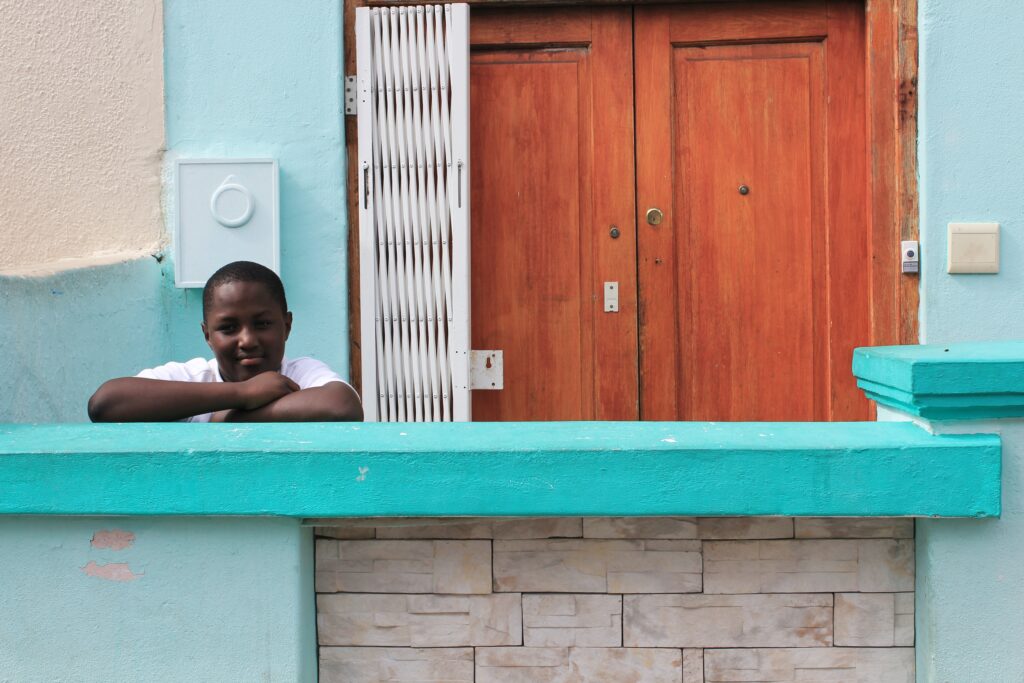 Getting to Bo-Kaap 🚙
Bo-Kaap is situated on the slopes of Signal Hill, just a short distance from the city centre. There are several ways to get to Bo-Kaap:
Walking: If you are staying in the city centre, you can walk to Bo-Kaap. It is a pleasant walk that takes about 15 minutes.

Taxi: You can take a taxi from anywhere in Cape Town to Bo-Kaap. Taxis are readily available, and the journey should not take more than 10 minutes.

Bus: You can take a MyCiTi bus to Bo-Kaap. The nearest stop is the Bo-Kaap Museum stop.
---
A tour through Bo-Kaap is a must-do for anyone visiting Cape Town. The neighbourhood's colourful houses, rich history, and delicious cuisine make it a fascinating destination for tourists. Whether you choose to explore on your own or take a guided tour, Bo-Kaap is sure to leave a lasting impression. Remember to respect the residents, dress appropriately, try the cuisine, and take your time to fully experience this unique neighbourhood.
---
FAQ
Q – What is the story behind Bo-Kaap?
A – Discover the fascinating history of Bo-Kaap, formerly known as the Malay Quarter. Learn about its origins as a racially segregated area and its significance to Cape Town's cultural heritage.

Q – Is Bo-Kaap worth visiting?
A – Explore the vibrant and colourful neighbourhood of Bo-Kaap, nestled on the slopes of Signal Hill. Experience its unique blend of Cape Malay culture, cobblestone streets, and brightly painted houses that make it a must-visit destination.

Q – Is it safe to visit Bo-Kaap?
A – Bo-Kaap is generally a safe neighbourhood to visit, but it's always advisable to exercise caution and be aware of your surroundings, especially when exploring unfamiliar areas. Take necessary precautions to ensure a safe and enjoyable visit.

Q – What should I wear in Bo-Kaap?
A – There is no specific dress code for Bo-Kaap, but it is respectful to dress modestly when visiting religious sites or engaging with the local community. Comfortable shoes are recommended as the area features steep streets.

Q – Why are the houses in Bo-Kaap so colourful?
A – The vibrant colours of the houses in Bo-Kaap have cultural and historical significance. They are a symbol of the community's celebration of freedom and identity. The tradition of painting houses in bright hues dates back to the 19th century.