Muizenberg Beach is a popular tourist destination located in Cape Town, South Africa. It is a beautiful sandy beach that stretches for several kilometres and is known for its colourful beach huts and excellent surfing conditions. We will explore everything there is to know about this extraordinary beach, including its history, attractions, facilities, and more.
History of Muizenberg Beach 🩴
Muizenberg Beach has a rich history that dates back to the early 1800s when it was first established as a seaside resort. The beach quickly became popular among locals and visitors alike, with its calm waters and beautiful scenery. In the early 1900s, the beach became even more popular when a railway line was built, making it easier for people to access the area.
Over the years, the beach has seen many changes, including the construction of the colourful beach huts that are now a signature feature of the area. Today, the beach remains a popular tourist destination and a favourite among locals who enjoy swimming, surfing, and sunbathing.
Attractions at Muizenberg Beach 🏖️
Muizenberg Beach offers a wide range of attractions and activities for visitors of all ages. Here are some of the top attractions at the beach:
Surfing: The beach is known for its excellent surfing conditions, making it a popular destination for surfers from around the world. The beach is particularly popular among beginners and intermediate surfers, as the waves are not too challenging.

Beach huts: The colourful beach huts in the area are one of the most iconic features of the area. The huts were originally built in the 1920s and have since become a popular subject for photographers and artists.

Swimming: The calm waters of Muizenberg Beach make it an ideal spot for swimming. The beach is patrolled by lifeguards during the summer months, ensuring the safety of swimmers.

Whale watching: During the winter months, Southern Right Whales can often be seen off the coast. Visitors can take a whale-watching tour to get a closer look at these magnificent creatures.

Muizenberg Water Slides: The beach is home to a water park that features several water slides and other attractions. The park is popular among families with children and is a great way to cool off on a hot day.

Kitesurfing: In addition to traditional surfing, the area is also a popular spot for kitesurfing. The strong winds and flat waters make it an ideal location for this exciting sport.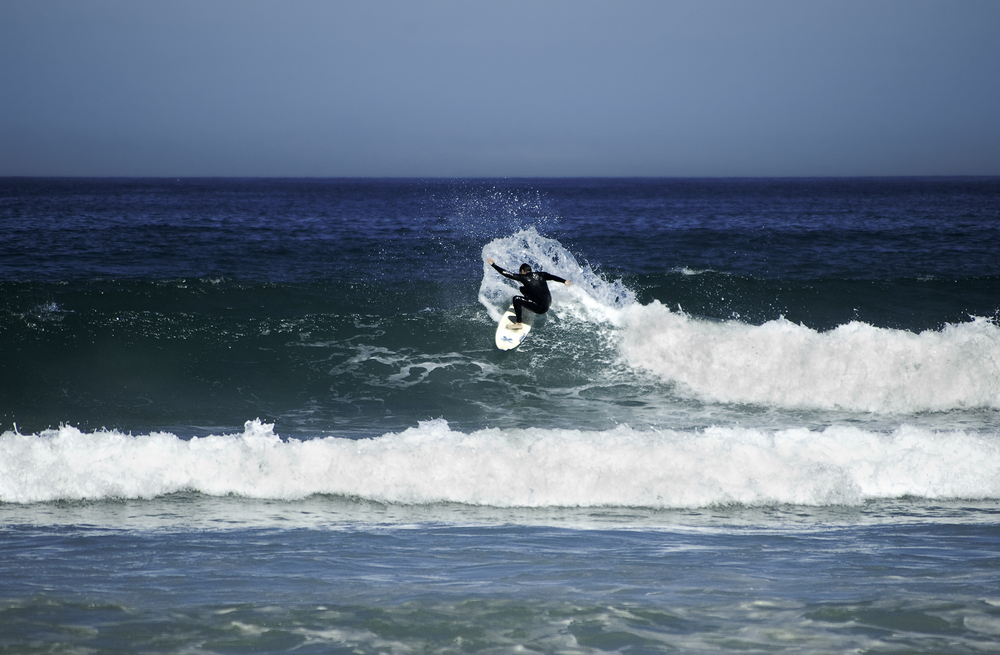 Muizenberg Tides 🌊
Muizenberg Tides is a captivating natural phenomenon that enchants visitors and locals alike. This coastal town experiences noticeable tidal changes throughout the day, creating a mesmerizing display of ebbing and flowing waters. During low tide, the vast sandy beach expands, revealing rock pools teeming with fascinating marine life.
It's a perfect opportunity for beachcombers to explore and discover colourful sea anemones, starfish, and small fish trapped in the tidal pools. As the tide rises, the ocean transforms the landscape, attracting surfers and kiteboarders who take advantage of the powerful waves. Muizenberg Tides not only offers a picturesque backdrop for beach activities but also showcases the ever-changing beauty of the natural world.
Facilities at Muizenberg Beach 🚿
Muizenberg Beach offers a wide range of facilities to ensure that visitors have a comfortable and enjoyable experience. Here are some of the top facilities at the beach:
Parking: There are several parking areas located near the beach, making it easy to find a spot to park your car.

Restrooms: Restrooms are located throughout the beach area, ensuring that visitors have access to clean and well-maintained facilities.

Lifeguards: The beach is patrolled by lifeguards during the summer months, ensuring the safety of swimmers.

Restaurants: There are several restaurants and cafes located near the beach, offering a wide range of dining options.

Shower facilities: Shower facilities are available near the beach, allowing visitors to rinse off the saltwater and sand after a swim.

Beach umbrellas and chairs: Visitors can rent beach umbrellas and chairs from vendors located near the beach, providing a comfortable spot to relax and enjoy the sun.

Surf shops: There are several surf shops located near the beach, offering equipment rentals and lessons for surfers of all skill levels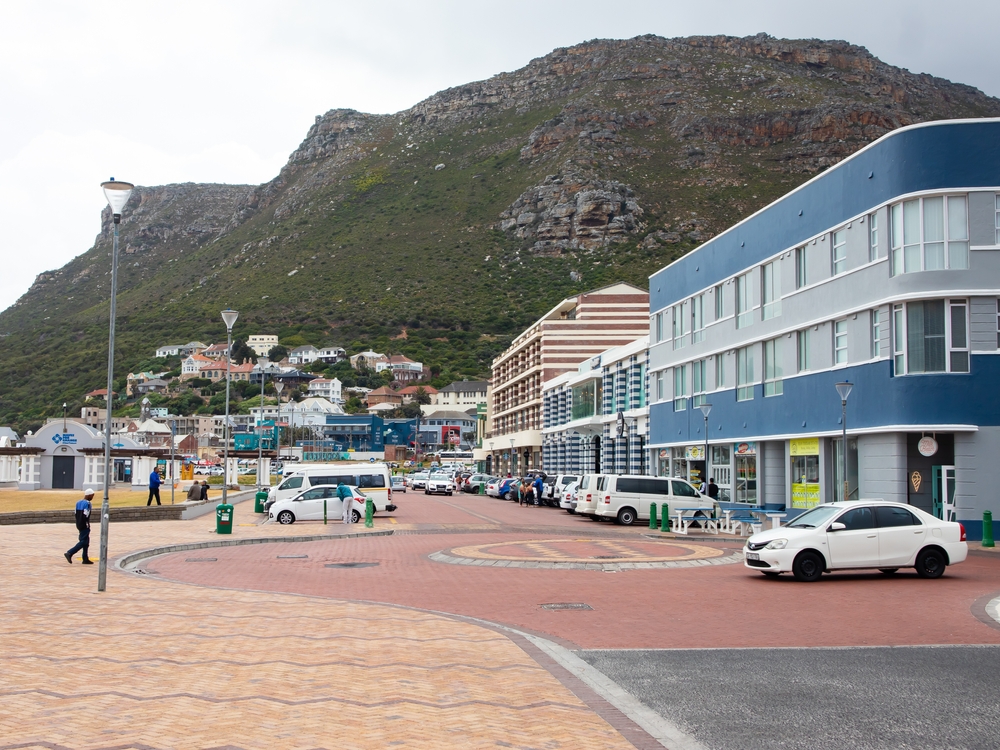 Muizenberg Restaurants 🍽️
Muizenberg Beach offers not only breathtaking views of the ocean but also a variety of dining options for visitors to enjoy. Whether you're craving fresh seafood, a juicy burger, or simply want to relax with a cup of coffee, Muizenberg Beach Restaurants have something to satisfy every palate. Here are a few notable restaurants in the area:
1. The Shed Muizenberg – The Shed Muizenberg is a popular restaurant situated next to the beachfront. With its relaxed and casual atmosphere, it's the perfect spot to grab a bite after a day of surfing or lounging on the sand. The restaurant specializes in wood-fired pizzas and gourmet burgers, prepared with locally sourced ingredients. Visitors can also enjoy a wide selection of craft beers and wines while taking in stunning views of the ocean.
2. Ocean Basket Muizenberg – Seafood lovers will find their haven at Ocean Basket Muizenberg. This renowned seafood restaurant chain offers a diverse menu featuring an array of ocean delights, from fresh fish and prawns to calamari and mussels. Their dishes are expertly prepared, showcasing the flavours of the sea. With its comfortable ambience and friendly service, Ocean Basket Muizenberg is a fantastic choice for those seeking a taste of the ocean.
3. Spur Muizenberg Beach – For a family-friendly dining experience, Spur Muizenberg Beach is a go-to option. Known for its casual, welcoming atmosphere, this restaurant chain is famous for its delicious flame-grilled steaks, burgers, and hearty South African dishes. With a dedicated play area for kids, Spur Muizenberg Beach ensures that the whole family can enjoy a great meal together while soaking up the beachside vibes.
4. Tiger's Milk Muizenberg – If you're looking for a trendy spot to grab a drink and enjoy some tasty bites, Tiger's Milk Muizenberg is an excellent choice. With its vibrant and lively atmosphere, this restaurant and bar serve up a variety of mouthwatering dishes, including gourmet pizzas, sticky ribs, and flavorful tacos. Pair your meal with a refreshing craft cocktail or one of the many craft beers on offer, and you'll have a memorable dining experience.
Whether you're in the mood for pizza, seafood, a juicy steak, or vibrant cocktails, Muizenberg Beach has a range of restaurants to cater to your cravings. From the laid-back atmosphere of The Shed and Ocean Basket to the family-friendly ambience of Spur and the trendy vibes of Tiger's Milk, these establishments offer a diverse culinary scene that complements the beachside setting of Muizenberg.
Activities and Events at Muizenberg Beach 🏄
The beach hosts a variety of events and activities throughout the year, making it an exciting destination for visitors. Here are some of the top activities and events at the beach:
Surfing Competitions: Muizenberg Beach hosts several surfing competitions throughout the year, attracting surfers from around the world.

Beach Volleyball: Visitors can enjoy a game of beach volleyball at the designated volleyball courts located near the beach.

Yoga: There are several yoga studios located near Muizenberg Beach, offering yoga classes on the beach during the summer months.

Art Walk: The area is home to a vibrant art scene, and visitors can take an art walk to see the work of local artists.

Markets: There are several markets located near the beach, offering a wide range of goods and souvenirs for visitors to purchase.

Sunset Concerts: During the summer months, Muizenberg Beach hosts free sunset concerts on the beach, featuring local musicians and artists.

Fishing: Fishing is a popular activity at Muizenberg Beach, and visitors can fish from the pier or the beach.
---
Muizenberg Beach is a beautiful and exciting destination that offers something for everyone. Whether you are a surfer, a beach-goer, or a nature lover, there are plenty of attractions and activities to enjoy. With its rich history, vibrant art scene, and stunning scenery, Muizenberg Beach is a must-visit destination for anyone travelling to Cape Town.
Ocean Eye Muizenberg Cam: https://oceaneye.co.za/webcams/muizenberg/
---
FAQ
Q – Where is Muizenberg Beach?
A – Muizenberg Beach is located in Cape Town, South Africa, on the False Bay coast, about 25 kilometres south of the city centre. It is easily accessible by car or public transportation.

Q – How is the weather in Muizenberg?
A – Muizenberg enjoys a Mediterranean climate, characterized by mild, wet winters and warm, dry summers. Temperatures typically range from around 15°C in winter to 25°C in summer, making it an ideal beach destination throughout the year.

Q – Is Muizenberg Beach suitable for swimming?
A – Yes, Muizenberg Beach is suitable for swimming. However, it's important to note that the water can be colder than some other beaches due to the influence of the Benguela Current. The beach is known for its strong waves, which are popular among surfers and bodyboarders.

Q – Are there parking facilities available at Muizenberg Beach?
A – Yes, Muizenberg Beach provides parking facilities for visitors. There are designated parking areas near the beach, both free and paid options, making it convenient for those arriving by car. It is advisable to arrive early, especially during peak times or weekends, to secure a parking spot.