South Africa is a country that is blessed with natural beauty, and one such example is the coastal town of Betty's Bay. Located on the Western Cape coast, Betty's Bay is a hidden gem that offers visitors stunning views of the ocean, majestic mountains, and an array of flora and fauna. We will be exploring everything you need to know about this beautiful marvel, including its history, geography, attractions, and more.
All About Betty's Bay 🪶


Going back in time to the start of Betty's Bay you have to understand that the entire Hangklip area was owned by three businessmen Arthur Youldon, Jack Clarence and Harold Porter. These three men decided to divide the area up into three parts Pringle Bay, Rooiels and of course Betty's Bay, they then sold it to interested parties. Betty's Bay was named after Arthur Youldon's daughter Betty.
Betty's Bay has been an asset to have in the area as there have been many adversities that the area has faced such as wildfires which Betty's Bay residents have helped overcome. With all the bumps along the way, Betty's Bay still remains a beautiful and once-in-a-lifetime destination that attracts tourists from anywhere and everywhere.
Things to do in Betty's Bay 🐧


The area offers visitors a range of attractions and activities, which make it a popular holiday destination. The Stony Point Nature Reserve is a must-visit destination for anyone visiting. The reserve is home to a colony of African penguins, which are an endangered species. Visitors can walk along the boardwalks and observe the penguins in their natural habitat.
The Harold Porter Botanical Gardens is another popular attraction. The gardens are located at the foot of the Kogelberg Mountains and are home to a variety of plant species, including several fynbos species that are endemic to the region. Visitors can take a leisurely stroll through the gardens and enjoy the natural beauty of the area. The Kogelberg Nature Reserve is a protected area that is home to a variety of flora and fauna species. The reserve is known for its hiking trails, which offer visitors stunning views of the mountains and the ocean. Visitors can also go bird watching or take a guided tour of the reserve.
Betty's Bay is one of the best places in South Africa to watch whales. Southern right whales visit the area between mid-August and mid-October each year. Visitors can take a boat tour or observe the whales from the shore. The area has several beautiful beaches that are perfect for swimming, sunbathing, and surfing. Some of the popular beaches in the area include Betty's Bay Main Beach, Jock's Bay, and Silversands Beach.
Experience The Entire Garden Route By Going On A Garden Route Tour 🚐
Betty's Bay Flora and Fauna 🪿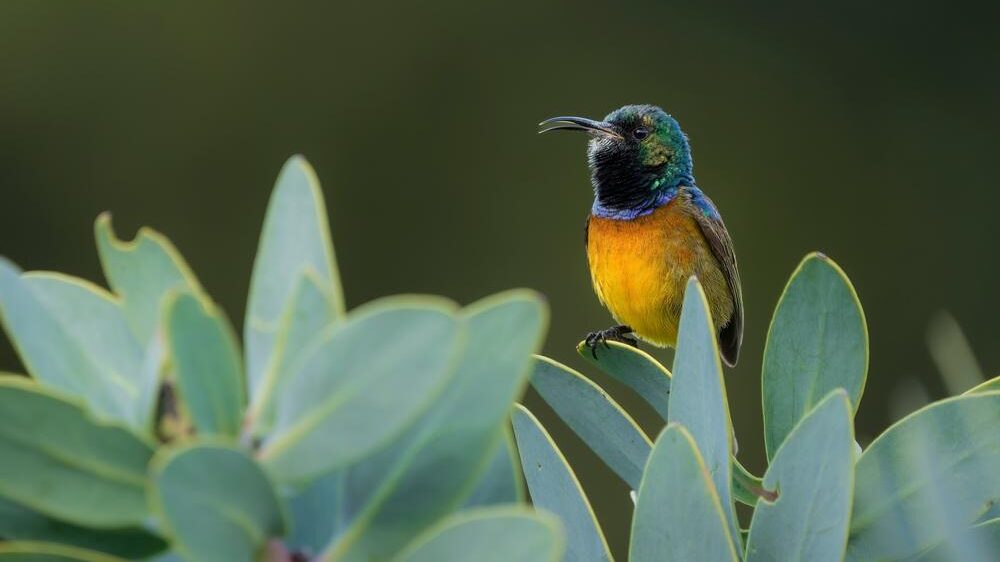 The area is located in the Cape Floristic Region, which is one of the world's six floral kingdoms. Betty's Bay is home to over 1,600 plant species, many of which are endemic to the area. Fynbos, a type of vegetation that is found only in the Cape Floristic Region, is particularly abundant. The fynbos in the area include species such as proteas, ericas, and restios. There are Milkwood trees which are common along the Western Cape, Cape Beech trees which are found a lot in the Kogelberg Mountains and Yellowwood trees which are among the tallest trees in South Africa and can reach up to 35 meters tall.
This beautiful place is home to a variety of animal species, including several that are endemic to the area. Some of the animal species that you may encounter in the area include: The African penguins in Stony Point Nature Reserve are a popular attraction for visitors The penguins are an endangered species and are only found along the coast of southern Africa. The Cape Clawless Otters are also a common sight along the rocky shores. They are known for their playful behaviour and are often seen diving and swimming in the ocean.
Chacma baboons are found in the mountains around the area and are known for their intelligence and curiosity. Visitors are advised not to feed or approach the baboons. Don't miss out on the whales in Betty's Bay that visit the area each year between mid-August to mid-October. They are easily recognizable by their large size and tendency to travel in large packs.
🍷 Go On A Half Day Whale Tour and Wine Tasting In And Around Betty's Bay 🐳
How to Get to Betty's Bay? 🚙
Betty's Bay is located about 130 km from Cape Town and is easily accessible by car. Visitors can take the N2 and then the R44 coastal route from Cape Town, which takes them along the scenic coastal route. The journey takes about 1.5 hours, depending on traffic. There are also several tour companies that offer guided tours of the surrounding area.
🚘 Need To Travel To Betty's Bay? Why Not Rent A Car For Your Trip? 🚗
Betty's Bay is a hidden gem on the Western Cape coast that offers visitors stunning natural beauty, unique flora and fauna, and a range of activities and attractions. Whether you're looking for a peaceful getaway or an adventure-filled holiday, Betty's Bay has something for everyone. So why not plan your next holiday in Betty's Bay and discover the magic of this special place for yourself?