Cape Town is known for its stunning beaches, rugged mountains, and diverse cultural heritage. It's no wonder that the city has been named one of the most beautiful in the world. With so much natural beauty, there are countless places to watch the sunset in Cape Town. However, some spots are often hidden away, waiting to be discovered. We will be taking a look at some of the places to see the sunset in Cape Town.
Lion's Head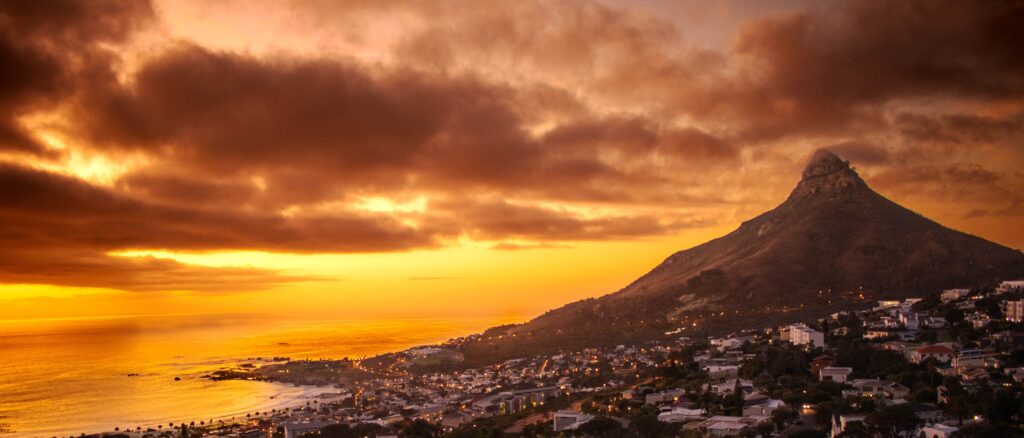 Lion's Head stands out as a hiker's paradise that offers a double delight—easy hiking and mesmerizing sunsets. This iconic mountain can be conquered in approximately 1.5 hours at a comfortable pace, making it an ideal choice for those seeking a bit of adventure without an overly strenuous climb. As you ascend, each step brings you closer to the pinnacle, and the anticipation builds for the breathtaking sunset view that awaits at the top. Watching the sun descend below the horizon, casting a warm glow over the city and the surrounding mountain ranges, is an experience that will etch itself into your memory forever.
What makes Lion's Head even more enticing is that it's free to visit and accessible 24 hours a day. However, for a more enjoyable experience, it's advisable to pack some snacks, a water bottle to keep you hydrated, and a light jacket to stay warm as the temperature drops once the sun dips below the skyline. Whether you're a seasoned hiker or a casual adventurer, Lion's Head offers a unique blend of natural beauty and sunset magic that makes every drop of sweat worth it, and it's undoubtedly a must-visit location on your Cape Town sunset adventure.
Maiden's Cove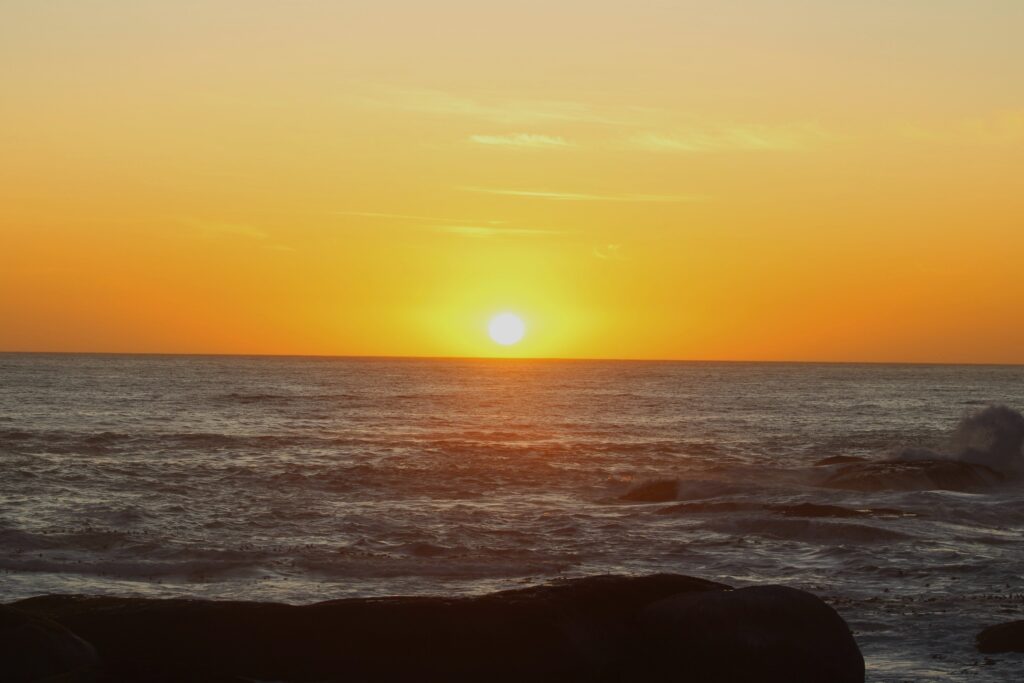 Maiden's Cove, nestled between Camps Bay and Clifton Beach in Cape Town, is a coastal marvel renowned for its awe-inspiring sunsets. With breathtaking vistas of the Twelve Apostles Mountain Range, the Atlantic Ocean, and the iconic Table Mountain in the backdrop, Maiden's Cove stands among the best sunset spots in Cape Town. Here, you can revel in the warm embrace of the Cape Town sun, feel the refreshing ocean breeze in your hair, and soak up the blissful ambience of this enchanting locale.
As the sun gracefully sets over the horizon, Maiden's Cove transforms into a magical paradise, casting a warm glow over the sandy stretches of Glen Beach, Camps Bay, and the captivating Clifton Beach. The beach's scenic beauty, combined with its natural charm, offers an ideal backdrop for those seeking serenity and stunning photo opportunities. Whether you're a sunset enthusiast or an Instagram aficionado, Maiden's Cove promises an unforgettable experience, making it one of the best sunset spots in Cape Town for those looking to capture the beauty of Cape Town's sunsets in all their splendour.
Signal Hill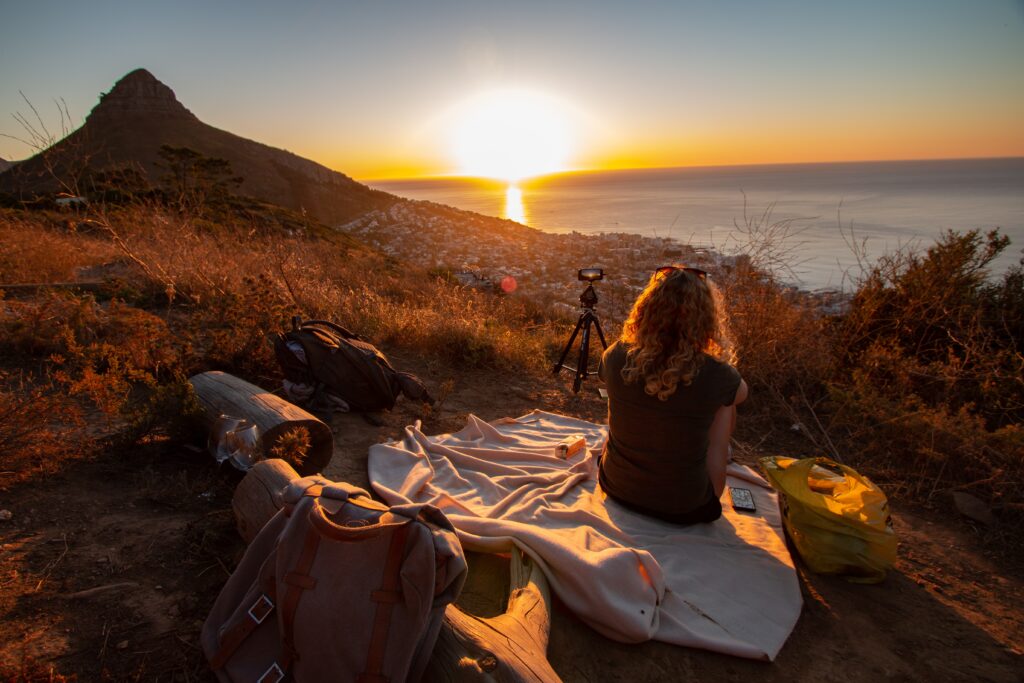 Signal Hill, often touted as Cape Town's most incredible sunset spot, offers a year-round spectacle that is nothing short of awe-inspiring. Situated within the bounds of Table Mountain National Park, this elevated vantage point provides an unparalleled view of the Atlantic Seaboard and the vast expanse of the ocean beyond. As the sun begins its descent, Signal Hill transforms into a natural amphitheatre, setting the stage for a cinematic sunset experience that will leave you spellbound.
To enhance your visit, consider packing a picnic basket filled with delectable local treats and a bottle of South Africa's finest wine. This remarkable spot doesn't charge an entrance fee and remains accessible 24 hours a day, ensuring that the magic of Signal Hill can be experienced by all. However, it's important to note that visiting after dark is not advisable for safety reasons.
To secure a prime viewing spot, it's recommended to arrive early and ensure a parking space. On clear days, the green tarp laid out for seating fills up quickly, so be prepared. As the sun paints the sky in hues of orange and pink, you can indulge in a bottle of champagne and some delectable snacks, creating the perfect setting for a sunset picnic. Signal Hill serves as a launch point for paragliding, providing a unique opportunity to experience the Cape Town sunset from the skies, adding an extra layer of adventure to your visit.
Chapmans Peak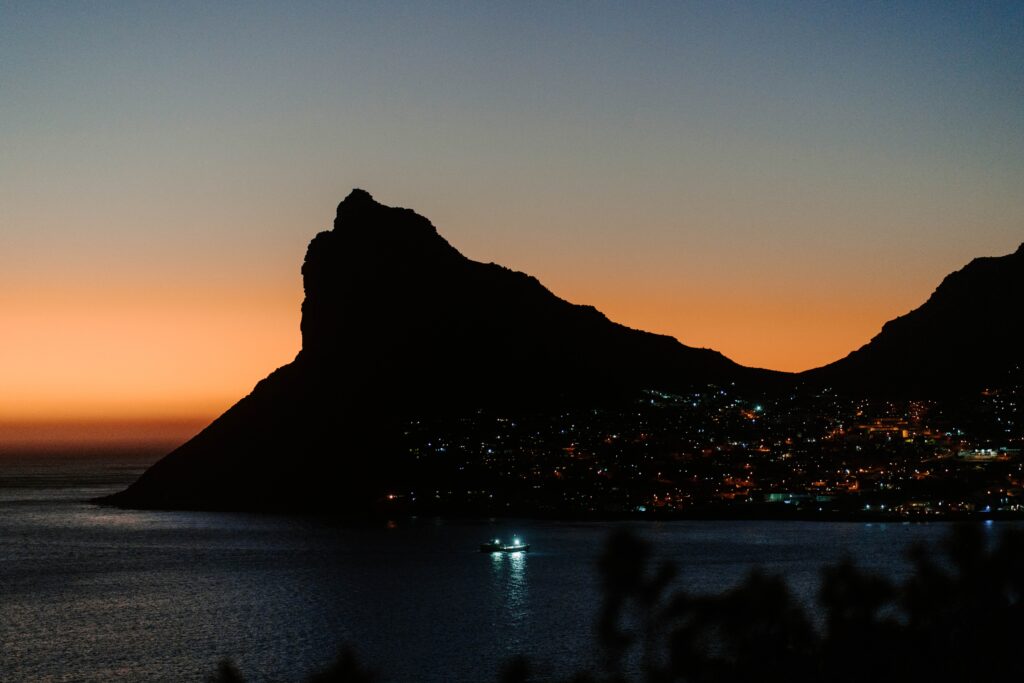 In a city surrounded by mountains, Cape Town offers an array of elevated roads and mountain passes that provide unique sunset views away from the crowds of famous beaches and mountaintops. Among these hidden gems, Chapman's Peak Drive stands out as a must-visit destination for sunset seekers. This picturesque route winds along the mountainside, offering captivating vistas of the boundless sea and the majestic surrounding mountain ranges. To ensure your safety and the safety of others, it's imperative to stop only at designated viewing points, allowing you to soak in the breathtaking scenery and embrace the mesmerizing Cape Town sunset.
Often touted as one of the world's most scenic drives, Chapman's Peak Drive spans 9 kilometres, encompassing a staggering 114 curves that navigate a rocky coastline plunging into the Atlantic Ocean. As you traverse this winding road, you'll find yourself amidst colourful sandstone sedimentary rock formations that tower above you, creating a jaw-dropping experience. However, witnessing this natural wonder at sunset elevates the experience to a whole new level. The golden light casts a warm glow upon the rocks, while the sea glistens and sparkles in the fading daylight.
The happy faces of fellow sunset admirers create the perfect backdrop for classic selfies and unforgettable memories. For photographers, Chapman's Peak Drive at sunset is a dream come true, with tripods emerging like giants, light meters meticulously adjusted, and angles fine-tuned to capture that perfect shot. While day passes are valid during daylight hours, allowing for a free journey between sunrise and sunset, we highly recommend experiencing the entire road during the golden hour to truly savour the heavenly sunset views on Chappies.
Llandudno Beach
Llandudno Beach, a serene 20-minute drive from Cape Town, offers a peaceful escape for sunset seekers. This secluded haven, with its inviting boulders perfect for admiring the coastal views and capturing stunning photographs, provides a quieter alternative to Clifton Beach. Whether you're planning a romantic sunset picnic, brave enough for a refreshing swim in the invigorating ocean, or simply yearning for a tranquil sunset backdrop, Llandudno Beach delivers.
Tucked along Cape Town's coastline, away from the bustling crowds of Camps Bay and Bakoven, Llandudno Beach remains one of the city's best-kept secrets. This laid-back paradise is cherished by surfers, bodyboarders, sun worshippers, and anyone in search of a serene spot to savour the beauty of a Llandudno sunset. With its remote location, Llandudno offers a peaceful alternative to busier beaches, where vendors occasionally stroll by with snacks and refreshing drinks. Plus, you can rent deck chairs and umbrellas for added comfort as you enjoy activities like bodyboarding, sunbathing, sunset picnics, and beachside braais. Llandudno Beach also serves as a prime spot for whale watching from September to December, making it a versatile and captivating destination along Cape Town's coastline.
Table Mountain
Table Mountain, one of the New7Wonders of the World, is a must-visit landmark in Cape Town, and witnessing a sunset from its summit is an extraordinary experience. From the top, you'll enjoy unparalleled views of the city, the glistening ocean, and the sun dipping below the horizon. Whether you choose to hike to the summit (a moderately fit person can do it in about 2 hours) or take the iconic Cable Car, this natural wonder offers a magical setting for capturing Cape Town's stunning sunsets.
The Cable Car operates from 8 AM to 8 PM, with return tickets costing, but they're free within a week of your birthday. Don't forget to bring a warm jacket for the chilly evening air and some snacks to enjoy while soaking in the breathtaking views. Whether you're competing with friends to spot a dassie or simply revelling in the beauty of the Atlantic Ocean and the Twelve Apostles Mountain range with Cape Town below, Table Mountain promises an unforgettable sunset experience.
Bloubergstrand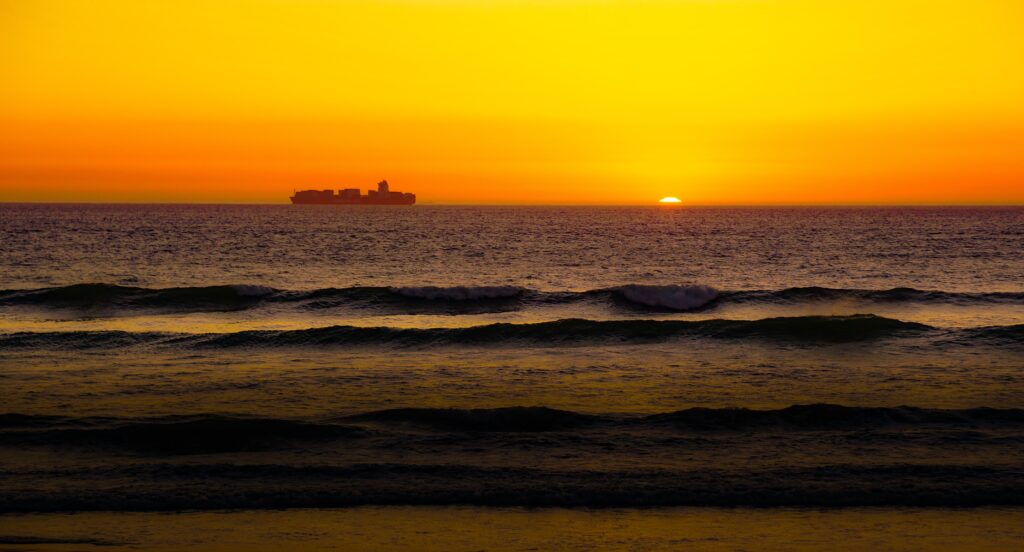 Blouberg Beach, on the flip side of Cape Town, is a prime spot for experiencing a stunning Cape Town sunset with the majestic Table Mountain as your backdrop. This beach is a fantastic family-friendly destination, and the best part is, it's entirely free to visit. Nearby Hout Bay offers thrilling shark diving adventures, and along the beach road, you'll find a variety of restaurants where you can enjoy a drink or a meal while soaking in the sunset's beauty.
Blouberg Beach is renowned for its breathtaking views, with Table Mountain taking centre stage. Colourful paragliders and windsurfers add to the visual spectacle, making it a photographer's dream. Surfers also flock to this beach, offering a unique perspective to watch the sunset from a surfboard. If the beach isn't your scene, consider the Blowfish Restaurant at Dolphin Beach, which offers a conservatory with a fantastic sunset view, complete with drinks, delicious food, and air conditioning—ideal for a summer sunset experience. Keep in mind that Blouberg can be windy, so it's wise to check the weather before heading out to avoid a sandstorm.
Oudekraal Beach
Along the picturesque Oudekraal/Atlantic Seaboard road, you'll discover numerous lay-bys that beckon you to pull over, park your car, and indulge in the magic of a Cape Town sunset. Tucked away in a cove between Bakoven and Llandudno, Oudekraal Beach is a hidden treasure nestled opposite the 12 Apostles Hotel. Part of the Table Mountain National Park, this pristine beach invites you to picnic, enjoy a seaside braai (barbecue), swim, snorkel around a 45-year-old shipwreck, or simply bask in the sun's warmth. The scenery is nothing short of breathtaking, making it a perfect backdrop for capturing Instagram-worthy images or even hosting special events.
With 35 well-maintained braai sites scattered throughout the area, you can meander along the paths to find your ideal spot, where the Milkwood trees and boulders provide a sense of privacy from fellow beachgoers. Keep in mind that there are no nearby shops, so it's essential to bring everything you need for a perfect beach day. While Oudekraal Beach enforces a strict no-alcohol policy, there is an exception—the gazebo, which is available for hire for private events, providing an added touch of exclusivity to your visit.
Kirstenbosch Botanical Gardens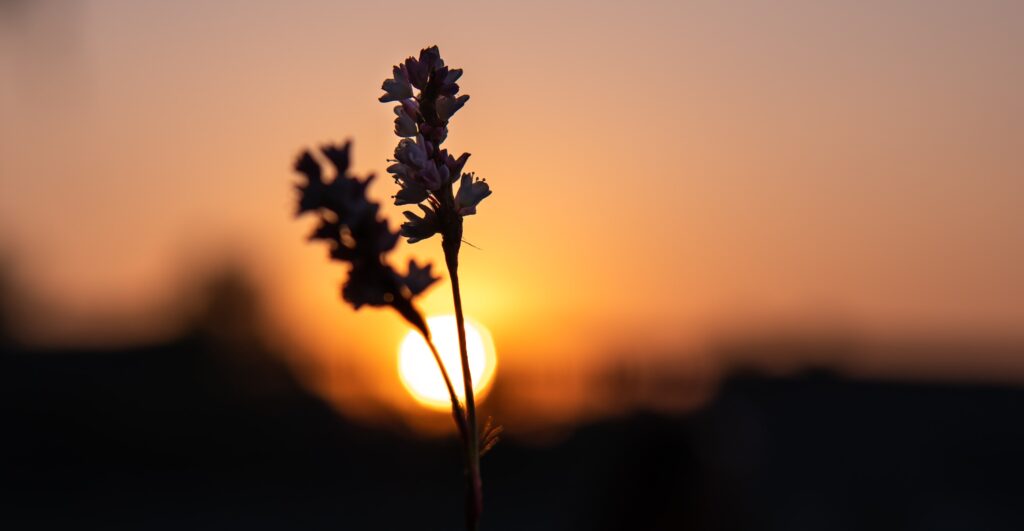 Nestled just a 20-minute drive from Cape Town City Centre, Kirstenbosch National Botanical Garden is a beloved haven for both locals and visitors. This lush garden is a favourite spot for leisurely strolls and delightful picnics among the diverse array of South African flora. Yet, it's not just a daytime paradise; Kirstenbosch offers a unique sunset experience, especially from the enchanting Tree Canopy Walkway. As you ascend to treetop level, you're treated to a spectacular panoramic view that stretches beyond the horizon. From here, you can witness the sun's serene descent behind the Mother City, creating a picturesque scene that will leave you in awe.
If you happen to visit during the summer, Kirstenbosch has an extra treat in store. The garden hosts sunset concerts, where you can relish both the breathtaking landscape and the sweet sounds of live music. It's an exceptional opportunity to immerse yourself in the natural beauty of Kirstenbosch while enjoying a musical serenade as the sun sets. Kirstenbosch Botanical Gardens, with its perfect blend of scenic splendour and cultural delights, stands as a must-visit destination for those seeking the best of Cape Town's sunsets and outdoor experiences.
Cape Point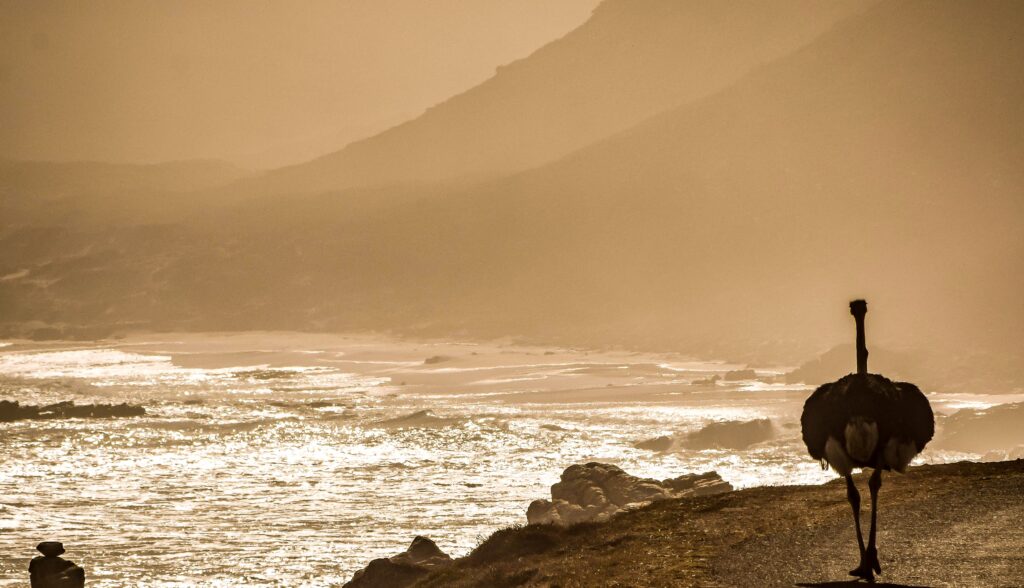 A visit to Cape Town would be incomplete without exploring the dramatic headland known as Cape Point. This iconic destination boasts magnificent beaches, awe-inspiring vistas, and charming coastal villages, making it one of the world's most scenic areas. And when the sun starts its gentle descent, Cape Point transforms into a canvas of beauty that seems straight out of a postcard. As the sunset bathes the peninsula in golden hues, the natural beauty of this location is amplified, creating a mesmerizing experience. Cape Point is a paradise for outdoor enthusiasts, offering excellent hiking and cycling opportunities. If you're an avid cyclist, consider embarking on a Cape Point tour or a Cape Point bicycle tour to truly immerse yourself in the splendour of this coastal gem.
While Cape Point is renowned for its sensational sunsets, it's also a haven for sunrise seekers. If you can make it to the entrance early enough, you'll be rewarded with a spectacular sunrise over the vast expanse of False Bay. The ticket office opens as early as 6 a.m. from October to March and at 7 a.m. from April to September, providing ample time to catch one of the most unforgettable sunrises of your life.
For those looking to watch the sunrise from the top lighthouse, a walk is necessary since the Flying Dutchmen Funicular only begins operating at 9 a.m. However, after descending, you can treat yourself to a delightful breakfast at the restaurant, rounding off your Cape Point experience with a taste of culinary excellence. Whether you're a sunrise or sunset enthusiast, Cape Point offers a front-row seat to the wonders of nature that you'll cherish forever.
---
Cape Town is a beautiful city that's filled with natural wonders and hidden gems. Whether you're looking for a romantic evening or a peaceful escape from the crowds, there's a perfect spot for watching the sunset. From Lion's Head to Cape Point, these spots offer some of the best views in the city. So why not take some time to explore and discover the beauty of Cape Town? You won't be disappointed.
---
The Top Sunset Spots
Now that you know all the spots to watch the sunset in Cape Town why not take a look at the best spots with our top 5? To truly experience the magnificence of a South African sunset don't miss out on these ultimate destinations.