Franschhoek is in the heart of the Western Cape, it is known for its breathtaking scenery, rich history, and world-class wineries. However, what truly sets this charming village apart is its delicious food. With a fusion of international flavours and local ingredients, Franschhoek has become a food enthusiast's dream. Let's delve into the best restaurants in Franschhoek that showcase the culinary excellence this region has to offer.
Le Coins Francais ☁️


The heart of Le Coin Français lies in its ability to reflect the soul of the valley. Led by the visionary Chef de Cuisine and owner, Darren Badenhorst, this establishment is a harmonious blend of cutting-edge culinary techniques and timeless French elegance. The Le Coin Français menu is a symphony of flavours that pay homage to the valley's culinary heritage while pushing the boundaries of creativity.
A meticulously put-together wine list takes guests on a journey through the best local wines. Complementing this local selection is a thoughtfully chosen array of French wines, guided by a seasoned sommelier. This pairing of old and new worlds ensures that every sip enhances the dining experience.
Le Coin Français, with its luxurious ambience and exceptional offerings, remains a sought-after destination. It comes as no surprise that this establishment is consistently fully booked. Reservations are a must if you wish to get a seat in a place that embodies the heart and soul of Franschhoek. In a valley celebrated for its art, wine, and history, Le Coin Français stands as a pinnacle of culinary achievement, beckoning connoisseurs to experience the very essence of this enchanting region.
Le Coins Francais Opening Hours: Friday to Sunday from 12 pm – 2 pm, Tuesday to Sunday from 6 pm – 8 pm.
Address: 17 Huguenot Rd, Franschhoek, Cape Town
Website: https://lecoinfrancais.co.za/
Contact Number: 074 126 0022
Oku 🥟


Oku is a fusion of Southeast Asian flavours and exquisite design. This Asian Restaurant, with its enchanting minimalist aesthetics, transports diners to the enchanting landscapes of Asia while firmly rooted in the beauty of Franschhoek. Delicate artworks are shown along the walls, paying homage to the intricate craftsmanship of Southeast Asian cultures. Unique bonsai trees punctuate the space, bringing an air of tranquillity to the bustling restaurant. The design is a careful balance of the region's heritage, creating a dining experience that engages all the senses.
Due to its exceptional quality and popularity, booking a table in advance is not only advisable but essential to secure a memorable dining experience. The restaurant transports guests to a world of flavours and aesthetics making it a sought-after destination for locals and visitors. From its elegant design and delicate artwork to its dynamic Oku menu and carefully selected beverages, every aspect of Oku tells a story of harmonious integration. As the brainchild of Ryan Shell, this restaurant has rightfully earned its place as a must-visit establishment for those seeking an authentic, enchanting, and unforgettable dining adventure.
Oku Opening Hours: Monday to Sunday for lunch from 12 p.m. to 3:30 p.m., Monday to Sunday for dinner from 6 p.m. to 8:30 p.m.
Address: Heritage Square 9 Huguenot Road, Franschhoek, Cape Town
Website: https://eat-oku.co.za/
Contact Number: 021 023 4695
Deux Lions 🦁


Deux Lion's philosophy revolves around utilizing the freshest local ingredients to craft a Deux Lion menu that not only tastes good but also nourishes the soul. Each dish is a testament to the culinary team's dedication to their craft and their deep respect for the ingredients they work with.
Led by the visionary head chef, Nanda Cardoso, Deux Lions thrives under her expert guidance. With an impressive resume that boasts training and experience under some of the country's most renowned chefs, Cardoso's culinary journey brings a wealth of knowledge and innovation to the restaurant's offerings. Her leadership ensures that every plate leaving the kitchen is a work of art, showcasing a harmonious blend of flavours, textures, and presentation.
Beyond the exceptional cuisine, Deux Lions is a place where the senses are embraced in a tranquil environment. The idyllic setting of La Bourgogne Wine Estate serves as the perfect backdrop for a meal that engages all the senses. As the aroma of seasonal dishes fills the air and the flavours dance on the palate, guests are enveloped in a culinary experience that transcends the ordinary.
Deux Lion Opening Hours: Tuesday to Sunday 11 am – 5 pm, Closed on Mondays
Address: Excelsior Rd, Franschhoek, Cape Town
Website: https://deuxlions.za.com/
Contact Number: 021 876 3245
Miko at Mont Rochelle 🌄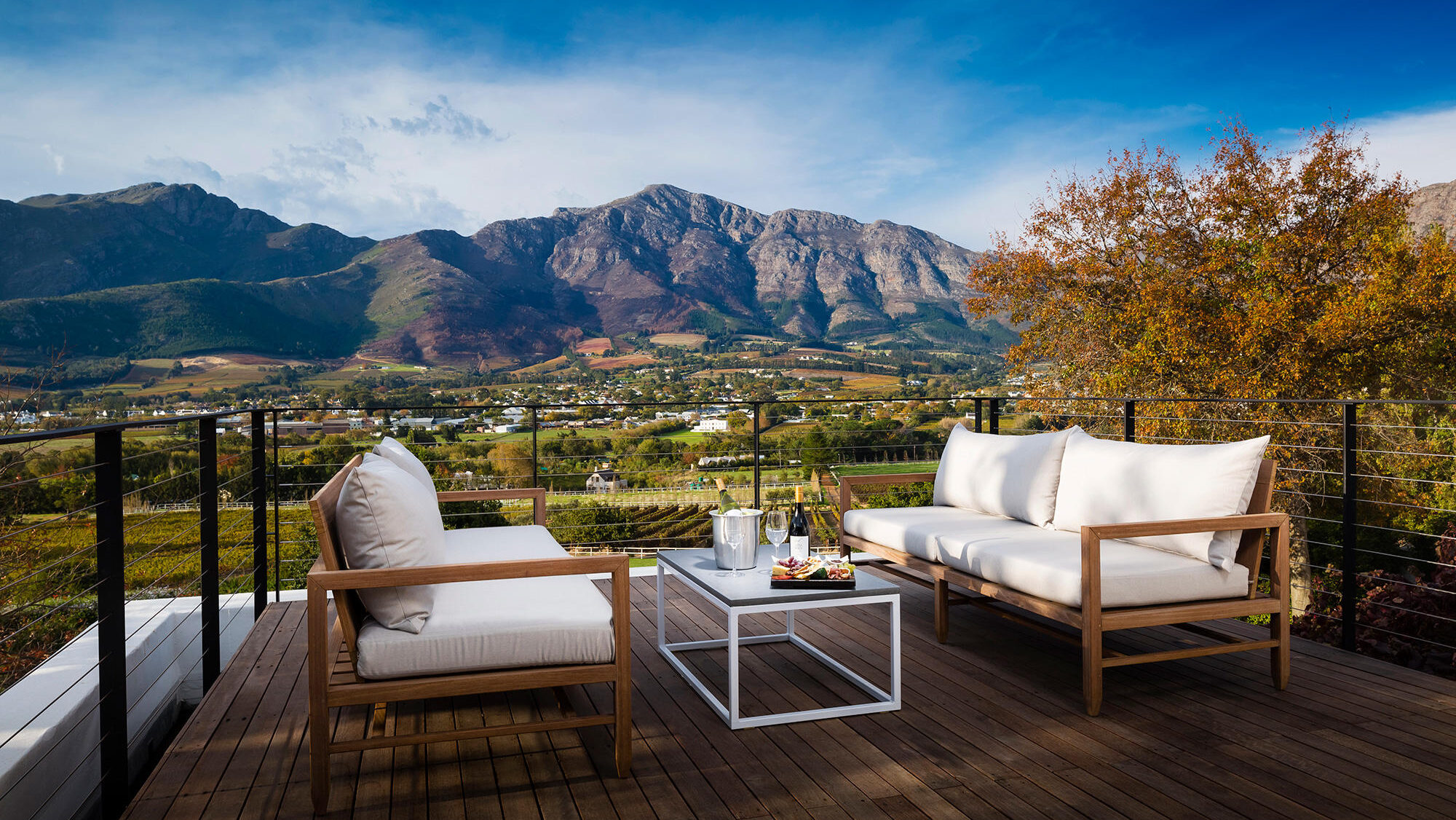 Perched atop Mont Rochelle, Miko Restaurant offers a dining experience that's as breathtaking as the beautiful views it commands. With its vantage point providing a sweeping 180-degree vista of the Franschhoek Valley and its lush vineyards, this establishment is a sensory journey that celebrates the natural beauty of the region.
A hallmark of Miko's excellence is its award-winning wine list. Curated with precision, the list features a selection of wines that perfectly complement the culinary offerings. With Mont Rochelle's wines as well as a carefully chosen assortment of local vintages, guests embark on a vinous journey that mirrors the culinary adventure.
Miko at Mont Rochelle is more than just a restaurant; it's an escape into the heart of Franschhoek's charm and allure. With its stunning location, dedication to showcasing local flavours through the Miko menu, and commitment to offering an exceptional wine selection, Miko delivers an experience that's as diverse as the valley itself. Whether you're savouring a morning meal, a romantic evening, or anything in between, Miko invites you to indulge in the magic of Franschhoek food and drink.
Miko Restaurant Opening Hours: Open daily for breakfast from 8 a.m. to 10:30 a.m. and for dinner from 6.30 p.m to 10 p.m.
Address: 1499 Dassenberg Rd, Franschhoek
Website: https://www.virginlimitededition.com/en/mont-rochelle/miko
Contact Number: 021 876 2770
Café du Vin 🍷
Formerly known as Café Franschhoek, the transformed Café du Vin stands as a shining beacon of exceptional bistro dining and wine experiences. What sets this restaurant apart is its commitment to creating an atmosphere that mirrors the comfort and warmth of home, ensuring that every guest's satisfaction is the ultimate goal.
Café du Vin has earned its place among the best due to its holistic approach to dining. It isn't just about the food or the wine; it's about curating an experience that resonates with each individual who steps through its doors. This dedication is evident in every aspect of the establishment, from the carefully prepared dishes to the meticulously selected wines and the attentive service.
Café du Vin, with its evolution and dedication to perfection, is more than just a restaurant; it perfectly showcases the restaurants of Franschhoek. From the warm and inviting ambience to the delectable cuisine and carefully curated wine selection, every element comes together to create an experience that speaks to the heart and soul of this beloved region. As a place where great food, great wine, and excellent service converge, Café du Vin stands as a testament to the timeless allure of Franschhoek's food scene.
Café du Vin Opening Hours: Sunday to Thursday 8 am – 5 pm, Friday – Saturday 8 am until 9 pm
Address: 46 Huguenot Road, Franschhoek
Website: https://cafeduvin.co.za/
Contact Number: 021 876 4542
Reubens 🪴


Reuben's, a culinary jewel located in the heart of the Winelands, embodies the perfect marriage of fine dining and a relaxed, laid-back atmosphere. With a passion for crafting cuisine that is both exquisite and uncomplicated, the chefs and owners of Reuben's have created a dining experience that stands as a testament to their love for culinary artistry through the Reuben menu.
Being situated in the heart of the South African Winelands, Reuben's boasts a wine list that would make any connoisseur's heart skip a beat. The carefully curated selection of wines perfectly complements the diverse offerings, creating an elevated dining experience that engages all the senses. Due to its consistent quality and popularity, Reuben's is a sought-after dining destination. Reservations are a must if you wish to indulge in the delights offered by this fine establishment.
Reuben Restaurant Opening Hours: Monday to Sunday for lunch from 12 pm to 3 pm, Monday to Sunday for dinner from 6 pm to 9 pm
Address: 2 Daniel Hugo St, Franschhoek
Website: https://www.reubens.co.za/
Contact Number: 021 876 3772
Haute Cabrière Restaurant 🥂


In the Franschhoek wine valley, Haute Cabrière Restaurant offers more than just an exceptional dining experience; it grants a front-row seat to the breathtaking beauty of the surroundings. This enchanting establishment is a true gem, standing out as one of Franschhoek's finest restaurants, where each element comes together to create an atmosphere perfect for celebration.
The menu at Haute Cabrière Restaurant is a symphony of flavours, skilfully intertwining classic French dishes with innovative twists. Drawing inspiration from local ingredients, each dish is a harmonious fusion of tradition and creativity. This dedication to culinary excellence ensures that guests embark on a delicious journey that surprises and delights the palate.
Haute Cabrière also has a bakery that's a haven for lovers of baked delights. From an assortment of bread and pastries to arguably the best pastéis de nata in the valley, the bakery offers a delightful array of treats. A selection of cold beverages, coffees, and teas further enhances the experience, allowing guests to savour every moment. Unlike the restaurant, the bakery at Haute Cabrière doesn't require reservations, making it a convenient and inviting stop for those seeking a quick bite or a leisurely indulgence. Haute Cabrière Restaurant is more than just a dining establishment; it's a celebration of flavours, ambience, and the Franschhoek wine valley's stunning beauty.
Haute Cabrière Opening Hours: Monday to Sunday from 10 am to 5 pm
Address: Lambrechts Rd, Franschhoek, 7690
Website: https://cabriere.co.za/restaurant/
Contact Number: 021 876 8500
Bistro at Grande Provence 🍂
This enchanting establishment offers a perfect blend of tranquillity and delectable cuisine, making it the best decision for those seeking a tasteful dining experience. The heart of the Bistro lies in its commitment to utilizing fresh produce to craft a seasonal changing Bistro menu that reflects simplicity and sophistication. With its newly designed easy-style changing menu, the Bistro caters to a diverse range of tastes, ensuring that every guest finds a surprise dish to delight their palate.
One of the highlights of the Bistro is its newfound family-friendly ambience. The inclusion of a jungle gym in the garden, along with ice-cold slush puppies, ensures that children of all ages can enjoy their time as much as the adults. This thoughtful addition transforms the Bistro into a space where families can create cherished memories while indulging in a delectable meal. Beyond its relaxed setting, the Bistro at Grande Provence is also a space ideal for private dining or group meetings. Whether it's an intimate celebration or a business gathering, the Bistro offers an inviting atmosphere that caters to various occasions.
Bistro Opening Hours: Monday to Sunday from 12 pm – 5:30 pm
Address: Grande Provence Heritage Wine Estate, Main Road, Franschhoek
Website: https://www.grandeprovence.co.za/pages/the-farm-stall-deli/
Contact Number: 021 876 8600
Le Bon Vivant 🌻


Le Bon Vivant stands proudly among the finest restaurants in Franschhoek, having achieved the prestigious accolade of being awarded 1st place in "Best Fine Dining – Africa" in 2020. The restaurant's distinction extends to being ranked in the top 1% of restaurants worldwide. This remarkable achievement is a testament to the unparalleled dining experience that Le Bon Vivant offers to its fortunate patrons.
Housed in a converted house in central Franschhoek, Le Bon Vivant exudes an atmosphere that is simultaneously homely, relaxed, and reminiscent of contemporary French restaurants. The innovative design, highlighted by a glass wall that offers a glimpse into the culinary magic happening within, creates an immersive dining experience that engages all the senses through the Le Bon Vivant menu. The restaurant's charm extends beyond its walls, with shaded tables available in the garden for those seeking an al fresco dining experience. This inviting setting is particularly delightful during warm summer evenings, providing the perfect backdrop for an exquisite meal under the stars.
Le Bon Vivant is more than just a restaurant; it's a culinary haven that has gathered a reputation on both a local and global scale. From its exceptional delights to its innovative interpretations of French cuisine, this establishment offers a truly unparalleled dining experience. Whether you're seeking bold flavours, impeccable presentation, or an atmosphere that bridges comfort and sophistication, Le Bon Vivant stands as a beacon of excellence in the centre of Franschhoek.
Le Bon Vivant Opening Hours: Monday to Sunday 12 pm – 11 pm, Closed on Wednesdays
Address: 22 Dirkie Uys Street, Franschhoek
Website: https://www.lebonvivant.co.za/
Contact Number: 021 876 2717
La Petite Colombe 🐞


La Petite Colombe presents a food journey like no other, where a reduced menu becomes a canvas for exceptional flavours and artistic presentations. This establishment has perfected the art of offering an intimate and extraordinary dining experience that tantalizes the senses and leaves an indelible impression. Starting with the Leeu Estate olives that awaken the palate, the journey continues with dishes that elevate ingredients to new heights.
The bread trolley adds a touch of interactive charm, offering a selection of freshly baked breads that perfectly complement the meal. For those seeking a vegetarian journey, La Petite Colombe offers a reduced vegetarian menu that's equally captivating. The beetroot with dhanya and coconut, herbed gnocchi with celeriac and tarragon, and tortellini with sweetcorn and parsnip are just a glimpse of the innovative creations that await.
La Petite Colombe transcends dining to become an artistic experience that engages the senses and ignites the imagination. With its reduced menu, the restaurant presents a meticulously curated selection of dishes that exemplify culinary innovation and mastery. Whether you're a connoisseur seeking bold flavours or an adventurer ready to explore new taste territories, La Petite Colombe invites you to embark on a gastronomic odyssey that will linger in your memory long after the last bite.
Le Petite Colombe Opening Hours: Monday to Sunday from 12 pm – 10 pm
Address: Leeu Estates, Dassenberg Rd, Franschhoek
Website: https://lapetitecolombe.restaurant/food
Contact Number: 021 202 3395
Epice 🍽️
Epice is a gem that promises an extraordinary dining experience. Conceived by the creative minds behind La Colombe, chef-proprietor Scot Kirton and executive chef James Gaag, and helmed by the talented chef Charné Sampson, Epice celebrates the world of spices. The name, derived from the French word "épice," meaning spice, perfectly encapsulates the essence of this intimate eatery.
Epice's tasting menus are a tantalizing journey that explores an array of spices, from fiery chilli and invigorating ginger to the delicate allure of vanilla, saffron, cinnamon, and nutmeg. Drawing inspiration from global culinary adventures, including travels through India, Spain, Japan, Mexico, Denmark, and the US, each dish at Epice is a masterpiece that pays homage to these diverse flavours.
Whether you're a seasoned food enthusiast or an adventurous eater, Epice's imaginative and spice-infused menus are bound to transport your taste buds on a captivating gastronomic adventure. Plus, with parallel vegetarian options available for both reduced and full-tasting menus, Epice ensures that every diner's palate is delightfully catered to.
Epice Opening Hours: Open for lunch from Friday to Sunday and for dinner on Sunday
Address: Le Quartier Français Hotel, Huguenot St, Franschhoek
Website: https://epice.restaurant/food
Contact Number: 021 492 4044
Orangerie Restaurant 🌲


Within the Le Lude estate, the Orangerie Restaurant is a culinary oasis in Franschhoek. Step inside and be transported to a world of French-inspired elegance, where the ambience is as delightful as the cuisine. Chef-proprietor Nicolene Barrow, who honed her skills at Michelin-starred Le Gavroche in London, showcases her classical French training with a contemporary twist. Using only the freshest seasonal ingredients, she crafts a magical Orangerie menu which changes depending on the season.
From the succulent confit duck leg paired with braised lentils and whipped goat's cheese to the slow-braised pork belly with a ginger glaze and creamy corn purée, every dish at Orangerie is a masterpiece of flavours and textures. Not to be missed are the Karoo lamb T-bones, complemented by baby spinach, artichokes, capers, and sultanas.
The restaurant's commitment to culinary excellence extends to its Morning and Afternoon Tea, a true indulgence when paired with Le Lude's Cap Classique. Keep in mind that reservations for the tea experience should be made 24 hours in advance to savour the freshly prepared confectionaries that accompany it. Orangerie Restaurant promises a dining experience that marries sophistication with creativity, making it a must-visit destination for food enthusiasts exploring Franschhoek.
Orangerie Restaurant Opening Hours: Tuesday to Sunday for lunch from 12 p.m. – 3 p.m. and Friday and Saturday for dinner from 6 p.m. – 8 pm
Address: Bowling Green Avenue, Lambrechts Rd, Franschhoek
Website: https://lelude.co.za/
Contact Number: 021 876 2961
Protégé 🦪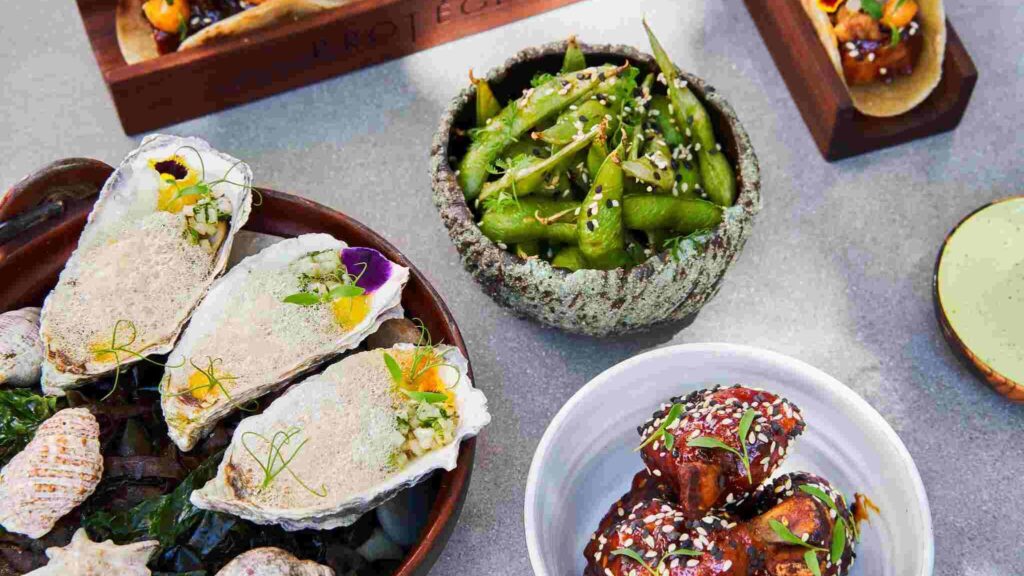 Opposite Epice at Le Quartier Français, Protégé is a culinary gem curated by renowned chef-proprietor Scot Kirton, known for his culinary prowess at establishments like La Colombe and La Petite Colombe. At the helm of Protégé is the talented chef Zane Soutar, who brings a burst of creativity to the dining scene. This casual yet refined restaurant embodies the spirit of mentorship, offering aspiring young chefs the opportunity to sharpen their culinary skills.
Protégé's seasonal menu is a testament to the passion and bold flavours that Chef Soutar infuses into his creations. Guests can embark on a culinary journey through a chef's menu, consisting of four small plates that include the legendary Korean fried chicken and succulent pork bao buns. The experience culminates with a choice of main dishes, all thoughtfully paired with superb local wines.
Beyond the exceptional cuisine, it's the warm and friendly service that truly makes you feel at home. Protégé promises a dining experience that celebrates innovation and comfort, making it a must-visit destination for those seeking top-quality, seasonally-driven comfort food in Franschhoek.
Protégé Opening Hours: Monday to Sunday from 7 am – 10 pm
Address: Berg Street & Wilhelmina Street, Franschhoek
Website: https://protege.restaurant/home
Contact Number: 021 224 0801
Franschhoek's culinary landscape shows the region's rich history, diverse culture, and dedication to gastronomic excellence. From fine dining establishments that push the boundaries of creativity to cosy eateries that celebrate simplicity, these top Franschhoek restaurants offer a range of culinary experiences that cater to every taste. Whether you're a devoted foodie or a casual traveller seeking exceptional meals, Franschhoek's dining scene is sure to leave you enchanted and satisfied.