While Table Mountain often steals the spotlight, there's a network of enchanting bays and beaches that grace the city's coastline, waiting to be discovered and appreciated. These bays, each with its unique charm, form an integral part of Cape Town's allure, offering a range of experiences for locals and visitors. In this article, we will explore the beautiful bays that are in and around Cape Town's shores.
🚘 Prepare For Your Best Bay Adventure By Renting A Car 🚗
Sandy Bay 👙
Sandy Bay, has a nudist beach located on the Cape Peninsula that offers a truly unique and secluded coastal experience. What sets Sandy Bay apart is not just its reputation as having a clothing-optional beach but also its relative inaccessibility. Visitors must hike a short but serene trail through fynbos-covered dunes to reach this hidden treasure, adding to the sense of seclusion.
This sense of remoteness, coupled with the stunning natural surroundings, creates an atmosphere of peace and liberation that attracts naturists and nature enthusiasts from near and far. The absence of commercial development and city noise makes it a unique spot to enjoy the rhythm of the ocean and the beauty of the Cape Peninsula's unspoiled wilderness. Sandy Bay is a true jewel for those seeking an intimate connection with nature and a break from the hustle and bustle of urban life.
Buffalo Bay 🐃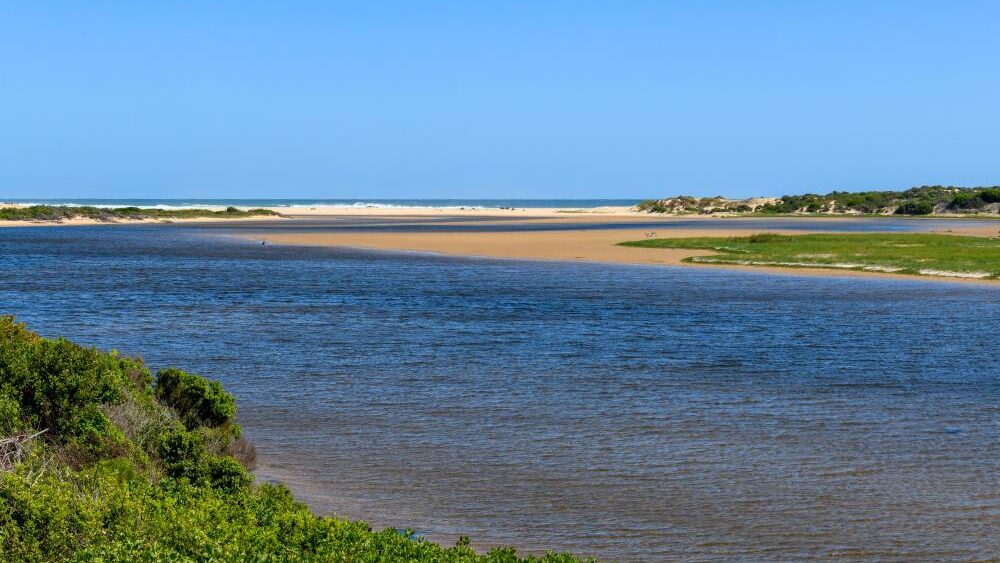 Buffalo Bay, located along the Garden Route in South Africa, is a true family paradise. This charming coastal destination offers something for everyone, making it the perfect spot for a memorable family day out. The Bay's expansive sandy beach is ideal for families, with its gentle waves and gradual slope into the ocean, making it safe and enjoyable for swimmers of all ages. Parents can relax on the golden sands while kids build sandcastles, play beach games, or splash in the crystal-clear waters. The inviting waters of Buffalo Bay are perfect for swimming, providing a refreshing escape on hot summer days.
For those with a passion for fishing, Buffalo Bay is a dream come true. The Bay offers excellent opportunities for anglers to cast their lines and try their luck at catching various fish species. Whether you're an experienced angler or a novice, the Bay's rich marine life promises an exciting fishing experience. Set within the captivating beauty of the Garden Route, Buffalo Bay not only offers a beautiful beach experience and the chance to explore the surrounding natural wonders. With its family-friendly atmosphere, waters, and fantastic fishing opportunities, Buffalo Bay is a must-visit destination for families looking to create cherished memories along the South African coast.
Smitswinkel Bay 🌱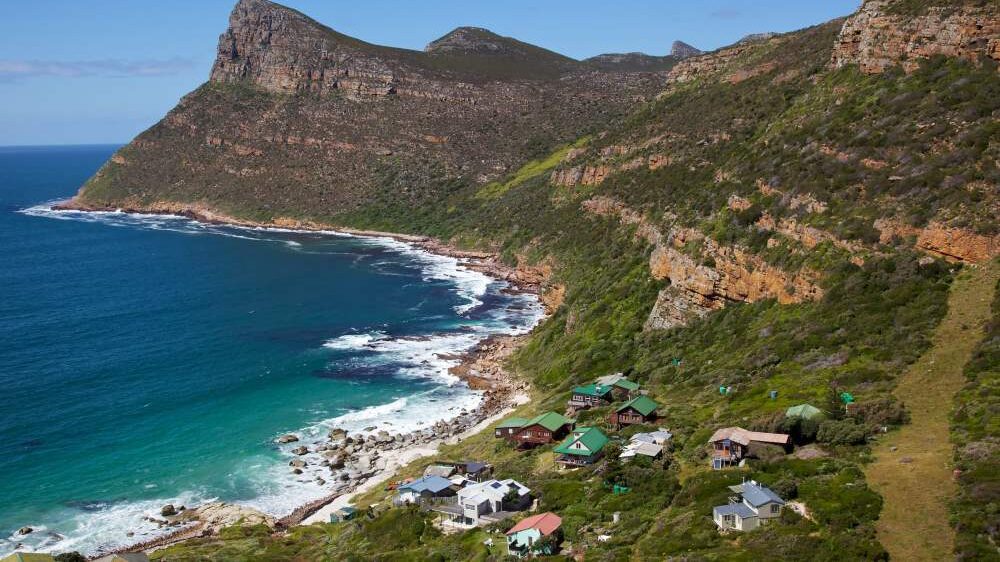 Set on the southern coast of Cape Town, Smitswinkel Bay Beach remains a hidden treasure, far from the bustling tourist crowds that frequent the city's more accessible beaches. The relative obscurity of this shoreline is mainly due to its challenging access, making it a well-kept secret for those willing to venture off the beaten path. Smitswinkel Bay Beach offers an idyllic setting for a leisurely picnic. Its soft, powdery white sand provides the perfect spot to spread a blanket, enjoy a meal, and soak in the tranquil atmosphere.
It's important to note that Smitswinkel Bay Beach lacks amenities and lifeguards, so visitors should come prepared for a self-sufficient beach outing. To access this bay, park near the Cape Point Nature Reserve and embark on a relatively steep, 15 to 20-minute hike down a well-marked zig-zag footpath. The effort is rewarded with panoramic views of the ocean and surrounding mountains, making the journey an integral part of the adventure. Smitswinkel Bay Beach is a testament to the natural beauty of the Cape Peninsula and offers a peaceful escape for those who seek a more intimate connection with nature.
Three Anchor Bay 🛶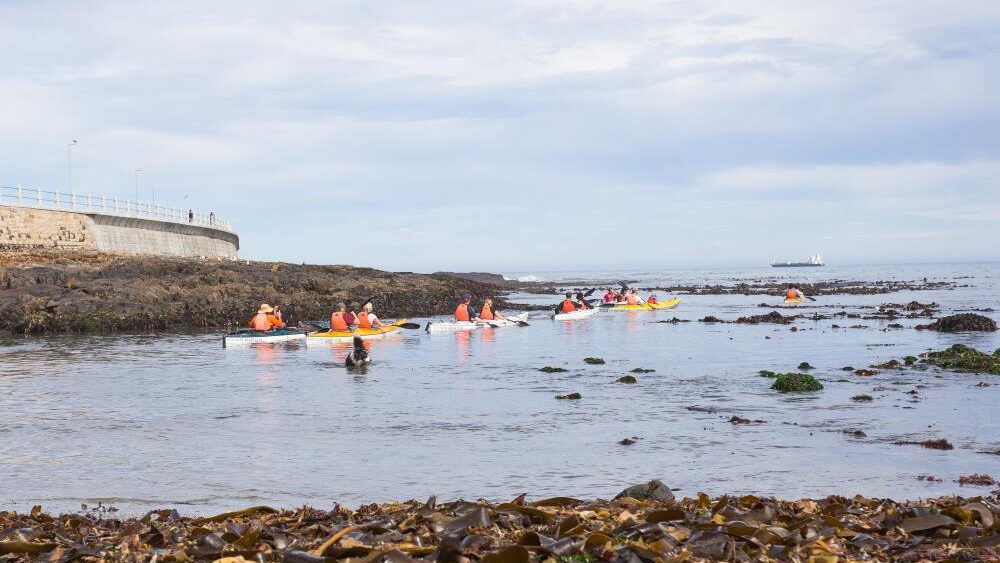 Three Anchor Bay Beach, despite its petite size, is a charming and unassuming treasure located in Cape Town. This small, tucked-away beach holds a special place in the hearts of locals, who often utilize it as a launching point for their motorboats and sea kayaks. The Three Anchor Bay Beach's intimate setting offers a unique and tranquil atmosphere, making it an ideal destination for those who appreciate a quieter, less crowded beach experience. Its diminutive size and local character create a cosy, community-oriented feel that contrasts with some of the city's more significant, touristy beaches.
The bay's calm waters and gentle waves make it an excellent spot for launching watercraft and enjoying a day of paddling, whether for leisure or exercise. As the sea extends beyond the bay, the backdrop of Cape Town's coastline and the surrounding landscape adds to the visual appeal. While Three Anchor Bay Beach may not boast extensive amenities or a vast expanse of sand, its compact charm, local flavour, and accessibility to water activities make it a hidden treasure worth exploring for those seeking a more relaxed and authentic coastal experience in Cape Town.
Boulders Bay 🐧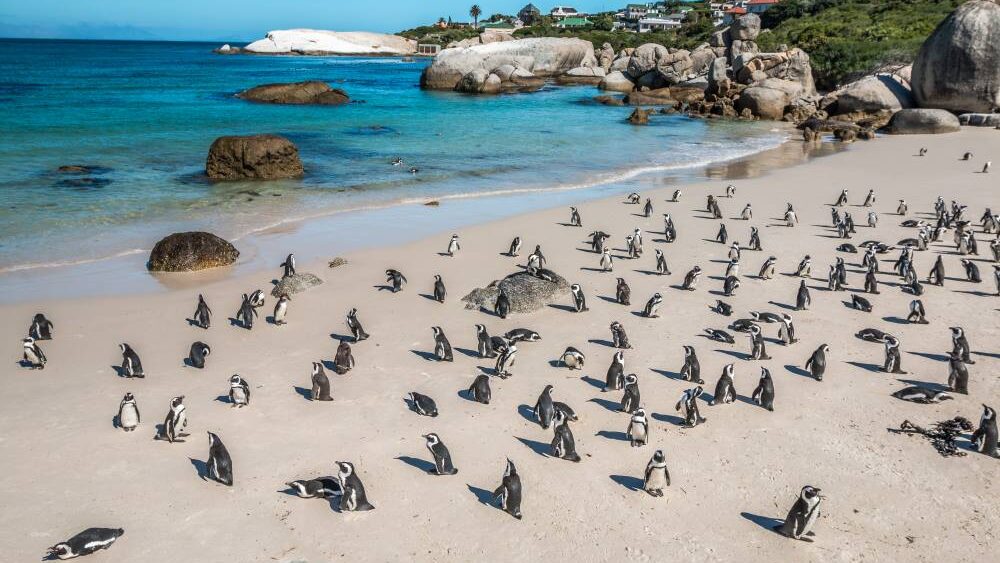 Boulders Bay, a breathtaking coastal enclave in Cape Town, holds a unique and endearing place in the hearts of visitors and locals alike. Set within the beautiful Table Mountain National Park, this bay's extraordinary beach is most renowned for being home to a large colony of African penguins. These charismatic birds, dressed in their distinctive black and white plumage, frolic along the shore, creating an enchanting and playful atmosphere that is a delight to witness.
These delightful interactions provide insight into the captivating world of these seabirds, making Boulders Bay an educational and fun destination for families and wildlife enthusiasts. Beyond the penguins, Boulders Bay Beach offers pretty, powdery sands and sheltered, turquoise waters, making it an ideal spot for swimming and sunbathing. The surrounding granite boulders add to the beach's charm, offering shade and picturesque photo opportunities. Boulders Beach is also a popular location for snorkelling, with a diverse underwater world to explore. With its natural beauty, remarkable wildlife, and family-friendly environment, Boulders Bay is a must-visit destination on the Cape Peninsula.
🛶 Achieve The Full Boulders Bay Experience And Go Kayaking With The Penguins 🐧
Table Bay 🚢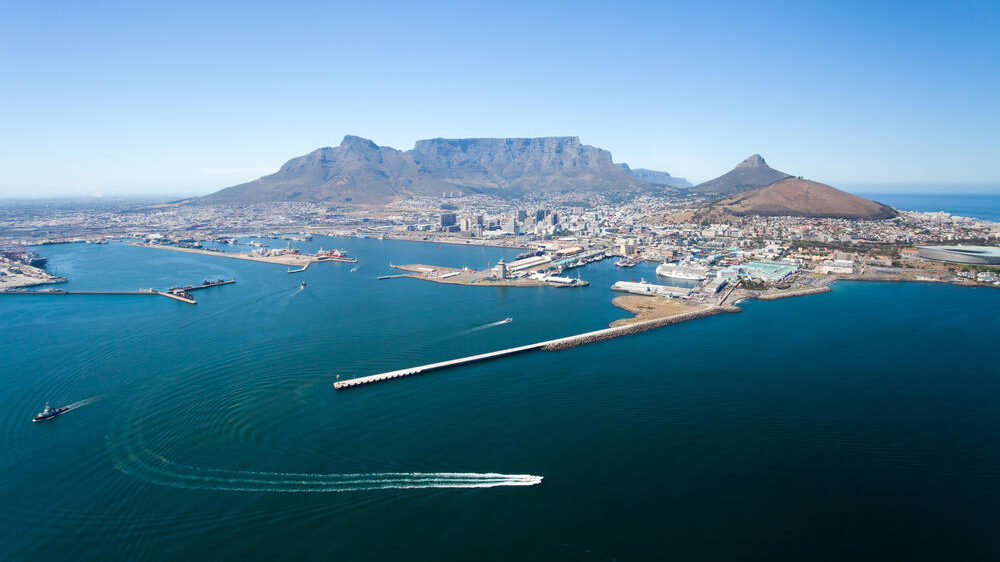 Table Bay is a historically and geographically significant body of water that has played an important role in the region's development and culture. Named after the iconic Table Mountain that serves as its dramatic backdrop, Table Bay has been a vital part of Cape Town's maritime history, serving as a bustling harbour for centuries. This bay boasts a fascinating blend of natural beauty and infrastructure. Its tranquil waters offer stunning views of Table Mountain, Lion's Head, and Signal Hill, creating a captivating backdrop for the city. Table Bay's vast expanse and relatively calm waters have historically made it a hub for maritime trade and activities.
Today, the bay is not only a strategic port for shipping but also a hub for water sports, with opportunities for sailing, windsurfing, and paddleboarding. The pristine beaches along its shoreline, such as Bloubergstrand and Big Bay, provide ample space for sunbathing and relaxation, while beachfront promenades offer an array of restaurants, shops, and cafes. Table Bay is a testament to Cape Town's rich history, its enduring natural beauty, and its vibrant, modern culture. Whether you're admiring the view from the V&A Waterfront, strolling along its beaches, or enjoying water activities, Table Bay is a must-visit destination that encapsulates the spirit and allure of this South African coastal city.
Hout Bay 🚗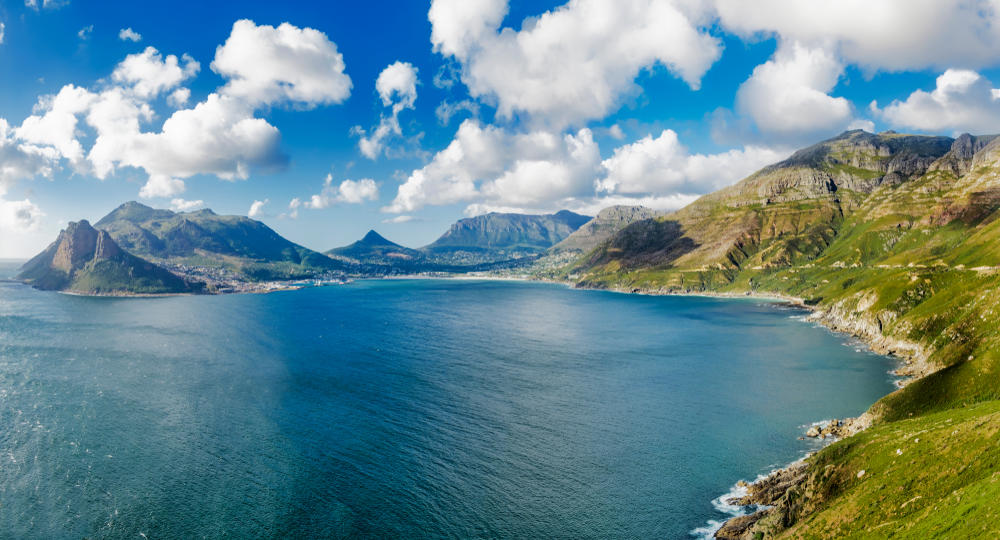 Hout Bay is a delightful destination that perfectly encapsulates the relaxed and laid-back atmosphere of this South African seaside haven. The bay itself boasts calm waters, making it an ideal spot for swimming and water activities, making it an excellent choice for families and water enthusiasts. Hout Bay Beach is not just a place to soak up the sun and take a refreshing dip; it also serves as a hub for exciting ocean adventures. The beach is the primary departure point for ocean safaris, fishing excursions, snorkelling, and other water sports. These activities offer the opportunity to explore the rich marine life and pristine waters of the bay, adding an adventurous element to your visit.
For those who prefer to stay on the shore, Hout Bay Beach provides an excellent vantage point to observe surfers and kiteboarders on windy days. Hout Bay Beach has a dog-friendly policy, making it a fantastic place for dog owners to enjoy some quality time with their furry companions. While visiting the beach, explore the historical Hout Bay Harbour and check out the Bay Harbour Market, where you can indulge in shopping, savour delicious local cuisine, and soak in the vibrant atmosphere. Hout Bay Beach is a multifaceted destination that effortlessly blends natural beauty, outdoor adventure, and cultural experiences, making it a must-visit spot along the Cape Peninsula.
Pringle Bay 🌊
Pringle Bay offers a tranquil and pristine coastal experience just outside of Cape Town. Stretching approximately 2 kilometres, its stunning main swimming beach is a mere 100 meters – a short 3-minute walk – from the heart of Pringle Bay, making it an easily accessible destination for visitors and locals alike. This exquisite beach is a natural masterpiece, boasting soft, white sandy shores, and is framed by a unique landscape. On one side, it is embraced by rolling dunes, and on the other, the vast expanse of the Atlantic Ocean. The backdrop of majestic mountains covered in fynbos vegetation adds to the beach's picturesque charm.
Pringle Bay Beach offers a range of activities and attractions for beachgoers. The ocean's calm waters provide a refreshing escape, and the river mouth of Buffel's River offers a more temperate alternative. The shallow river waters are ideal for children to play and splash, creating a safe and enjoyable environment for the whole family. Surfers and bodyboarders are drawn to Pringle Bay Beach when conditions are favourable, while snorkelers can explore the rock pools and crevices along the beach's edges.
The beach invites visitors to unwind and rejuvenate, accompanied by the soothing sounds of the sea. Strolling along the soft sands, building sandcastles, collecting seashells, and letting children run and play in the surf are just a few of the simple pleasures that make Pringle Bay and its beach a perfect spot to create cherished memories and find solace in the beauty of nature.
Gordons Bay 🌄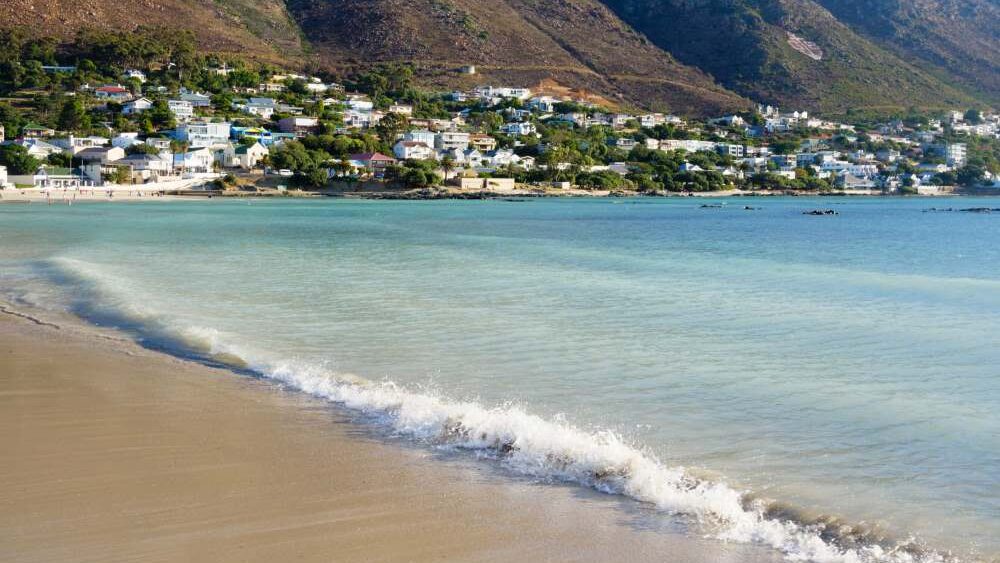 Gordon's Bay, a harbour town embraced by the majestic Helderberg Mountains and neighbouring Strand, is a true coastal gem along South Africa's Western Cape. This charming town is celebrated for its stunning beaches, and while Bikini Beach takes the spotlight with its coveted Blue Flag status, Gordon's Bay Main Beach offers its attractions. Gordon's Bay Main Beach is a family-friendly haven with many shallow swimming spots perfect for little ones not yet ready to tackle the waves.
Even for older swimmers, the bay enjoys relatively gentle waves, thanks to the natural protection of the surrounding mountains and reefs. The white sands invite beachgoers to bask in the sun, play beach games, or build sandcastles. A brick walkway offers the perfect route for strolls, invigorating runs, or exploring the scenic surroundings. This walkway extends to Bikini Beach, ensuring visitors enjoy the best of both worlds while visiting Gordons Bay.
False Bay 🌅
To round them all up how could we forget False Bay which stands as South Africa's largest genuine bay? Along the False Bay coast, an uninterrupted array of seaside villages and beaches unfolds, each flanked by narrow thoroughfares adorned with distinctive establishments such as quaint shops, hotels, restaurants, and pubs. This diverse expanse not only beckons exploration but also assures an abundance of potential picnic locations and scenic viewpoints, notably during the whale season when cetaceans grace the bay for calving.
Among the notable destinations enveloped by the grandeur of False Bay are Muizenberg, acclaimed by both surf enthusiasts and swimmers; Kalk Bay, an idyllic fishing village exuding charm with a vibrant day and night ambience; and Simon's Town, an illustrious naval enclave steeped in history. Many adventures are waiting in this beautiful bay and so many beaches to enjoy all while soaking in the essence of the valley.
Check Out False Bay From Above By Going On A Helicopter Ride Around Cape Town 🚁
Cape Town's bays are not just coastal features; they are gateways to a world of natural beauty, adventure, and cultural heritage they're a reason why you should visit Cape Town. Each bay along the Cape Peninsula tells a unique story and offers a distinctive experience, from the tranquillity of Sandy Bay to the bustling activity at Hout Bay, from the enchanting penguin colonies at Boulders Bay to the scenic seclusion of Smitswinkel Bay. These bays are not just places to enjoy the sea and the sun; they are the heart and soul of Cape Town's coastal identity.