Baia Seafood Restaurant, located in Cape Town's iconic V&A Waterfront, is a renowned dining establishment that has captivated locals and tourists alike with its exquisite cuisine and breathtaking views. With a focus on Portuguese-influenced seafood dishes, Baia has earned a stellar reputation for its exceptional menu, sophisticated ambience, and excellent service. We will delve into the enticing offerings of Baia Seafood Restaurant, highlighting its delectable menu, waterfront location, and the overall dining experience it provides.
Origins and Early Years
Baia Seafood Restaurant has a rich history dating back to its opening in 2001. Since its inception, Baia has established itself as a sophisticated culinary landmark, renowned for its Great cuisine and fine wines in the heart of Cape Town, South Africa. Nestled in a prime location at the V&A Waterfront, Baia offers patrons breathtaking panoramic views of the harbour, Table Mountain and the ocean.

Over the years, Baia Seafood Restaurant has gained a stellar reputation for its focus on Portuguese-influenced seafood cuisine. The restaurant takes pride in sourcing the freshest seafood from Southern Africa, ensuring a remarkable dining experience for seafood lovers. From line fish to shellfish, Baia's menu boasts a diverse selection of delectable dishes that cater to all tastes. Alongside its seafood offerings, Baia restaurant has curated an extensive wine selection, allowing guests to enjoy the perfect pairing with their seafood creations.
What to Expect at Baia Seafood Restaurant
Step into Baia and be greeted by the tantalizing aromas that waft from the bustling open kitchen. Talented chefs expertly showcase their culinary prowess as they transform the freshest catches of the day into culinary masterpieces. Indulge in succulent grilled lobster, delicately seasoned with herbs and served with a side of velvety drawn butter.
Savour the melt-in-your-mouth goodness of Baia's signature seared scallops, delicately caramelized and accompanied by a refreshing citrus-infused salsa. Each dish is thoughtfully crafted to enhance the natural flavours of the seafood, providing a symphony of tastes that will leave you craving for more.
Immerse yourself in a world of refined coastal charm as you enter Baia Seafood Restaurant. The tastefully designed interior pays homage to the restaurant's nautical roots, with soothing blue hues, soft lighting, and subtle maritime accents that create a serene ambience. Whether you're seeking an intimate dinner for two or a gathering of friends and family, the spacious dining area and private booths offer a perfect setting for any occasion.
Baia's Dining Experience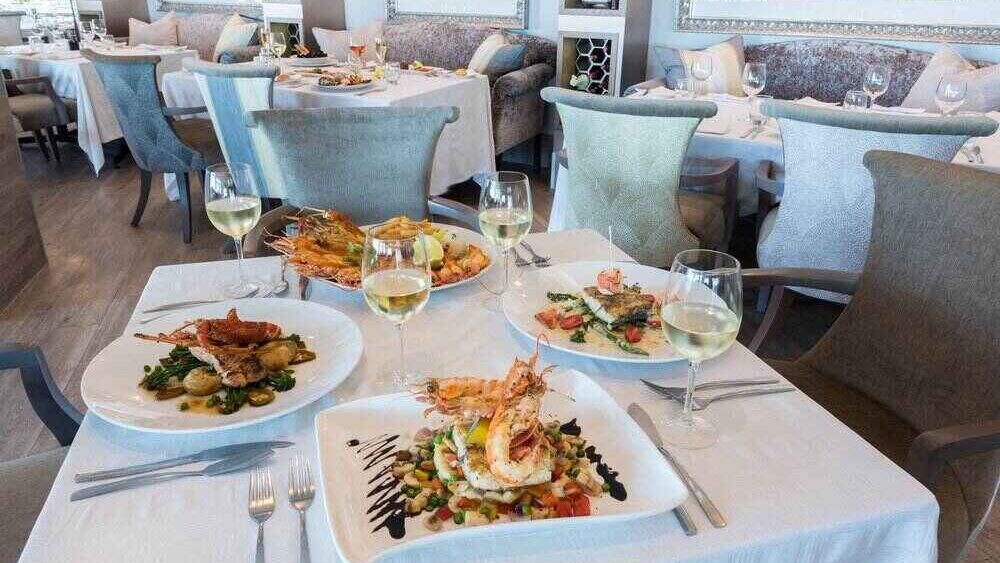 As you settle into your seat, allow the attentive staff to guide you through a carefully curated Baia menu. From the first sip of a crisp Chardonnay to the last spoonful of decadent seafood bisque, the knowledgeable sommeliers and servers ensure that every aspect of your dining experience is nothing short of exceptional. The gentle ocean breeze from the outdoor patio adds a touch of enchantment, while the impeccable service and attention to detail elevate your visit to a whole new level of indulgence.

Knowledgeable sommeliers have carefully handpicked a diverse range of wines from renowned vineyards across the globe, ensuring a harmonious marriage between the flavours of the sea and the complexity of the grapes. From crisp and refreshing whites that accentuate the delicate nuances of shellfish to robust and velvety reds that elevate the richness of grilled seafood, an extensive wine list offers a sensory journey that heightens every dining experience. Whether you are a wine connoisseur seeking rare vintages or an adventurous enthusiast eager to explore new varietals, Baia Seafood Restaurant is sure to delight your palate with an exquisite wine selection that is as captivating as the cuisine itself.
Planning a Party or Event?


Baia Seafood Restaurant is not only a premier dining destination but also an ideal venue for hosting unforgettable parties and events. Baia's elegant and versatile space can accommodate a range of occasions, from intimate celebrations to large-scale gatherings. Whether you're planning a birthday party, anniversary celebration, corporate event, or wedding reception, the dedicated events team is committed to creating a truly personalized experience that surpasses your expectations.
From the moment you step foot into the beautifully designed venue, you and your guests will be captivated by the coastal charm and impeccable attention to detail. Baia's team will work closely with you to customize every aspect of your event, from menu selection to décor, ensuring that your vision comes to life in a seamless and spectacular manner.
Baia Seafood Restaurant promises to make your event a resounding success. the expert chefs will craft a bespoke menu that showcases the finest seafood and culinary delights, tailored to your preferences and dietary requirements. Whether you envision an elegant sit-down dinner, a lively cocktail reception with passed hors d'oeuvres, or a combination of both, The experience will leave a lasting impression on your guests. The attentive staff will be on hand to ensure that every detail is flawlessly executed, allowing you to relax and enjoy the festivities.
Baia Seafood Restaurant's Opening Hours
Baia Seafood Restaurant welcomes guests with its delectable offerings during its convenient opening hours. The doors open at 11:30 AM to commence the lunch service, allowing guests to savour our culinary delights in the afternoon. The lunch hours extend until 3:00 PM, providing ample time to relish the flavours of the sea.
For those seeking an enchanting dinner experience, Baia Seafood Restaurant reopens at 5:30 PM, allowing guests to enjoy a memorable evening in our coastal-inspired ambience. The dinner service continues until 10:00 PM, ensuring a leisurely and enjoyable dining experience.
How to Get to Baia Seafood Restaurant
Getting to Baia Seafood Restaurant is a breeze, thanks to its convenient location in a coastal town with easy access to major transportation routes. If you're arriving by car, simply take the main highway and follow the signs directing you to the coastal area where the restaurant is situated. Ample parking facilities are available nearby, ensuring a hassle-free experience for guests.
For those who prefer public transportation, Baia Seafood Restaurant is easily accessible by bus or train. The town's bus terminal is located within walking distance of the restaurant, with regular bus services connecting to nearby cities and towns. If you're arriving by train, the nearest train station is just a short taxi ride away, offering convenient connections to the wider region.
---
Baia Seafood Restaurant is a culinary gem that offers an extraordinary dining experience. With its commitment to sustainability, fresh seafood, and impeccable service, Baia has established itself as a top destination for seafood lovers. From the elegant coastal ambience to the thoughtfully curated menu and exceptional event offerings, every detail is meticulously crafted to create unforgettable memories. Whether you're seeking a romantic dinner or hosting a special event, Baia Seafood Restaurant promises a journey that celebrates the flavours of the sea in a truly remarkable way.
Website: https://baiarestaurant.co.za/#section-home
Address: 19 Breakwater Blvd, Victoria & Alfred Waterfront, Cape Town, 8001
Phone Number: 021 421 0935
---
FAQ
Q – What is the signature dish at Baia Seafood Restaurant?
A – Baia Seafood Restaurant takes pride in its diverse menu, but one of the standout signature dishes is the succulent grilled lobster. Sourced directly from local fishermen, the lobster is delicately seasoned with herbs and served with a side of velvety drawn butter, providing a true dining experience worth remembering.

Q – Does Baia Seafood Restaurant offer vegetarian or vegan options?
A – Absolutely! Baia understands the importance of catering to various dietary preferences. The Baia Restaurant menu features a range of vegetarian and vegan options, from flavorful vegetable stir-fries to hearty plant-based pasta dishes, they ensure that all guests can enjoy a delightful dining experience at Baia.

Q – Can Baia Seafood Restaurant accommodate dietary restrictions or food allergies?
A – Yes, The experienced chefs and staff are well-versed in handling dietary restrictions and food allergies. Please inform them of any specific requirements or allergies when making your reservation and they will gladly accommodate your needs to the best of their ability.

Q – Is Baia Seafood Restaurant available for private events or group bookings?
A – Absolutely! Baia Seafood Restaurant offers a stunning venue for private events and group bookings. Whether you're planning a corporate gathering, birthday celebration, or even a wedding reception, Baia's dedicated events team will work closely with you to create a personalized experience.