Camps Bay is one of Cape Town's most luxurious coastal suburbs, With its stunning views of the Twelve Apostles mountain range and the Atlantic Ocean, this beautiful suburb offers an unparalleled holiday experience. One of the key draws of Camps Bay is its array of luxurious apartments, so if you seeking comfort, elegance, luxury, breathtaking views and a spacious apartment rather than a cramped room then you are in the right place, each of these accommodations on this list is unique and offers an amazing holiday experience.
The Crystal 🔮


The Crystal Apartments offer the highest of luxury living. With a variety of accommodation options ranging from sleek modern studios to spacious two-bedroom units, there's something for everyone here. Over the years, The Crystal Apartments have become a top choice for solo travellers seeking peace and families wanting comfort. with perfect Atlantic Ocean views awaiting guests on the terrace, where they can also enjoy a relaxing swim in the pool after a day of adventures.
Conveniently located in Camps Bay, this spot attracts visitors globally who crave both ease and natural beauty. Managed by TPF Hospitality, the property ensures a smooth and enjoyable stay for all guests. From breathtaking views to fantastic amenities, The Crystal Apartments stand tall, offering a luxurious living experience in one of Cape Town's most sought-after neighbourhoods.
Address: 35 Medburn Road, Woodford Avenue, Camps Bay, Cape Town, 8005
Website: https://thecrystal.co.za/
Contact Number: 021 437 9796 / 082 695 6504
Book Your Stay At The Crystal Apartments Today! ✨
Camps Bay Apartments 🌊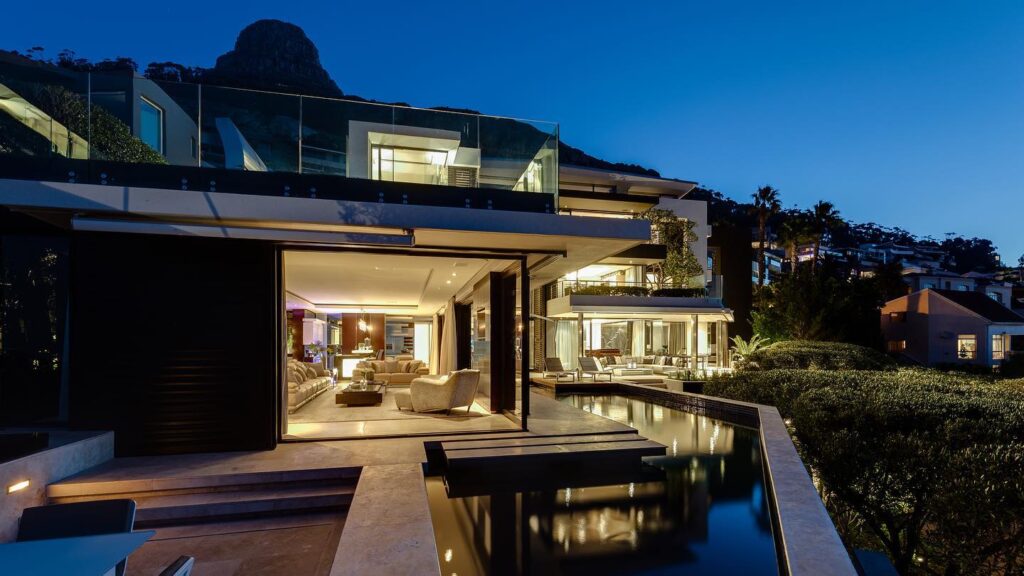 Explore a range of luxurious self-catering accommodations in the heart of Camps Bay, Cape Town. Whether it's apartments, villas or beach houses there's something to suit everyone's taste and group size. Booking that dream holiday has never been more accessible! Discover unique properties like the stylish Argyle Villa, the spacious 6 Bed 008 Bond Villa, and the breathtaking 5 Bed Lion's View Villa. Each offers something special, perfect for families, groups, or special events.
The expertise extends beyond Camps Bay to fantastic holiday destinations like V&A Waterfront, Franschhoek, Hermanus, Knysna, Kruger Park, and Addo Elephant Park, opening up a world of travel options. With its variety of options and easy accessibility Camps Bay Apartments is the best choice for any traveller or family looking for spectacular views and spacious living.
Address: 26 Rottingdean Rd, Bakoven, Cape Town, 8005
Website: https://www.campsbayapartments.com/
Contact Number: 083 719 5735
Ebb Tide 🌅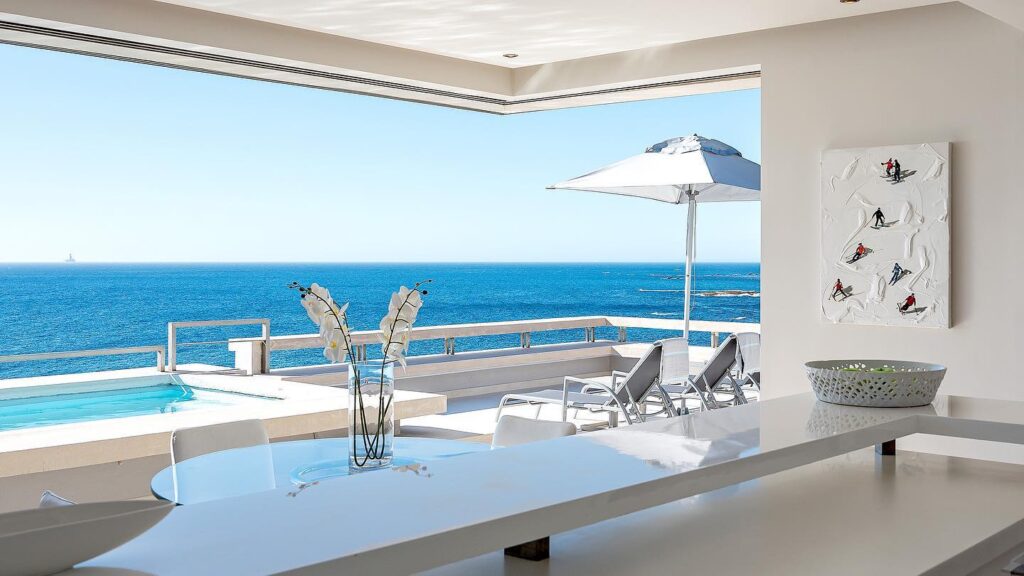 Ebb Tide Apartments in Camps Bay, offers monthly long-term rental accommodations tailored for remote professionals. Choose from luxurious options like the 1-bedroom apartment or the stunning 3-bedroom duplex penthouse, both providing an ideal work-from-home setup. Situated opposite the sea on Victoria Road, these apartments boast proximity to the beach and restaurants, offering mesmerizing views of the ocean. Each unit comes complete with a plunge pool, terraces for relaxation, fully equipped kitchens, air-conditioning, lift access, free fibre-optic Wi-Fi, basement parking, Smart TV, and Netflix.
The coveted 3-bedroom penthouse is also available for sale and showcases unparalleled views of the ocean, Lion's Head, as well as the Twelve Apostles. Safety is paramount, with measures including electric fencing, access control, and secure basement parking provided within the complex. These apartments promise excellent rental income opportunities, presented with galleries showcasing their exquisite interiors. Experience the perfect blend of work and leisure at Ebb Tide Apartments in Camps Bay.
Address: 143 Victoria Rd, Bakoven, Camps Bay, 8005
Website: https://ebbtideapartments.com/
Contact Number: 083 719 5735
Book An Entire Apartment In Camps Bay With Ebb Tide Apartments 🛌
YOLO Spaces Clifton Beachfront Magic Apartment 🌄


This find may be 5 minutes away in Clifton but still offers Camps Bay scenery and is near all your Camps Bay wants and needs. Escape to luxury at YOLO Spaces Clifton Beachfront in Cape Town, where a stunning 3-bedroom furnished layout awaits. The kitchen, decked in dark wood and chrome, seamlessly connects to a private courtyard—a perfect spot for morning coffee or laid-back braai. This apartment's open-plan design merges the kitchen, dining, and living areas, ensuring guest comfort with essential amenities and air conditioning. Stay uninterrupted with a high-tech, silent generator for power outages and uncapped fibre WiFi for seamless internet access.
Explore beyond the Clifton Beachfront Magic Apartment on the YOLO Spaces website. Discover a variety of luxurious holiday homes across South Africa and Spain. From Clifton, and Cape Town, to vibrant spots like Johannesburg and Durban in South Africa, or sunny escapes in Marbella and Sotogrande in Spain, YOLO Spaces offers villas, apartments, and penthouses. Experience luxury living in captivating locations, all curated by YOLO Spaces for an unforgettable stay.
Address: Apartment 4 Clifton Court Building, 63 Victoria Rd, Clifton, Cape Town, 8005
Website: https://cliftonbeachfrontmagic.co.za/
Contact Number: 011 463 2210
Stay Near Camps Bay In A Penthouse In The Luxurious Clifton With YOLO Spaces 🚗
Blue Views Villas and Apartments 💙
Blue Views Villas and Apartments, established in 1997, offers an array of properties ranging from 2 to 7 bedrooms, all with en suite facilities. Positioned within a mere 100 meters of Bakoven's beaches, these properties are meticulously managed by a dedicated team of professionals. Each residence at Blue Views boasts a mesmerizing sea-facing view and a private pool, ensuring a luxurious retreat. These properties are equipped with everything expected from a 5-star accommodation, including fully furnished kitchens, TVs, sound systems, and modern conveniences. Despite this serene setting, they are conveniently located within walking distance of Camps Bay's bustling beachfront, famed for its vibrant restaurants and bars.
The commitment to excellence is evident in every aspect of Blue Views' properties, guaranteeing an unforgettable stay steeped in luxury. Blue Views Villas and Apartments provide the perfect harmony of peaceful seclusion and convenient accessibility. Blue Views in Camps Bay has been synonymous with offering an exceptional Cape Town experience. Whether it's a lavish villa or a stylish apartment, each unit is meticulously appointed with high-end furnishings and state-of-the-art amenities. The unparalleled vistas of the ocean and mountains create an unforgettable backdrop for an upscale Cape Town experience.
Address: 5 Victoria Rd, Bakoven, Cape Town, 8005
Website: https://blueviews.com/
Contact Number: 021 437 0074
Book A Blue Views Villa Or Apartment Here! 📘
Bay Reflections Camps Bay Luxury Serviced Apartments 🪞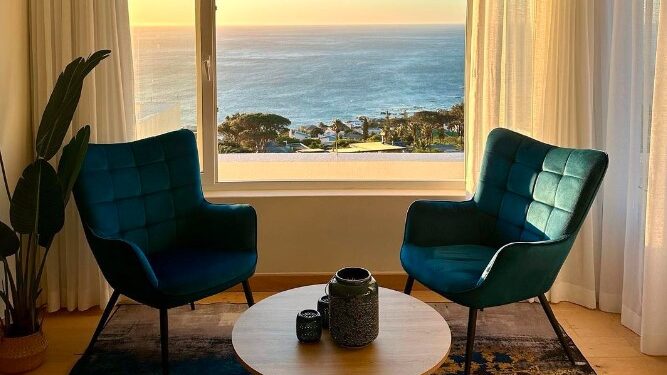 Discover the luxurious and family-friendly Bay Reflections in Camps Bay, Cape Town. With three spacious fully-equipped apartments offering breathtaking views of the Atlantic Ocean and Lion's Head, this spot is perfect for families. The apartments boast modern amenities and spacious living areas, creating an ideal space for relaxation. Meet Doris, the friendly guest manager, ready to personalize your stay with recommendations and tour arrangements. Stay worry-free with daily housekeeping ensuring the apartments are clean and comfortable. The outdoor entertainment area features a pool and a sauna, making it a perfect spot for families to unwind and have fun.
Bay Reflections offers conveniences like free fibre WiFi, laundry, and a stocked honesty bar with great South African wines. Plus, it's pet-friendly, so bring your furry friends along for the adventure! Transportation assistance and free parking are provided for your convenience, and security measures like monitored alarm systems and CCTV cameras ensure your safety. Explore Camps Bay and Cape Town with various activities, from beach walks to thrilling adventures like kitesurfing and skydiving. Positive guest reviews rave about the stunning views, fantastic hospitality, and overall amazing experience at Bay Reflections. It's the perfect destination for a memorable and relaxed family getaway in Cape Town.
Address: 19A Francolin Rd, Camps Bay, Cape Town, 8005
Website: https://www.bayreflections.com/
Contact Number: 083 457 5600
Bay Reflections Apartments Await! Book Here! ☀️
The Glen Apartments 🛏️


Located by the sprawling Glen Forest nature reserve in Camps Bay, The Glen Apartments offer a luxe retreat amidst nature's embrace. With ocean, Twelve Apostles, and Lion's Head views, these serviced accommodations blend modern aesthetics with scenic beauty through expansive windows. Guests enjoy amenities like a pool, secure parking, and free Wi-Fi, ensuring a seamless stay. Bookings require a minimum 4-night stay, allowing ample time to soak in the serene surroundings. Recent reviews praise the spacious, clean studio apartments, just a breezy ten-minute walk from the beach, shops, and eateries.
Address: 10 Chilworth Rd, Camps Bay, Cape Town, 8040
Website: https://theglenapartments.co.za/
Contact Number: 021 438 0029
Click Here To Book With Glen Apartments in Camps Bay 👈
CB-ONE Luxury Stay 🌴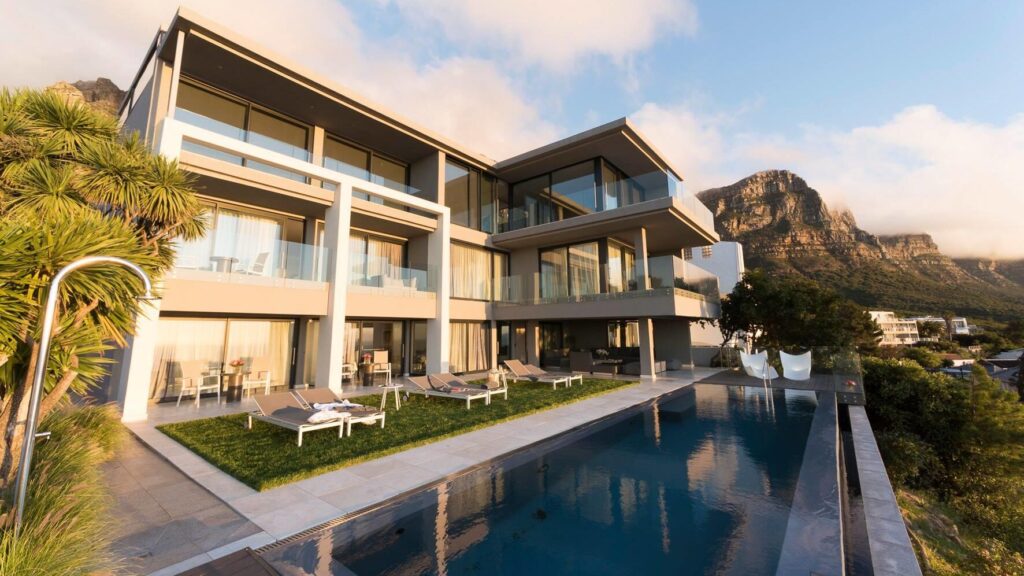 CB-ONE Luxury Stay offers a collection of meticulously designed apartments, each epitomizing opulence and comfort. The attention to detail in design and amenities ensures a luxurious and relaxing stay for guests. This spot offers tailored services, including golf and culture Tours across the Western Cape, courtesy of a proficient concierge. Each suite boasts unique décor, spacious layouts, well-equipped kitchenettes, and lavish bathrooms overlooking the Atlantic Ocean.
Guests can unwind in style with the property's amenities—an inviting solar-heated infinity pool, cosy lounge areas, a scenic wooden deck, and sprawling lawns, all providing uninterrupted panoramic views. CB-ONE Luxury Stay goes beyond typical accommodation. It's a retreat meticulously designed for an escape amidst nature's beauty. From personalized services to captivating vistas, it's a place where sophistication meets relaxation, promising cherished memories in Camps Bay's beautiful setting.
Address: 38 Theresa Ave, Bakoven, Cape Town, 8005
Website: https://www.cb-one.com/
Contact Number: 021 437 0181
Don't Miss Out! Book Your Stay At CB-ONE Luxury Stay Today 🌲
The Oceana | Camps Bay Vacations ☀️


Camps Bay Vacations specializes in upscale holiday accommodations within Cape Town's esteemed Camps Bay area, offering a diverse range of luxurious apartments and stunning beach houses. Positioned near Camps Bay beach, dining options, and vibrant nightlife, these rentals provide an ideal setting for a memorable stay. The sophisticated apartments boast 2 bedrooms, 2 bathrooms, expansive balconies with captivating ocean vistas, spacious living and dining areas, and fully equipped kitchens, ensuring both comfort and convenience for guests.
Consistently exceptional guest reviews highlight unforgettable stays, breathtaking views, and thoughtful complimentary amenities like toiletries and wine, fostering a strong desire among visitors to return to this remarkable destination. Camps Bay Vacations curates a luxurious experience, combining stunning accommodations, amazing views, and thoughtful touches, creating an irresistible spot for those seeking a retreat in the setting of Camps Bay.
Address: 13 Ingleside Rd, Camps Bay, Cape Town, 8040
Website: https://www.campsbayvacations.com/
Contact Number: 083 709 9001
From the panoramic ocean views to the sophisticated interiors, each stay in Camps Bay offers an exclusive and luxurious experience for travellers seeking the best of comfort and elegance. Whether amidst lush gardens or perched overlooking the coastline, these apartments invite guests to immerse themselves in the beauty of Cape Town's most prestigious suburb. pack your bags and get ready for an unforgettable holiday experience in Camps Bay.