While Cape Town is a city that boasts a lot of traditional accommodation options, such as hotels and guesthouses, there's a growing trend that allows you to take your Cape Town experience to new heights – quite literally. We're talking about treehouse accommodation in Cape Town, where you can sleep amid the rustling leaves and enjoy breathtaking views. We will be covering the cosy lodges, trailers and cabins that are sure to leave you enchanted but their forest surroundings. These top tree house accommodations in Cape Town seamlessly blend nature with luxury.
Synergy Treehouse ⚡


Synergy Treehouse, Located in the charming seaside village of Scarborough, stands as a true masterpiece of luxury and design. This state-of-the-art treehouse promises an experience like no other, offering unobstructed ocean views and a seamless blend of indoor and outdoor living. Inside the treehouse, you'll find two beautifully appointed bedrooms and two bathrooms. The sliding glass walls blur the lines between the interiors and the surrounding natural beauty, allowing you to wake up to the soothing sounds of the ocean and the breathtaking views of the Cape coastline.
This extraordinary accommodation also includes a fully equipped kitchen with a coffee-making machine, two wood-burning fireplaces for cosy evenings, DStv, Wi-Fi, and a refreshing plunge pool for warm summer days. For those who love to grill, there are convenient braai facilities. Synergy Treehouse offers the perfect romantic getaway, where you can escape to a world of nature and luxury. Synergy Treehouse Prices range from R4,800 to R10,500 per night (depending on peak season), making it an exclusive escape worth every penny. And don't forget to enjoy the wonderful nearby attractions, such as Scarborough Beach.
Address: 90 Mountain Rise, Scarborough, Cape Town
Website: https://synergy-escape.com/synergy-treehouse/
Contact Number: 072 610 4955
Vindoux Tree House Guest Farm & Spa 🌲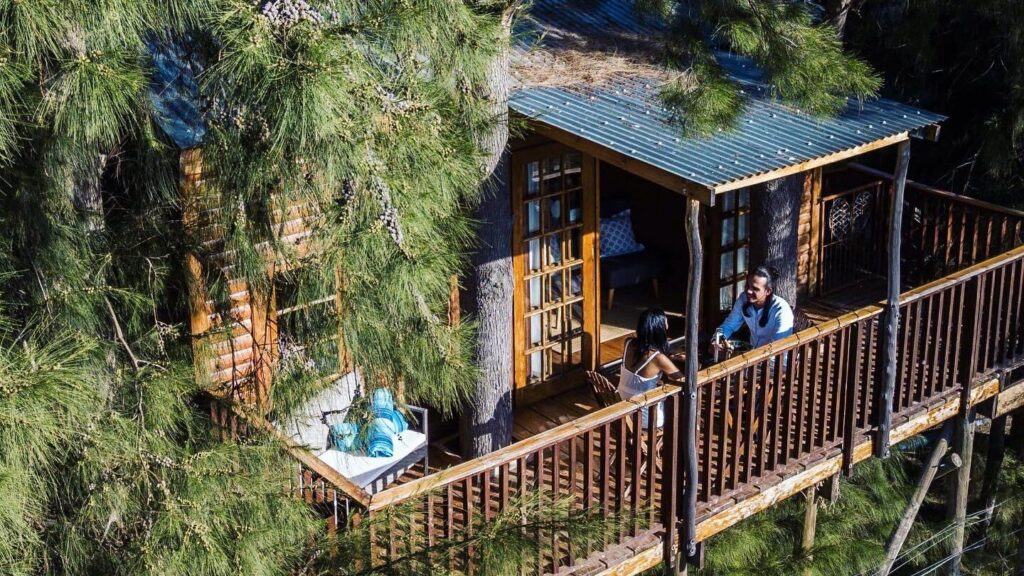 Tucked away among the vineyards and orchards in Tulbagh, you'll find the Vindoux Tree House Guest Farm & Spa, a true gem at the base of the Saronsberg Mountains. It's the perfect spot for couples looking for a romantic escape. The vibe at Vindoux is nothing short of fantastic. They've got four Luxury Treehouses, ideal for two people, each decked out with a roomy spa bath in the en-suite bathroom, and coffee and tea facilities. And for an extra touch of romance, they've got a separate Honeymoon Suite with more space. But if you're more into a DIY approach, the Deluxe Family Tree Lodge is a great pick. It's got three bedrooms, two with private balconies, a family bathroom, a kitchen, a dining area, and a garden with a Braai area and a swimming pool – perfect for groups or families.
Vindoux has loads of cool stuff to do, like a farm kitchen serving up homemade dishes, picnic spots, a gym and spa, Tulbagh's biggest pool, and a small wildlife reserve with zebras. springbok, and some tortoises. Nearby, there's fishing and bird-watching at a pretty dam or exploring Tulbagh's historic Church Street with its national monuments. And if you're the outdoorsy type, there are hiking and biking trails all around. You can snag a stay here for between R2,000 and R4,000, with the price varying depending on the season and which treehouses you choose. It's pretty budget-friendly, considering the luxury and all the fun stuff to do at Vindoux.
Address: Twee Jonge Gezellen Rd, Tulbagh, 6820
Website: https://vindoux.com/
Contact Number: 023 230 0635
🌳 Book Your Stay At Vindoux Tree House And Guest Farm And Spa 🌲
Old Mac Daddy 🚙



Old Mac Daddy, situated in the heart of Elgin, is not your average holiday spot. Dreamed up by the creative minds behind The Old Biscuit Mill and The River Club, it's a luxury trailer park with a twist. Here, you've got a bunch of cool accommodation options, from glamping and funky Airstream trailers to self-catering eco-lodges. Perfect for families and couples, Picture yourself in a hammock, sipping on a cocktail from Daddy's Beach and Bar. And if that's not your vibe, there's a great pool nearby with awesome views of the Elgin Valley. When hunger strikes, The Barn Restaurant & Bar is the place to go for some good old country comfort food. Plus, the beautiful Elgin Valley is begging to be explored.
Now, let's talk about the accommodations. They've got 12 vintage Airstream trailers, each with its own unique theme, like "For Better or Boerewors" and "Give Bees a Chance." Families and small groups might fancy the fully-equipped villas, Daddy's Villa and School House. And for those who want a taste of glamping, there are two tented camps, Daddy's Hideaway Luxury Tent and Daddy's Den. Prices at Old Mac Daddy range from R1,000 to R3,000, and they depend on the time of year and the type of accommodation you're after. Whether you're up for kicking back or going on an adventure, Old Mac Daddy in Elgin has got you covered.
Address: Elgin Valley Rd Elgin, 7160
Website: https://oldmacdaddy.co.za/
Contact Number: 021 844 0241
Don't Miss Out! Book Your Stay At Old Mac Daddy Today! 🚜
Tamodi Lodge ⛰️
Tamodi Lodge has a unique story to tell. Once an equestrian farm, it's now a charming countryside retreat that's all about horses and good vibes. Set in The Crags, it offers sweeping views of the Tsitsikamma Mountains and the valley, creating an ideal backdrop for your getaway. The lodge's main house has a rustic, homey feel with plenty of space. Think open fireplaces and comfy nooks. Accommodation at Tamodi Lodge is all about comfort and charm. You've got two Standard Rooms in the main lodge, plus three Honeymoon Suites, one in the main house and two in separate buildings. If you're looking for a more luxurious experience, two new Lux Honeymoon Suites even come with private pools.
No matter which room you pick, you'll enjoy king-sized beds, baths, showers, underfloor heating, and DStv. The Honeymoon Suites add an outdoor shower, air conditioning, a mini bar, and a Nespresso machine. Depending on the season, the lodge also offers communal lounges, three indoor fireplaces, and a swimming pool. The main deck, where you'll have your full English or continental breakfast, provides lovely views of the valley. Surrounding hiking trails, bird-watching, and kloofing routes in The Crags provide ample opportunities for outdoor enthusiasts. Wine lovers can check out the nearby Bramon Wine Estate and Newstead Wine Farm for some wine tasting. The prices at Tamodi Lodge range from R1,000 to R2,000, depending on the season and your choice of accommodation. This is the perfect home base for exploring the beauty of Plettenberg Bay and beyond.
Website: https://www.tamodi.co.za/
Address: Pinehaven rd, The Crags, Plettenberg Bay, 6602
Contact Number: 082 470 2892
🚘 Need A Car To Get To Plettenberg Bay? We've Got You Covered! 🚗
Tsala Treetop Lodge 🐒


Tsala Treetop Lodge is a masterpiece of elevated wooden walkways that connect the beautiful suites and villas. You'll feel like you're living in the treetops, and, well, you pretty much are. The 10 Treetop Suites are perfect for a romantic getaway, with a comfy bedroom, a bathroom, a lounge with a fireplace, a private deck, and even your own infinity pool. If you're all about luxury and privacy, the six Treetop Villas have got you covered. They come with two bedrooms, indoor and outdoor showers, a lounge with a fireplace, a dining area, and a private deck with another stunning infinity pool.
You'll find all the comfy extras here like Wi-Fi, tea and coffee, minibars, and air conditioning. Plus, the glass-walled dining room serves up breakfast every day, with a view that's out of this world. Beyond the treetops, there's plenty to explore. You can dine at Zinzi Restaurant or check out the local wine scene in Tsala's wine cellar. And if you're up for some pampering, in-room spa treatments can be arranged. The cost of your stay depends on your choice of treehouses. A Tsala Suite for two starts at R5,080 per person sharing. If you're bringing the crew and go for the Tsala Villas, which can sleep four adults, it's R11,940 per night for up to three adults, with an extra R770 for a fourth.
Website: https://tsala.hunterhotels.com/
Address: Off N2 10km W Of Plettenberg, Plettenberg Bay, 6600
Contact Number: 044 532 8228
Cape Town's treehouse accommodations offer an opportunity to experience the cape and its surroundings in a truly unique way. Whether you're seeking rustic charm, modern luxury, or an intimate escape, there's a treehouse in Cape Town to suit your preferences. These elevated accommodations provide a perfect blend of nature and comfort, making for an unforgettable stay. So, if you're planning a trip to Cape Town, consider branching out and staying in one of these treehouse accommodations for an experience you'll cherish forever.