Cape Town, located at the southernmost tip of Africa, is a vibrant city with a rich cultural heritage and breathtaking natural beauty. With so much to see and things to do, it can be overwhelming to plan a perfect Sunday in Cape Town. Whether you're a foodie, an adventurer, or a culture lover, this guide will help you make the most of your day with our things to do guide on a calm Sunday.
Brunch and Breakfast Spots in Cape Town


Cape Town is home to a thriving brunch and breakfast scene, and there's no better way to start your Sunday with a delicious meal. Here are some of the best places to enjoy brunch in Cape Town:
Outdoor Activities and Adventures


Cape Town's natural beauty is one of its main attractions, and there's no shortage of outdoor activities to enjoy on a Sunday. Here are some options:
Hiking – Table Mountain and Lion's Head are two of the most popular hiking spots in Cape Town, with trails of varying difficulty levels. Remember to bring plenty of water, sunscreen, and appropriate footwear.

Beaches – Cape Town is home to some of the world's most beautiful beaches, including Clifton, Camps Bay, and Muizenberg. Spend the day lounging on the sand, taking a dip in the Atlantic Ocean or paddleboard along the breathtaking beaches.

Wine Tasting – The Cape Winelands are a short drive from Cape Town and offer some of the best wine-tasting experiences in the world. Take a tour of the vineyards and sample some of the region's finest wines.

Kayaking – Explore the coastline of Cape Town by kayak. There are several companies that offer guided tours, including Kaskazi Kayaks and Atlantic Outlook.

Paragliding – For a bird's eye view of the city, try paragliding off Signal Hill. You'll soar over the ocean and the city, taking in stunning views of Cape Town.
Cultural Experiences in Cape Town


Cape Town has a rich cultural heritage, and there are several places to experience this on a Sunday. Here are some options:
Music and Nightlife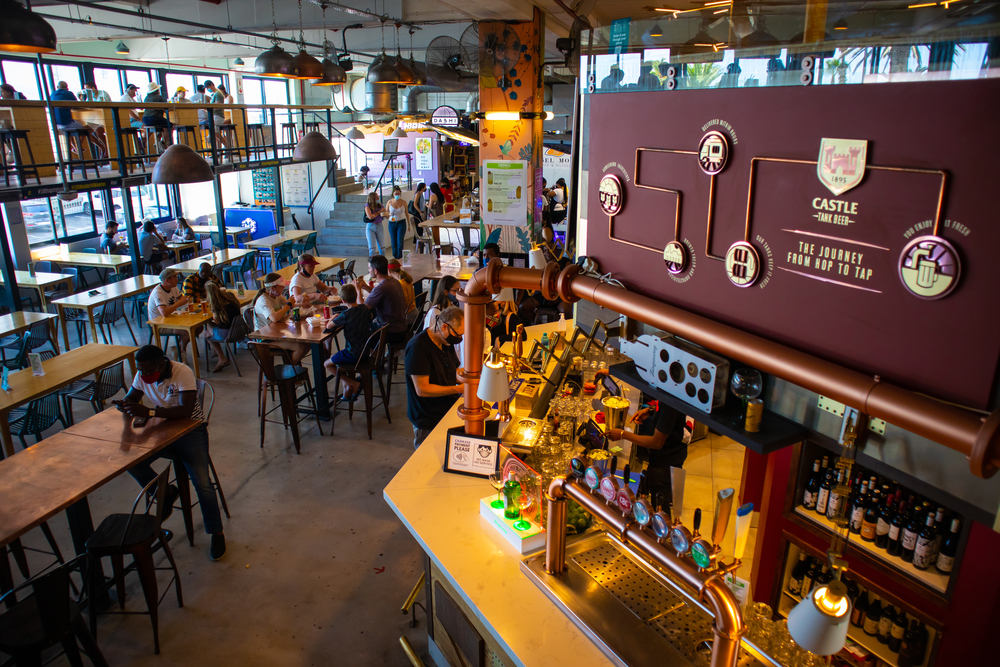 Cape Town has a thriving music and nightlife scene, with plenty of options for a Sunday night out. Here are some options:
The Waiting Room – The Waiting Room in Long Street is a popular spot for live music, with a focus on local talent. The rooftop bar offers stunning views of the city.
Address: 2nd Floor, 273 Long St, Cape Town City Centre, Cape Town, 8000
Facebook: https://m.facebook.com/WaitingRoomCT/
Phone: 082 425 7732

The Piano Bar – The Piano Bar in De Waterkant is a sophisticated spot for a cocktail and some live music. The intimate venue features a grand piano and a rotating lineup of performers.
Address: 47 Napier St, De Waterkant, Cape Town, 8001
Website: https://thepianobar.co.za/
Phone: 021 007 5212

Mojo Market – Mojo Market, located in Sea Point, is a vibrant indoor market offering a variety of food, drinks, and retail stalls, perfect for a Sunday stroll.
Address: 30 Regent Rd, Sea Point, Cape Town, 8060
Website: https://www.mojomarket.co.za/
Phone: 021 422 4888 / 021 422 2747
---
Whether you're looking for adventure, culture, or relaxation, there are many things to do in Cape Town on a Sunday. From brunch spots to outdoor activities to music and nightlife, this guide has provided a range of options for a perfect Sunday in the Mother City. Don't forget to bring your camera and take in the stunning scenery of this beautiful city.
Stopping for a Sunday lunch
Clovelly Country Club is a serene and picturesque golf estate situated in Cape Town, South Africa. Their Sunday lunch is a delightful experience, featuring a range of delicious and carefully crafted dishes that cater to all tastes. With stunning views of the estate and friendly staff, it's the perfect place to relax and unwind.
Be sure to take some time and stop for a Sunday lunch at Clovelly Country Club.