Hermanus, situated on the southern coast of South Africa, is known as the whale-watching capital of the world. This beautiful town is located in the Western Cape Province and is a popular tourist destination due to its stunning beaches, diverse wildlife, and natural attractions. With a rich history and a vast amount of outdoor activities, Hermanus is a great place to visit for anyone looking to experience the beauty and diversity of South Africa.
All About Hermanus 📜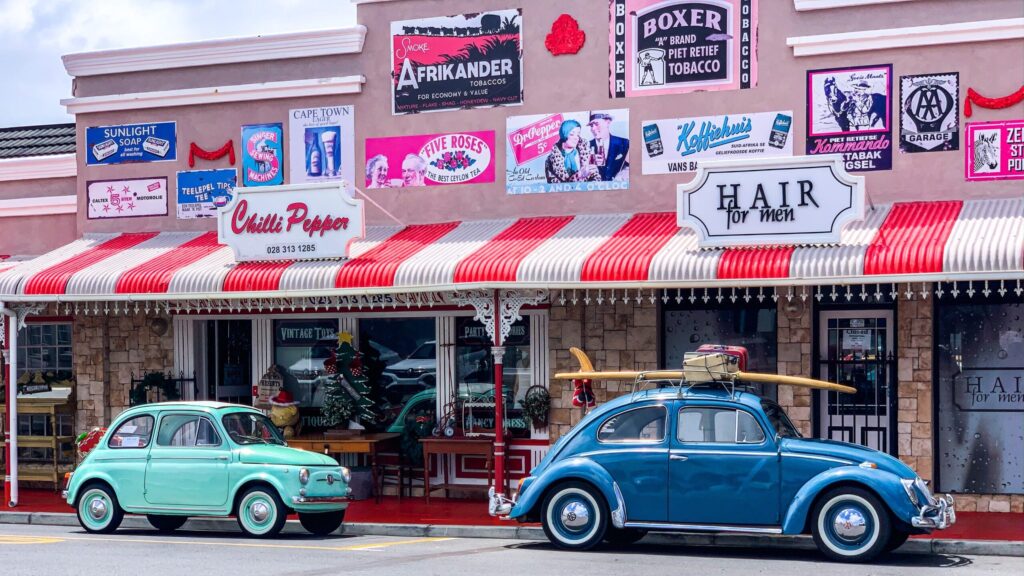 Hermanus was originally called Hermanuspietersfontein a small fishing village that became a popular holiday destination. The town was named after Hermanus Pieters, a local farmer who allowed travellers to camp on his property. In 1892, a two-story building was turned into the Victoria Hotel and became the first hotel in Hermanus, and the town began to develop into a thriving tourist destination.
Over the years, it has gone through many changes, but it has always maintained its charm and character. The town has a rich history that is evident in its architecture and landmarks. One such landmark is the Old Harbour Museum, which showcases the history and the fishing industry that once thrived there. Another notable landmark is the Hermanus Station Building, which became the only railway station in South Africa to never have had a train arrive or leave it.
Whale Watching in Hermanus 🐳


One of the main attractions in Hermanus is whale watching. The town is known as the whale-watching capital of the world because of the number of Southern Right Whales that migrate to the area between June and December every year. Visitors to Hermanus can watch these magnificent creatures from the shore or take a boat tour to get up close and personal.
The best time to see the whales is between July and November, but they can be spotted in the area as early as May and as late as January. The whales come to the waters around the area to mate, give birth, and nurse their young. During the peak season, it is common to see dozens of whales frolicking in the ocean just a few hundred meters from the shore.
Aside from Southern Right Whales, Hermanus is also home to other species of whales and dolphins, including Humpback Whales, Bryde's Whales, Killer Whales, and Common Dolphins.
🚤 Go On A Whale Watching Tour In Hermanus Today! 🐋
Outdoor Activities in Hermanus 🌊


Hermanus is a great destination for outdoor enthusiasts. The town and its surrounding areas offer a range of activities for visitors of all ages and fitness levels. One of the best ways to explore Hermanus and its natural beauty is on foot. The town has a number of hiking and walking trails that offer stunning views of the coastline, mountains, and fynbos vegetation.
One of the most popular trails is the Cliff Path, which stretches along the coastline and offers stunning views of the ocean and the whales that swim in it. Other popular hiking and walking trails in Hermanus include the Fernkloof Nature Reserve and the Vogelgat Nature Reserve. Each of these trails offers a unique experience and showcases the natural beauty of the area.
Hermanus has a number of stunning beaches that are perfect for swimming, sunbathing, and surfing. Grotto Beach is one of the most popular beaches in the area and is known for its long stretch of white sand and crystal-clear water. Other popular beaches in Hermanus include Voëlklip Beach, Kammabaai Beach, and Langbaai Beach. The waves around Hermanus are perfect for surfing, and the town has a number of surf schools that offer lessons for beginners and experienced surfers alike. Some of the best surfing spots in the area include Voëlklip Beach, Grotto Beach, and Kammabaai Beach.
The Western Cape is known for its world-renowned wine regions, and Hermanus is no exception. The Hemel-en-Aarde Valley, located just outside of Hermanus, is home to a number of award-winning wineries that offer wine tastings and tours. Some of the most popular wineries in the area include Hamilton Russell Vineyards, Bouchard Finlayson, and Creation Wines. Visitors can enjoy tastings of a variety of wines, from crisp whites to robust reds while taking in the stunning views of the valley.
Other Outdoor Activities 🏄‍♂️


Not including hiking, surfing, and wine tasting, there are a number of other outdoor activities to enjoy in Hermanus. Visitors can rent kayaks and explore the coastline from a unique perspective. Horseback riding tours are available through the mountains and vineyards there. There are a number of trails and routes for mountain biking enthusiasts. The area is known for its great fishing, with a variety of fish species to catch. If fishing is your thing check out Pearly Beach.
🚘 Need To Get From Cape Town To Hermanus? Why Not Hire A Car? 🚗
Dining and Nightlife 🌙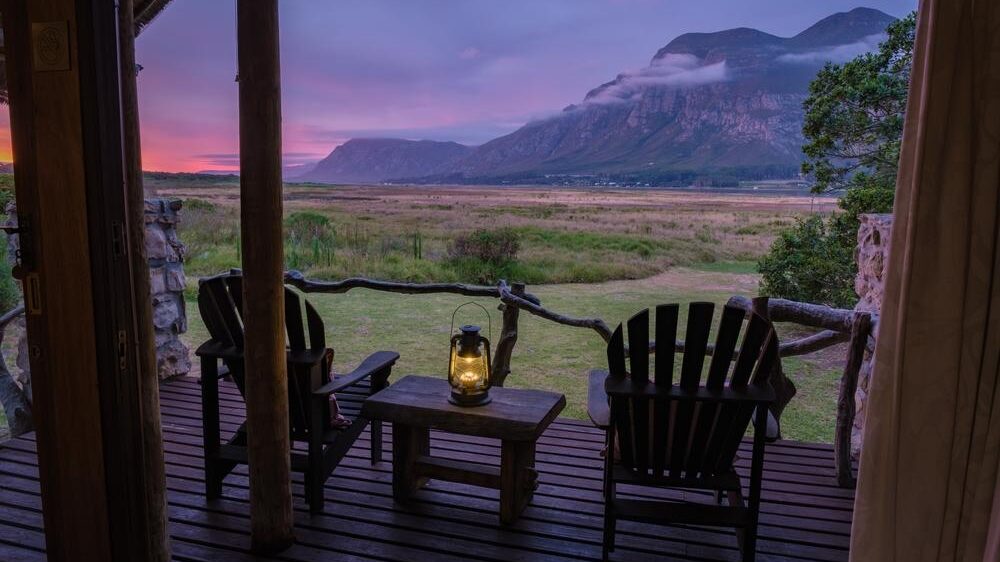 Hermanus has a range of dining options to suit every taste and budget. The town has a number of fine dining restaurants, as well as more casual cafes and bistros. Seafood is a popular choice, with fresh catches available daily. The nightlife in Hermanus is more low-key than in other South African cities, but there are still a number of bars and pubs to enjoy. The Marine Hotel, located in the heart of Hermanus, has a popular bar and lounge area, and the Whale Coast Mall has a range of restaurants and bars.
Accommodation 🏠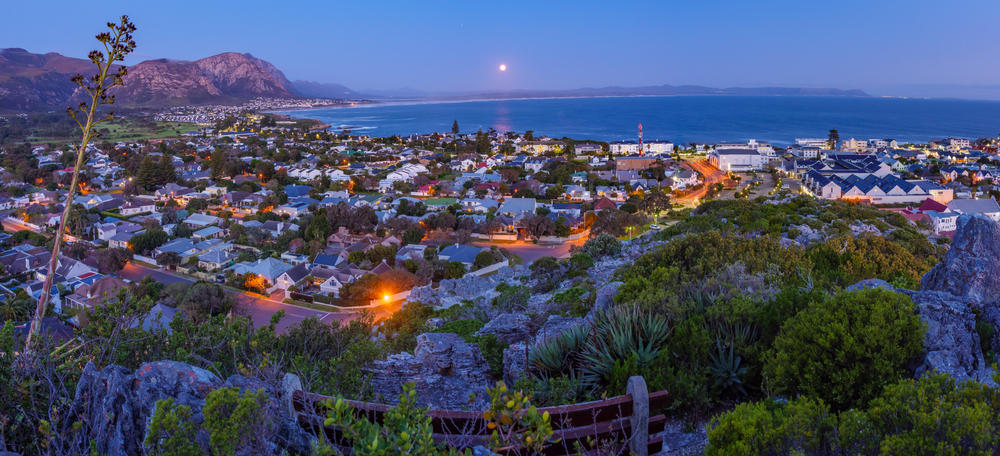 There is a range of accommodation options, from luxury hotels to budget-friendly guesthouses and self-catering apartments. Some of the most popular hotels in the area include The Marine Hotel, Harbour House Hotel, and Misty Waves Boutique Hotel. For those looking for a more unique experience, there are a number of boutique hotels and guesthouses in the area, such as The Windsor Hotel and The Birkenhead House.
Get The Full Hermanus Experience By Going On A Whale Watching, Wine Tasting And Penguin Tour! 🐧
Hermanus is a beautiful and diverse town that offers something for everyone. From whale watching to wine tasting, hiking to surfing, there is no shortage of activities to enjoy. With its stunning natural beauty and rich history, Hermanus is a must-visit destination for anyone travelling to South Africa.