Welcome to a world of tranquillity and rejuvenation at Sanctuary Spa Waterfront. Nestled in a picturesque setting, this luxurious oasis is a haven for those seeking a break from the hustle and bustle of daily life. Let's learn more about the essence of Sanctuary Spa Waterfront, highlighting its serene ambience, exquisite treatments, and the myriad of benefits it offers to its esteemed guests.
The Uniqueness of Sanctuary Spa🤯
Sanctuary Spa, has a wealth of experience working with diverse clientele and overcoming various design challenges. The creative philosophy centres around differentiation, ensuring that each spa treatment is unique and tailored to the specific needs of the clients. With a deep understanding of the industry and a commitment to excellence, they have established themselves as industry experts, having had the privilege of collaborating with internationally renowned clients.
These partnerships have enhanced their credibility and enriched their knowledge and expertise. Their track record speaks for itself, with a 100% success rate in delivering exceptional spa environments across various venues. From luxurious resorts to urban retreats, they have honed their skills to develop diverse approaches that consistently exceed expectations.
Sanctuary Spa has received numerous prestigious awards both within Southern Africa and on the international stage. These accolades are a testament to their unwavering commitment to excellence and the high standards they uphold in the spa industry.


Unparalleled Luxury Treatments at Sanctuary Spa🌟
Signature Treatments😎
Sanctuary Spa Waterfront has signature journey begins with a welcome touch, a transformative experience that cultivates a profound sense of tranquillity. The Spa understand the power of touch and sound healing as effective modalities that harness vibrational sound to alleviate stress, shift consciousness, and foster a profound sense of peace, well-being, and improved health.
Their expert therapists skillfully integrate these healing techniques into treatments, allowing you to embark on a journey of deep relaxation and rejuvenation. Through the harmonious synergy of touch and sound, they create an immersive environment that promotes holistic healing and nurtures your overall well-being. The signature treatments comprise:
Mama Africa which is 105 minutes
Africa's Healing Touch which is 90 minutes
Traditional Touch Therapies👏
Experience the pinnacle of touch therapies at Sanctuary Spa and discover why their treatments are renowned as the best in the industry. The dedicated team of skilled therapists has mastered the art of touch, delivering a level of expertise and precision that sets us apart. Each touch therapy session is tailored to your unique needs, ensuring a personalized and transformative experience.
Whether it's a soothing massage, a revitalizing facial, or a blissful body treatment, the therapists have a deep understanding of the body's intricate mechanisms and employ techniques that promote relaxation, release tension, and restore balance. Additionally, they only use the finest quality oils, creams, and products, selected for their nourishing properties and ability to enhance the therapeutic benefits of touch. Sanctuary Spa, believe that touch is not just physical; it is an expression of care, compassion, and connection.
The therapists approach each session with attentiveness and intention, creating a safe and nurturing environment that allows you to surrender to the healing power of touch. Immerse yourself in the exceptional touch therapies and experience the profound effects they have on your well-being, leaving you feeling rejuvenated, restored, and utterly blissful. Here is a list of the touch therapies on offer :
Back, Neck, Head and Shoulder Massage
Swedish Massage
Aromatherapy Massage
Deep Tissue Massage
Hot Stone Massage
Foot Massage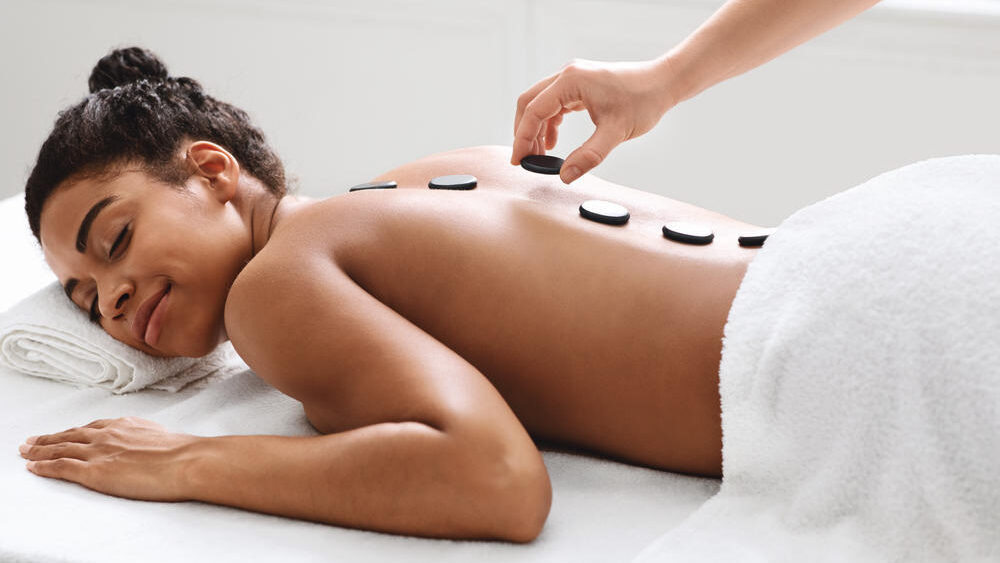 Specialised Touch Therapies🌍
Experience the transformative power of specialized touch therapies at Sanctuary Spa, where there is a range of exceptional treatments designed to cater to your unique needs. Their team of highly skilled therapists possesses specialized expertise in various touch therapy modalities, ensuring that you receive the highest level of care and attention.
Whether you seek deep tissue massage to release muscle tension, the therapists are trained to deliver precise and effective techniques that address your specific concerns. The Specialised Touch therapies include:
Reflexology
Lymph Drainage Massage
Indian Head Massage
Sports Massage
Sports Back Massage
Sports Leg Massage


Body Treatments✨
Snowbush Salt Glow
Indulge in the rejuvenating experience of the Snowbush Salt Glow body treatment at Sanctuary Spa. This invigorating and cleansing treatment is designed to leave your entire body feeling soft, smooth, and radiant. The 30-minute session begins with a gentle and exfoliating salt scrub that effectively removes dead skin cells, revealing a smoother and more supple layer of skin.
As the treatment progresses, skilled therapists apply unique creams that re-energize and restore your body, providing deep nourishment and hydration. The Snowbush Salt Glow body treatment not only enhances the overall texture and appearance of your skin but also stimulates circulation and promotes a sense of well-being.
Trust in the expert therapists to deliver a revitalizing experience that will leave you feeling refreshed and rejuvenated from head to toe. Experience the transformative effects of the Snowbush Salt Glow body treatment and embrace a renewed sense of radiance and vitality.
Detox Wrap
Experience the rejuvenating benefits of the Detox Wrap at Sanctuary Spa. This 60-minute treatment features the Buchu detox wrap, designed to help eliminate harmful toxins from your body and replenish it with essential vitamins and minerals. Skilled therapists will apply a specialized detoxifying formula that deeply penetrates the skin, drawing out impurities and promoting the body's natural detoxification process.
As the wrap envelops you, you will feel a sense of relaxation and renewal. The Buchu detox wrap not only helps to cleanse and purify your body but also nourishes it with vital nutrients, leaving you feeling refreshed, revitalized, and restored. Trust in the expertise to provide you with a transformative experience that supports your overall well-being.


Skincare Treatments for People of All Genders at Sanctuary Spa🎊
The sanctuary spa offers a range of exceptional skincare treatments. From revitalizing facials to targeted treatments for specific skin concerns, expert therapists utilize premium products and advanced techniques to deliver remarkable results. Experience the transformative power of skincare treatments and uncover a radiant, healthy complexion that will leave you glowing with confidence. The treatments available include :
Advanced Anti-Ageing and Skin Specific Treatments
Deep Cleansing Intense
Visible Brightening Facial
Neo-Tissuedermie Anti-Ageing Advance
Classic Pro-Collagen Intense Facial
Radiant Glowing Facial


Daily Essential Treatments for Hands and Feet🤩
Indulge in the ultimate pampering experience with the Daily Essentials treatment for your hands and feet at Sanctuary Spa. The skilled therapists will cleanse, groom, and restore the condition of your hands and feet, providing tender exfoliation, a nourishing mask treatment, and a blissful massage. Complete the experience by selecting a nail lacquer of your choice, leaving your hands and feet looking and feeling beautifully rejuvenated.
Trust in the expertise to deliver a luxurious and comprehensive treatment that will leave you feeling thoroughly pampered from head to toe. Experience the transformative power of the Daily Essentials treatment and embrace a renewed sense of relaxation and well-being. The Sanctuary Spa also offers a collection of spa essentials including :
Lash and Brow Tint
Lash Tint
Brow Tint
Chin Wax
Brow or Lip Wax
Chin and Lip Wax
Half Leg Wax
Underarm Wax and so much more including full spa packages that you should check out.
---
Sanctuary Spa in Cape Town offers an unparalleled sanctuary of tranquillity and rejuvenation. Nestled in a picturesque waterfront setting, this spa stands out for its exceptional ambience, luxurious treatments, and memorable guest experiences. From specialized touch therapies to invigorating body and skincare treatments, every aspect of Sanctuary Spa is meticulously crafted to ensure a transformative journey for each guest.
With a team of skilled therapists, premium products, and a commitment to excellence, Sanctuary Spa delivers a haven of relaxation and wellness. Whether you seek a moment of blissful escape or a comprehensive rejuvenation retreat, Sanctuary Spa in Cape Town is the destination of choice. Immerse yourself in the serenity, embrace the healing touch, and experience the epitome of luxury and well-being. The Sanctuary Spa Pricelist can be found on their website.
Website:https://www.sanctuaryspas.co.za/
Facebook:@Sanctuary Spa SA
Instagram:@sanctuaryspa_waterfront
Address: Moorings 5 & Portswood Ridge, 5 Portswood Rd, Victoria & Alfred Waterfront, Cape Town, 8001
Phone:021 425 2080
---
FAQ
Q – Where can I buy Sanctuary Spa products?
A – You can purchase their products directly from their site.

Q – Are there any other Sanctuary Spas?
A – Outside of Sanctuary Spa in Waterfront. There are two others one in Onyx and another in Sandton.

Q – Does Sanctuary Spa offer any kind of specials?
A – Yes there are various monthly specials at Sanctuary Spa that you can check out on their website.
---
Sanctuary Spa photos💎