Cape Town, known for its breathtaking landscapes, vibrant culture, and culinary diversity, also offers a plethora of romantic dining spots for couples seeking a special evening together. Whether you are looking for an intimate setting with stunning ocean views or a cosy spot in the heart of the city, Cape Town has it all. Let's explore the top 15 romantic restaurants in Cape Town, each offering unique charm and culinary delights that are sure to leave a lasting impression on you and your loved one.
The Romantic Restaurant Experience in Cape Town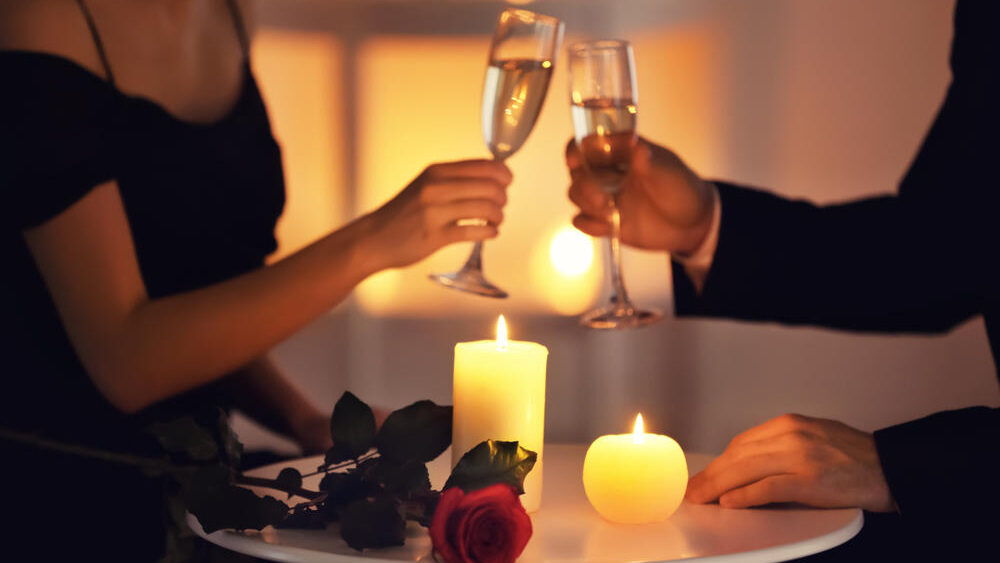 Stepping into a romantic restaurant in Cape Town is like entering a world of enchantment and intimacy. The moment you walk through the door, you are enveloped in an atmosphere of warmth and sophistication. The soft glow of candlelight casts romantic awe, while the elegant decor and attention to detail create a sense of timeless charm. Whether you choose a restaurant nestled in the heart of the city, offering a chic and trendy setting, or opt for a hidden gem tucked away in the countryside, each place promises a unique experience that will touch your heart.
As you and your loved one settle into your table, the anticipation builds for the culinary journey ahead. The menu is a delight of flavours and textures, showcasing the finest local produce and artfully prepared dishes. The attentive service adds to the sense of exclusivity, making you feel like the centre of the restaurant's universe. Whether you're gazing into each other's eyes or sharing a heartfelt conversation, the enchanting ambience and exquisite cuisine set the stage for a night filled with romance and cherished memories. With each course and every sip of wine, you create a shared experience that will linger in your hearts long after the evening comes to an end. In a city as mesmerizing as Cape Town, a romantic restaurant experience is nothing short of a magical affair that celebrates love and connection in the most beautiful way.
Chefs Warehouse Beau Constantia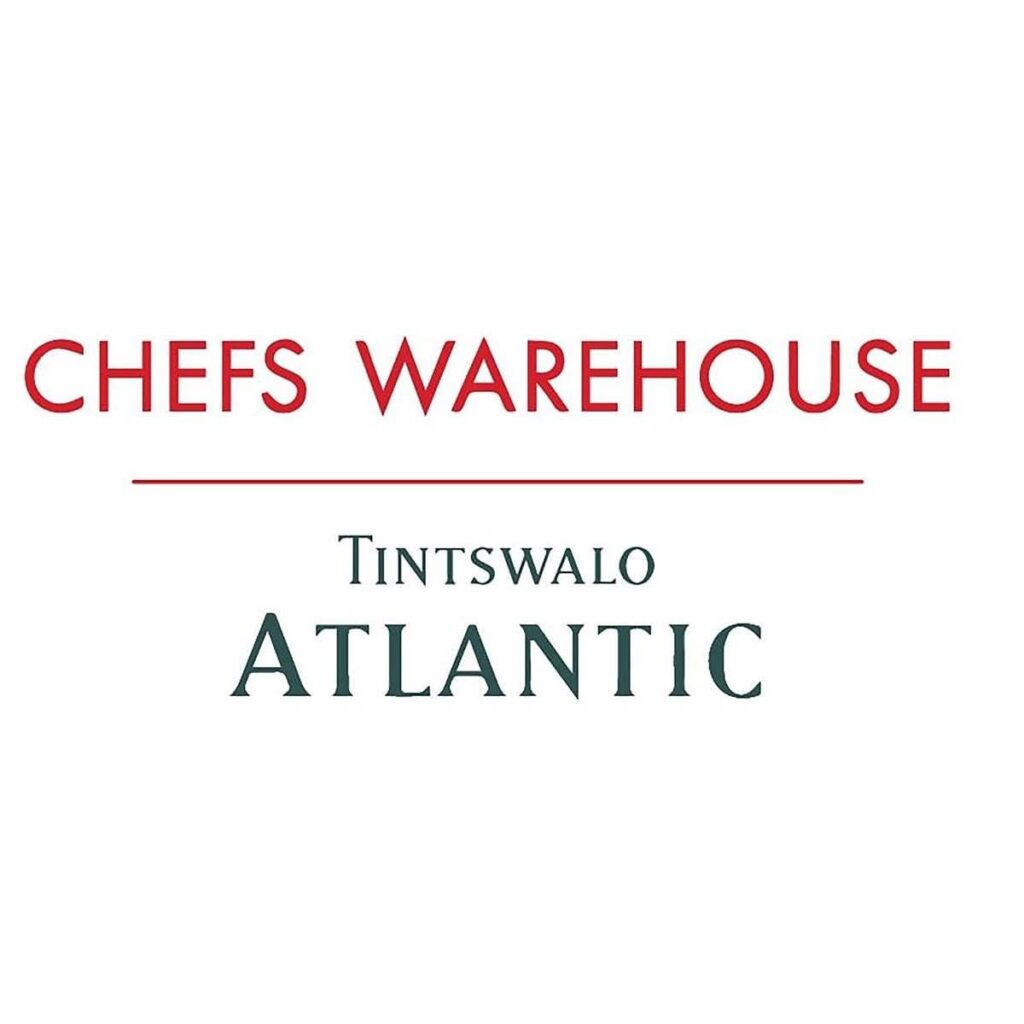 Nestled on the crest of Constantia Nek, Chefs Warehouse Beau Constantia offers a romantic and delightful dining experience with majestic views. The restaurant is located close enough to the centre of Cape Town, yet it transports diners to another world with its stunning vistas and stellar food. Chef Ivor Jones creates seasonally led dishes, drawing inspiration from nostalgia and creativity, resulting in a menu that exhibits bold flavours and a touch of whimsy. The dessert selection, featuring delights like The Jonesy Bar, caters to chocoholics and epicureans alike, adding to the allure of this exceptional dining spot.
Set on the modern boutique estate of Beau Constantia, the restaurant is housed in an impressive "glass box" with floor-to-ceiling windows, providing breathtaking panoramas of the False Bay region. The atmosphere is relaxed yet sophisticated, transforming the traditional five-star fine dining experience into something more approachable and intimate. The tactile components of the dining experience invite diners to interact with their food, creating a sense of connection and playfulness.
The service, emanating from the eye-catching open kitchen, is slick and constant, ensuring a seamless and memorable evening. The thoughtfully curated wine list complements the exquisite dishes, giving diners the opportunity to select the perfect wine to enhance their palates throughout the meal. Whether you're a connoisseur or a casual diner, Chefs Warehouse Beau Constantia promises an enchanting and unforgettable romantic experience.
Chefs Warehouse Beau Constantia Opening Hours: Tuesday to Saturday 12 pm – 2:00 pm and 6 pm – 8 pm The restaurant closes at 11 pm Winter Trading hours – Closed on Mondays & Sundays
Address: 1043 Constantia Main Road, Constantia Neck, Cape Town
Website: https://www.chefswarehouse.co.za/
Contact Number: 021 794 8632
Duchess of Wisbeach


Experience a nostalgic and romantic hideaway at the Duchess of Wisbeach in Sea Point. This NYC speakeasy-inspired restaurant exudes a Parisian vibe with its candle-lit tables, checkered floors, and porcelain dogs adorning each table. Step into a bygone era as you revel in the intimacy and honesty of this charming establishment, where old-fashioned food is served with passion and humour.The menu focuses on classic dishes done right, offering generous, tasty, and reliable options for a memorable dining experience.
Dine with your loved one in an ambience that promises to transport you to a different time and place. After a romantic dinner, the atmosphere transforms into a lively dance party, adding an exciting twist to your romantic evening. The discreet and professional service ensures you have everything you need while maintaining an enchanting atmosphere. Don't miss out on this unique and slightly glam romantic escape in the heart of Sea Point. Indulge in the Parisian vibe and create cherished memories at the Duchess of Wisbeach, where love is always in the air.
Duchess of Wisbeach Opening Hours: Monday to Saturday 6:30 pm – 12 am Sundays – closed
Address: 3 Wisbeach Rd, Sea Point, Cape Town, 8005
Website: http://www.duchessofwisbeach.co.za/
Contact Number: 071 289 4142
Thorfynns Restaurant


Embark on a romantic culinary journey at Thorfynns Restaurant, located within the scenic Monkey Valley Resort in Noordhoek. This hidden gem offers a unique and intimate dining experience amidst nature's beauty. The menu boasts a delightful array of culinary styles, ranging from South African potjies to wood-baked pizza, sushi, seafood, and vegetarian dishes. Every dish is thoughtfully prepared using locally sourced, free-range, and organic produce, ensuring a wholesome and flavorful meal that resonates with nature's bounty.
What sets Thorfynns Restaurant apart is its rustic and casual ambience that exudes a homely charm. The sea-facing deck, perfectly positioned to capture stunning sunset views, seamlessly blends into the surrounding trees and vegetation, creating an intimate and romantic setting. Even on windy days, the deck remains sheltered, allowing you to fully embrace the coastal atmosphere.
Whether you're enjoying a hearty breakfast, a leisurely coffee, or a delightful evening meal, Thorfynns welcomes you with warm hospitality and a touch of digital connectivity through ultra-fast Wi-Fi. As the sun sets over the sea and racehorses silhouette against the lagoon on the nearby beach, Thorfynns offers a picturesque backdrop for romantic moments that will stay with you long after your visit.
Thorfynns Restaurant Opening Hours: Sunday to Saturday from 7 am – 10 pm
Address: Monkey Valley Resort, Mountain Road, Noordhoek
Website: https://www.monkeyvalleyresort.com/restaurant/
Contact Number: 021 789 1391 / 021 789 8000
La Colombe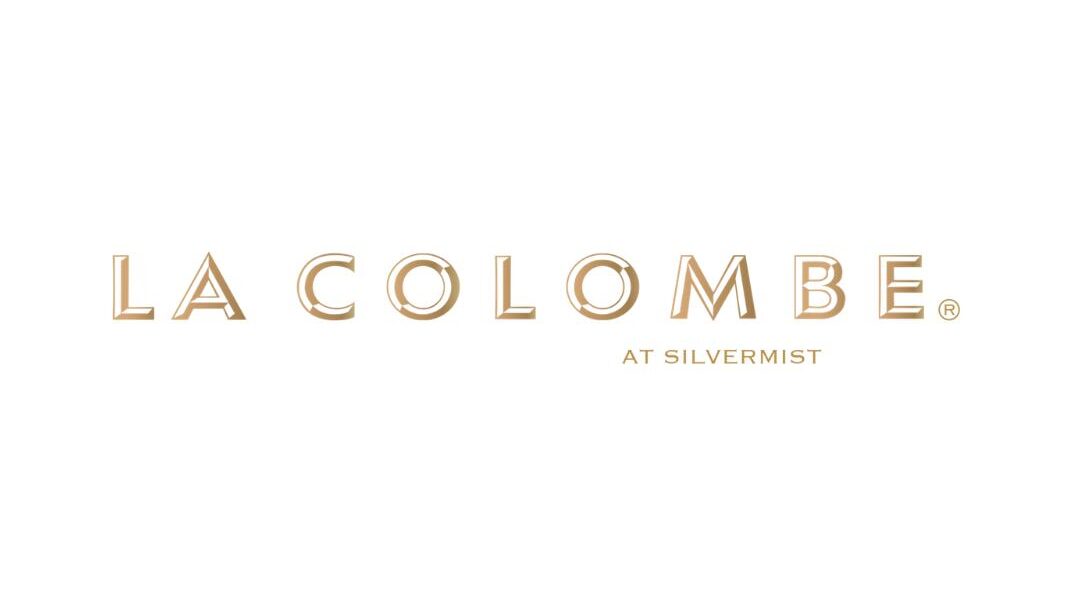 Elevate your romantic experience to new heights at La Colombe, an iconic restaurant nestled on the picturesque Silvermist Estate. Indulge in an extraordinary culinary journey as you explore reduced menus, re-imagined dishes, and the revival of cherished memories with your beloved. At the helm of this exquisite eatery is Scot Kirton, the acclaimed EatOut Chef of the Year 2015, whose French-inspired creations are meticulously crafted using the finest seasonal ingredients. Don't miss the La Colombe Tuna, a Lilliputian-seared tuna tataki served in a charming tin can, a true testament to the restaurant's innovative and artful approach to dining.
Perched on the mountainside and enveloped by lush greenery, La Colombe exudes an ambience that evokes a sense of romantic getaway. The restaurant's setting, overlooking the enchanting Constantia Valley, sets the stage for an unforgettable and intimate dining experience. From the moment you arrive, you'll be captivated by the stunning views and the promise of exceptional cuisine. Whether you're celebrating a special milestone or seeking a romantic escape, La Colombe offers the perfect blend of sophistication, ambience, and delectable flavours that will leave you and your partner enchanted and pampered.
La Colombe Opening Hours: Monday to Sunday Lunch from 12 pm – 1:30 pm Dinner from 6 pm – 8 pm
Address: Silvermist Wine Estate, Constantia Nek, Cape Town
Website: https://lacolombe.restaurant/food
Contact Number: 021 794 2390
Mulberry & Prince


Indulge in a romantic culinary adventure at Mulberry & Prince, a chic and vibrant eatery situated on the corner of Bree Street and Pepper Street in Cape Town. This cosy and intimate restaurant offers a unique dining experience that is perfect for date night. With its stylish mid-century modern decor featuring hints of pink and metallics, the venue exudes an ultra-cool ambience, making it an ideal spot for couples seeking a trendy yet intimate atmosphere. The diamond artworks by local artist Kurt Pio add a touch of artistry to the surroundings, creating an environment that is both visually captivating and romantically inviting.
At Mulberry & Prince, shared meals become a romantic affair, allowing you to connect over delectable dishes crafted with passion and creativity. The restaurant's focus on New American cuisine brings a burst of flavour to the table, with standout options like their signature Eggs Benedict, Turkish Eggs served with creamy homemade labneh, and Nutella French toast that's a true indulgence for your taste buds.
Whether you're enjoying classic favourites or exploring more other flavours, Mulberry & Prince offers a diverse brunch menu that caters to all palates. Pair your meal with inventive brunch cocktails, mimosas, or a variety of other beverages to enhance your dining experience. With limited trading hours and high demand, be sure to book in advance to secure a table in this sought-after romantic hotspot.
Mulberry & Prince Opening Hours: Tuesday to Friday 9 am – 3 pm Saturday to Sunday 10 am – 2 pm Monday – Closed
Address: 12 Pepper Street, Cape Town, 8000
Website: https://www.mulberryandprince.co.za/
Email: info@mulberryandprince.co.za
Bistro Sixteen82
Experience a romantic culinary escape at Bistro Sixteen82, nestled within the picturesque Steenberg Estate in the heart of the Constantia Wine Valley. This Cape Town must-do invites you to indulge in tapas-style cuisine crafted with fine-dining mastery by Chef Kerry Kilpin. The contemporary eatery's terraced dining area seamlessly spills into an indigenous garden, offering an enchanting backdrop of rolling vineyards and breathtaking mountain vistas. Under the starlit sky, treat your senses to a tantalizing journey, where bold flavours and plate-licking sauces take centre stage in every dish.
Bistro Sixteen82 on Steenberg Estate captivates with its ever-evolving menu that embraces the essence of seasonal produce and locally sourced ingredients. Whether you're indulging in a leisurely breakfast, a delightful lunch, or the alluring late-afternoon tapas offerings, every dining experience at Bistro Sixteen82 is imbued with a contemporary spirit that delights the palate and warms the heart. Chef Kerry Kilpin's creative prowess shines through in the selection of daily-changing tapas dishes, each a masterpiece of flavour and presentation.
Imagine savouring arancini with parsnip and roast onion, fish tacos with tomato and shallot salsa, or wasabi-dusted calamari, among other delectable creations. With an ambience that harmonizes with nature's beauty and a menu that celebrates culinary artistry, Bistro Sixteen82 promises a romantic retreat where you can savour the finest flavours of the Constantia Wine Valley.
Bistro Sixteen82 Opening Hours: Monday to Sunday Breakfast 9 am – 11 am Lunch 12 pm – 3 pm Tapas 5 pm – 10 pm Winter closure 4 July – 8 August 2023
Address: Steenberg Estate, Steenberg Road, Constantia Valley
Website: https://www.steenbergfarm.com/bistro1682-cape-town-contemporary-restaurant/
Contact Number: 021 205 3866
Kloof Street House


Discover a world of enchantment at Kloof Street House, a truly romantic restaurant nestled in a charming Victorian building along Cape Town's renowned culinary strip. From the moment you step inside, you'll be transported to a setting reminiscent of The Great Gatsby, where every detail exudes an air of mystique and elegance. The eclectic interior boasts cosy seating, including cushioned wicker chairs and heavy, draped curtains that create an intimate atmosphere. A show-stopping chandelier takes centre stage in the dining area, casting a warm and inviting glow that adds to the allure. This stunning ambience sets the stage for a romantic rendezvous that feels like a step back in time.
Kloof Street House offers the perfect blend of low-key cool and stylish sophistication, making it an ideal choice for both regular date nights and special celebrations. The fairy-lit courtyard provides a dreamy outdoor area where you can enjoy each other's company under the twinkling stars.The menu, featuring consistently excellent French-inspired dishes, is a crowd-pleaser that caters to diverse tastes.
After your delightful dining experience, take a leisurely stroll up Kloof Street, where you can indulge in post-dinner ice cream at Unframed or enjoy drinks at one of the nearby establishments. For those seeking a particular table, the accommodating staff will gladly assist in ensuring your romantic evening is perfectly tailored to your desires. With its charming ambience and delectable cuisine, Kloof Street House promises a romantic escape that feels both timeless and unforgettable.
Kloof Street House Opening Hours: Mondays 12 pm till late Tuesday to Sunday 10 am to late The kitchen closes at 12 am
Address: 30 Kloof Street, Gardens, Cape Town
Website: https://www.kloofstreethouse.co.za/
Contact Number: 021 423 4413
The Black Sheep
Embark on an intimate and unforgettable romantic dining experience at The Black Sheep, a cherished gem among Kloof Street's renowned restaurants. With its delectable seasonal menu, stunning interior, and masterfully crafted cocktails, The Black Sheep has firmly established itself as a beloved stalwart in Cape Town's vibrant culinary scene. The restaurant's moody lighting, thoughtfully curated music, and breathtaking views of the mountain create an ambience that is perfect for couples seeking an intimate and enchanting date night. Revel in the romantic highlight of the restaurant: the cosy and intimate seating paired with the alluring ambience of dimmed lights.
Indulge in the culinary delights that come from The Black Sheep's commitment to sourcing locally and emphasizing sustainable, ethically farmed ingredients. This dedication not only leaves a smaller footprint on the region but also ensures that you savour the authentic flavours of the southwestern Cape. Whether you're drawn to succulents from the West Coast, Nguni beef, or fish, every dish tells a story of the region's rich culinary heritage.
From the lunch menu's lighter options, such as the beloved blue cheese and bacon burger, to the extensive dinner menu that spans comfort food, familiar favourites, and adventurous conceptual creations, The Black Sheep offers a gastronomic journey designed to delight your senses. Embrace the opportunity to enjoy a pre-dinner cocktail at their sister restaurant, The Dark Horse Bar, located just across the road, and enhance your romantic experience at The Black Sheep with an exquisite and unforgettable dining experience.
The Black Sheep Opening Hours: Monday from 5 pm till late Tuesday to Saturday from 12 pm to late The last orders are at 9:30 pm
Address: 104 Kloof Street, Cape Town
Website: https://blacksheeprestaurant.co.za/
Contact Number: 021 426 2661
Utopia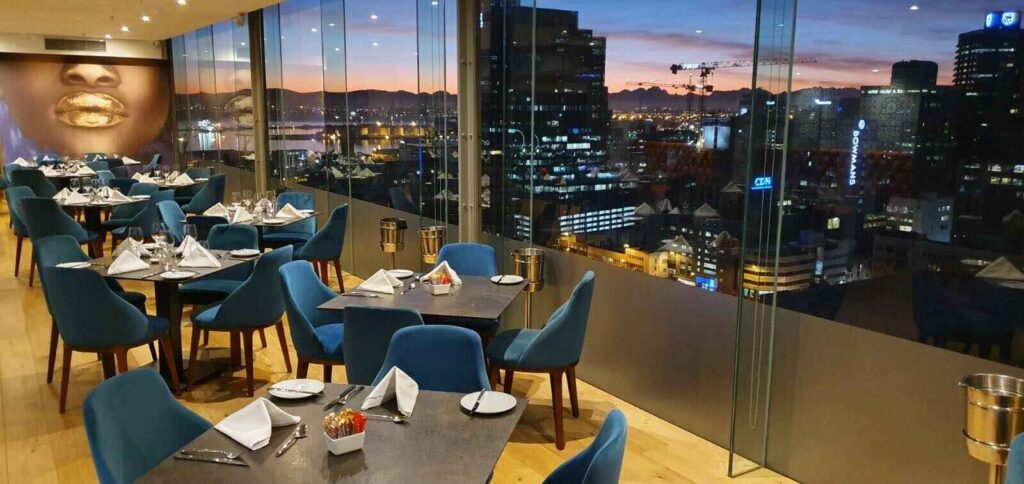 Embark on a captivating culinary journey among the clouds at Utopia, a bistro-style rooftop restaurant that boasts some of Cape Town's finest creations on a plate. Perched on the 15th floor, this enchanting oasis offers couples a romantic escape complete with breathtaking panoramic views of the city's skyline. Indulge in opulence and ecstasy as you and your loved one relish a memorable dining experience that has earned Utopia its place as one of Africa's best rooftop restaurants.
Utopia's culinary offerings are a testament to its commitment to delivering exceptional flavours and elegantly plated dishes. Delight in a 5-course winter tasting menu that showcases the best of land and sea. Begin your journey with a deshelled spicy prawn, cooked to perfection in garlic, lemon, and chilli, accompanied by caviar and warm ciabatta. The diverse experience continues with dishes like a grilled fish skewer paired with cauliflower rice and a spinach emulsion, and a succulent seared beef fillet drizzled with a raisin jus.
A selection of handcrafted cocktails, French champagne, local wines, and a variety of other beverages provide the perfect accompaniment to your romantic feast. As you step into the stylish restaurant and are greeted by warm and friendly faces, the ambience of Utopia envelops you, offering an unforgettable setting that fuses elegant fine dining with the vibrant energy of the city below.
Utopia Opening Hours: Monday to Saturday 12 pm – 11 pm It is essential to make a dinner reservation
Address: Floor 15, 40 Chiappini Street, Cape Town
Website: https://www.utopiacapetown.co.za/
Contact Number: 021 418 3065
Homespun


Immerse yourself in a truly enchanting and romantic culinary escapade at Homespun restaurant in Cape Town. A candlelit dinner in the charming embrace of Homespun promises an intimate and unforgettable experience, where warm lighting and a cosy ambience set the stage for a night of love and laughter. Step into a world of rustic chic decor that exudes comfort and warmth, creating an inviting atmosphere that feels like a home away from home. Draped drapes over the entrance hint at the magic that awaits within, while imaginative design elements like candles cascading over glass bottles and exposed copper piping adorned with naked bulbs create a visual symphony that adds to the charm.
The true artistry at Homespun lies in its delectable cuisine, carefully crafted to tantalize your taste buds and elevate your dining experience. Before indulging in the culinary delights, explore the inventive cocktail menu that boasts imaginative creations like the Hugo, a delightful concoction of bubbly, elderflower, fresh mint, and lime. Choose from a range of dining options, including a Three-course menu, a Tasting menu with palate cleansers, a Veggie or Vegan menu for plant-based enthusiasts, and an A La Carte option for those who prefer to curate their own culinary journey.
Each of Chef Matt's dishes is thoughtfully paired with a specific South African wine, allowing you to discover hidden gems and enhance the flavours of your meal. The fusion of Asian influences with traditional South African heritage cuisine adds a unique and compelling twist to the bistro fare, creating a symphony of flavours that delights the senses and leaves you with cherished memories of a romantic experience at Homespun.
Homespun Opening Hours: Tuesday to Saturday 5 pm to 12 am
Address: 3C Porterfield Road, Table View, 7441
Website: https://www.homespunbymatt.co.za/homespun-blouberg
Contact Number: 021 556 2824
Blowfish Restaurant
Elevate your romantic dining experience at Blowfish Restaurant, located within the stunning Dolphin Beach Hotel in Blouberg, Cape Town. Indulge in a captivating culinary journey that combines the freshest seafood and panoramic beachfront views, making it the perfect destination to savor exquisite flavors while watching the sun dip below the horizon. Whether you're seeking a romantic dinner date, a casual gathering with friends, or a memorable celebration, Blowfish Restaurant offers a harmonious blend of delectable cuisine, breathtaking scenery, and exceptional service.
Nestled along the iconic Blouberg beach, Blowfish Restaurant entices couples with its postcard-perfect setting, where the Atlantic Ocean meets the awe-inspiring Table Mountain backdrop. As you relish in the relaxing ambiance, you can unwind at the Sushi Bar and watch skilled chefs expertly prepare sashimi and other sushi delights. Whether you're indulging in the finest catches from the sea or savoring delectable dishes from the land, Blowfish's specially crafted menu caters to diverse tastes and preferences.
Seafood aficionados will be delighted by the freshest catches of the day, expertly grilled to perfection, while sushi enthusiasts can indulge in a wide array of traditional and signature sushi creations that have earned Blowfish its renowned reputation. With value-packed meal deals available throughout the week, Blowfish Restaurant invites you to experience the perfect blend of culinary excellence, stunning views, and warm hospitality, creating cherished memories that linger long after your romantic meal by the sea.
Blowfish Restaurant Opening Hours: Monday to Sunday from 7 am to 11 pm Breakfast from 7 am to 11 am Lunch from 12 pm
Address: 1 Marine Drive, Table View
Website: https://www.blowfishrestaurant.co.za/
Contact Number: 021 556 5464
Gåte Restaurant


Experience an extraordinary romantic journey through 16 courses of culinary delight at Gåte Restaurant, nestled within the enchanting Quoin Rock Estate. If your idea of romance involves an experimental dining experience that challenges your taste buds and takes you on a gastronomic adventure, then Gåte is the perfect destination to captivate your senses. Step into the world of modernist cuisine, where each dish is a meticulously crafted masterpiece, designed to bring out the intricate flavours of carefully selected ingredients.
Perched in the serene Knorhoek Valley near Stellenbosch, Gåte offers a captivating fine-dining experience that combines breathtaking views of the Quoin Rock vineyards with the culinary prowess of Chef Paul Prinsloo. As the recipient of the S.Pellegrino Best Young Chef: Africa & Middle East (2019) award, Chef Prinsloo pushes the boundaries of culinary creativity, delivering multi-sensory tasting menus that are as visually stunning as they are flavorful. The artful combination of local, seasonal ingredients, including produce grown on the estate, showcases the rich flavours of the region.
From exquisitely designed canapés to innovative dessert pairings, Gåte's menu reflects the chef's dedication to perfectionism, resulting in a symphony of flavours that unfold with each course. As you embark on this culinary odyssey, the panoramic views of Simonsberg Mountain and the impeccable service create an intimate and enchanting atmosphere that elevates your romantic dining experience to new heights. Immerse yourself in the magic of Gåte, where every moment is a celebration of art, flavour, and romance, leaving you with cherished memories to treasure.
Gåte Restaurant Opening Hours: Wednesdays till Sundays Lunch 12 pm – 2 pmDinner Friday & Saturday starting at 6 pm
Address: Quoin Rock Wine Estate, Knorhoek Road, Stellenbosch
Website: https://www.quoinrock.co.za/gate-restaurant
Contact Number: 021 888 4750
Salsify at The Roundhouse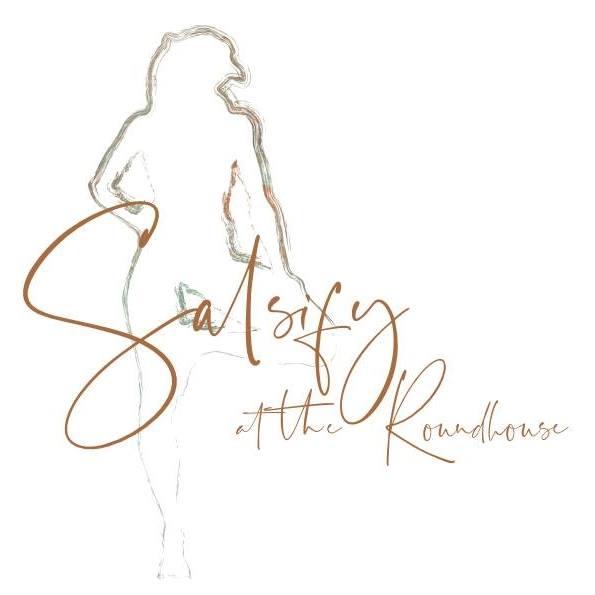 Elevate your romantic dining experience to new heights at Salsify at The Roundhouse, a must-visit gem on your Cape Town restaurant list. Nestled within the historic walls of The Roundhouse, this exquisite dining destination offers not only breathtaking panoramic views of the Atlantic Ocean but also an ambiance that sets the stage for an unforgettable romantic evening. As you step into this enchanting space, you'll be greeted by the masterful creations of Chef Ryan Cole and his exceptional culinary team, ensuring that your taste buds embark on a remarkable journey of intriguing flavors and delightful wine pairings.
The highlight of Salsify lies in its mesmerizing panoramic views, providing a captivating backdrop for your intimate dining experience. Whether you're celebrating a special occasion or simply seeking a romantic escape, the combination of scenic beauty and world-class cuisine makes Salsify an ideal choice. The meticulously crafted menu showcases a modern approach to seasonal dishes, showcasing the finest locally sourced ingredients.
Salsify's commitment to excellence extends beyond its culinary offerings, as the hand-picked wine selection adds an extra layer of sophistication to your dining journey. From the rich history of The Roundhouse to the innovative culinary artistry of Salsify, every element comes together to create an unforgettable evening that will leave you with cherished memories of a truly enchanting Cape Town experience.
Salsify at The Roundhouse Opening Hours: Tuesday to Saturday Lunch 12:30 pm – 2 pm and Dinner 6 pm – 8:30 pm Sunday Lunch 12:30 pm – 2 pm
Address: The Roundhouse, Roundhouse Road, Camps Bay
Website: https://salsify.co.za/
Contact Number: 021 010 6444
The Nines
Elevate your romantic dining experience to new heights at The Nines rooftop restaurant and cocktail lounge, nestled on the ninth floor of the iconic Station House in Sea Point. Boasting awe-inspiring vistas over upper Sea Point and the vast expanse of the Atlantic Ocean, The Nines offers an unparalleled setting for a truly enchanting evening with your loved one. Through floor-to-ceiling windows, you'll be treated to breathtaking panoramic views that transition seamlessly from sunset drinks to a moonlit dinner, creating an atmosphere of romance and wonder. The elevated location of The Nines provides a rare perspective of Cape Town that sets the stage for an unforgettable date night.
At The Nines, the romantic highlight undoubtedly lies in its elevated view – a rare and captivating feature that sets it apart from other dining venues in Cape Town. As you and your significant other bask in the beauty of the surroundings, you'll also be indulging in a culinary journey that marries the finest ingredients with contemporary expressions of beloved dishes. The menu offers a tantalizing range of options, from land and sea delights to a tempting array of Italian-inspired fare.
Whether you're savoring the richness of Black Truffle Risotto, indulging in the succulence of the 48-hour House Braised Short Rib, or sharing a sumptuous Seafood Platter, each dish is a masterpiece of flavor and presentation. The Nines takes the concept of restaurant classics to new heights, guiding you through a gastronomic adventure that encompasses aperitifs, starters, main courses, sides, wines, breads, greens, and after-dinner drinks. As you savor every moment and every bite, The Nines ensures that every aspect of your romantic evening is an experience to remember.
The Nines Opening Hours: Monday to Sunday 12 pm – 11 pm
Address: Station House, 19 Kloof Rd, Sea Point
Website: https://thenines.co.za/
Contact Number: 021 745 6609
Tortuga Loca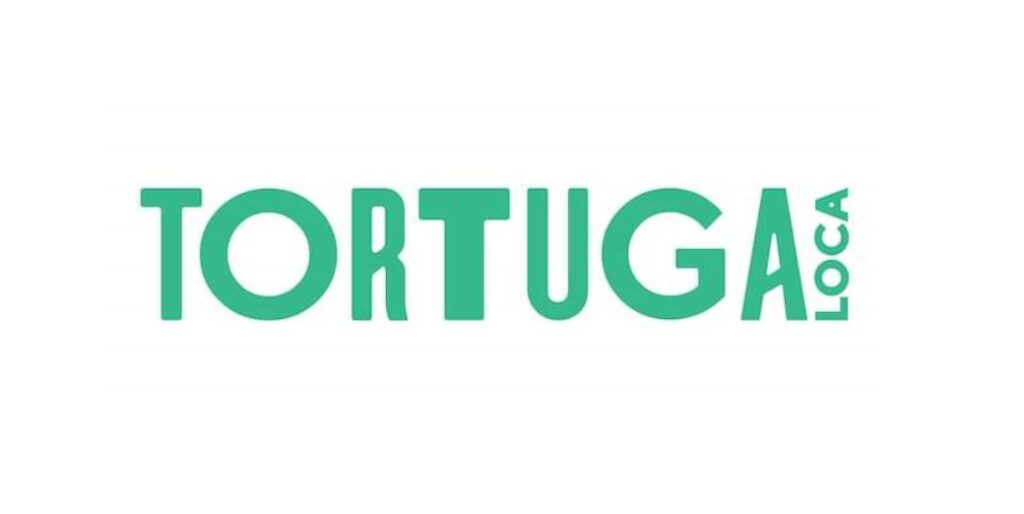 Embark on a culinary journey to the heart of Mexico right in the heart of Muizenberg at Tortuga Loca, a vibrant and lively Mexican restaurant that promises a fiesta for your senses. Stepping into Tortuga Loca is like stepping into a piece of Mexico, with its contemporary Mexican aesthetic and colorful decor that instantly transports you to a world of flavor and flair. The ambiance is electric and inviting, making it an ideal spot for a romantic dinner. The attentive and knowledgeable staff add to the warmth of the experience, ensuring that you're well taken care of from the moment you arrive.
The menu at Tortuga Loca is a celebration of classic Mexican flavors, featuring favorites like chicken enchiladas, tacos, nachos, and more. For a twist on tradition, their jackfruit tacos and creative dishes like the ceviche served on a crispy taco shell are a must-try. Vegetarian and vegan options abound, ensuring that every palate is satisfied. The platter for two is a fantastic option for those eager to sample a variety of delectable delights.
To complement the culinary adventure, Tortuga Loca offers an impressive array of cocktails, including their signature frozen margaritas that are sure to add a touch of zing to your dining experience. The establishment's commitment to free-range ingredients, including chicken and eggs, ensures that every bite is a conscious and flavorful choice. Whether you're seated indoors enjoying the vibrant interior or soaking in the view of the mountain from their outdoor seating, Tortuga Loca promises a delightful and memorable dining escapade.
Tortuga Loca Opening Hours: Tuesday to Sunday 12 pm – 11 pm
Address: 141 Main Road , Muizenberg, South Africa
Contact Number: 087 095 5733
---
Cape Town's culinary scene is as diverse and enchanting as its landscapes, making it an ideal destination for couples seeking a romantic dining experience. From elegant fine-dining establishments with panoramic views to cozy hidden gems with rustic charm, the city offers something to suit every couple's preferences. Whether you're celebrating a special occasion or simply want to create lasting memories with your loved one, these top 15 romantic restaurants in Cape Town are sure to provide an unforgettable experience that will leave you both with hearts full of joy and love.