Cape Town is a city bursting with exciting family-friendly attractions, and among them, the play parks stand out as some of the most enjoyable and memorable places for children and parents alike. From award-winning indoor play parks to thrilling outdoor adventure spots, there's no shortage of options to keep the little ones entertained. Let's take a closer look at the 15 best playparks in Cape Town that offer a diverse range of activities for kids of all ages.
Playalot Indoor Playpark in Kuils River 🧒🏻
Playalot Indoor Playpark takes the top spot with its reputation as an award-winning playground. Recognized as the best play park in Cape Town by KFM, this facility boasts three age-appropriate play areas. Perfect for kiddies' birthday parties, Playalot offers an extensive selection of themes to choose from, making your child's celebration truly special.
Playalot Indoor Playpark Cape Town offers a unique twist by catering to themed adult parties. With amenities like a licensed VIP Cocktail Lounge, Playalot Café, VIP Party Terminal, and even a mom salon, this playpark goes beyond children's entertainment, making it an ideal venue for hosting memorable and exciting adult parties with a playful touch. Whether you're planning a themed celebration or seeking a fun-filled adult gathering, Playalot Indoor Playpark has something special to offer everyone.
Address: Shop 33 Haasendal Gables Shopping Center, Kuils River, Cape Town
Website:https://www.playalot.co.za/
Contact Number: 087 138 7529
Facebook:https://www.facebook.com/playalotza/
Instagram:https://www.instagram.com/playalotza/


Freedom Adventure Park in Tokai 🎊
Beyond its family-friendly dining options, Freedom Adventure Park is a haven for thrill-seekers. It boasts an exhilarating 50-meter-long Adrenaline Pumping Hi-Line Indoor Rope Course, alongside multiple Climbing Walls and a one-of-a-kind Custom Trampoline Dodgeball Arena designed with kids in mind, a pioneering feature in South Africa.
Dodge Attack, the country's first, adds an extra layer of excitement. The park's attractions extend to a Hi-Dive Leap of Faith and a Foam Pit for daring leaps. Additionally, the innovative Custom Built Play Pods incorporate architectural elements that create a cool, contemporary, and utterly fun environment for all ages to explore.
Address: Unit 3A,333 Main Road, Retreat, Tokai, Western Cape, South Africa
Website:http://www.freedomadventurepark.co.za/
Contact Number: 083 279 4453
Facebook:https://www.facebook.com/freedomadventureparkza
Instagram:https://www.instagram.com/freedomadventureparkza/


PlayDate Superpark at the V&A Waterfront 🏠
PlayDate Superpark is a thrilling space designed for both fun and fitness. Complete with CCTV cameras for added security, parents can have peace of mind while their children play and explore. Immerse yourself in a world of endless excitement with a range of thrilling facilities. Navigate through a captivating 3D maze that challenges your senses and wits.
Experience the adrenaline rush as you soar along the Zip Line, or conquer the heights with the High Line and Course that promise an exhilarating adventure. But that's not all – PlayDate Superpark offers an array of other engaging activities that ensure every moment is packed with fun and thrills. From the intricate maze to the heart-pounding zip line, this park guarantees an unforgettable experience for visitors of all ages.
Address: 17 Dock Road, V&A Waterfront (The WaterShed Jubilee Hall), Cape Town, South Africa
Website:https://superpark.co.za/
Contact Number: 060 718 2862
Facebook:https://www.facebook.com/playdatesuperpark/
Instagram:https://www.instagram.com/playdatesuperpark_sa/


Rush Trampoline Park in Claremont⚡
Elevate your trampoline experience to new heights at Rush. This park masterfully combines safety and fun, ensuring you can exercise, entertain, and jump with confidence. Immerse yourself in cutting-edge surroundings that provide the ultimate trampoline adventure. From energetic leaps to gravity-defying flips, every bounce is a thrilling experience.
Whether you're seeking a family-friendly outing, a group gathering, or a memorable party destination, Rush Trampoline Park guarantees a top-notch environment where safety and enjoyment harmoniously converge. Jump into the world of excitement and joy, knowing that your trampoline experience is both secure and exhilarating.
Address: 25 Stegman Rd, Claremont, Cape Town
Website:https://www.rushsa.co.za/
Contact Number: 021 683 3841
Facebook:https://www.facebook.com/rushclaremont/
Instagram:https://www.instagram.com/rushclaremont/


Ipic Play in Durbanville 🎈
Ipic Play is an adventure-packed play park that caters to kiddies' birthday parties and even corporate events. With a range of activities, it's a versatile venue for various occasions. A haven of adventure and flavour awaits. Beyond its exhilarating attractions like the Jump Zone, Climb Walls, Giant Slides, and Gladiator Pit, this park offers a delightful dining experience. Indulge in a menu that spans from scrumptious breakfasts to delectable pizzas and hamburgers. For those who crave variety, the park also boasts great platters to satisfy every taste.
But that's not all; Ipic Play caters to all ages, including the youngest adventurers, with the exclusive Toddler Town catering for 0 to 2-year-olds. From thrilling activities to delectable dining, Ipic Play is your all-inclusive destination for endless enjoyment.
Address: Cnr Aurora & Burton Streets, Aurora, Durbanville
Website:https://ipicplay.co.za/
Contact Number: 021 205 3844
Facebook:https://www.facebook.com/ipicplay/
Instagram:https://www.instagram.com/ipic_play/


Wild Wild West Kids Play Park in Somerset West ❤
Wild Wild West Kids Play Park offers indoor entertainment for children and toddlers. It's an excellent option for indoor birthdays, ensuring that kids have a blast regardless of the weather. Step into a world of adventure where excitement knows no bounds. Experience the thrill of conquering the Highline Balance Course, testing your skills on the Ninja Warrior Course, and navigating the intricate six-level high climbing grid Maze.
For those seeking a vertical challenge, the Climbing Wall beckons. Explore the Gold Mine, complete with 5m high Slides, and uncover even more surprises that await around every corner. At Wild Wild West, the array of activities is designed to keep young adventurers engaged and entertained, promising a day filled with exhilaration and unforgettable memories.
Address: 8 Garvin Circle, Gants Centre, Somerset West
Website:https://www.wildwestplaypark.co.za/
Contact Number: 021 852 7692
Facebook:https://www.facebook.com/WildWildWestPlaypark/
Instagram:https://www.instagram.com/wildwildwestplaypark/
Wonderdal 🌟
Combining education and play, Wonderdal provides an interactive edutainment experience. Children aged 5-13 can explore the worlds of science, nutrition, and nature through engaging indoor and outdoor activities. Wonderdal is a haven of learning and play, Wonderdal proves ideal for schools and birthday parties alike. Its seamless blend of indoor and outdoor spaces ensures that children can explore and thrive in any weather. Nestled in the breathtaking Stellenbosch Winelands, Wonderdal offers not just a venue but an experience against the backdrop of stunning scenery.
From interactive educational zones to creative outdoor activities, Wonderdal creates an immersive environment that sparks curiosity and joy. Whether it's an enriching school trip or a memorable birthday celebration, Wonderdal's convenient location and diverse offerings make every moment truly special.
Address: Bottelary Road, Stellenbosch, South Africa
Website:https://www.wonderdal.co.za/
Contact Number: 021 205 5624
Facebook:https://www.facebook.com/WonderdalWorld/
Instagram:https://www.instagram.com/wonderdalworld/?hl=en


Bugz Playpark 😎
If you are looking for a fun playpark in Cape Town, Bugz Playpark is a paradise for your kids with its vast indoor and outdoor offerings. From Dragon Swings to Mud Kitchens and Petting Farms, children are spoiled for choice. Beyond its extensive offerings, Bugz Play Park is a paradise of activities that promises endless joy.
From Sandpits to a Soft Toy Zone, every corner is designed for laughter and play. Cool off at the Splash area, or soar to new heights on the Swings. Discover imaginative realms in the Treehouse or embrace the thrill of Toddler Tractors. Bugz Playpark is a haven where kids can explore and create memories in a safe and exciting environment. With a wide array of play areas and attractions, this park ensures that every visit is an adventure waiting to be had.
Address: 6 Tarentaal Rd, Joostenberg Vlakte, Cape Town
Website:https://www.bugzplaypark.co.za/
Contact Number: 021 988 8836
Facebook:https://www.facebook.com/bugzfamilyplaypark
Instagram:https://www.instagram.com/bugzplaypark/


The Kids Shack in Rondebosch 🚲
The Kids Shack stands out with its unique offerings, including jungle gyms, bike and scooter tracks, zip lines, and splash play. It's the perfect setting for children's parties and active play. More than just a play destination, The Kids Shack is a haven of convenience and celebration. There is also a welcoming coffee shop, Annie Pie's, which invites parents, grandparents, and nannies to enjoy a cup of tea or coffee and delectable treats.
The park ensures a pleasant experience by not permitting outside food, except for snack boxes for little ones. As a versatile party venue, it boasts four private party areas—two indoor and two outdoor—where unforgettable celebrations unfold. The Kids Shack creates a space where families can unwind, enjoy quality beverages and snacks, and commemorate special occasions with ease and flair.
Address: 16 Norton Way, Rondebosch, Cape Town
Website:https://thekidsshack.co.za/
Contact Number: 021 761 4240
Facebook:https://www.facebook.com/kidsshack.cre8tivekids
Instagram:https://www.instagram.com/thekidsshack/?hl=en


Bounce World in Milnerton 🏰
Boasting one of the largest inflatable play areas in South Africa, Bounce World guarantees endless jumping fun with its collection of jumping castles. Come give it a visit, it's a memorable experience waiting to happen. Bounce World is the perfect play destination for energetic kids and parents who want to relax while their children are jumping for joy!
Address: 15 Montague Drive, Montague Gardens, Cape Town
Website:https://bounceworld.co.za/
Contact Number: 021 552 3165
Facebook:https://www.facebook.com/BounceWorldParties/


Playstation by Rush in Kirstenhof ⚽
Playstation by Rush is a haven for children aged 2 to 13, allowing kids to be themselves while parents unwind in a relaxed environment. Elevate playtime to new heights with an array of captivating attractions. From a dynamic soccer pitch that ignites team spirit to the thrilling High Line Course that challenges agility and courage, every moment is an adventure.
Embark on an exciting journey through the Super Slide adventure maze, where twists and turns await at every corner. When it's time to refuel, the in-house restaurant ensures delicious meals and refreshing treats. Whether you're seeking sportsmanship, adrenaline, or a hearty meal, Playstation by Rush in Kirstenhof offers an all-encompassing destination where fun and excitement unite.
Address: 10 Honeywell Road, Retreat, 7945, Cape Town
Website:https://playstation.rushsa.co.za/
Contact Number: 021 205 1916
Facebook:https://www.facebook.com/people/Playstation-by-Rush/100090064086940/
Instagram:https://www.instagram.com/playstationrush/


Total Ninja in Observatory 🥷
Experience the thrill of Ninja Warrior in the heart of the Observatory. This fitness venue, inspired by the popular TV show, invites you to climb, balance, jump, and swing through a range of obstacles, honing your Ninja skills with every challenge. The iconic Warped Wall stands ready for every aspiring Ninja to conquer.
Beyond being a remarkable family activity destination, Total Ninja is an avenue for maintaining fitness while having fun. Embark on your Ninja journey, where agility meets excitement, and join us as we push boundaries, test limits, and embrace the spirit of adventure together.
Address: Black River Park, The Warehouse, 2 Fir St, Observatory, Cape Town
Website:https://totalninja.co.za/
Contact Number: 021 745 3089
Facebook:https://www.facebook.com/totalninjabrp/
Instagram:https://www.instagram.com/totalninjabrp/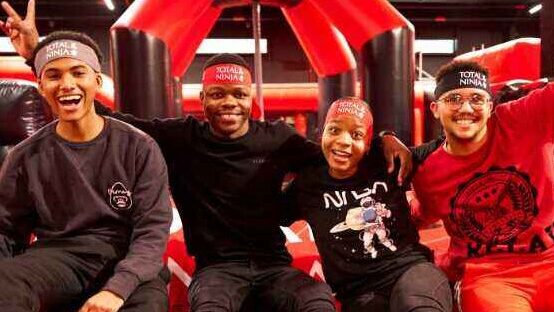 Kids Factory in Brackenfell 🤹🏻‍♂️
A haven of imagination and excitement awaits at Kids Factory. Designed for children aged 1 to 10, this play paradise brings joy to young hearts through its thoughtfully crafted offerings. Jungle gyms, soft-contained play structures, slides, and captivating play areas set the stage for endless adventures. Every element of the equipment is meticulously safety-tested and approved, ensuring parents' peace of mind as their little ones explore and play.
From toddlers taking their first steps to older kids seeking thrilling escapades, Kids Factory caters to a wide age range. The play structures inspire creativity and physical activity, fostering both cognitive and motor skill development. With a strong commitment to safety, parents can relax while their children immerse themselves in an environment designed for exploration and growth.
Kids Factory's dedication to providing a safe and engaging space makes it an ideal destination for families seeking quality playtime. The combination of imagination-inspiring play areas and rigorous safety measures ensure that children can fully enjoy their experience while parents enjoy watching their kids thrive. Kids Factory in Brackenfell is not just a playpark; it's a place where children's happiness and development take centre stage.
Address: 17 Bottelary Rd, Brackenfell South, Cape Town
Website:https://kidsfactory.co.za/
Contact Number: 083 349 4516
Facebook:https://www.facebook.com/KidsFactoryRSA/
Instagram:https://www.instagram.com/kidsfactoryrsa/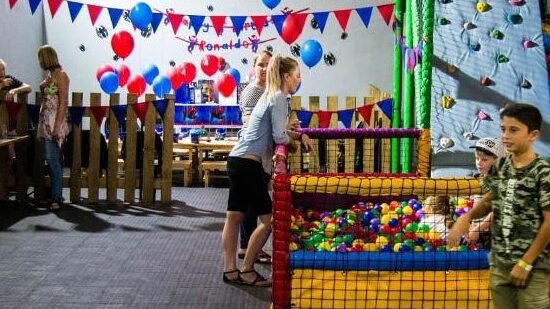 Be.UP Park in Pinelands ⛹🏻‍♂️
Be.UP Park is an adventure lover's dream, with climbing walls and AltiGame equipment that promise an adrenaline-packed experience. It is a hub of excitement for all occasions. This park goes beyond regular fun with activities like dodgeball and climbing. Its versatility as a space for celebrations, team building, and school outings ensures that every visit is a memorable adventure. Whether you're aiming for an adrenaline-fueled event or an educational excursion, be.UP Park has you covered with a range of activities that cater to all ages and interests.
Address: Gardener Place, Rose Innes St, Pinelands, Cape Town
Website:https://beuppark.co.za/
Contact Number: 087 057 1400
Facebook:https://www.facebook.com/beuppark/
Instagram:https://www.instagram.com/beuppark/


Acrobranch Play Park Constantia🎋
For those seeking adventure in the treetops, Acrobranch Play Park offers obstacle courses and zip lines suitable for both kids and adults. It's the perfect place to challenge your agility and courage.
Embark on an exhilarating adventure in the heart of nature. This adrenaline-packed sports area presents a unique blend of challenges as visitors navigate through lush, green forests. Acrobranch offers a variety of obstacle courses, each park featuring distinct experiences. Geared towards both kids (designated Acrobranch Kids) and fit adults and teenagers, these courses are designed to push boundaries and ignite excitement.
Set among treetop canopies, the park boasts awe-inspiring high ropes, and daring crossings with ladders, tunnels, walkways, and bridges, offering an exceptional tree-to-tree movement experience. For those seeking a rush of adrenaline, the park's spectacular zip lines provide the perfect thrill. Whether you're swinging between branches, conquering tricky obstacles, or soaring through the air on a zip line, Acrobranch Play Park Constantia ensures an unforgettable adventure that blends the beauty of nature with heart-pounding challenges.
With courses tailored to various ages and fitness levels, Acrobranch is a haven for families, friends, and individuals seeking an active and exhilarating day out. This play park transforms outdoor exploration into an adrenaline-fueled journey, making every visit a memorable escapade amid the treetops.
Address: 1 Hout Bay Main Rd, Hout Bay, Cape Town
Website:https://acrobranch.co.za/outdoor-activity-parks/cape-town-constantia/
Contact Number: 086 999 0369
Facebook:https://www.facebook.com/Acrobranch/
Instagram:https://www.instagram.com/acrobranchza/


---
Cape Town's play parks offer an array of options for family fun and entertainment. From interactive indoor spaces to thrilling outdoor adventures, these 15 play parks cater to all interests and ages, ensuring that families have unforgettable experiences together. Whether you're looking for educational exploration or exhilarating activities, Cape Town's play parks have something for everyone.