Cape Town is a city that captivates the hearts of visitors with its breathtaking natural beauty, vibrant culture, and laid-back atmosphere. Beyond its bustling urban scene, Cape Town offers an array of tranquil spots that invite both locals and tourists to unwind and soak in the calming ambience. From pristine beaches to lush gardens and charming harbours, We will guide you through the most serene places to chill in Cape Town and a few Restaurants to grab a bite to eat on your journey through the Cape.


Why Cape Town is a Great Place to Chill 🤔
Cape Town, often referred to as the "Mother City," is a destination that effortlessly combines the pleasures of urban living with the serenity of nature. The city's unique geography, with its stunning coastal landscapes and diverse range of environments, creates an ideal setting for relaxation. With its Mediterranean climate, Cape Town boasts mild temperatures and a generous amount of sunshine year-round, making it the perfect backdrop for leisurely outdoor activities.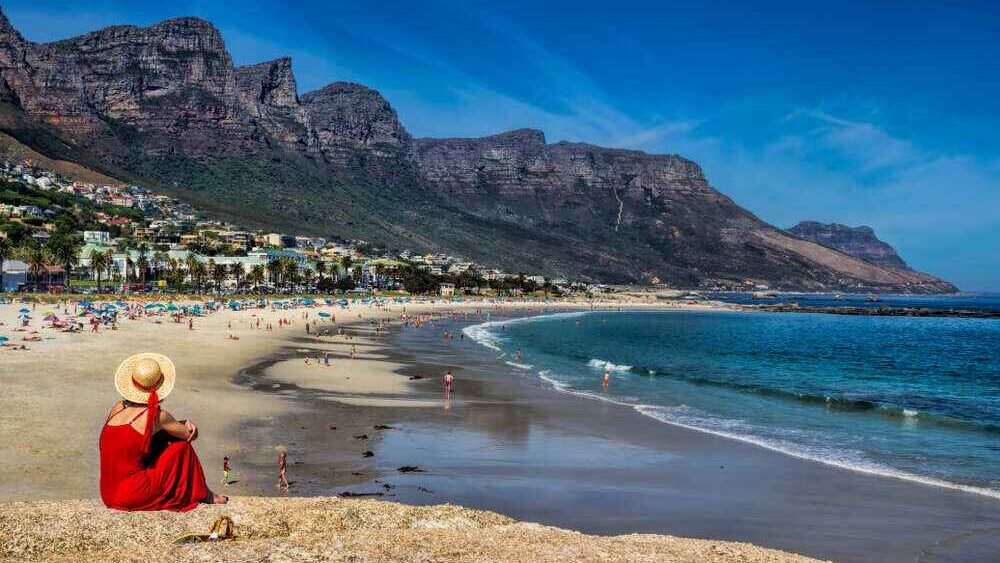 Sea Point Promenade 🌊
One of Cape Town's iconic chill-out spots is the Sea Point Promenade. Stretching along the Atlantic Seaboard, this palm-lined walkway offers breathtaking views of the ocean and the chance to engage in various activities. Whether you prefer a leisurely stroll, a jog, or simply sitting on one of the benches watching the waves, the Sea Point Promenade provides a calming escape from the urban hustle.
Just a stone's throw from the walkway, a treasure trove of charming cafes and eateries await. Savour locally roasted coffee's rich aroma or indulge in warm, freshly baked croissants. It's the perfect harmony of aesthetic wonder and culinary enchantment that elevates the Sea Point Promenade to an ideal haven for unwinding. This coastal oasis lets you leave behind the urban rush, replacing it with the gentle rhythm of the waves and the embrace of salty breezes. As the sun paints the sky with vibrant hues during sunset, it is a timeless escape where urban life merges with nature.
Address: Sea Point Promenade, Sea Point, Cape Town


Clifton Beach Secret Sunset Rock 🌄
Clifton Beach Secret Sunset Rock is a hidden gem nestled along the rugged coastline, offering an enchanting escape from the ordinary. Tucked away from the bustling crowds of Clifton Beach, this secluded spot unveils an awe-inspiring spectacle each evening as the sun dips below the horizon. The rock, a natural formation worn smooth by the embrace of the tides, serves as an intimate perch to witness nature's masterpiece.
The panoramic views of the vast ocean painted in hues of orange, pink, and gold create a surreal ambience that transcends reality. Locals and wanderers alike seek solace here, drawn by the magnetic allure of the Secret Sunset Rock. It stands as a reminder that even in a world driven by haste, there are sanctuaries where time seems to stand still, and the world's beauty takes centre stage.
The journey to Clifton Beach Secret Sunset Rock is an adventure on its own. Meandering through a labyrinth of narrow trails, one finds themselves immersed in a coastal Eden that few have had the privilege to experience. As the salty breeze dances through the air and the distant sound of crashing waves serenades the soul, visitors gradually approach the coveted vantage point.
The rock's unique position offers a sense of intimacy with the vastness of the ocean, where the rhythmic waves become a hypnotic soundtrack to the fading day. This secluded haven not only grants a front-row seat to the celestial spectacle but also imparts a feeling of unity with the earth's elements. Clifton Beach Secret Sunset Rock encapsulates the essence of natural beauty and the tranquillity that accompanies it, making it a cherished haven for those seeking a moment of serenity in the embrace of nature's grandeur.
Address: 405 Ocean View Dr, Bantry Bay, Cape Town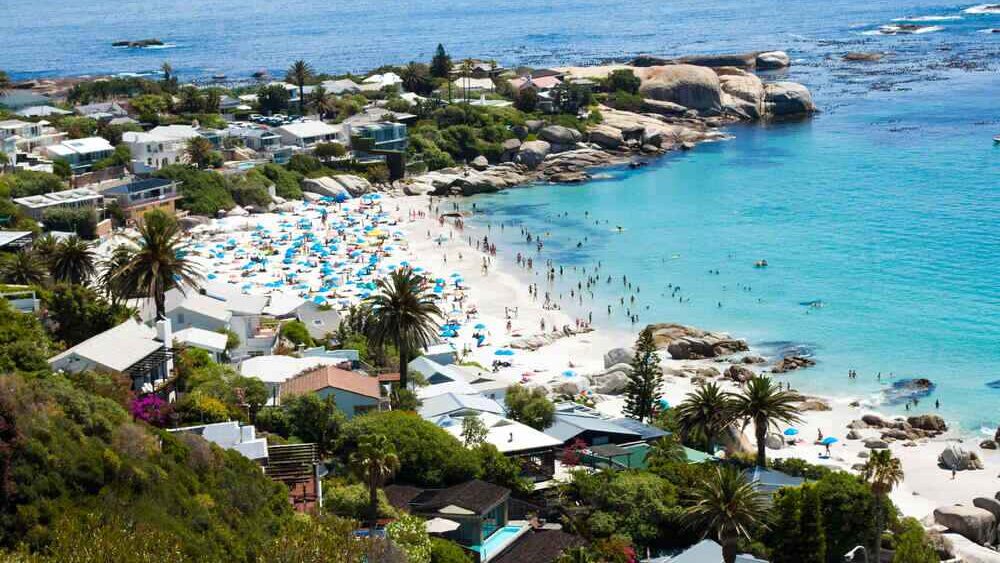 Chapman's Peak Drive Lookout Point 📷
Chapman's Peak Drive Lookout Point offers an awe-inspiring vista that seamlessly marries the rugged grandeur of the mountains with the vast expanse of the ocean. Perched along the iconic Chapman's Peak Drive in South Africa, this lookout point is a testament to nature's mastery. The road itself winds dramatically along the coastline, with every twist and turn revealing a new facet of the breathtaking scenery.
At the lookout point, visitors are treated to a panoramic spectacle: cobalt blue waters stretching into the horizon, framed by towering cliffs blanketed in fynbos vegetation. The juxtaposition of the serene sea and the formidable landforms creates a captivating visual symphony that has made Chapman's Peak Drive Lookout Point a haven for photographers, nature enthusiasts, and travellers seeking a moment of profound contemplation.
As the sun sets over the Atlantic, the lookout point transforms into a canvas of colours, as the golden hues of twilight dance upon the water's surface. The sensation of standing on the edge of the world, with the wind carrying whispers of tales from the sea, is an experience that lingers in memory long after leaving.
The engineering marvel of Chapman's Peak Drive, carved into the sheer cliffs, adds an extra layer to the visit. Whether driving along this route or pausing at the lookout point, visitors can't help but be humbled by the raw beauty of nature's artistry that unfolds at Chapman's Peak Drive Lookout Point.
Address: Chapmans Peak Drive, Chapmans Peak, Cape Town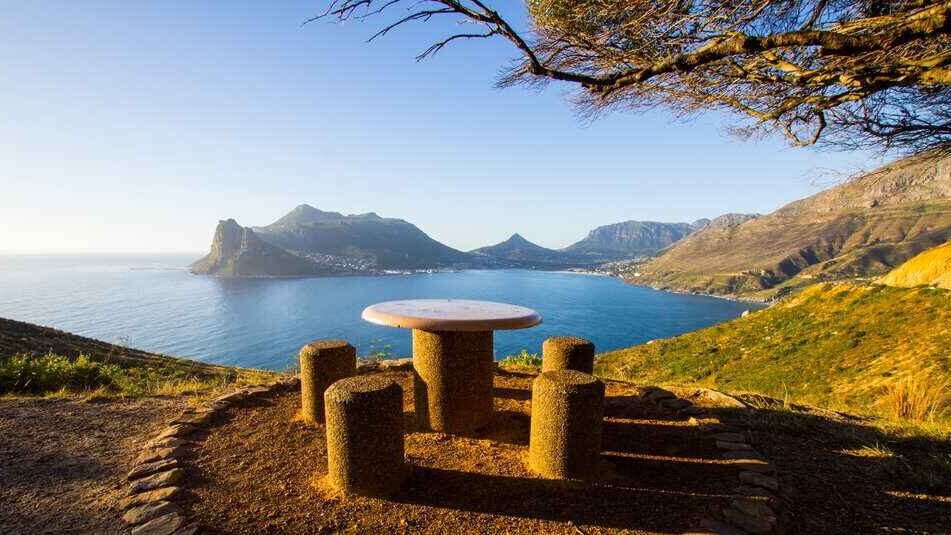 Kirstenbosch National Botanical Garden 🌳
Kirstenbosch National Botanical Garden, nestled at the eastern foot of Table Mountain in Cape Town, South Africa, is a captivating haven that seamlessly blends natural beauty, conservation, and education. Established in 1913, this sprawling 528-hectare garden showcases an astounding array of indigenous South African plant species, many of which are rare and endangered.
The meticulously curated landscapes lead visitors on a journey through diverse ecosystems, from lush forests and tranquil wetlands to sun-drenched fynbos plains. A highlight is the Centenary Tree Canopy Walkway, colloquially known as the Boomslang (meaning "tree snake"), offering an awe-inspiring treetop perspective of the surrounding flora.
Beyond its aesthetic charm, Kirstenbosch plays a pivotal role in safeguarding the country's botanical heritage. The garden's research initiatives contribute significantly to plant conservation and the understanding of local ecosystems. Its educational programs and interpretive displays foster an appreciation for biodiversity and ecological awareness among visitors of all ages.
Throughout the year, Kirstenbosch hosts various events, including outdoor concerts that provide a unique backdrop of botanical splendour. This harmonious blend of natural wonder, conservation efforts, and educational endeavours solidifies Kirstenbosch National Botanical Garden as a cherished landmark, where people connect with South Africa's rich plant diversity and learn about the importance of preserving these treasures for future generations.
Address: Rhodes Dr, Newlands, Cape Town


Noordhoek Beach ⛱
Noordhoek Beach captivates visitors with its serene beauty and unspoiled charm, making it a cherished gem along South Africa's Western Cape coastline. Nestled between towering cliffs and the vast expanse of the Atlantic Ocean, the beach offers a picturesque setting that appeals to nature enthusiasts and leisure seekers alike. The wide stretch of golden sands invites leisurely strolls and is a haven for sunbathers and picnickers, while the roaring waves create an idyllic atmosphere for surfers and bodyboarders to challenge the sea's embrace.
The surrounding landscape, including the nearby Chapman's Peak Drive and the rolling dunes, adds to the area's allure, providing opportunities for horseback riding, hiking, and enjoying breathtaking panoramic views. Noordhoek Beach's sense of seclusion and unspoiled beauty truly makes it a tranquil escape for those looking to connect with nature's grandeur and the ocean's rhythmic embrace.
Noordhoek Beach is more than just a picturesque paradise; it's a place of community and artistic inspiration. The village of Noordhoek which overlooks the beach exudes a relaxed and bohemian atmosphere, dotted with charming cafes, local art galleries, and markets that showcase the talents of local artisans. This creative spirit extends to the beach itself, where kite surfers harness the gusts of the Cape Doctor wind, adding dashes of colour and exhilarating energy to the sky.
The beach's expansive shoreline is perfect for long, contemplative walks, especially during the captivating sunsets that cast a warm, golden hue over the landscape. Whether seeking solace in the natural world or immersing in the vibrant local culture, Noordhoek Beach presents an alluring destination that invites visitors to unwind, explore, and appreciate the harmonious blend of nature and community.
Address: Noordhoek Beach, Noordhoek, Cape Town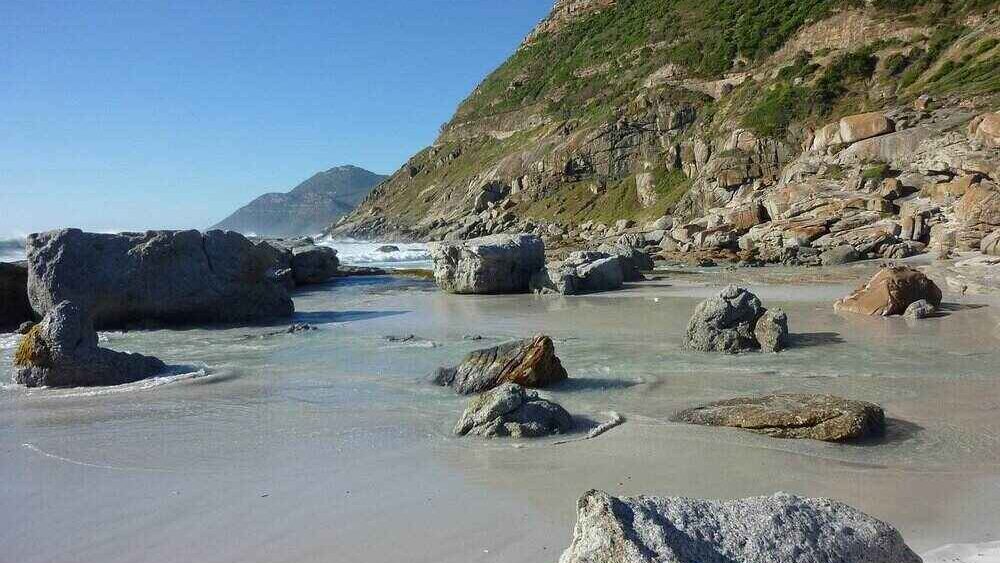 Simon's Town Harbour ⛵
Simon's Town Harbour, nestled along the picturesque Cape Peninsula of South Africa, stands as a maritime jewel that seamlessly merges natural beauty with historical significance. This quaint harbour, named after Simon van der Stel, the Dutch governor of the Cape Colony, exudes an old-world charm that captivates visitors and locals alike. Its tranquil waters are graced by bobbing sailboats and colourful fishing vessels, all framed by the rugged grandeur of the surrounding mountains. Beyond its scenic allure, Simon's Town Harbour holds a rich historical narrative, having played a pivotal role as a naval base during various eras, including British colonial rule.
Today, it remains an operational naval base for the South African Navy, adding an air of purpose to its serene ambience. With its charming waterfront eateries, boutique shops, and proximity to Boulders Beach, home to a penguin colony, Simon's Town Harbour is not merely a maritime destination but a holistic experience that celebrates nature, history, and coastal tranquillity.
Simon's Town Harbour's enduring appeal lies in its ability to encapsulate the essence of South Africa's maritime heritage. From its humble origins as a refuelling station for ships en route to the Far East, the harbour has grown to be a haven for both maritime enthusiasts and those seeking respite by the sea. The harbour's role in naval defence dates back centuries, from its utilization as a British Royal Navy victualing station in the 19th century to its present-day function as a base for the modern South African Navy.
The harbour's maritime museum stands as a testament to this legacy, showcasing naval artefacts and recounting stories of its strategic importance. As the sun sets over the bay, casting a warm glow on the waters and the charming waterfront buildings, Simon's Town Harbour continues to beckon travellers to immerse themselves in its maritime history, scenic beauty, and the soothing rhythm of life by the sea.
Address: 136 St George's St, Simon's Town, Cape Town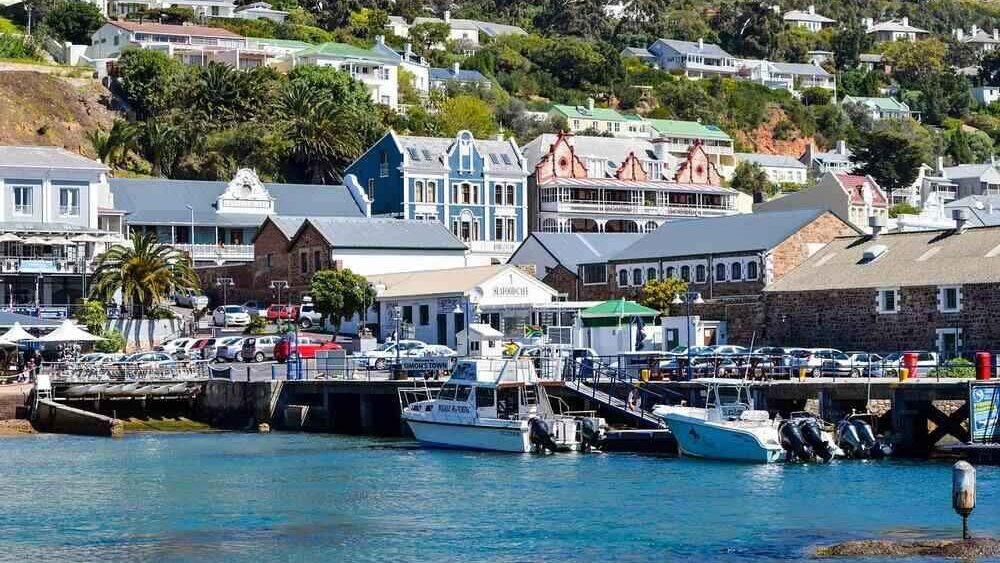 Fish Hoek Beach 🏖
Fish Hoek Beach is a picturesque coastal gem nestled along the Cape Peninsula in South Africa. With its sweeping crescent-shaped shoreline, turquoise waters, and golden sands, the beach is a paradise for both locals and tourists seeking sun, surf, and relaxation. The clear, gentle waters make it an ideal spot for swimming and snorkelling, while the waves attract beginner and experienced surfers alike.
The beach is also known for its safety, with trained lifeguards on duty, ensuring a family-friendly environment. Beyond its natural beauty, Fish Hoek Beach boasts a charming promenade lined with cafes, restaurants, and boutiques, making it an inviting destination for a leisurely stroll or a sunset picnic. The surrounding mountains provide a stunning backdrop, adding to the area's allure and creating a sense of tranquillity that captivates all who visit.
Fish Hoek Beach holds historical significance The bay was originally a small fishing village, and remnants of its maritime heritage are still visible in the form of colorful fishing boats dotting the shoreline. The bay's horseshoe shape provides a unique shelter that minimizes strong currents, making it an excellent spot for families with young children to enjoy the water safely.
The beach also serves as a launch point for various water-based activities, such as stand-up paddleboarding, kayaking and sailing, allowing visitors to explore the marine life and nearby coves. Overall, Fish Hoek Beach embodies the perfect blend of natural beauty, cultural charm, and outdoor adventure, making it a must-visit destination for anyone seeking an idyllic beach experience along South Africa's captivating coastline.
Address: Fish Hoek Beach, Fish Hoek, Cape Town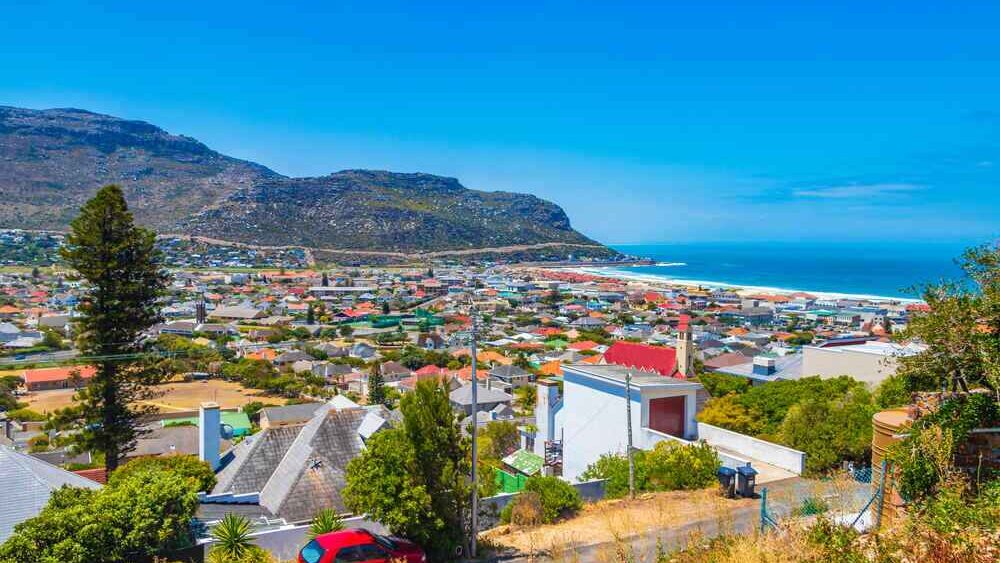 Kalk Bay 🎣
Kalk Bay stands as a picturesque coastal village renowned for its irresistible charm and captivating ambience. This idyllic destination offers a harmonious blend of natural beauty, vibrant culture, and historical significance. The heart of Kalk Bay beats within its bustling harbour, where colourful fishing boats bob in cerulean waters, and local fishermen bring in their daily catches. The village's rich maritime heritage is palpable as one strolls through its narrow streets lined with Victorian-style buildings that now house an array of art galleries, boutiques, and seafood eateries.
Visitors can explore the Kalk Bay Theatre, a unique venue offering an intimate setting for performances, or traverse the rocky coastline, admiring dramatic ocean vistas and perhaps catching a glimpse of frolicking seals. Kalk Bay's allure lies not only in its physical beauty but also in its ability to evoke a sense of tranquillity and nostalgia, making it a cherished destination for both locals and travellers seeking an escape from the modern bustle.
Kalk Bay, a coastal haven situated a short distance from Cape Town, is a symphony of artistic inspiration and seaside serenity. With its cobbled streets and colourful buildings, the village exudes a Bohemian allure that has drawn artists, writers, and musicians for generations. The main thoroughfare offers an array of delightful discoveries, from vintage bookstores and antique shops to eclectic cafes that serve up freshly caught seafood.
A highlight of Kalk Bay is the captivating Kalk Bay Gallery, which showcases a diverse collection of local artwork. Nature enthusiasts can explore the nearby Kalk Bay Mountains, where hiking trails reveal breathtaking panoramas of the Atlantic Ocean. For a touch of history, the Kalk Bay Historical Association offers insights into the village's past, including its evolution from a fishing hub to a cultural haven. Whether you're seeking captivating art, delectable cuisine, or simply the soothing sound of waves, Kalk Bay stands as a coastal jewel that promises an enchanting escape from the ordinary.
Address: Kalk Bay, Cape Town
Green Point Park 🦋
Green Point Park is a captivating urban oasis that seamlessly blends natural beauty with modern amenities. Sprawling across 12.5 hectares, this meticulously designed park offers a harmonious retreat for both locals and tourists. The park's lush landscape showcases a diverse range of indigenous plants, providing a serene backdrop for leisurely strolls and picnics. A series of walking paths wind through the park, guiding visitors past picturesque water features, sculptures, and play areas for children. One of its notable features is the biodiversity garden, which educates visitors about the region's unique flora and the importance of conservation.
Green Point Park isn't just about nature; it's a multifaceted space that caters to sports enthusiasts with well-maintained lawns and courts, making it a popular spot for outdoor activities. With its eco-friendly design, interactive spaces, and panoramic views of the Atlantic Ocean, Green Point Park stands as a shining example of urban park planning that nurtures the environment and the community.
Green Point Park's blend of eco-conscious design and recreational facilities offers an inclusive experience for all ages. The park's commitment to sustainability is evident in its use of recycled materials, water-saving irrigation systems, and renewable energy sources. Its integration with the nearby Green Point Stadium adds a layer of excitement, making it a prime destination during major sporting events and concerts. The biodiversity garden not only showcases the Cape's rich plant diversity but also provides an educational platform for visitors to learn about the region's fragile ecosystems.
Whether you're enjoying a leisurely afternoon surrounded by vibrant flora, playing a game of frisbee on the expansive lawns, or taking in the stunning views from the park's vantage points, Green Point Park captures the essence of a modern urban sanctuary. Its harmonious blend of nature, recreation, and education makes it a jewel within Cape Town, fostering a sense of environmental awareness and community engagement in an increasingly urbanized world.
Address: 1 Fritz Sonnenberg Rd, Green Point, Cape Town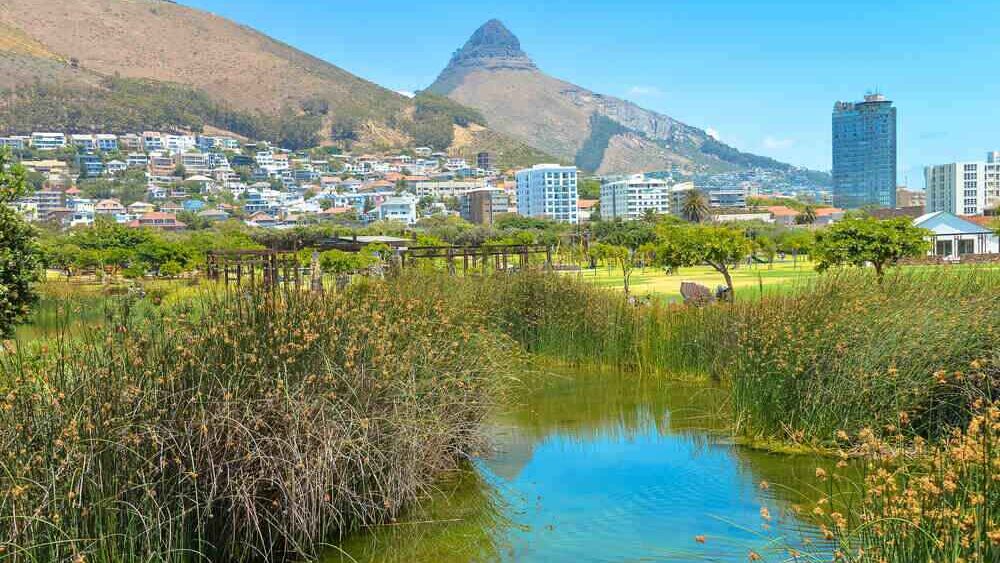 Gardens of Cape Town 🌼
The Gardens neighbourhood stands as a verdant oasis of natural beauty and tranquillity. Known for its lush greenery, vibrant floral displays, and captivating views of Table Mountain, the Gardens offer a serene escape from the urban hustle and bustle. The heart of the neighbourhood is the historic Company's Garden, a meticulously landscaped park that dates back to the 17th century. Strolling through its manicured pathways, visitors are greeted by an array of indigenous and rare plants, as well as charming statues and fountains.
This iconic green space not only showcases the region's diverse botanical heritage but also serves as a cultural hub, hosting events, art exhibitions, and a myriad of bird species that add a melodious soundtrack to the surroundings. The Gardens of Cape Town blend the city's rich history with its lush natural bounty, providing both locals and tourists with a haven for relaxation and exploration.
The Gardens of Cape Town, a cherished jewel in the city's crown, offer an enchanting blend of horticultural wonder and outdoor leisure. This neighbourhood, located just a stone's throw away from the city centre, presents a harmonious blend of Victorian charm and contemporary allure. Tree-lined avenues, historic architecture, and a sense of community converge to create an inviting atmosphere.
The Gardens area boasts a variety of inviting cafes, boutique shops, and cultural attractions, fostering a vibrant and inclusive ambience. The neighbourhood's proximity to landmarks like the Iziko South African Museum and the bustling Kloof Street ensures that there's always something to see or do. Whether it's a leisurely afternoon picnic under the shade of ancient trees or a leisurely exploration of art galleries, the Gardens of Cape Town provide an enchanting escape that celebrates the city's natural beauty and cultural essence.
Address: Gardens, Cape Town


Why Restaurants Are Great to Chill at in Cape Town
While Cape Town is renowned for its natural beauty, its culinary scene also plays a significant role in the city's charm. The city's restaurants are not just places to satisfy your taste buds; they are also havens of relaxation where you can savour delicious meals while soaking in the surrounding ambience.
Bootlegger Coffee Company ☕
For those seeking a tranquil coffee haven, Bootlegger Coffee Company offers more than just a caffeine fix. With multiple branches across the city, each exuding a rustic and welcoming atmosphere, Bootlegger provides the perfect setting to unwind and enjoy a cup of expertly brewed coffee. Whether you choose to sit indoors amidst the cosy décor or bask in the sunshine at an outdoor table, Bootlegger's emphasis on quality and comfort ensures a serene experience. Pair your coffee with a delectable pastry, and you have a recipe for relaxation that encapsulates the essence of Cape Town's café culture.
Opening Hours
Monday to Friday 7 am – 5 pm
Saturday to Sunday 7:30 am – 5 pm
Website: https://www.bootlegger.coffee/
Facebook: https://www.facebook.com/bootleggercoffeecompany
Address: The Majestic, 125 Main Rd, Kalk Bay, Cape Town, 7975
Contact Number: 021 788 1670


Gawjus Fish Hoek 🥐
Gawjus Fish Hoek, as the name suggests, offers a dining experience that marries food with the beauty of the coast. This restaurant provides a picturesque setting where you can indulge in a variety of dishes while being a short walk from Fish Hoek Beach. The sound of the waves and the fresh sea breeze complement the flavours on your plate, creating a multisensory experience that encapsulates Cape Town's coastal charm. Whether you're enjoying a leisurely breakfast or a romantic lunch, Gawjus Fish Hoek offers a blend of culinary excellence and relaxation that's hard to resist.
Opening Hours
Monday to Friday 7 am – 4 pm
Saturday 7 am – 1 pm
Website: https://gawjus.capetown/
Facebook: https://www.facebook.com/Gawjus.Capetown
Address: 5 Recreation Rd, Fish Hoek, Cape Town, 7975
Contact Number: 082 786 2367
The Green Room 🍔
Tucked away in the heart of Kommetjie, The Green Room is a hidden gem that combines exceptional cuisine with an enchanting garden setting. This restaurant boasts an array of mouthwatering dishes made from locally sourced ingredients, ensuring that your dining experience is both flavorful and sustainable. What sets The Green Room apart is its lush garden courtyard, where you can enjoy your meal surrounded by verdant foliage and the gentle trickle of water features. The ambience strikes a harmonious balance between urban sophistication and natural tranquillity, providing an escape from the city's fast-paced rhythm.
Opening Hours
Monday to Saturday 10 am – 9 pm
Sunday 11 am – 7 pm
Facebook: https://www.facebook.com/greenroomkommetjie/
Address: 12 Huskisson Way, Kommetjie, Cape Town, 7975
Contact Number: 066 078 6317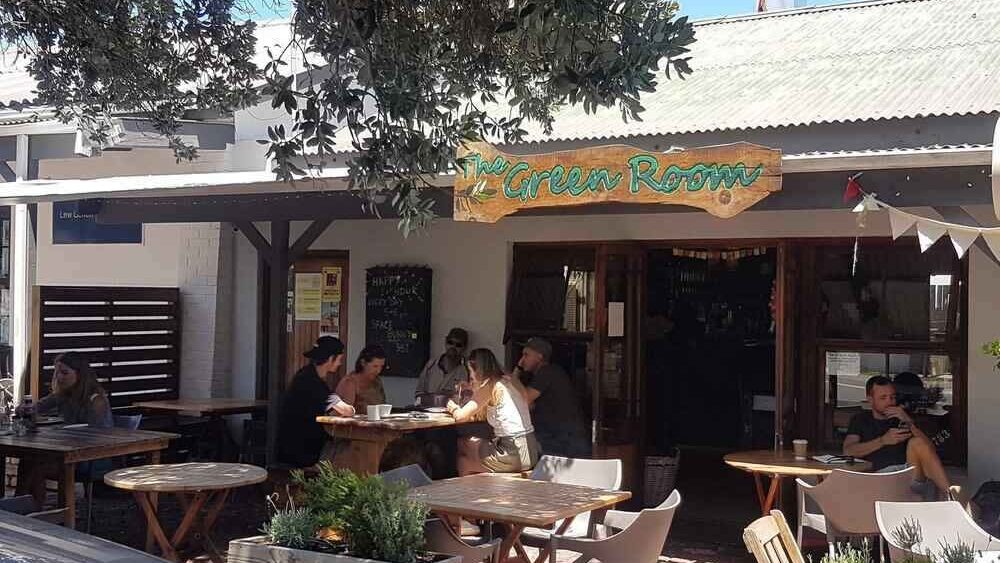 Mojo Market 🍕
Mojo Market is not just a dining destination; it's a vibrant and dynamic space that brings together culinary delights, local artistry, and live music. Located in the heart of Sea Point, this market offers an array of food stalls, artisanal products, and entertainment that cater to all senses. Whether you're sampling international cuisine, browsing through unique crafts, or tapping your feet to live music, Mojo Market provides a one-of-a-kind space where relaxation and stimulation intertwine. This eclectic and energetic atmosphere invites you to linger, explore, and immerse yourself in Cape Town's diverse cultural offerings.
Opening Hours
Saturday to Sunday 8 am – 12 am
Website: https://www.mojomarket.co.za/
Facebook: https://www.facebook.com/TheMojoMarket/
Address: 30 Regent Rd, Sea Point, Cape Town, 8060
Contact Number: 021 422 4888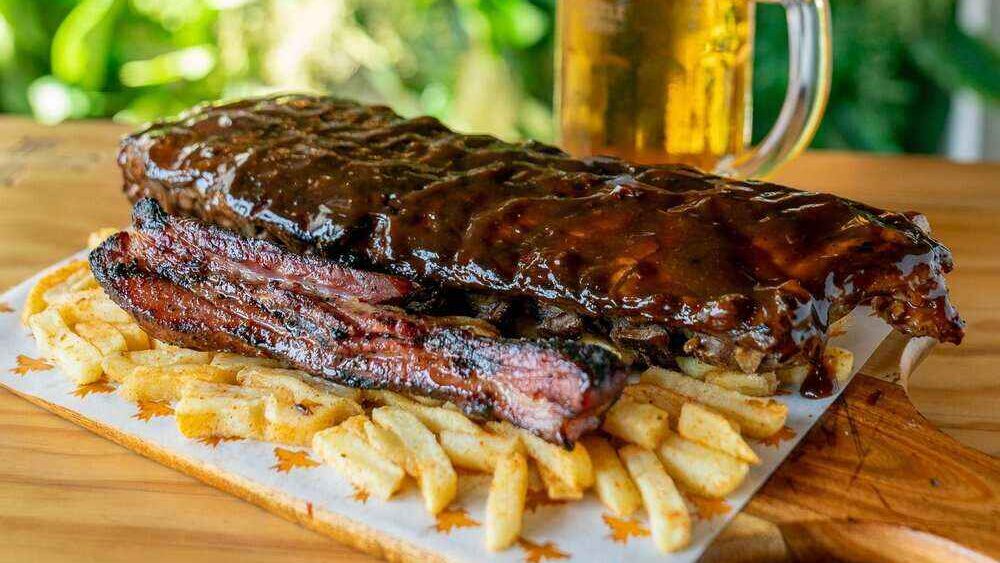 Noordhoek Farm Village 👨🏼‍🌾
Noordhoek Farm Village encapsulates the essence of a quaint countryside retreat within Cape Town's borders. This charming village features a variety of restaurants, cafes, and boutiques set against the backdrop of the picturesque Chapman's Peak mountain range. From artisanal pastries to hearty country-style dishes, the village's eateries offer a range of culinary delights to suit every palate. The expansive outdoor seating areas provide the perfect setting to enjoy your meal amidst tranquil surroundings. Whether you're sipping on a cup of freshly brewed coffee or savouring a farm-to-table meal, Noordhoek Farm Village is a destination that invites you to indulge and unwind.
Opening Hours
Monday to Sunday 8 am – 10 pm
Website: https://thefarmvillage.co.za/
Facebook: https://www.facebook.com/noordhoekfarmvillage
Address: Corner of Village Lane &, Noordhoek Main Rd, Noordhoek, Cape Town, 7979


---
Cape Town, with its blend of natural wonders and urban sophistication, offers a plethora of serene spots that invite visitors to unwind, reflect, and appreciate the beauty that surrounds them. From coastal hideaways to enchanting gardens and charming eateries, each destination encapsulates a different allure and are cool places to chill in Cape Town.
Whether you're taking a leisurely stroll along the Sea Point Promenade, watching the sunset from Clifton Beach's Secret Sunset Rock, or exploring the diverse plant life at Kirstenbosch National Botanical Garden, Cape Town's tranquil offerings are sure to leave a lasting impression. When it's time to savour delicious meals, the city's restaurants provide not only exquisite gastronomic experiences but also spaces of comfort and relaxation.