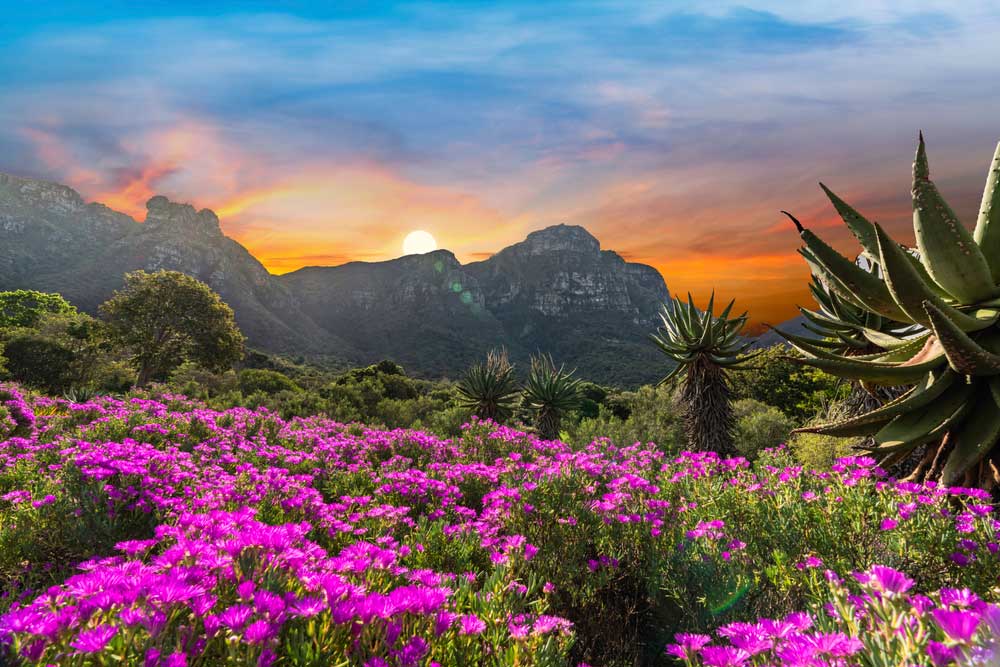 Kirstenbosch National Botanical Garden is one of the most breathtaking natural attractions in Cape Town, South Africa. The garden is a paradise nestled at the foot of Table Mountain and is one of the nine national botanical gardens in South Africa. Kirstenbosch was established in 1913 and was the first botanical garden in the world dedicated to a country's flora. The garden has a unique collection of plants from the Cape Floristic Region, which is recognized as a biodiversity hotspot and is home to some of the world's most diverse and rare plant species.
About Kirstenbosch
The garden offers an exceptional opportunity to explore nature and appreciate the natural beauty of South Africa. It is a popular spot for nature lovers, bird watchers, and photographers, who come to capture the garden's magnificent flora and fauna. The garden is home to over 7,000 plant species, including rare and endangered plants. Visitors can also find unique plant species, such as the giant Baobab tree, cycads, and fynbos, which are unique shrubland vegetation found only in the Western Cape.
Kirstenbosch offers many walking trails and picnic areas, where visitors can relax and enjoy the natural surroundings. The most popular trail is the Boomslang canopy walkway, a steel and timber bridge that is suspended above the tree canopy. The walkway offers a spectacular view of the garden, and visitors can observe the different bird species that inhabit the garden. The garden also has a concert lawn, where visitors can attend concerts and performances throughout the year. Summer concerts are especially popular, where visitors can enjoy live music while taking in the stunning views of the garden and the mountains.
Apart from its natural beauty, Kirstenbosch Botanical Garden also has a rich history and culture. The garden has a sculpture garden that showcases the works of South African artists, and visitors can also learn about the history of the San people, who were the first inhabitants of the region. The garden also has a restaurant and a gift shop, where visitors can sample local cuisine and purchase souvenirs.
Kirstenbosch Gardens Entry Fee
To enjoy the enchanting beauty of Kirstenbosch Gardens, visitors are required to pay an entry fee. The fee structure is designed to be inclusive and accessible to individuals of all ages. For adults, the entry fee is R220, providing full access to the gardens and the opportunity to indulge in the experience. Children between the ages of 6 and 17 are offered a discounted fee of R40, allowing them to explore the natural wonders of Kirstenbosch. Importantly, children under the age of 6 can enter free of charge, encouraging families to bring their little ones along to enjoy the splendours of the gardens and the vibrant atmosphere. The entry fees contribute to the maintenance and preservation of Kirstenbosch Gardens, ensuring that this botanical gem continues to thrive and enchant visitors for generations to come.
Kirstenbosch Gardens Concerts


Kirstenbosch Concerts have long been a beloved tradition in Cape Town, where music enthusiasts gather amidst the breathtaking beauty of Kirstenbosch National Botanical Garden for unforgettable live performances. As the sun sets over the majestic Table Mountain, the open-air venue transforms into a magical setting for music lovers to immerse themselves in the melodies of renowned artists. The Kirstenbosch Concerts create an extraordinary experience, combining the enchanting sounds of live music with the natural splendour of the surrounding landscape, making it a must-attend event for both locals and tourists.
Kirstenbosch Garden's Line Up (2023) 🎸
Looking ahead to Kirstenbosch Concerts 2023, the line-up promises to be exceptional, featuring an eclectic mix of talented musicians from various genres:
1 Jan 2023 – Judith Sephuma
8 Jan 2023 – Goldfish
15 Jan 2023 – Mango Groove
21 Jan 2023 – International Concert: Gregory Porter
22 Jan 2023 – The Cape Town Opera
29 Jan 2023 – Sun El Musician / Simmy
5 Feb 2023 – The Golden Oldies
12 Feb 2023 – The Cape Town Philharmonic Orchestra
19 Feb 2023 – Cape Folk 'n Acoustic Festival
26 Feb 2023 – Goodluck / Shekhinah
3 Mar 2023 – International Concert: Ronan Keating
5 Mar 2023 – Mandisi Dyantyis
10 Mar 2023 – International Concert: Rainbow Kitten Surprise
12 Mar 2023 – Spoegwolf / Lisie Basson
19 Mar 2023 – Matthew Mole
24 Mar 2023 – International Concert: Bonobo
2 Apr 2023 – Ami Faku / Msaki
Kirstenbosch National Botanical Garden Tickets (2023)
Kirstenbosch summer sunset concert pricing:
Adults: R260
Youth (age 6 to 17): R190
Children 0 to 5 years: free
Kirstenbosch concert tickets:
The Rotary's Christmas Carols at Kirstenbosch – R174/R125
New Year's Eve Concert: R490
Ronan Keating: R645 + R35 Service Fee
Rainbow Kitten Surprise: R495 + R35 Service Fee
Bonobo: R645 + R35 service fee.
How to get to Kirstenbosch National Botanical Gardens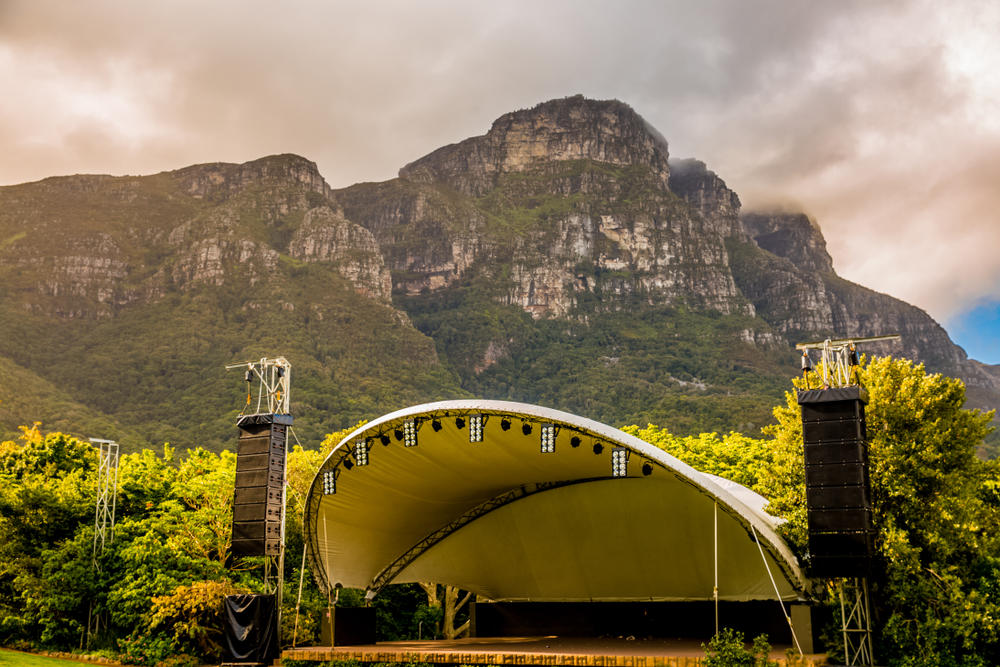 Getting to Kirstenbosch National Botanical Gardens is convenient and offers various transportation options. If you have a car, simply take Rhodes Drive (M63) from the city centre or Southern Suburbs, and ample parking is available at the main entrance. Alternatively, the MyCiTi bus service provides a direct route from the city centre, making public transportation a convenient choice.
Taxis and ride-sharing services are also readily available in Cape Town. For those who prefer an active approach, hiking or cycling to Kirstenbosch is a scenic option, as the gardens are accessible from nearby trails and cycling routes. Whichever mode of transportation you choose, the journey to Kirstenbosch is an opportunity to enjoy the beauty of Cape Town and set the stage for an unforgettable experience amidst the natural wonders of the gardens.
---
Kirstenbosch National Botanical Garden is a must-visit attraction in Cape Town, South Africa. It is a perfect destination for nature lovers, hikers, and anyone interested in exploring the unique flora and fauna of the Cape Floristic Region. The garden's location, nestled at the foot of Table Mountain, offers breathtaking views and a serene environment that is perfect for relaxation and contemplation. Kirstenbosch is a true gem of South Africa and is a must-visit destination for anyone travelling to Cape Town.
Website: https://www.sanbi.org/gardens/kirstenbosch
Address: Rhodes Dr, Newlands, Cape Town, 77
Phone: 021 799 8783
---
FAQ
Q – What are the operating hours of Kirstenbosch National Botanical Gardens?
A – Kirstenbosch Gardens is open daily from 8 am to 6 pm, allowing ample time to explore and immerse yourself in the natural splendour.

Q – Are picnics allowed in Kirstenbosch Gardens?
A – Yes, picnics are welcome in designated areas of the gardens, providing a delightful way to enjoy a meal surrounded by the beauty of nature.

Q – Can I bring my pet to Kirstenbosch Gardens?
A – No, pets are not permitted in Kirstenbosch Gardens, with the exception of guide dogs assisting visitors with disabilities.

Q – Are there guided tours available at Kirstenbosch Gardens?
A – Yes, guided tours are offered at Kirstenbosch Gardens, providing a deeper insight into the flora, fauna, and history of the gardens.